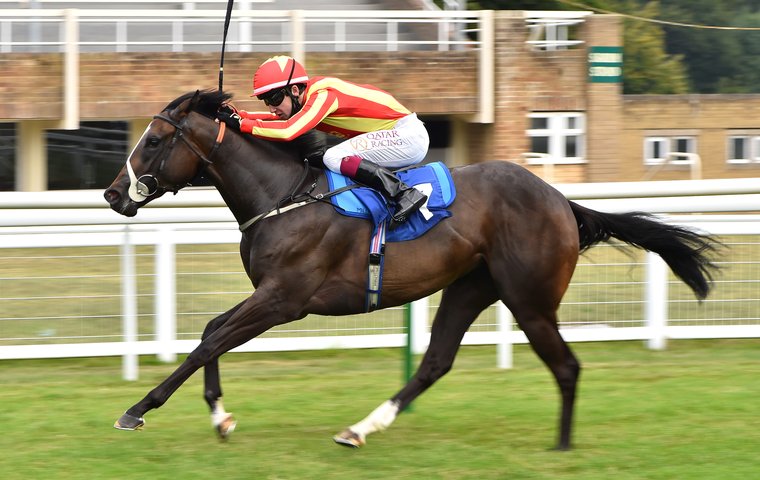 The win prize money was only £3,777 when 2-year-old Crazy Luck won a maiden auction race for fillies at Salisbury in Southern England yesterday. The cash would have been enough to pay for a nice party to celebrate at the West Country pub The Crown, where her enthusiastic syndicate of owners (the Crown Connoisseurs) get together, but not much else.

However, the win also meant a £20,000 bonus from the new Great British Bonus scheme, and that has covered not only her £9,000 purchase price (at the GoffsUK sales) but probably most of the training fees to date. And now trainer Rod Millman is planning a campaign that takes in another GBB race in a bid to win a second £20,000 bonus.
Another team celebrating will be at Kirtlington Stud in Oxfordshire - famous for breeding the Epsom Derby winners Blakeney (1969) and Morston (1973) - who will also be receiving a nice bonus as breeders of Crazy Luck.
No doubt the banter at The Crown will be about re-investing for next year. Millman has strong views on that score. "This is a fantastic scheme and brilliant for her syndicate owners. With bonuses of £20,000 per win, why would we be looking at anything but GBB-eligible fillies at the upcoming yearling sales?"
The Great British Bonus scheme was launched only ten weeks ago in an effort to boost British racing and breeding, and winners have collected £500,000 from it already.
Owners, breeders, trainers, jockeys and stable staff all benefit from the scheme, which has recorded 30 winners.
"The Great British Bonus has had an unbelievable start," said scheme manager Grant Pritchard-Gordon. "British racing and breeding is going through an incredibly difficult period as a result of Covid-19, and this scheme is giving the industry much-needed support.
"We're on target to hit the £1 million barrier in the next few months."
Owners have picked up the lion's share of the total prize money to date, while the scheme provides support for breeders – on the racecourse and in the sales ring – and additional income for trainers. Stable staff have benefited from £12,500 in bonuses.
Dual winners
The 30 winners include two dual bonus-winning fillies, who have each earned prize money of £40,000 and are being primed to win a third bonus.
Brazen Belle, owned and bred by Kevin Nicholson and trained by David O'Meara, won her first £20,000 in June, when scoring at Beverley on debut. She picked up her second in a 6f fillies' novice at Catterick. She has now earned £7,506 on the track, but a huge £40,000 in bonuses.
Simon Chappell's homebred filly Blackberry has also claimed two bonuses to the value of £40,000, most recently winning a 5f fillies' novice at Doncaster in August.
Yearlings costing as little as £5,000 have won bonuses of up to £20,000, while international owners and breeders have also benefited, as has a syndicate that bought its horse for £17,000.
GBB is encouraging investment from overseas markets, demonstrated by a £20,000 bonus collected by Emotional Moment, trained by Newmarket's Amy Murphy for Australian owner Gerry Ryan.
The scheme is also having a positive effect on the sales ring. While there have been headline sales of GBB-eligible fillies making six-figure prices at recent breeze-up and NH store sales, the most obvious benefit has been the much better clearance rate of GBB-eligible fillies compared with other fillies that passed through the ring.
Registration for GBB and the opportunity to win multiple bonuses closes on August 31. Members of Britain's Thoroughbred Breeders' Association are eligible for an extra bonus because they can register their 2019 foals for free. Visit greatbritishbonus.co.uk to register now.
Email Grant Pritchard-Gordon (grant@greatbritishbonus.co.uk) for more information.