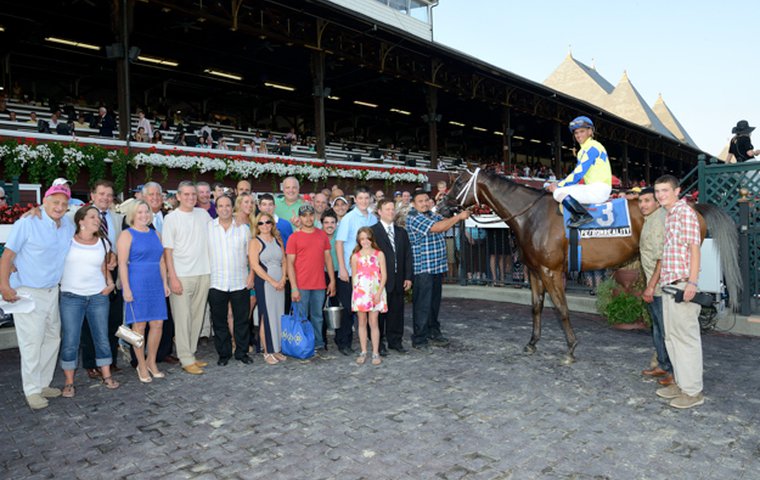 As the New York Racing Association's recently appointed chairman of the reorganization board of directors settles into his new role, the differences between Anthony J. Bonomo and his predecessor become increasingly apparent.

David Skorton, who served as chairman from October 2012 until December 2014, came to NYRA while president of Cornell University and arrived with a limited understanding of Thoroughbred racing.
The 57-year-old Bonomo steps into the position as a Brooklyn native who is well versed in the issues facing NYRA through more than two years of service on NYRA's board. He also has been actively involved as a horseman though the operation of his Brooklyn Boyz Stables and campaigned New York stakes winners such as Escapefromreality and The Funky Express.
Bonomo first embraced the sport during a 2005 visit to Saratoga with his wife, MaryEllen, and soon became involved in ownership and later breeding. As his family's passion for racing grew, MaryEllen opened her own stable, MeB Racing Stables, and their son, Anthony Bonomo Jr., now serves as the general manager of both of his parents' racing operations.
CEO and President of Administrators for the Professions, Inc., a management organization for insurance companies, Bonomo holds undergraduate and law school degrees from St. John's University in Queens, New York. He has served as member of the board of trustees at Hofstra University, and was the founder of the GAELS Foundation, which uses sports to help in the development of youths.
He was originally appointed to the NYRA board by Gov. Andrew Cuomo in 2012 and was introduced as chairman at the group's April 22 meeting.
"As a native New Yorker, business owner, and horse enthusiast, I am fully committed to expanding New York's reputation as a global leader in Thoroughbred racing," Bonomo said at the time of his appointment. "I look forward to working with my colleagues on the board to keep bringing positive changes at this important time."
In an interview with Bob Ehalt, Bonomo addressed a wide variety of topics involving NYRA and the future of horse racing in New York:
What are your primary responsibilities as chairman of the board, and how would you describe your management style?
"I think my primary responsibility as chairman of the board is to racing, to make sure our board members are involved and understand everything that's going on at NYRA. We must continue to work collectively as a group to make New York racing the best it can be. My style is simply a listen and try and help style. I have no preconceived notions of what we should be doing and how it's done. I think you look at what has been done and see if there's a better way do it, or if there are things you can add. I think it's sort of an oversight role. We have very talented people on board, all with many years of experience in racing and businesses that touch racing, and I want to call on their expertise from time to time so that we can work with our great NYRA staff to make sure New York racing is the best it can be."


What is the No. 1 item on your to-do list?
"I think it would be to understand the place New York racing holds in the industry and to continue to try and advance our meets, whether it would be Aqueduct, Belmont, or Saratoga. Some need more help than others. As everyone knows, Aqueduct is a tough meet because of the weather we experience. It's tough here in the winter, but we have great racing in the winter. We just can't control Mother Nature. We focus on the things we can control. We can't keep snow and cold away because of where are we, it's New York. I think our priorities are to insure that we have full cards, great racing days, and that we continue to provide entertainment for the fans, whether they are bettors or just fans of racing. That's our obligation and that's our goal."
What would you say is NYRA's greatest asset?
"Besides its people, NYRA's greatest asset is the people who are involved in racing, be it the owners, the trainers, the horses. The tracks we have are second to none. We are the leaders in the industry, so I think our great asset can also be our biggest crutch. I believe racing goes as New York goes, so we have a very big obligation. The best thing about that obligation is that we have the people who can meet it and who are going to continue to work hard to make sure that obligation is met."
You just mentioned winter racing. NYRA is coming off a winter that was brutal in a number of ways. Do you feel there needs to be a change in the number of racing days during the winter months?
"I think we need to have the flexibility that if the weather is real bad we are not under an obligation to run, and for so many days this year we had that ability. The various regulatory authorities that we work with have been very easy to deal when it comes to bad racing days and bad weather days. Economics cannot dictate the safety of both the equine athletes and the jockeys. When it comes to winter racing, safety has to be the No. 1 priority. As a matter of fact, it should be the No. 1 priority when it comes to racing in general, but in the winter it's much more of a concern because of the weather."
What would you say to someone who would argue that NYRA should close during the winter months?
"I would say that they are incorrect. I think that New York is a special place for racing. Look, there's bad weather in Kentucky and no one talks about not racing in Kentucky when there's bad weather. Certainly winter racing is tough, but to say that we shouldn't have winter racing, that would be a bad precedent. I think there are a lot of trainers and owners who like to race in New York in the winter and we have to give them the opportunity to pursue that."
The installation of a synthetic track at Aqueduct has been mentioned as a way to improve winter racing. Do you believe that's a viable option?
"I certainly believe it's an option. The board is studying it, and ultimately they will determine if we'll be installing it.
Are you personally in favor of a synthetic track?
"I have to study it more. I don't know enough right now to say whether I'm in favor of it or against it. I will say this, I'm in favor of anything that helps racing."
Five years from now, will there be racing at Aqueduct?
"I don't know. It depends on what we and the state feel is in the best interest of racing. Does it make sense to have two tracks within nine miles of each other? Are there economic benefits in not having two tracks? What does the state believe is best use for that land? How will NYRA benefit most? What's best for our fans? Again, I don't think we're thinking five years from now, it's what are we going to do next year when the weather is harsh and how do we get through that meet. So I don't think there is a plan."
As a horseman and a NYRA official what was your reaction to the high number of breakdowns this winter and NYRA's response to it. Do you believe more can be done on that front?
"Let me say this, I was the chairman of the Equine Safety Committee until being appointed chairman of the board so I am tremendously involved with the safety issues. I think...we did everything possible to avoid breakdowns. Sometimes it's inevitable in this sport that we going to have them. Certainly we experienced a two-week period that was unlike anything else. But those breakdowns did not happen for a lack of attention. I don't know and I don't think we'll ever know what caused it. We know it wasn't the surface because we worked real hard on that. [Vice President of Facilities and Racing Surfaces] Glen Kozak to me is one of the best surface people in the world. We're lucky to have him. We know we did everything we could, but as chairman of the Equine Safety Committee I always said one [fatality] is too many. Can we avoid them? I'm not so sure the sport will ever avoid breakdowns. But certainly we need to work hard every day to prevent them. Did it trouble us? Absolutely. Did we try to take remedial steps to prevent them? Absolutely. Will we continue to do that in the future if, God forbid, we are ever faced with this again? Absolutely. It's our obligation to protect the equine athlete and the jockey on his back. It was an unfortunate two-week period but we've worked very hard for years at preventing equine deaths on the track and I know our numbers the last few years have been the best in the business."
How would you describe the struggle to maintain field size even in the face of large purses. What can be done to create larger fields?
"I think we're looking at that and some of it is part of the geographics involved when people go to Florida in the winter. There's a period in the spring when they're moving back in so there's a period of about a week when we struggle with field size at Belmont. But ultimately we'll get to the field size numbers we want. Winter is different. Maintaining the horse population up here when all the big trainers want to go to Florida and stay in the sunshine – which I can't blame them for, I'd love to go down there myself – is something we'll look at. We haven't lost focus on that. I think the handle was off this year and we talked about it at the last board meeting. Not that the field size was dramatically down, but the number of race dates was dramatically lower compared with past years. So I think we're very cognizant of field size. I don't think field size always corresponds to purses. We'd love that to be, because we'd have 32 horses in every race. We have the best purses in the business, but, again, we have to make sure we are running field sizes that are safe and are without horses that do not belong there. We're doing a good job of that so to say we're not cognizant of it would be a mis-statement."
How vital is casino revenue to NYRA?
"This year we made a profit without casino revenue. But I don't think that means in and of itself casino revenue isn't vital. It plays a part. What people do not realize is that the casino revenue, while it has been talked about for a long time, was the culmination of an effort and a discussion in which NYRA gave up any claim to the land it sits on in exchange for it. So one could say we sold the land, even though it's bad terminology. It was a trade-off. The casino revenue supplanted the ownership of the land. It was not that casino revenue just came about. It has been long discussed. Naturally, when it was first discussed it was at a much different time in the life of NYRA. The boards have changed; a lot of different things have happened. I would say casino revenue is important and it is important because we gave up something for it. At the end of the day, I don't look at it as casino revenue. I look at it as money we're being given in exchange for us giving up very, very, very valuable assets, meaning the land at our three racetracks."
After the closing of New York City Off-Track Betting, NYRA expressed interests in turning bars and restaurants into wagering outlets. Why has it taken so long to get this off the ground and how important is it to NYRA's growth?
"I think it would have some impact on NYRA's growth. I don't think it's the most important thing we do. But certainly trying to attract people who can't get to the track, and getting young people back in racing is something we are aware of. I think our bar strategy is part of that. On a Saturday when someone may not want to come out to the track, let them have it in front of them at a bar. It's a difficult thing to do and it's not happening because of what NYRA is doing. Whenever you do something like this, there's a political overtone and we are working with the Mayor's office on this. [Bill de Blasio] has been tremendously receptive in talking to us about this. There are a lot of moving pieces when you have to deal with governmental and regulatory agencies. It's not as simple as saying tomorrow we're going to have a bar strategy and we'll make it happen. It takes longer than that, but the end result is to make sure it's done right so we don't have any issues going forward."
Are you a fan of the "Big Day" concept?
"Of course. Big days are great in racing, but I'm also a fan of everyday racing. What we can't lose sight of is that racing is 240-something days of racing and not every one of them can be a big day. The big days are important as they attract some superstars to New York that we might not normally see. But at the end of the day, we have to focus on all the other days we have racing. I believe New York racing is the best in the business so it's not just about those big days. It's about everyday racing, too. So I think we're working hard on getting a tremendous balance."
What can be done to bring people to the track and stimulate wagering on a routine Wednesday or Thursday?
"Certainly the time we run our races is important because it's not easy for people to leave their jobs and come here. Today's world is so different because you can basically bet and watch a race from your phone. You don't have to be present at the track. I think part of it is having things at the track when racing isn't going on. In an average day, you're racing at 1 [p.m.], ending at 6, but the average time you see the stars on the field, so to speak, is two minutes a race. So if it's nine races, it's 18 minutes. We need to find things to keep people interested for the other four and a half hours while they are sitting here. The overall thought of making a track a destination spot where there's a lot more to do between races plays an important role in this. It's something [NYRA CEO and President] Chris Kay and his staff are focusing on and I said it in my opening speech as chairman that we have to be kind to and keep aware of the B's and B's: the bettors and the buyers. It's about the whole day. The celebratory aspect of being at the races, the excitement, there's nothing more exciting than racing. But we also have to find something that excites you between races. It might be speeding up the time between races, like what Major League Baseball is doing this year [to attempt to quicken the pace of play]. Maybe it's giving fans who work a chance to view racing at a later time. We can run into the night, maybe having lights. That has been tremendously successful at Churchill when they've done it. The sport is changing and we have to adapt to those changes. I think giving more people the opportunity to view racing at times when they can be here is important."
You just mentioned lights, is there anything else you'd like to see added to help make the New York tracks a more popular destination?
"I think there are things we're working on. Belmont is a tremendous facility. But we have to remember when Belmont was built, it was built to be a racing facility. The nature of our business now is racing plus. We're developing something down the line to make Belmont not just a racetrack but a place that anyone would like to visit. We want to make it appealing to not only the individual bettor, but also the bettor who may want to come to the racetrack with his family. This way, the kids could be off doing something else while the husband or wife, whoever is not the bettor, is with them. Go to a football game or a baseball game, [and] the things that go on in their concourses during the game is amazing. It's things like that. Things that can fit around racing to make it enjoyable for the person who comes with someone who wants to do something else."
As a horseman, what has frustrated you most about racing at NYRA and how will you seek to change it?
"I can't say there's been much that has frustrated me about NYRA. As a horseman, what frustrates me the most is winning. I can't win as much as I'd like. The competition level in New York is like no other. Good horses don't win here; great horses win here. In any given race the horses in the field are tremendously challenging. I think NYRA has done a tremendous job in reinventing itself and dealing with the problems we've had in the past and working on and them making them the problems of the past. I think we've been very creative and have been doing a lot of different things and we'll continue to strive to get better. I can only say that sometimes your frustration comes not from NYRA, but your own barn. You get a horse that's ready to run and he steps on a rock and is lame for a day. But that's the nature of the game."
How would you describe your relationship with Gov. Cuomo?
"It's friendly. I think the world of the governor. He's done a tremendous job in how he's reinventing NYRA. We have a relationship where we can speak frankly and that's important. I appreciate the confidence he showed in designating me to be chairman and I'm naturally appreciative that the board ratified it. I think Gov. Cuomo likes racing and that he wants to see it succeed. He's taking a lot of tremendous steps in helping us succeed. And let's not lose sight that racing is a 2-plus-billion-dollar industry in New York that employs more than 17,000 people. It's huge for the economy. The governor gets that. So I think he's done a fantastic job of letting us move racing forward while not trying to inject himself into it too much. He has confidence in the people he supported to bring it forward."
Was the recent extension of state control for another year a good thing or bad thing for NYRA?
"I don't think it mattered. A lot is made of that, but at the end of the day we have to focus on racing, not who is controlling it. The ultimate thing is, is racing doing better? It is. Was it time to make the change? I don't know. My point is simply this, our job is to focus on racing. Let everyone else focus on how it's going to be run right now. This board has a job ahead of it and it had a job behind it, which is to get racing to make money. The NYRA people have done their job. I think that if we spend too much intellectual capital on [state control] rather than racing we're not doing what we're supposed to do. Our job is to make racing the best it can be no matter what the configuration is, so I'm not getting involved in that game. I'm getting involved in what we need to do to make racing better. That's our focus and that should be our focus."
Now that the New York Daily News and New York Post have dropped daily coverage of racing, what does NYRA need to do to maintain its visibility in a market that has so many professional sports?
"We have to get to those papers and ask why? Maybe we can help them understand that there are a lot of people who buy papers and have a big interest in racing. I don't know why they dropped it, but we should work with them to put it back in again. They have readers every day who want to know what's happening in racing and if people can't find it in their paper, they'll migrate to something else. I don't know what the business decision was, but we should be in those papers."
Fill in the rest, the best part of Saratoga is ....
"The best part of Saratoga is Saratoga itself. The people, the venue, the racing. I think Saratoga is a gem in New York racing. We have not and will never lose sight of what Saratoga is. Saratoga is a special place at a special time and as far as I'm concerned, I'm not sure if there's one best part, there's the whole thing."
Five years from now, will there be a longer Saratoga meet?
"Again, I don't know. I don't think there has been any decision on that. I think what will dictate whether that will work is Saratoga and Saratogians. I'm sure there will be 50 percent who say we should be running longer at Saratoga and 50 percent who believe we shouldn't. My feeling is that we have to understand that Saratoga does displace a lot of people and we have to be cognizant that the more we have them stay up there, the more expensive it is for them and the more it keeps them away from their family. I think there's a lot that has to go into that decision and I don't think we're at the point where we're thinking about five years from now. We're just thinking about this year. Will there come a time when we'll discuss it? Yes. But it's not an easy answer. Me personally, I'd love it to be up there for nine months because I love Saratoga, but that's a decision that will involve a lot of balance and thought."
Will the Breeders' Cup ever return to New York and will you actively pursue it?
"I certainly hope so. The Breeders' Cup belongs in New York. It was a tremendous event where it was here 14 years ago and racing has an obligation to New York. If we're the engine driving the machine, the Breeders' Cup should be in New York. New York deserves the Breeders' Cup. Yes, I would love to get it back here, and that's not to say we haven't been trying in the past to do that. Certainly there are issues to be worked out, but I believe if reasonable people can get together and act reasonably we can get a reasonable result. So I believe New York is owed the Breeders' Cup and it belongs here. I understand there are other locations, but we should be in that rotation."
What will you use as a measuring stick to judge your success as chairman of the board?
"I believe that from the day I start to the day I leave, racing has to get better. There has to be a change in the physical plant. There has to be more people coming to racing; more bettors, more owners. I don't know if one, single person can accomplish all of that. I don't think I can. But that's what I'm focusing on. I think we have a great board and great people at NYRA that are focusing on that. But certainly I want NYRA to be different than when I started, and better than when I started. That's my focus. What do we need to do? We need to be open to changes. We have to be very open to the mindset of those people I call the blood of the sport, the bettors and the buyers. Also we have to protect the unsung heroes, the backstretch people. There's a lot of people involved in racing and we shouldn't just focus on the name of the jockey or the name of the horse. There's a lot of people who make racing go and we can't lose focus on them, either."