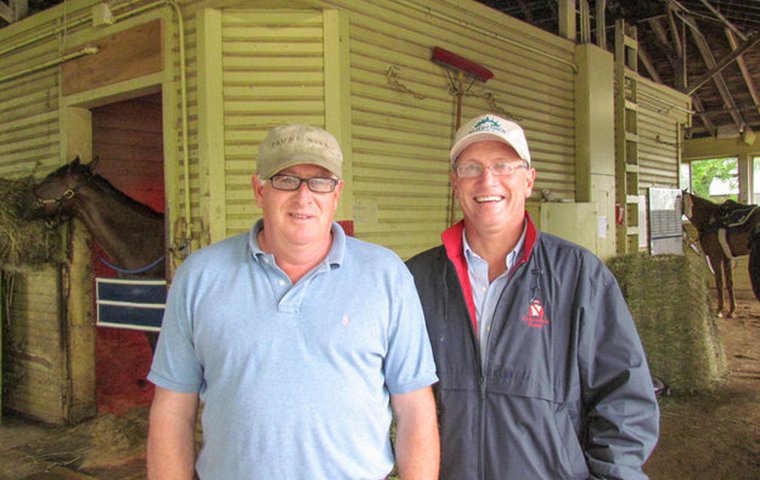 In early 2009, trainer Jimmy Jerkens was flying high – if such a phrase could be used to describe a man better known for shying from the spotlight than for grabbing headlines. He had married his high school sweetheart the year before, and he had a barn full of fast horses, including a brilliant colt named Quality Road, who on the strength of wins in the Fountain of Youth and the Florida Derby was headed to Louisville as a likely favorite in the Kentucky Derby.

Then, Quality Road developed a quarter crack that would keep him out of the Kentucky Derby, setting off a downward trajectory for the Jerkens barn that lasted four years and left the trainer wondering about his future in horse racing.
"I was nervous about it," he admitted this week, talking outside the barn at Belmont Park which houses Wicked Strong, the talented colt he is training for Centennial Farms toward a start in the Belmont Stakes. "But at the same time, I said, 'What the hell am I going to do?' I don't know anything else."
Jerkens literally grew up at the racetrack. His father, the Hall of Fame trainer H. Allen Jerkens, began training at Belmont in the 1940s as a teenager; his grandfather trained horses at a riding academy on Long Island. Jimmy worked in his father's barn before he began training on his own in 1997.
Not long after the 2009 Kentucky Derby, owner Edward Evans took Quality Road and his other horses away from Jerkens. The lack of confidence, said Jerkens' wife Shirley, was contagious.
"This is the first time it happened to Jimmy and it was a cascade effect," she said, sitting outside the barn on the Belmont backstretch after exercising her husband's horses. A physical therapist in New York City schools and private practice, Shirley first met the man who would become her husband while working for his father when she was a teenager.
"Evans and Quality Road were the beginning. When we lost that stable, other owners said, 'If he took his horses away, maybe we should, too.' We went from having 38 horses to 12 in a few months."
In 2005, Jerkens ranked 21st among all North American trainers, with earnings of $3,877,228. In 2011, he plunged to 351st, with earnings of $727,349.
"That was hard for Jimmy," Shirley said. "Not just for himself, but he cares about his employees and they have families."
One of the owners that stuck with Jerkens was Don Little Jr. of Centennial Farms, a partnership whose relationship with the Jerkens family stretches back decades. Allen Jerkens trained for Don Little Sr. in the '80s, and about 10 years ago, Little Jr. asked the younger Jerkens if he would train some horses for them.
Little himself is no stranger to personal difficulty. His father was killed in a riding accident in early 2012, leading Little to question his involvement in the racing business.
Like Jerkens, Little grew up with a father who led him into horseracing. On what he calls the "family compound" in Ipswich, Massachusetts, he rode horses along its trails and learned to play polo. His father had owned racehorses since the elder Little was a teenager.
Little played polo collegiately and professionally, eventually aborting an attempt to make a living away from horses to join his father at Centennial, the company Little Sr. founded in 1982. Don Jr. became the president in 1990.
The unexpected death of his father led to an unexpected period of introspection.
"It was hard right after he passed away," Little said. "It was sort of 'dig deep' time, a test to see if this is really what I want to do, or whether I was doing it just because it was there."
It wasn't the first time that Little had to "dig deep." In 2011, he entered a rehab facility to address a substance abuse problem, leaving him, he said, more prepared to deal with his grief.
"It turned my life around," he said.
Allen Jerkens and Don Little Sr. had played polo together, and so did their sons. It made sense for the sons to continue the personal and professional relationships begun by their fathers, and one of the first horses Jerkens trained for Little Jr. and Centennial was Corinthian, who won the 2007 Metropolitan Handicap (Political Force, trained by Jerkens' father, finished second) and the inaugural Breeders' Cup Dirt Mile.
For the first time, Jerkens is preparing a horse for a big race without his father nearby. Now 85, Allen Jerkens stayed in Florida this spring with his horses instead of returning to Belmont.
"Yeah, it's weird," Jimmy said, then he cleared his throat and paused. "But we're so busy. We've got a lot of horses right now…but when it's all said and done, you go home and you say, 'Jeez, it would be nice if he were here.'"
"It's hard," Little Jr. said of continuing the family business without his father. "The first year was very hard. When questions arise, he's not there to ask.
"He would have been proud to be at the Kentucky Derby."
Wicked Strong was the second betting choice in the Kentucky Derby on the strength of a powerful win in the G1 Wood Memorial at Aqueduct Racetrack in April. He finished fourth in the Derby, getting a less than ideal trip, which Jerkens attributes more to the big field and his horse's post position than to jockey Rajiv Maragh.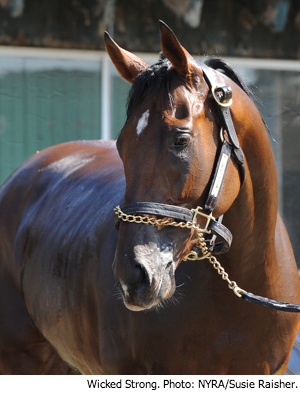 "There have been a lot of [jockeys] trying to get on [Wicked Strong], and it was tempting," Jerkens acknowledged, mentioning some of the country's top riders. "It's tempting because they've been there and they've won the big races, but I just feel I couldn't really fault anything [Maragh] did in the Derby."
"You want to be fair, but then you think, 'The hell with being fair, this is the Belmont,'" he continued, laughing.
Jerkens said that he never seriously considered changing jockeys, and it is that sense of fairness and loyalty that, said his wife, pervades the barn, in good times and in bad.
"Jimmy's got a core of very loyal employees and they just weather it through," she said. "They would tell me, 'I'm not going anywhere, I'm here for the long haul,' and they keep their heads down, and they get their asses kicked, and they just keep coming back."
As does Centennial.
"Don Little Sr. and Jr. have been fantastic for us," she continued. "They wouldn't jump ship."
"Relationship and trust go a long way," Little said. "I've been brought up to be loyal to people. Jimmy's a hard worker and a phenomenal horseman, very hands-on, and hopefully our relationship with him is stronger than ever.
"I've always had trust and faith in him, and I think we're getting him some better horses as well."
Jerkens went to Florida this winter with about 10 horses and came back with more than twice that, thanks to a new client who sought him out. His earnings so far in 2014 have already surpassed by more than a million dollars what he earned last year, thanks largely to the success of Wicked Strong, who is part of the first crop of horses that Centennial purchased after Little's sobriety.
Centennial bought Wicked Strong as a yearling in September 2012, paying $375,000 for him at the Keeneland sale. He was named the following year, paying tribute to the Boston Marathon bombing victims in Little's hometown, and a portion of the horse's earnings go to The One Fund Boston, which supports those affected by the tragedy.
"I think we're pretty similar," Little Jr. said of Jerkens. "We want to make our own name, and we've got tough shoes to fill. We've got to take the opportunity to learn [from our fathers] and maybe tweak it a little to make a name for ourselves."
Neither Allen nor Jimmy Jerkens has won the Belmont Stakes; Centennial won in 1993 with Colonial Affair. Even though it would mean being a Triple Crown spoiler, a victory on Saturday would be significant both personally and professionally for two men who might themselves be described as, if a little sentimentality can be forgiven, wicked strong.
"We're absolutely enjoying this," Shirley Jerkens said. "We're not taking one second for granted, because we know it doesn't last forever."