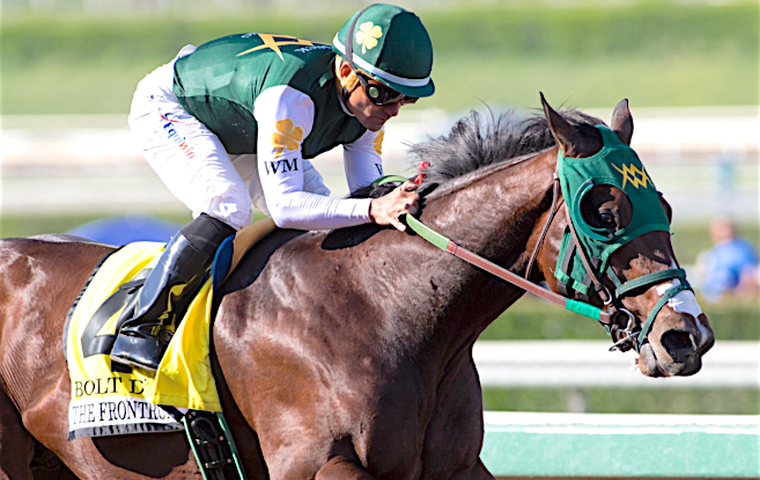 As keenly anticipated as pretty much any race run so far this year, last month's G2 San Felipe Stakes delivered in spades, and then some. With only yards left to run and with Bolt d'Oro and McKinzie locked together like inmates on a bus, Santa Anita track announcer Mike Wrona called it — with no misplaced hyperbole — "a spine-tingling spectacle at the great race place".

McKinzie inched out Bolt d'Oro by a nose after a stretch battle that lasted longer than some recent cabinet appointees have remained in office. Then the stewards intervened.
And their ruling?
Bob Baffert saw his horse moved down and, with customary sanguine, called the decision "some bullshit".
Not Mick Ruis, on the opposite end of the steward's call. "Awesome" was his mot juste at the time. And now, weeks later, and having watched the race "a million times" on his home theater, Ruis remains convinced the stewards did right. See the video of the race above.
"If you look, the back end of Bolt got completely took out right from under him, and he kept going down the stretch," said Ruis, recently, in his Santa Anita office at the end of morning training, about first contact between the two horses at the top of the lane.
"And then, McKinzie was leaning on [Bolt d'Oro's] shoulder the last 16th, not just getting close, leaning on Bolt," he added. "It's hard for a horse to pass when you've got the horse in front of you, leaning on you like that."
'He's as good as you'd want him to be'
Round two of this particular rivalry was scheduled for Saturday, in the $1 million G1 Santa Anita Derby. This means the trainer now relies on the twice-raced Justify — considered by many a horse whose untapped potential encompasses all but the advancement of world peace — for redemption.
"Justify? I say bring him on," said Ruis channeling his inner Don King. "Bolt's done his running, and if we're faster than him, we'll win, right?"
Then came the vital statistics.
"He weighed 1,224 pounds going into the San Felipe, and we think he'll be weighing more going into the Santa Anita Derby," he said. "It's incredible — you'd think after being off that long, and what a fight that was, what a dual down the stretch, it would have knocked him down a bit. But no."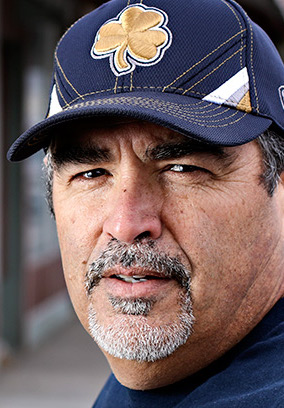 As Ruis (left) elaborates on the San Felipe and these subsequent weeks, it's easy to understand why he's still buzzing.
Bolt d'Oro's last race was November's Breeders' Cup Juvenile. Nine weeks prior to the San Felipe, he underwent a nuclear scan to determine whether a problem behind was due to something more nefarious than general body-soreness. And the toughest work he'd endured was a six-furlong breeze two weeks before the race.
"That just goes to show the heart that he has. He was about 70 percent," said Ruis. "And I was elated for him to be that close to McKinzie, who was cranked up. He'd had two previous races. So, we feel super good going into the Santa Anita Derby."
The night of the San Felipe, "Bolt came back to eat his dinner," said Ruis. "He ate everything up. You'd have thought he would have been dragging. It took about three days for him to get that glimmer in his eye back. But he's never missed any of his meals every day since that race."
What's more, Ruis says that his stable star — renowned for being like the rusty-jointed rest of us, in that he takes a little while to warm up of a morning — is now moving as good as he's ever done since being in training.
"He jogs incredible, now. He gallops better than what he did when he was a 2-year-old coming in," he said. "He's as good as you'd want him to be."
'I spent about $1.5 million on fillies last year'
Mick Ruis is a cheerful blend of contradictions. A self-made multi-millionaire and a multi-hyphenated businessman, Ruis has built up a sprawling empire from the rags of an impecunious upbringing near San Diego.
Ruis didn't graduate high school, and headed first into the construction business, before starting his own shoring company — a type of structural scaffolding during construction — which he sold for a reported $2.5 million.
His first stint as a trainer in the mid-2000s was only a so-so success, which he quit in the red after less than three years. And so, he headed back into construction, eventually purchasing American Scaffolding, a business that yielded him a $78 million payday when he sold a majority share in it a few years ago. That was the launchpad to his latest iteration as a trainer.
And yet, for all of his rules-busting and status-quo shredding, there's something oddly, and reassuringly, traditional about his approach to the game, an approach that harkens back to a gilded era in racing dominated by the big owner-breeders, whose operations spanned the whole racehorse production pipeline, from breeding to racing and back again.
Ruis recently purchased the 163-acre Chestnut Farms, in Keeneland — formerly owner Michael House's — four miles from Keeneland racetrack.
And his harem of broodmares will eventually include the G1 Del Mar Debutante winning 2-year-old Union Strike. There's the dual stake-winning 2-year-old filly from last year, One Fast Broad, waiting in the wings. And, "I spent about $1.5 million on fillies last year," Ruis said, about the yearling sales.
'I'm really committed to the California breeding program'
California's breeding industry figures prominently in this grand scheme of his. "We bred 20 mares back to our two California stallions," he said, about his recent stallion purchases, Saburo and War Envoy, both of whom stand at Tommy Town Thoroughbreds, just north of Santa Barbara.
"We'll bring the mares back before they're ready to foal, so they can foal on the ground here in California again, and breed back to our California stallions," he said. "I'm really committed to the California breeding program."
Once the foals are weaned, however, they'll be off to Montana, to Ruis's 80-acre facility in the emerald-glazed mountainous Eden of Bigfork, where "they get that really rich soil from Flathead valley, and that really clean air", he said.
This is where the Ruis youngsters are broken and pre-trained, all overseen by former trainer Ike Green. Roomy barns, paddocks, an indoor and outdoor arena, the latter with heated floors and only a sniff off football-field dimensions. "I could never have dreamed of owning a place like that. Hell, I was just a working man," he said.
'It makes me feel like I'm doing my part'
And he's also poured millions into the economic redevelopment of Columbia Falls, less than 30 miles to the north of Bigfork — new condominiums, hotels, business parks, factories, apartment complexes. "There used to be eight lumber mills in the area, and now there's just one. The big aluminum plant closed down ten years ago. It was probably one of the hardest-hit areas in Montana," he said.
"I remember when I was 19-years-old and I needed to support my family. Construction was really slow at that time, and I remember wanting to work, needing to work, but there just wasn't work out there," he added, explaining his rationale for helping to revive Columbia Falls. "It makes me feel like I'm doing my part, creating for the people who want to work."
Some of his ventures haven't been without controversy. He recently tore down a Frank Lloyd Wright-designed building, much to the chagrin of locals, as well as the architect's Conservancy.
"I gave them a year. I paid $1.7 million for the building and the lot," Ruis said. "I said to them, 'just give me my money back, no interest, no nothing. You guys save it if you want to.' They didn't pull through."
'Mr. Ruis should just give him to somebody who knows how to train'
Smaller controversies have shadowed him, every now and then, on the racing front, too — Corey Nakatani's January firing as Bolt d'Oro's big race jock, for one, as well as the musical chairs of trainers he played as an owner, before he was granted early last year his own license once again.
Which brings us back to those cheery little contradictions: for all the headlines made and stable gossip generated, Ruis is affable and approachable, and prefers to stay out of the bullseye of public attention, he said, where he can work away interrupted.
For example, if Bolt d'Oro does indeed head to Kentucky, Ruis will take with him his old friend Hank Wesch, the former San Diego Union-Tribune reporter, to whip the rabid media hordes into shape.
"I'm bringing him back with us to control all that. He's going to be there so I can focus on the horse," said Ruis. "Some people like to be all day long in that kind of limelight. I just want to do the right thing by the horse."
Interestingly, the thick hide Ruis has grown over many years as a businessman hasn't entirely insulated him from the petty barbs invariably tossed his way, barbs that have become sharper the greater his racetrack success.
"I need to stop reading all the comments: 'Mr. Ruis should just give him to somebody who knows how to train. Mr. Ruis should give it to Todd Pletcher. Mr. Ruis should give it to Bob Baffert.'"
Ruis says that he has the "utmost respect for every one of them trainers" the anonymous armchair analysts raise in derision. But what's clear, too, is a steely vein of pride in the way he's campaigned and developed his stable star. "I think we've done okay with Bolt," he said, with telling understatement.
And he admits — like any horseman worth their salt would — that he's figuring out his charge all the time, analyzing, and re-analyzing, and re-analyzing again the approach he's taking towards Churchill Downs.
"What I'm learning is the harder Bolt runs, the harder Bolt trains, the better Bolt is. But, there's a fine line to training hard and saving some," he said. "I'm not squeezing the lemon dry."
But should — should — Bolt d'Oro find himself on plane, train or automobile to Kentucky within the next month, Ruis believes that his horse ticks all the requisite boxes: speed, stamina, class, temperament, demeanor.
"Oh man, he's like a puppy," he said. "He'll fall asleep in the airplane with the groom [Angel Orentes] there. His mind is so powerful. When he wants to fight, he fights. When he wants to relax, he'll just relax. That's very rare for a colt like that. He's got all that he needs to take care of himself up to the race and give it his all when he's in the race. He's got the heart of a lion."
What about this Saturday?
"If he comes out of the next race good, we'll be at our best on the 5th of May."