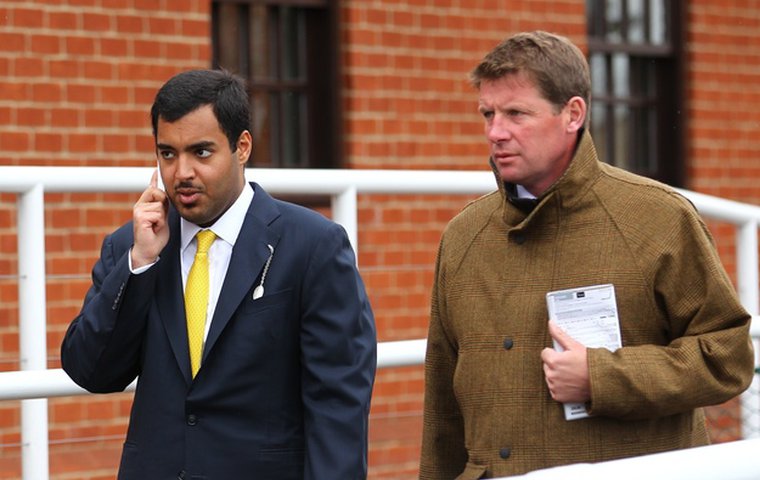 Optimism for the future high as Sheikh Fahad's operation looks set to go from strength to strength

It is testament to the ambition of a young Qatari sheikh that a toe tentatively dipped into the ownership pond four years ago preempted a racing empire that now extends to 270 horses with 55 trainers in six different countries.
It is even more striking to learn that the man in question, Sheikh Fahad Al Thani, is just 25 years old.
The sheikh has come a long way in a short time and already plundered some major international races, among them the 2011 Melbourne Cup with Dunaden.
Beyond that, he can savour the reappearance of Elm Park, who will start his 3-year-old campaign in the 2,000 Guineas at Newmarket on May 2. From there, it is just a short hop to Epsom and the Derby, for which Elm Park is among the favourites.
And, if all this sounds like the archetypal entrée of a Middle Eastern potentate to the Sport of Kings, Sheikh Fahad is quite different. He is at heart a trader, a man who insists his spend must be matched by the income his horses generate. And, while his outlay rarely extends to the choicest lots at boutique yearling sales, he is a regular player at the top racing table.
"Several others in our position would be pleased with what we have achieved to date," said the Sheikh's racing manager, David Redvers. "It is incredibly tough at the top end. We are just delighted to be competitive at that level."
Sheikh Fahad is a cousin of Al Shaqab Racing's Sheikh Joaan, whose brother, Sheikh Tamim, is Emir of the richest per-capita country in the world. Sheikh Fahad is less flamboyant than his cousin but more inclined to bold thinking – as he demonstrated when sending Peace And War, his English-raced 2-year-old filly, to win the G1 Alcibiades Stakes at Keeneland in October.
It was Peace And War's first start on dirt, and it placed her among the favorites for the Breeders' Cup Juvenile Fillies. Alas, however, she was scratched in the preamble.
"Something showed up on an X-ray so we treated it as though it was a new injury," Redvers recalled. "In the end, it turned out to be of no consequence at all. She'd probably had [the blemish] all her life and has never once been lame. In hindsight she could easily have run at the Breeders' Cup."
Peace And War will imminently return to Keeneland for the G1 Ashland Stakes and will stay for the Kentucky Oaks should her performance warrant it. Beyond that, she will point firmly towards the Breeders' Cup, back at Keeneland in the fall.
Such international racefests inspire Sheikh Fahad. He had two Breeders' Cup runners at Santa Anita last year and each returned home with a slice of the pie. Trade Storm finished third in the Mile, while Just The Judge filled the same spot in the Filly & Mare Turf.
Just The Judge had earlier landed the G1 EP Taylor Stakes at Woodbine, thus boosting her paddock value ahead of her appearance at the Tattersalls horses-in-training sale in December. The Sangster family owned 25 percent of her and that share passed to the China Horse Club after the 4-year-old filly, also winner of the 2013 Irish 1,000 Guineas, fetched 4.5 million guineas.
President of the China Horse Club, a rapidly-emerging power among racehorse owners, is Teo Ah Khing – himself a partner with the Coolmore clan in last year's English Derby winner, Australia. "We don't have any other horses in partnership with the club," Redvers said. "At this stage it is a one-off, but knowing how active Sheikh Fahad's mind is, that could change in the future."
Under the Qatar Racing banner, the sheikh races several horses in partnership with his two brothers, Suhaim and Hamad. The latter is chief executive of QIPCO, an investment vehicle for the Qatari royal family and sponsors of the British Champions Series that culminates with Champions Day at Ascot in October.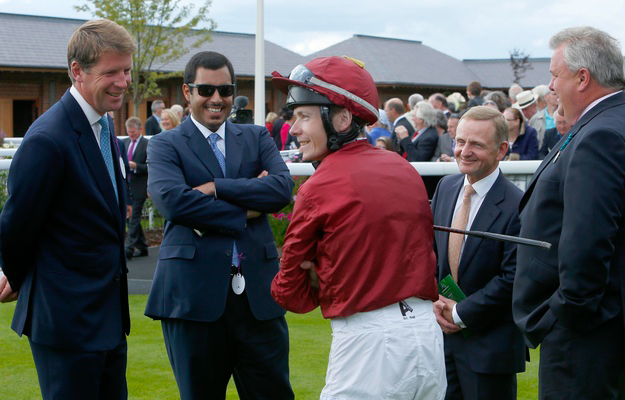 The racing bug bit Sheikh Fahad when he spent three years as a student in London. He has a handful of horses in the U.S. -- one with Simon Callaghan and between six and 10 with Graham Motion, among them a pair of 2-year-olds.
"We have no plans to expand in the U.S.," Redvers said. "We also have a small commercial breeding operation in Kentucky at Hunter Valley Farm. We have between 12 and 20 mares in partnership with Fergus Galvin and Adrian Regan, who manage the set-up very well. All the horses we breed from those mares are offered for sale."
Such eclectic ventures are typical of the sheikh, who bought nine yearlings and foals at auction in Japan last year – among them a sales-topping yearling son of Deep Impact for 260 million yen that has since been sent into training with Roger Varian in Newmarket, England.
The sheikh was keen to expand his bloodstock holdings in Japan until that country recently passed a ruling preventing non-Japanese from selling foals at public auction. "We have eight yearlings and three broodmares in Japan but the new rules mean we will probably stick to those kind of numbers now," Redvers said.
He explained that the sheikh's prolific spending in Japan – he parted with 870 million yen over two days last July – was entirely down to the bountiful purse structure there.
"Sheikh Mohammed paved the way on the ownership front in Japan and his operation has been profitable for several years in succession," Redvers said. "The prize money equation is very attractive and that appeals to Sheikh Fahad."
For all that, the mainstays of Sheikh Fahad's operation are Britain and Ireland, where he retains two young jockeys in Andrea Atzeni and Oisin Murphy, together with a slew of up-and-coming trainers of his generation.
One of his early winners came at Royal Ascot in 2011, when Frederick Engels won the Windsor Castle Stakes for 2-year-olds. Sentiment does not override the financial imperative, however: Frederick Engels was sold to Hong Kong within four months to secure a handsome profit.
When it comes to buying young racing stock, the sheikh tends to eschew "classic-bred" types in favour of more commercial propositions. "We look for value in our yearling and breeze-up purchases," Redvers said.
"We buy a broad range of horses across the board. In an ideal world we would buy crisp-looking sons of Galileo but several stallion doors are opening at the moment. It is not just about Galileo, and the big races are not just run over 12 furlongs at Epsom."
Indeed, on the sole occasion the sheikh lured himself into taking the plunge on a young Derby prospect, he paid 2.5 million guineas for a yearling son of Galileo at Tattersalls in 2012. Named Hydrogen, the colt, now a 4-year-old, has followed a long line of previous sales-toppers with his failure to win a race of any description to date.
This year's Derby dream was acquired at more reasonable cost. Elm Park had won two of his three juvenile starts when Sheikh Fahad bought into the colt. His first run in Qatar Racing's silks saw him win the G2 Royal Lodge Stakes, which he endorsed with an authoritative victory in the G1 Racing Post Trophy – itself a significant staging post on the Epsom roadmap.
The sheikh, on hand that October afternoon at Doncaster, was thoroughly smitten. "It was hard to sleep last night, thinking about the race," he said. "I thought it would take a hell of a horse to beat us and he [Elm Park] showed today why we think a lot of him. I think he's the best 2-year-old colt I've seen in terms of a Derby prospect."
The sheikh is also building up a broodmare band, together with a roster of stallions at Redvers' Tweenhills Stud, in Gloucestershire. The aim one day is to service most of his racing requirements with home-bred horses. While he is reluctant to pay handsomely for regally-bred yearlings, he has no qualms about keeping his mares in the best company.
"Sheikh Fahad and his brothers have sent 15 mares to Frankel in each of the last two years," Redvers said. "These are the kind of horses that would be so difficult to compete for at the sales, so we are producing our own."
Those Frankels will come on stream as 2-year-olds next year. They will be exciting times, but before then, Redvers believes there is much beyond Elm Park to anticipate in 2015.
"I have just finished looking around our horses in Britain and Ireland," he said. "Elm Park looks fantastic; he has filled out his frame a great deal, and is just where [trainer] Andrew Balding wants him to be. But we have quite a few other horses to run in the classic trials.
"Although he loves racing around the world, Sheikh Fahad is utterly passionate about British racing. In four years he has put more into the sport here than most people do in their lifetime. Like most owners, his ambition is to win the Derby but that is the pinnacle. There's a lot more out there to shoot at, and until our swans turn into geese, we are optimistic about what the year holds."