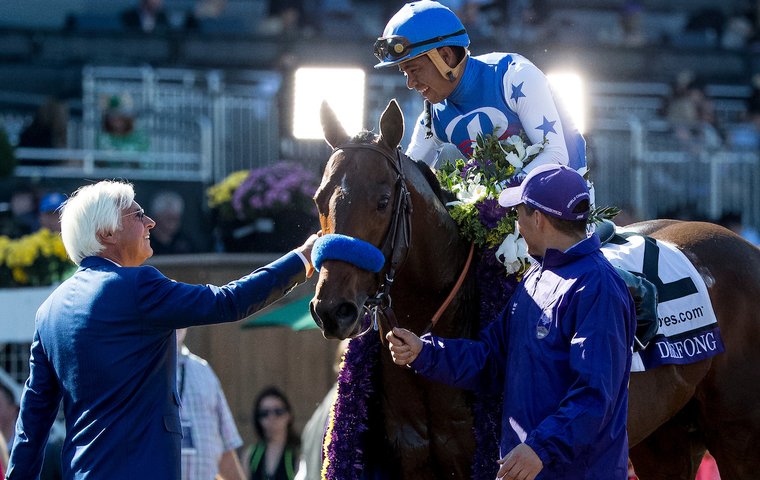 Bob Baffert is assembling a remarkable squad for the Breeders' Cup Classic. "I don't know if a trainer's ever had this kind of a hand before in the Classic," he says. But this is just one of at least three events that the Baffert has his eyes on in what has the potential to be an astonishingly successful World Championships for the trainer at Del Mar next week. He spoke to Paul Haigh.

Q. Let's start with Arrogate and whether you thought his dip in form had been the result of his trip to Dubai and how much that had taken out of him.
BB. Well, how much these trips make a difference depends so much on the horse. Looking back the Dubai trip did take a lot more out of him than I thought it did. He had a hard race because of the way he broke slow and then got cut off after the start. So he wound up basically giving them all a ten-length head start and then he had to run round them all.
When he got back, I could tell that he was pretty tired you know, and it took a lot out of him. I freshened him up though, and I had a plan not to run him, not till the Pacific Classic at Del Mar. Then the other race came up about a month before [the G2 San Diego Handicap, also at Del Mar]. I got caught up in all the hoopla and thought, well instead of working him up to it maybe I'll just run him in that mile and sixteenth race at Del Mar to get him ready and well.
It just didn't work. You know, he wasn't ready for that and I got him off his game and got beat. After that, he really wasn't like the Arrogate that we know so well. But, you know, I really think that he's back to himself. I feel happy with the way he's training now. But still, you know, when a good horse like he is gets beat two times in a row, you get a little worried, a little nervous. You hope that he hasn't lost a step. You hope he hasn't lost any enthusiasm.
Physically he looks healthy. He looks good, so hopefully it's not something mental or whatever. But right now I'd say he's doing really well.
Q. Do you think there's anything at all in the old belief that a horse tends to lose his form after Dubai?
BB. Well, it didn't affect Gun Runner did it? He was strong going into the Dubai race and he was strong coming out. So no. I think it depends on the horse and the race he has when he gets there.
Gun Runner was a very fit horse and he had a good run and he went round there and he came back fine. I think it depends on how you train them and what you do with them after the race, and that race just took more out of Arrogate than I thought because, you know, he spotted those horses ten lengths and had to come all the way round them.
Q. You were talking about the number of horses that you've got in the Classic and how you've got plenty of fallback if anything does go wrong with Arrogate.
BB. Yeah well, we have four. It's a pretty strong group that I have in the Classic. I don't know if a trainer's ever had this kind of a hand before in the Classic, and I just hope we can pull it off.
You know we have the up-and-coming West Coast. We have Mubtaahij. He's another you might say's up and coming right now. And we have Collected, who's been running extremely well and is unbeaten this year. He beat Arrogate last time in the Pacific Classic and he'll be coming back trying to do it again.
So you know those are some pretty heavy-duty top picks. And then you throw Gun Runner in the mix and this is probably one of the toughest Classics that we've seen in a while now.
Q. Do you ever let yourself think you might have a chance of going 1-2-3 in the Classic? Or even 1-2-3-4?
BB. Well, you know, we're hoping, but right now all I can think about is preparing them. I don't think about things like that. I just put the saddle on them. I don't get that far ahead of myself. We're still a couple of weeks out, and anyway we've all got to get by Gun Runner and that's not going to be easy. You know he's a really good horse and I don't know if Arrogate's even going to be the favourite right now.
I just want to make sure that my horses are all doing really well and ready for it, and even then you still need racing luck. Racing luck is something you always need every time they run.
Q. But, as far as Arrogate's concerned, there's nothing you can see in his work that makes you feel that he's deteriorated?
BB. No. I like the way that he's working. I mean, if I lead him up to Breeders' Cup Classic, that means that he's doing well. I wouldn't lead any of them up there unless they were doing really well.
Q. So, if you're not perfectly satisfied with him on the day, he won't go?
BB. He won't go, no. If he goes, that means he's doing really well.
Q. You've got at least three possible champions going for the Breeders' Cup. Can you talk about the others?
BB. Well, Abel Tasman, who's owned by the China Horse Club, has to be one and I think now she's favourite for the Distaff.
She is one of my favourites here because, I don't know … she's a brilliant racer but she's such a lovely horse. And also she's got this perfect disposition. She's just kind and free. She reminds me so much of American Pharoah in that respect, a really kind horse. She's a plain bay but a beautiful long-bodied mare, and in the afternoon she's just all racehorse.
Her defeat last time in the Cotillion was probably our fault because we just drew up a plan and it didn't work out too well. The way the race panned out, she sort of took off a little too early and then, you know, a horse doesn't have a run that lasts more than two furlongs or so and she didn't have enough left at the end.
She likes to take it slow and she has to wait and then she starts picking it up. We didn't want her to go too wide and we wanted to wait, but the way the race opened up on the inside Mike [Smith] thought it might be wise to maybe save ground and go for the gap. But, when he did, she just ran off with him for the last three quarters of a mile. She still ended up second, but she should have won. But I'm happy that she's come back well from that race, and she should be very tough to beat at Del Mar.
Q. So it wasn't the plan to go that early? It was just Mike Smith using his initiative when he saw that there was space on the rail?
BB. Well no. But everybody was off the rail. Everybody was in a wide pack off the rail. So he would have been like eight or ten wide if he'd gone round them. Looking back, he probably should have stayed where he was and then come wide. But it was just a weird-run race. That stuff can happen. It was just the way everybody was staying off the rail for some reason, and it didn't work out for her. Like you could have driven a truck through the rail, you know, and when she went for it she just took off.
Q. And used her run early so she didn't have any left at the end?
BB. Yes. She did it in the race before [the Coaching Club American Oaks at Saratoga] and got away with it, but she didn't get away with it this time because the track was a little bit tighter so …. when she did it the time before in the Coaching Club she made this big move down the back straight early and she won, beating Elate, and we've since seen how good Elate is, so that was a really good run.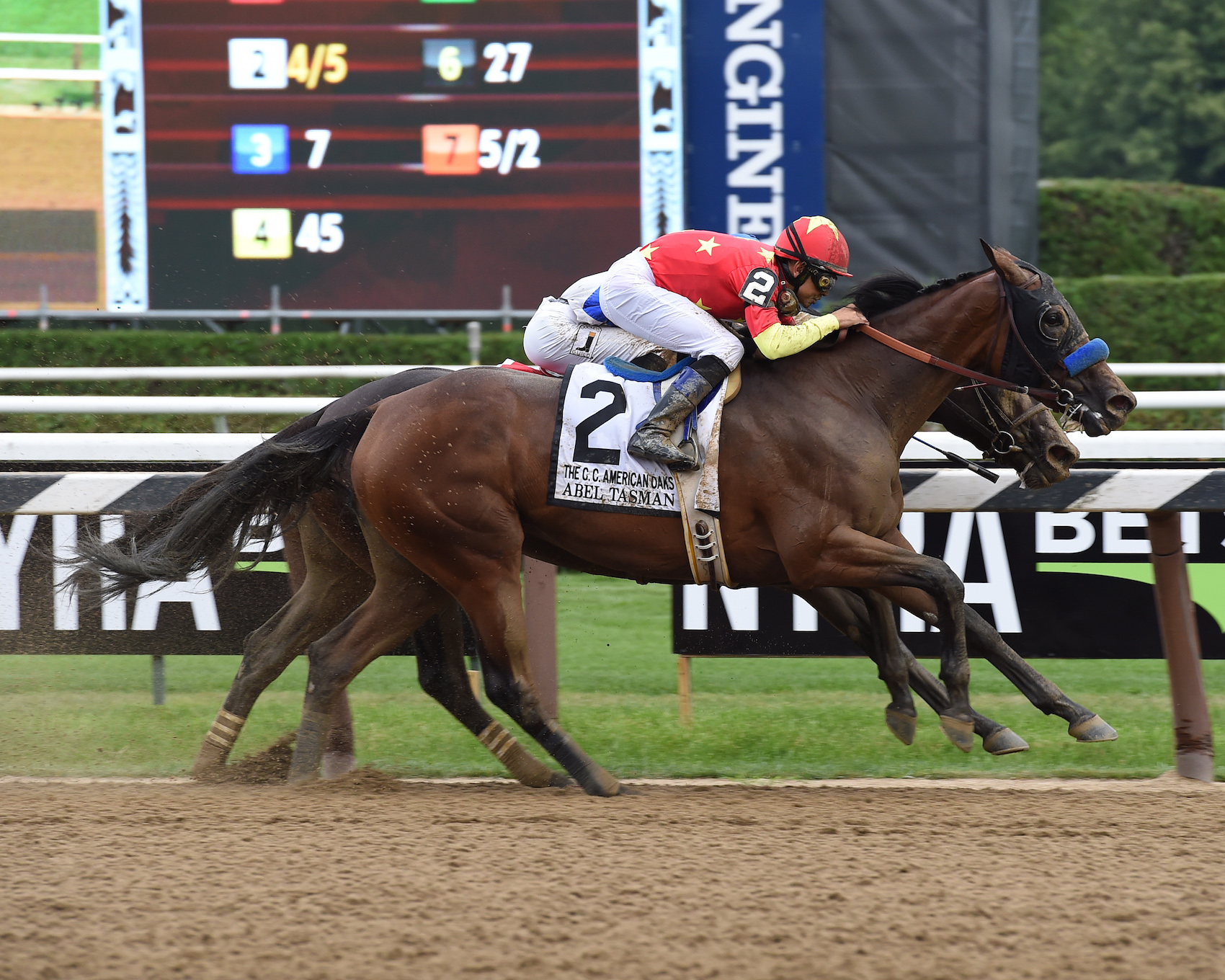 Q. So Mike Smith will probably want to save her run till late at Del Mar?
BB. Yeah I think Mike will decide. He's a skilled rider so you don't worry about that. At Parx we were trying to keep her a bit closer than she'd been at Saratoga and turned out it was just a bad plan, but you know, these things happen.
Q. How did her owners take that defeat?
BB. Well, you know, they're very good owners, the China Horse Club. You know they're teamed up with WinStar and they all took it on the chin and just accepted it. They see it. They know the business. Things happen. They know we didn't get out-run at Parx, we just got beat. It was just bad tactics. But you know, they realize that sometimes the luck goes against you.
We won the Kentucky Oaks with similar tactics, but sometimes something's going to go. They know when you have a horse that comes off the pace, it's more difficult, especially here in America, because you're always going to be at a disadvantage coming off the pace. Speed rules you know.
Q. Back in May, after she won the Kentucky Oaks, you said she was a developing horse and that, by the end of the season, you thought she'd end up the best filly in America. Is that development continuing? And, if so, do you see her being better still at four?
BB. Yes. Oh yeah. She's still growing. Her development's continuing. She's going to be much better at four.
Q. You're sending nine altogether to the Breeders' Cup. How about your other horses?
BB. Well, they're nice horses but there's not one of them you'd say has a favourite's chance. Things have to happen if they're going to win. Things have to happen with the favourites, but you never know. At the Breeders' Cup sometimes some horses just don't show up. They don't bring their game. You get a lucky break, and things can go right for you. But usually the best horses show up so they take the race.
That's what I'm hoping about our third runner that I really like a lot, and that's Drefong. He's trained really well. I think he's a brilliant racehorse, and he's definitely the best sprinter in America, as he showed again in the Forego. So, hopefully he gets a good trip and he wins the Sprint.
He had one bad incident at Del Mar when he was on the rail and there was a big gap and there was a break in the rail and he saw that gap and he sort of got pushed into it by another horse and unseated his rider. But I don't think he'd ever do that again and it was nothing to do with his character.
Since then they've put a 30-foot barrier now to close that gap. So they learned. The track learned that you can't have that happen. And I'm sure it's not going to happen again.
Q. So you're hopeful Arrogate's himself again; pretty confident of Drefong, and, although coming from behind as she does, you think Abel Tasman is always going to have a tough job, but you'd like to think she's up to it. And, if you're not perfectly satisfied with any of your horses, they're not going to run?
BB. Yes. That's about right. But you always need luck. Don't forget that. Racing luck is the one thing you cannot do without.