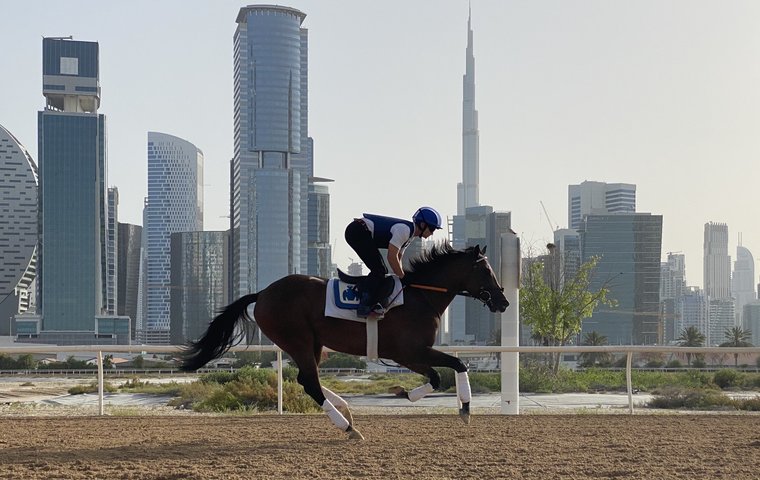 While most horses in training in Dubai have long since had their shoes taken off and are enjoying daily swims and time in the paddock over the summer break, one yard was still bustling with activity deep into May.

It's one of the most secretive stables in the UAE, despite being right in the heart of the city. Dubai Stable is sandwiched between Godolphin's famous Al Quoz base and Red Stable, home to multiple champion trainer Doug Watson. A busy new bridge running over and between the yards now means that any interested motorists can peer in from their cars and see some of the best-bred Thoroughbreds in the world.
That's because Dubai Stable is home to a select bunch of 2-year-olds owned by Sheikh Hamdan bin Rashid Al Maktoum, whose blue and white striped caps their riders sport during morning exercise.
For more than 25 years, Shadwell has sent horses to the warmer climes of Dubai to winter - along similar lines to the way in which Godolphin was founded. Such greats as Guineas heroes Ghanaati and Haafhd learned their trade here, as did current Shadwell stallions Nayef, Tamayuz and Tamarkuz.
Originally, the stable was run by subsequent Classic and Breeders' Cup-winning trainer Kiaran McLaughlin, but for the past 23 years Irishman John Hyde has been the principal trainer.
The yearlings, usually around 60 in total, are split between colts and fillies. They arrive in September and are backed and ridden away for the first time in Dubai. By the time they join their trainers in Europe, they are young racehorses - with plenty of air miles. This year though, things are slightly different, as instead of leaving at the end of March, the coronavirus chaos meant they didn't leave until mid-May.
"When the 2-year-olds leave, they are fit enough to have a gallop, or breeze, but not necessarily race," explains Hyde. "For the most part, we allow the trainers to whom they go to start sharpening them for racing."
This year's bunch of graduates are all bound for yards in France, Ireland and the UK, with trainers including Francois Rohaut, Jean-Claude Rouget, Sir Michael Stoute, Roger Varian, Mark Johnston and William Haggas.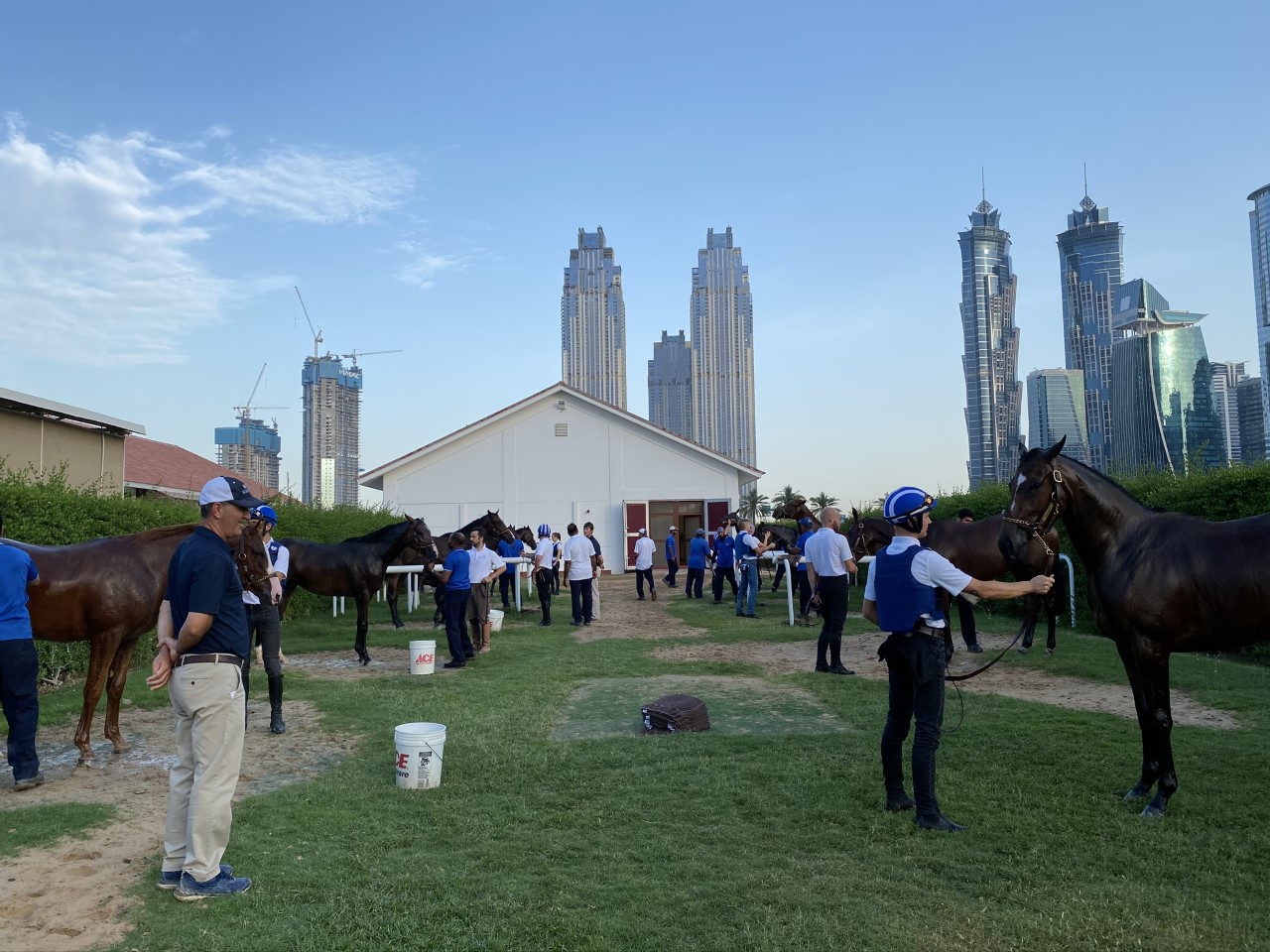 They will take over a blue-blooded bunch, with progeny of Group-winning mares Lahudood and Rosalind, as well as brothers to G1 winner Bobby's Kitten and G2 winner Qurbaan among the ranks. Naturally reticent Hyde, though, refuses to be drawn on which are the pick of the pack.
"This is a very talented group which has shown an eagerness to train, which is always key and good to see," he says. "It's especially good when you have first-crop sires such as Awtaad and Tamarkuz represented, as you never know quite what they'll be like."
Hyde runs a tight operation - the immaculate yard's inmates are in the trotting ring at dawn and finished before the day's heat sinks in. As such, he says the extra time in Dubai, where temperatures edge towards 40C by the end of May, won't have affected them too much.
"We're done before it gets hot, so we didn't really adjust too much," he says. "We just gave them a couple of two-furlong gallops to stretch their legs and keep them content. To them, it doesn't make a difference, so we just try to keep them happy and healthy and luckily we have world-class facilities in which to do that."
Hyde has seen several stars pass through his sandy stables, but singles out one for particular mention: the Godolphin Mile and Breeders' Cup Dirt Mile winner Tamarkuz, whose first crop are now 2-year-olds.
"He was a very easy horse who was eager to please and somewhat snuck under the radar because he was so straightforward," he remembers. "He could have broken the track record when he ran for Godolphin early in his career. Sheikh Hamdan re-allocated him to Musabbeh [Al Mheiri] on his arrival back to the UAE, but unfortunately he then had to overcome a freak accident in the gates that could've ended any horse's career.
"He was undeterred by the gate accident and showed great determination with his front-running style, breaking fast. He had to employ a change of tactics in the [2015] Group 2 Godolphin Mile and he still won with a great ride by Paul Hanagan. He went to the States to run in some serious Grade 1s for Kiaran, experiencing fractions he'd never encountered before, and still won a Breeders' Cup. Great horse."
Hyde and his team of riders, which includes former Brazilian champion apprentice and G1-winning jockey Bernardo Pinheiro, will be keeping close tabs on the youngsters as their careers progress.
For Hyde though, it's the everyday routine that gives him the most enjoyment. "It is an honour to work around such talented, well-bred horses, playing a key role in their collective development," he says.
"You have to love and respect the horse, first and foremost, and that is tangible in this operation. It leaves you with that much more pride and satisfaction when things work out well. Then you get up and do it all over again."
Names to watch
TAMYEEZ (2yo F, Tamarkuz ex Hijaab (Tiznow)
MONTASSIB (2yo C, Exceed And Excel ex Felwah (Aqlaam)
AKFAAR (2yo C, Kitten's Joy ex Celestial Woods (Forestry) Brother to G1 winner Bobby's Kitten
MOLHIM (2yo C, War Front ex Firdaws (Mr Greeley)
ALMAAN (2yo C, Speightstown ex Rosalind (Broken Vow)