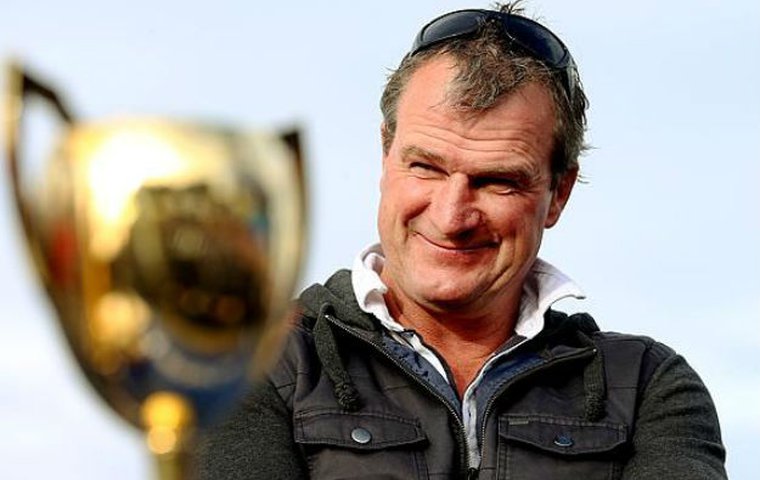 He did it again this weekend. The trainer who has been racking up wins in Australia's biggest races at an astonishing rate, including the Melbourne Cup on the Michelle Payne-ridden 100-1 shot Prince Of Penzance last November, swept up the G1 Australian Guineas at Flemington on Saturday with Palentino, who may now go for the prestigious Australian Cup this coming weekend. Steve Moran profiles the phenomenon that is Darren Weir.

Darren Weir is the strapping, country boy from a dot on the map named Berriwillock, in grain-growing country about 330 kilometres north-west of Melbourne. A one-time farrier and horse-breaker, now trainer. Picture some mix of The Man from Snowy River and Crocodile Dundee. More Paul Hogan and Bryan Brown than Hugh Jackman.
He talks the way country people do - not too quickly - and, come to think of it, not too dissimilarly to Dundee Hogan. His almost goofy smile coupled with an almost giggly, infectious laugh, could have you convinced he's a mug (that's Aussie for dill) from the bush. He's anything but.
He's had a few blues (that's Aussie for fights) along the way with contemporaries and colleagues and racing's stewards. In fact, his only departure from the quintessential Aussie bloke from the bush is an apparent preference for something like a bacardi breezer over a beer. Not that I'd be game enough to write that!
Weir, right now, could claim to be the No.1 trainer in Australia. That title really sits with Chris Waller and would do so on any rolling rankings akin to those used in tennis and golf. But Weir is a legitimate challenger.
At the time of writing, he'd trained a table-leading 182 winners of AUS$13.8 million (US$10.26 million) for the season (1/8 to 31/7 in Australia). He won two of the seven-million-dollar plus races at the Gold Coast meeting in early January - the biggest fixture in this country since the Melbourne Cup, which, of course, he won with 100-1 chance Prince Of Penzance.
Hitting them out of the park
It's quite a remarkable success story. Not that he has emerged from obscurity or anonymity. He's been reasonably well known in the game since taking out a licence in 1995 and successful enough to be prominent, training 100-plus winners per season since 2005.
However, it is only in the last three years that he's graduated from top of the class in the minor leagues to hitting them out of the park in the majors.
That's best measured by the Melbourne metropolitan trainers' premiership ranking - based only on winners at the four metropolitan tracks in the country's racing capital. Weir didn't feature at all at the top of the rankings in season 2012-13 but then wrested the title from Peter Moody (who appeared to have a mortgage on it) the following season. He won it again in 2014-15 and is the runaway leader in 2015-16.
Weir trained between 31 and 44 metropolitan winners in the three seasons before his premiership win. He then jumped to 95 city winners to claim that title (the first country-based trainer to win the metropolitan premiership) in 2013-14 and followed up with 101 the next racing year. His winner tallies in the past two seasons have been 298 and 253 from his Ballarat and Warrnambool stables.
In the past four seasons (including this one) his record in G1, G2, G3 and listed races is 10 - 10 - 14 - 21 winners. That contrasts strikingly with the 1 - 2 -14 - 12 in the previous 12 seasons from 2000-01.
He's managed to achieve this for a variety of reasons and, in the process, shake off any negative public perception after a number of run-ins with stewards - some of which bordered on Keystone Cups farce - earlier in his career. One story, apocryphal or otherwise, has it that a racecourse detective gleefully told Weir he'd captured him on camera with tubing equipment in hand - only to be advised that he'd left the lens cap on.
Likeable rogue
Weir was outed for giving false evidence at a stewards' inquiry in 2001; fined for being in possession of stomach-tubing equipment in 2002; suspended for three months in 2003 for stomach-tubing a horse on raceday (in fact on the way to the races). He escaped sanction from another tubing inquiry in 2006 and was fined $15,000 for an elevated TCO2 (carbon dioxide) reading in 2008.
Melbourne's The Age newspaper reported, at the time, that Racing Appeals and Disciplinary board chairman Russell Lewis said that "... although Weir did not have an unblemished record with stewards, the board was satisfied that it was not a deliberate or premeditated attempt to contravene the rules; that the reading was only marginally over the limit and that Weir had no previous charges with TCO2".
All the while, Weir has ostensibly remained popular with punters and his owners and - it seems - engendered little ill-feeling among his colleagues. His indiscretions forgiven, it seems, on the basis that he's a likeable rogue. One rival trainer muses that anything he may have done on raceday was probably "a Linus thing, a security blanket".
His ownership base has grown considerably in recent years, as indeed has the number and quality of horses on the books to 300-plus. Prominent business figures, including Gerry Ryan, co-owner of Melbourne Cup winner Americain and principal of the Orica Green Edge cycling team, have backed the stable and Weir has surrounded himself with the best behind-the-scenes people.
These include well-known punter, form analyst and occasional racing journalist Peter Ellis, who not only does the form for Weir - in terms of running in the right races and assessing the horse's chance - but also provides advice on riding tactics and track bias. While other stables will also consult 'form men', few would do it as thoroughly as Weir and Ellis.
In essence, success has bred success, with Weir now having the luxury of numbers that is common to premiership-winning trainers all over the world as is, in many cases, the odd blemish on their record.
Remarkable strike rate
While the numbers have grown, his success has come without yet having first call on the best-bred horses in the country. Two of his standout performers, Mahuta and Trust In A Gust, were respectively purchased for just $35,000 and $45,000.
He has a remarkable strike rate, especially first time out, with acquisitions from other stables and has extracted the best from many of them, most notably graduating Lucky Hussler from a G3 winner to dual wins at G1 level.
Numbers aside, he still has had to apply his undoubted skills as a horseman and be sufficiently organised and motivated to run a major stable. He remains hands on - noted for his attention to detail with the animal - and delegates the periphery matters to others. He admits he's something of a perfectionist and has been described as a tough boss. Perhaps that comes from his father, Roy, who is universally known as 'boss' in the district where Weir grew up.
Weir, it should be said, always goes out of his way to acknowledge the input of his staff, and his ability to delegate is evidenced by the fact that he entrusts more than 50 horses to Jarrod McLean at his Warrnambool operation.
At beachside Warrnambool, which has spawned many good, young trainers in recent times, including emerging star Ciaron Maher, the horses are able to take advantage of long, steady work through the sand dunes as well as ocean swimming and wading. This has been vital to his success, according to many observers, including fellow trainer Michael Kent.
"The man's a very good horseman and a very good trainer," Kent said, "and he's also been smart enough to capitalise on the set-up at Warrnambool. The dunes are superb for limited stress preconditioning and, while others have just talked about, he's made the most of it."
Reported split with Michelle Payne
Weir's elevation to the top, was in a sense, confirmed by his Melbourne Cup win. Not only did he defy the international challengers with a 100-1 chance, but he was comfortable to employ Michelle Payne, who became the first female jockey to win the famous race, which dates back to 1861.
Payne, whose life has been a whirlwind of social and media engagements ever since, was effusive in her praise for Weir immediately after the Cup. "He is such a horseman, he knows what horses need - not just one horse, but all of them," she said.
And yet the two have reportedly split since, with Weir citing her unavailability to ride work and on raceday. But it seems more a 'tiff' than a divorce, although time will tell. The owners of Prince Of Penzance (who returned to training in the last week of January) have said that Payne will retain the ride irrespective of her relationship with Weir.
Payne, when asked about the Weir situation, told the Herald Sun newspaper on 29 January when she reaffirmed her commitment to riding: "I don't really want to get into that too much. It's just been basically ­because, after the Cup, I was travelling around Australia promoting the win, so hopefully we'll get back into routine and everything will be fine again."
We'll leave the last word on Weir to his financial adviser, Mick Leonard, who, shortly after the Cup win, told the Sydney Morning Herald: "Darren Weir plays the boy from the bush well but, if you think that's all he is, then you'll undersell him to buggery."