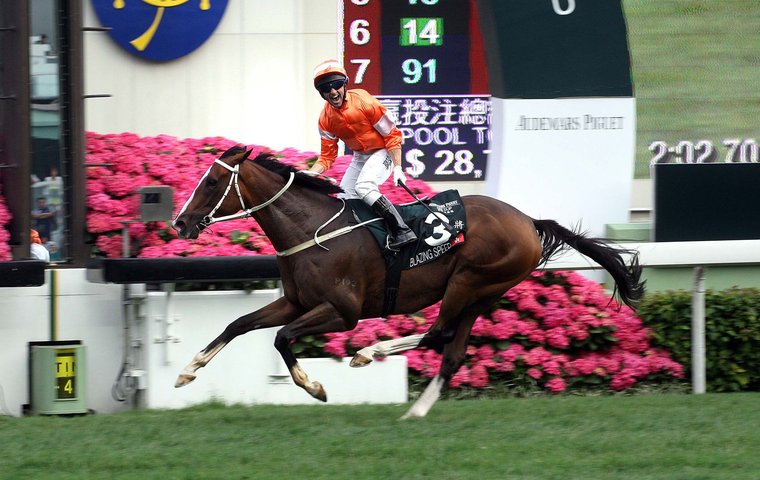 If horses wore sleeves, Blazing Speed's would be rolled up, just like his regular partner in arms, Neil Callan, whose battling successes in Hong Kong have earned him the 'Iron Man' tag among local racing fans.

Two years ago the longtime partnership delivered a defining victory in the G1 Audemars Piguet Queen Elizabeth II Cup (2000m) at Sha Tin, and on Sunday they will team up for the 22nd time in an attempt to recover that particular piece of silverware and bank the lion's share of a HK$20 million prize fund.
But, at eight years of age and without a win from six starts this season, does Blazing Speed still have the fight in his heart and the vim in his handsome frame?
"Absolutely!" Callan asserts. "And I think he always will. Every time I ride him he gives 100 percent, so I can't question his ability to give me everything in a race. That's how I'll go into it on Sunday - knowing that he'll give me everything."
Callan is Blazing Speed's biggest fan and it is easy to understand the Irishman's admiration for the Tony Cruz-trained bay with the striking white face and four socks to match. Two G1 scores make appreciation that much easier, of course, but with Callan and Blazing Speed it goes beyond that.
Peas in a pod
Blazing Speed arrived in Hong Kong from England as a 2013 Hong Kong Derby aspirant after notching a brace of ten-furlong wins from only four starts for James Fanshawe. That Derby dream passed by unfulfilled and the gelding ended his first season in Hong Kong with a win each in class 3 and class 2 handicaps from nine starts, all between 2 February and 1 July - a tough schedule by anyone's measure.
"His biggest attributes are that he's tough and he's genuine, and he's got the class to go with it," says Callan, who is currently world-ranked 97.
The jockey could be talking about himself: and therein lies the appeal of the Blazing Speed and Neil Callan story. Horse and jockey, the duo that has partnered for wins in the G1 APQEII Cup, the G1 Standard Chartered Champions & Chater Cup (2400m) twice - first time under its previous local G1 designation - and the G2 Jockey Club Cup (2000m) are two peas from the same pod.
"His race record over the last few seasons tells you what a good horse he is," Callan continues. "He always gives his maximum effort and that's all you can ask of any horse."
Massive thrill
An echo of his regular rider, Blazing Speed is often overlooked when lined up against rivals with more glamorous profiles.
He won his first Champions & Chater Cup as a 25.9 chance, his second, last May, at 9.3, and was sent off at 15.1 for his APQEII Cup win. But, like Callan, he is adept at delivering quality performances laced with true grit; capable of mixing it with the very best, and, when the cards fall right, of gaining the upper hand.
Blazing Speed is not an Able Friend or an Ambitious Dragon: he is, though, among the top echelon of horses to have ever raced in Hong Kong. His APQEII Cup victory saw him brush aside the Japanese raider Staphanos and Australia's Criterion. Callan, whose European G1 haul includes the Nunthorpe, Middle Park, Racing Post Trophy and Fillies' Mile, rates that Sha Tin triumph at the very top.
"I'd say the QEII is the biggest race I've won," he says. "It was a massive thrill to win it, just brilliant. It's the best moment in my Hong Kong career, so far, that's for sure. My ultimate goal is to ride the best horses in the best races, but also I'm a very competitive person and I always want to win. I want to win every time I go out; obviously to get those rides you've got to ride winners, you've got to show owners and trainers that you're in good form and capable of doing the job."
Almost a kitchen-fitter
Callan's tale is one of hard work leading to deserved rewards. He is an artisan, not an artist - sleeves rolled up are his trademark look - whose skills have been honed and developed through old-fashioned endeavour; there is no shimmering veneer to Callan, no adulatory fanfare. He is a no-nonsense operator in every respect.
"I've never been put up on a pedestal and had people say 'here's the next superstar jockey'. I'm not the most stylish jockey; I'm very strong and I've got a serious will to win," he says.
That desire, manifest in a busy, punching, riding style, is appreciated in the unrelenting world of Hong Kong racing, where each move is scrutinised and victory means everything.
Since relocating to Sha Tin full-time in 2014, following on from short-term winter contracts prior to that, the two-time UK championship runner-up has earned the respect that has carried him to season-end tallies of 47 and 40. Heading into meeting number 66 of 88 this term, he already has 35 on the board to rank third in the premiership.
"So far it's all working out here in Hong Kong. There's not a day goes by that I don't think 'you are lucky'. I have to be grateful because ten or 12 years ago would I have thought I'd be here riding these horses, earning this sort of money? Not in a million years!"
Go back 20 years and he was light years away.
Two and a half years into his apprenticeship at Kevin Prendergast's yard in Kildare, Ireland, and frustrated at a lack of opportunities, Callan considered a change of vocation - as a kitchen fitter. A chance phone call took him to Karl Burke's stable in England, a move that set him on the path to where he is today.
'He's coming online'
"I'd only had about 19 rides and the best I'd done was fourth or fifth. It's not easy to break through in Ireland and I had four apprentices ahead of me at Kevin's," Callan recalls. "I didn't want to be stuck as just a stable lad riding three lots in the morning and going home, stuck in a pub or a bookmaker's all day. I didn't want that life, I was going to learn a trade."
Almost 18 years later, on a hazy Hong Kong afternoon, Callan enjoyed the standout moment of his career and there wasn't a granite work top or an AGA oven in sight. On Sunday he will attempt to reprise that triumph and the lack of a Blazing Speed win so far this term is not dulling his confidence.
"He has the same pattern of races every season," the jockey, 38, observes. "He takes a few races to get into gear now that he's a little bit older, but he's been running very well this season and he's coming online.
"The last time he ran, over the mile in the Chairman's Trophy, it wasn't a bad run; I wasn't very hard on him, so I'd expect him to improve quite a bit going into this race. He looks magnificent, so he's going to go there with the same chance that he does every year."
Blazing Speed's effort in last year's APQEII Cup resulted in a third-place finish behind the re-opposing Werther. But a wet track on that occasion would not have suited the good-moving Dylan Thomas gelding. This time, with only seven rivals to contend with, Callan is confident that his partner will be in the shake-up once more.
"It's just a matter of who gets the right run on the day," he says. "It's a small, select field but it's a strong field. But it's nothing he hasn't handled before. I'm looking forward to it."