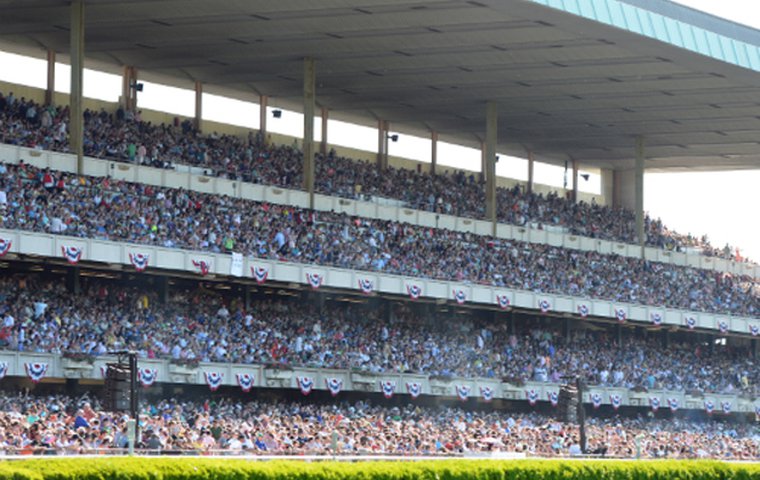 The Belmont Stakes' lofty status as a box-office draw that few events in any sport can match is probably best illustrated by a recent decision to cap attendance.

After attracting a massive crowd announced at 102,199 a year ago for California Chrome's failed Triple Crown bid, the New York Racing Association (NYRA) declared last month that it would limit attendance to 90,000 to better accommodate the horde of people that will descend on the Elmont, New York, track for the June 6 race.
With American Pharoah aiming to become the first Triple Crown winner in 37 years, all of the reserved seating has been sold out and general admission tickets are becoming scarcer by the day.
It's a grand time for a race celebrating its 147th birthday.
It wasn't always that way, though.
In 1995, just 37,171 were on hand on a sunny day to watch Kentucky Derby winner Thunder Gulch complete bookend wins in the Triple Crown series.
It was an utterly disappointing turnout that served as the nadir for a depressed four-year period without a Triple Crown bid that saw attendance for the "Test of the Champion" continually dwindle from 51,766 in 1991 to 50,204 the following year and then 45,037 and 42,695 in 1993 and 1994, respectively.
At the time, the Belmont Stakes attendance bar had been set not by Secretariat or Affirmed or any other Triple Crown winner. Instead, it was the Caracas Cannonball, Canonero II, who drew a record crowd of 82,694 for the 1971 Belmont.
Secretariat's Belmont, while it produced the race's most spectacular performance, was watched by only 67,605. Seattle Slew's 1977 sweep generated a crowd of 71,026 and the epic Affirmed-Alydar duel in 1978 unfolded before a crowd of 65,417.
The next year, just 58,987 watched Spectacular Bid fail in his attempt to register a third straight sweep, and in later years the eagerly awaited 1989 showdown between Triple Crown candidate Sunday Silence and New York fan favorite Easy Goer saw just 64,959 pass through the turnstiles.
"The feeling at NYRA during the 1970s and 1980s was that the Belmont Stakes would get a crowd on its own," said Ed Seigenfeld, who worked as NYRA's vice president of marketing before leaving in 1990 to become the executive vice president of Triple Crown Productions until 2009. "There was a general feeling that you didn't have to promote it."
Then in 1997, a perfect storm of fortuitous events allowed the Belmont Stakes to reach new heights by sparking a string of record-breaking turnouts that paved the way for it to become the mega-event it is now considered.
It started with Silver Charm's 1997 Triple Crown quest that brought out a crowd of 70,682, the largest to witness the Belmont Stakes since Seattle Slew's sweep 20 years earlier.
The following year, the thrilling photo finish that saw Victory Gallop thwart Real Quiet's Triple Crown hopes, produced an even bigger crowd of 80,162, just shy of the 1971 record.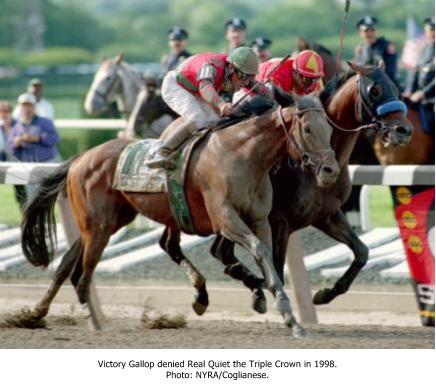 In 1999, a "Triple Triple" brought Kentucky Derby/Preakness winner Charismatic to the Belmont Stakes as he chased the first sweep in 21 years and attracted a record-breaking 85,818 to watch yet another near-miss.
"The Belmont took off after those years and took on a life of its own," said Jenny Kellner, who first joined NYRA's media relations staff in the mid-1990's and now serves as the organization's assistant director of communications.
The new wave of popularity was clearly reflected the following two years when 67,810 and then 73,857 poured into Belmont during years when a Triple Crown was not on the line.
"The crowds we got in 2000 and 2001 really proved to me that the Belmont had become a big event," said Glen Mathes, who joined NYRA's media relations office in 1982 and served as director of communications from 1991-2005. "We had a turnout along the same lines as we got in the 1980s for a Triple Crown bid."
The next Triple Crown bid – by War Emblem in 2002 – pushed the attendance record all the way up to 103,222, and the following year only a day-long downpour kept the record intact as 101,864 rain-soaked fans packed Belmont Park's plant for Funny Cide's attempt at racing immortality.
The second "Triple Triple" then shattered the attendance record once and for all as an army of racing fans numbering 120,139 strong crammed into every available inch of space at Belmont Park – including the limbs of some of its trees – to root for the undefeated Smarty Jones to become the 12th Triple Crown champion.
"That was insane in 2004. [Before coming to NYRA], I had covered the Super Bowl, the World Series, the Olympics, and I had never experienced anything like that, nor do I think I ever will again," Kellner said.
Since then, as the Triple Crown drought stretched into a third decade and heightened interest in the series, bids for a sweep have been witnessed by crowds in the standing-room-only neighborhood of 100,000.
Understandably, years without a Triple Crown at stake, have lagged well behind. Though higher than comparable years in the 1990s, the crowd was 55,779 in 2011 and just 47,592 in 2013. In future years, it will be interesting to see whether NYRA's adoption last year of a "Big Day" format for the Belmont Stakes card (there are 10 stakes on June 6 worth roughly $7.5 million) will boost attendance in those inevitable years when the Derby winner loses in the Preakness.
So what made 1997 such a turning point?
It started with a grass-roots push that year by Terry Meyocks, then NYRA's president and chief operating officer, to get local residents to embrace the major event taking place in their backyard. His carrot was the inception of the Belmont Stakes Festival, which still targets the communities immediately surrounding the track - Elmont, Queens Village, Floral Park, and Garden City. With outside marketing help from Ed Lewi Associates, a series of promotions, including parades and food stands, were scheduled to remind area residents that the Belmont Stakes was actually a convenient and exciting national sporting event taking place in their backyard and not just an irritating source of congested streets and traffic on a Saturday afternoon in June.
"Terry made it a priority to introduce the Belmont Stakes Festival and that really helped move up the race," Mathes said. "It created excitement in the local area. A lot of people in Queens and Long Island were involved it and it really made a difference in getting them to come out for the race. It created an awareness for the race in the minds of local people and got them to see that they had a major event right here and that they should take advantage it."
The increased promotion could not have come at a better time as the 1997 and 1998 editions produced unforgettable stretch duels. In 1997, Silver Charm led in mid-stretch but lost by three-quarters of a length to a resurgent Touch Gold. As thrilling and entertaining as that was, 1998 topped it when Real Quiet seemed home free with a four-length lead at the eighth pole, only to have the fast-closing Victory Gallop collar him in the final stride and prevail by a nose.
The 1999 Belmont is best remembered for the incredibly poignant scene of jockey Chris Antley cradling the injured leg of Charismatic after the race.
"The races themselves were great and that played a big role in bringing out the crowds," said Tom Durkin, NYRA's track announcer from 1990 to 2014. "Silver Charm and Real Quiet and Victory Gallop did more for racing in that era than anything else. The 1998 Belmont was as thrilling a sport event as the Miracle on Ice or anything else was. Show me something else like that. 'The Giants win the pennant! The Giants win the pennant! [in the 1951 National League playoff game]' OK, maybe that was. But not much else. In terms of drama, I can't think of anything else that has topped that race."
The personalities involved in the 1997-99 races also helped to light the fuse. Silver Charm and Charismatic were owned by Bob and Beverly Lewis, who were beloved inside the industry and were warmly embraced by television audiences. Mike Pegram, who owned Real Quiet, was colorful and comical.
D. Wayne Lukas, who trained Charismatic, had spent close to 20 years as racing's most dominant and well-known figure, having won a slew of Breeders' Cup races as well as six straight Triple Crown races from 1994-96.
The new kid in town was trainer Bob Baffert, who registered the first of his four Kentucky Derby wins with Silver Charm and then repeated the feat with Real Quiet. Baffert, who will take his fourth swing at a Triple Crown sweep with American Pharoah, brought a hip brand of wit and charm to classic races that dated back to the 1800's.
"Silver Charm was people's first real exposure to Baffert and he became a media darling and extremely recognizable," Kellner said. "When he came back with Real Quiet people knew him and they wanted to come back and see it all over again."
Perhaps the best illustration of the Belmont Stakes' newfound appeal came in 1999 when the race shared a stage on the same day with two other major sporting events in the Big Apple: Game 3 of the NBA Eastern Conference finals between the Indiana Pacers and New York Knicks at Madison Square Garden (which was won by the Knicks on Larry Johnson's famed four-point play) and a Subway Series game between the Yankees and Mets. Instead of pushing the Belmont Stakes into the background, the local media covered all three events with equal gusto and labeled the day as "Christmas in June" for New York sports.
"That whole weekend was about the three major events happening in New York that day and it got so much publicity you couldn't not know what was going on," Mathes said. "You might think it would detract from the Belmont, but the way the race was packaged as an equal to the basketball and baseball games actually helped grow the Belmont's reputation as a major event."
All told, it was a chain of events that turned the Belmont Stakes into a blockbuster event by any standard.
"Everything came together in 1997-99 for the Belmont," Seigenfeld said. "There was good promotion, marketing, and advertising. We had great television partners [ABC until 2001 when NBC took over] and some great races to watch. That moved the Belmont Stakes forward and made it the great event that people know it to be today."
It's an event that regardless of its appeal and the anticipation for it, will not set another attendance record this year – though that, in and of itself, speaks volumes about the upswing in popularity for the race. When it comes to attracting a crowd, the final jewel in the Triple Crown has become a top-shelf event on any sport's stage.