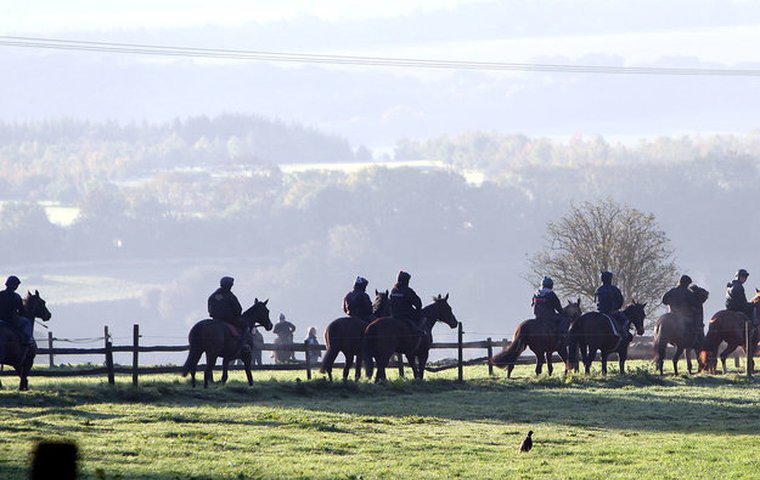 In 2006, The (U.S.) Jockey Club and the Grayson-Jockey Club Research Foundation held the first Welfare and Safety of the Racehorse Summit. Originally biannual, the summit now takes place yearly, featuring presentations on racetrack health and safety issues involving both horses and the people who work with them.

Held in Lexington, Kentucky, the reach of the summit is limited. It's attended mostly by local industry participants, and at the recent Round Table on Matters Concerning Racing presented by The Jockey Club, the organization's executive vice president and executive director, Matt Iuliano, said that 200 people were present in Lexington at this year's summit in early July, while another 1,500 streamed at least parts of the all-day event.
A handful of publications covered the event, and no doubt more people have since viewed the video archive on the website of The Jockey Club. Still, it seems likely that the presentations have reached only a small percentage of their target audience, the thousands of trainers, owners, and veterinarians across the country, consigning the valuable information presented to an existence in something of a vacuum.
On the other side of the Atlantic, a similar situation exists, with important research on equine injury failing to reach the very people who can use it most.
Thoroughbred Health Network (THN) is hoping to bridge that gap between researchers and practitioners with a Scottish-led collaboration between the University of Edinburgh and the University of Glasgow.
Dr. Tim Parkin, an epidemiologist at the latter institution, has been at the helm of the analysis of data collected in The Jockey Club's Equine Injury Database (EID), established in 2006. On a voluntary basis, North American racetracks submit details of catastrophic injuries, which Parkin then analyzes to determine the horses at greatest risk of fatal breakdowns. He is a regular presenter at the Welfare and Safety Summit.
Along with other researchers and industry stakeholders, he established THN to provide an easy-access portal through which the people working daily with horses can access up-to-date research on equine medical issues. The project is funded by The Racing Foundation and the Scottish Society for the Prevention of Cruelty to Animals.
This fall, THN will begin posting monthly information about the medical issues that affect racehorses. Digested into language for non-scientists, the reports will be short and to the point, with additional information linked if people want to investigate further.
"We'd be happy if people only look at the bullet points," said Parkin. "Our job is to translate academic work into easy-to-take-away, essential information, things trainers and vets can keep in the back of their mind as they work with horses."
Parkin and the rest of the team are aware that equine veterinarians might not take kindly to people outside of the racing industry offering advice to their clients.
"It might create some controversy," he acknowledged. "That's why it's important that those vets are involved as well. They should know what we're telling their trainers."
"We're also not saying that [our posts] are gospel," Parkin went on. "But, if they challenge some of what is current veterinary practice, so be it. That's not necessarily a bad thing. The more people talking about [equine medical issues], the better."
Continuing education for trainers poses a number of challenges. While some trainers are eager to broaden their knowledge, some aren't interested in talking to academics about the matters they experience first-hand every day. And trainers' demanding schedules can make it difficult to travel to seminars, workshops, and conferences at which continuing education is available.
THN addresses at least some of those problems by bringing continuing education directly to the trainers, through their computers, phones, and tablets. They will be alerted to new posts via email or Twitter.
At first, the reach of THN will be limited to Scotland and the north of England, in part because of its funding source and in part because the racing environment there is less intense than in some of the high-profile centers further south.
"There's a feeling of community among the trainers, owners, and vets here," said Parkin. "There's a sense that they will be more receptive and more likely to take this on board."
Though membership is required to access the reports, it is free and Parkin emphasized that THN welcomes members from beyond the initial target area, even as the endeavor points longer-term to a fully national and international audience.
He also encourages members' input, inviting readers to submit questions from their own practice and experience. Though he doesn't expect that THN will be able to respond to individual queries, those questions will help guide the researchers as they plan their posts.
"Being a member enables those individuals to drive the issues we address," he said.
Among the initial topics THN is expected to address are tendon injuries, exercise-induced pulmonary hemorrhaging, gastric ulceration, pelvic fractures, and inflammatory airway disease.
Parkin has been researching musculoskeletal injures in horses since 1998, and his work on the EID in the U.S. has been ground-breaking. It's also been limited to a relatively small audience.
"My continual frustration over the last 17 years has become more acute," he said. "We started this project about four or five years ago, and it wasn't easy to get it funded because it wasn't deemed 'real research.'
"But what's the point of the research if it's not getting to the end user?"
"We want to make it a level playing field," he continued, "for everyone involved in Thoroughbred health. They should all have equal access to information that could possibly improve the health and welfare of Thoroughbreds."