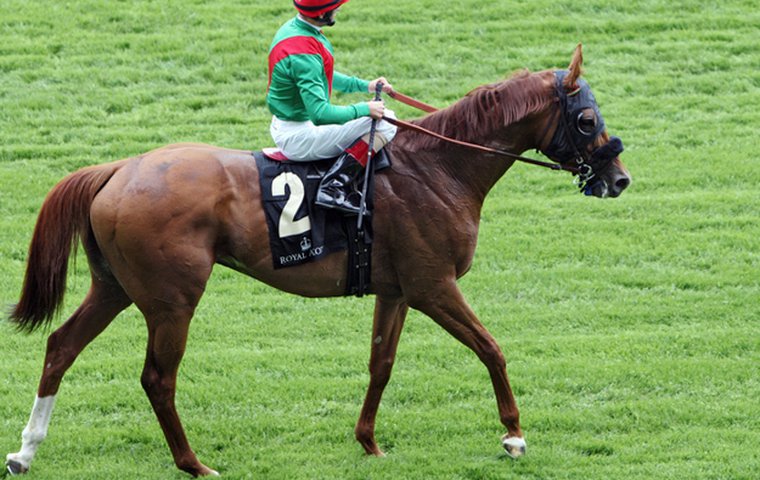 While shipping between racing jurisdictions is common practice elsewhere in the world, owners and trainers in the United States tend to travel outside the country far less often. John Scheinman explores the ins and outs of international travel with horses as illustrated by Animal Kingdom's global campaign in 2013.

Read the first installment of Beyond the local oval: American trainers who venture abroad
Read the second installment of Beyond the local oval: A case study of Animal Kingdom in Dubai
----------
In an effort to limit travel, Animal Kingdom was sent directly from Dubai to England to train locally for a start in June at Royal Ascot.
For American connections (and others) looking to race abroad, the International Racing Bureau (IRB) is very proactive in working to facilitate travel to the world's biggest meetings. In the case of Royal Ascot, the first thing they do is put the conditions for the meeting in the BloodHorse National Stakes Conditions on BloodHorse.com. They also mail out a comprehensive brochure to horsemen they believe might have prospects to compete there.
The IRB does not act alone - Royal Ascot's Head of Communications and International Racing, Nick Smith, travels around the world to racing countries throughout the year and meets with connections. The Japan Racing Association does a similar thing for the $5.8 million G1 Japan Cup in November, printing a comprehensive brochure and maintaining a full-time presence in the United States with offices in Stamford, Conn.
The IRB represents most of the larger tracks in Great Britain – Ascot, Epsom, Lingfield, Newmarket, Sandown, and York – which pay the company a service fee to help recruit runners from overseas and then to look after the horses and connections when they arrive.
"I, therefore, don't charge the American horsemen anything for my services," said Adrian Beaumont, head of racecourse service for the IRB. "When it is time for the nominations to close, we liaise closely with connections so they know where to send their information and what needs to be included."
With logistics taken care of, Motion and Animal Kingdom's team needed to make some decisions about Royal Ascot, beginning with whether to run in a race at 1 ¼ miles or a straightaway mile in the Group 1 Queen Anne Stakes, where the horse ultimately landed.
"The mile-and-a-quarter was logical, but I think the general feeling was the mile was for his stud career, certainly in Australia, and it would be more to his benefit because racing there is more geared that way," Motion said. "But it was left up to me to make the decision, to decide which race to point for."
Motion has long held a reputation for being an "international trainer," having been born in England, but he doesn't see himself that way.
"My European training was very minimal," he said. "My training was with Jonathan Sheppard, who perhaps trains more European style. Do I train European style? I never trained in Europe. I worked a season for a French trainer."
Yet, Motion didn't just run Animal Kingdom around a dirt oval in the morning. For the Breeders' Cup Mile, he trained mostly over a steeplechase course at Fair Hill, which allowed him to get fit enough to compete off the long layoff.
"It has a gradual incline for the last quarter of a mile, so that's European style if you like," he said.
For the Kentucky Derby, he trained at Palm Meadows, then Turfway, and finally, at Keeneland. For Dubai, it was Palm Meadows.
The IRB advises horsemen from the United States to stable at Newmarket when going to race at Royal Ascot, where no stabling is available. Ken McPeek, Todd Pletcher, and initially, Wesley Ward (who later transitioned to Kempton Park, which has an artificial surface) took the advice.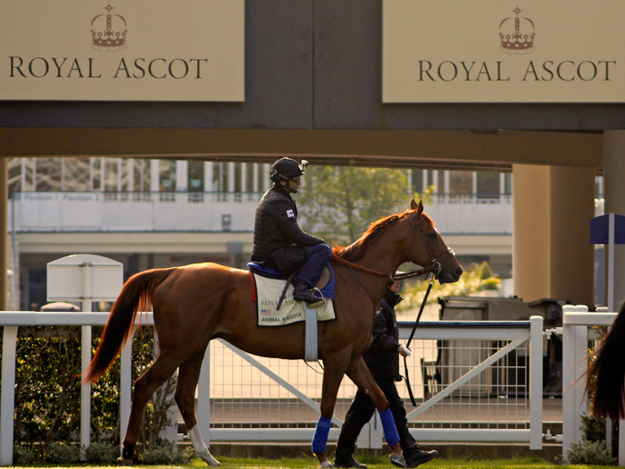 IRB's help is comprehensive, according to Beaumont.
"I meet the horses upon arrival and immediately start to settle them and their grooms into their new routine and introduce them to the best farriers, vets, hay, bedding, and feed merchants," Beaumont said, "and show them where the equine treadmills and swimming pools are.
"Newmarket takes some getting used to for American horsemen. The facilities are second to none, covering 2,500 acres with 50 miles of turf gallops and 15 artificial tracks covering 13 miles. We show grooms and trainers around and make recommendations about which gallops to use for certain piece of exercise."
Beaumont also coordinates interviews – the British media is far keener on racing coverage than its American counterpart – as well as transportation, tickets for race days, lunch, etc.
He even helps with guiding the process of declaring to authorities what tack they will be using. Even before shipping, American trainers are apprised of the rules of no race-day medication and statements of declaration are prepared in advance of pre-race samples that will be taken.
"On the race day, I'll usually spend time with trainers and jockeys making sure they are aware of all race-day procedures," Beaumont said. "This can include walking the course with the jockeys – vital here as turf can change daily – making sure the horses are declared to run on the day, checking tack at the scales, and helping trainers to saddle the horses."
However, Motion didn't want anything to do with Newmarket. He had visions of being trapped with Animal Kingdom inside a fishbowl, with all eyes on the star's every move.
"I called David Lanigan, who is a trainer in England, through a mutual owner," Motion said. "They suggested going to his yard, which is in Lambourn, which is a little bit against the norm just because Newmarket is where most of the flat horses are. I thought going to David's offered me more of a quiet environment for the horse. Perhaps more like Fair Hill."
Lanigan's Kingsdown Stables has its own private training facilities, as well as access to Lambourn gallops maintained by the Jockey Club Estates. Motion chose one of the latter for most of the work that he considered a "less severe uphill" climb.
Motion said the training in England went smoothly, but Animal Kingdom did not fare well in his final outing, finishing 11th in the Queen Anne. He became unsettled and studdish in the parade ring due to the presence of a filly in the race – something the horse was not accustomed to in the United States.
"For the first time in his life, he became unglued," Motion said. "There was a filly in the race, and he became very upset about the filly in the race, which he'd never done before. So, already we were battling with some elements I had not anticipated."
The straight course at Ascot contributed additional challenges.
"The only regret I have with that race is I don't think I realized how difficult it is to run a horse in a straight mile that's always run around an oval," Motion said. "It's a totally different ballgame.
"I feel like from the lack of experience of having run over there, I wasn't tuned in perhaps into what it would take for him to do it that day. Everything was great, except for the day."
Motion said he wished he could have run a horse at Royal Ascot prior to Animal Kingdom – an advance scout like Lucky Chappy in Dubai – to fully appreciate the challenge. He wishes his best horse wasn't the one to first get his feet wet, but now he is eager to try again.
The common thread of Americans racing overseas is nothing beats getting past that first experience.
"It's certainly one of my goals, to do that again," Motion said. "My fear is I'll never have a good enough horse to do it."
---
Read the first installment of Beyond the local oval: American trainers who venture abroad
Read the second installment of Beyond the local oval: A case study of Animal Kingdom in Dubai