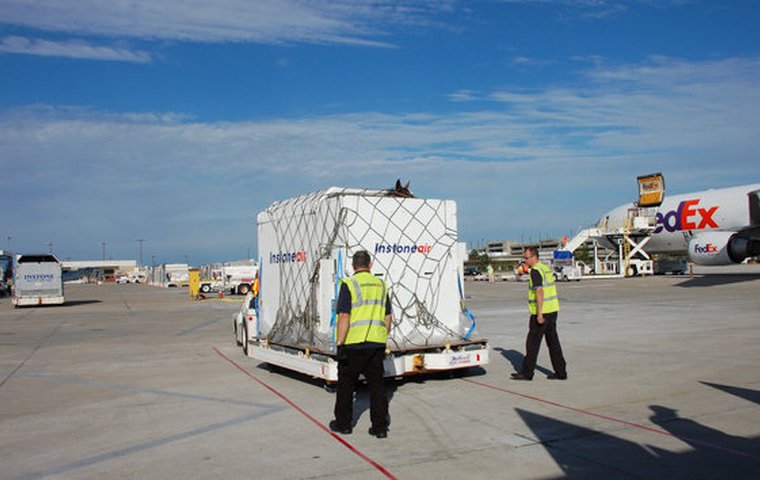 While shipping between racing jurisdictions is common practice elsewhere in the world, owners and trainers in the United States tend to travel outside the country far less often. John Scheinman explores the ins and outs of international travel with horses as illustrated by Animal Kingdom's global campaign in 2013.

Read the second installment of Beyond the local oval: A case study of Animal Kingdom in Dubai
Read the third installment of Beyond the local oval: A case study of Animal Kingdom at Royal Ascot
----------
The morning after Animal Kingdom won the G1 $10 million Dubai World Cup last year, trainer Graham Motion, Team Valor President Barry Irwin, and majority owners at Arrowfield Stud sat down in their United Arab Emirates hotel and immediately began plotting the colt's next start at Royal Ascot.
Three days after Eclipse Award-winning trainer Dale Romans sent out turf star Little Mike to a disappointing ninth-place finish in the G1 Longines Hong Kong Cup, the South China Morning Post ran a story speculating that the trainer from Louisville might be invited by the Hong Kong Jockey Club to establish a local stable.
Despite a consistent presence in the Dubai World Cup, few horsemen in the United States are such intrepid voyagers; in fact, only a handful ever set out to race in Europe, Asia, and the Middle East. Yet, in talking with some of those who have sent top-class horses to chase major prizes in foreign lands, the ease of travel and open arms waiting are recurring themes.
Peace of mind also becomes a key part of the package once horsemen have broken their overseas travel maiden.
"It will be intimidating until you've done it, but once you've done it one time, it's easy," said Romans, who won the 2005 Dubai World Cup with Roses in May and returned to the 2013 World Cup Carnival with GI winners Dullahan and Little Mike.
For Motion, a native of Cambridge, England who operates out of Maryland's Fair Hill Training Center, the Royal Ascot meet is the stuff of racing dreams. For Romans, travels with horses are not only a chance to compete in prestigious races, but an opportunity to see the world.
So many variables are in play when undertaking such a venture – passports, medication, quarantines, shipping logistics, housing – yet, sophisticated companies exist to take care of business right down to the employment of professional flying grooms, paid solely to keep watch on the horses during transoceanic flights.
For overseas ventures, Irwin said Team Valor employs the services of the International Racing Bureau (IRB), a Newmarket-based firm that has been in business since 1968 and supports a variety of racing sectors, including horsemen's services. Romans often turns to Mersant International, which is the U.S.-based agent of Janah Management, formerly Darley Transport, an equine transportation company that directs all Dubai-bound horse travel.
From the start, Irwin's plan for Team Valor was to race and purchase horses internationally.
"Any time you have a transcontinental rivalry, it's more exciting, and I like challenges," he said. "I've raced all over the place. To me, racing in France and England is just dynamite.
"A lot of trainers [in the United States], most of them don't have a huge education," he continued. "There are more trainers now that have been to college than ever before, but they lack the breadth. Trainers are like any other coach – they don't want to have to assume risk. That should be the profile of the owner, not the trainer."
Yet few owners or trainers are willing to see beyond their local ovals. Of the 59,381 horses that made at least one start in North America in 2013, only 724 – or 1.2 percent – raced outside of North America at some point in their career, according to statistics provided by Equibase. Consider that this figure includes horses from outside the United States who made at least one start in North America last year, and it becomes even more startling.
Despite the numbers, the freedom to compete against the best on the world's stage is not out of the reach of those who have a mind for it, Romans said.
"I don't think there are a lot of negatives that keep people from doing it," Romans said. "But [the United States], as a whole, doesn't travel too much. We have very few passports per capita [about a third of the country, according to State Department statistics]."
Romans said he was daunted by the enormity of the project when he set out to bring Roses in May to Dubai, but assistance was forthcoming from those who had blazed the trail before him – Bill Mott, winner of the inaugural Dubai World Cup in 1996 with Cigar, and Bob Baffert who saddled Silver Charm to victory at Nad Al Sheba two years later.
"I didn't even know a horse needed a passport," Romans said. "The first time I went, I called Bill Mott and Bob Baffert and asked them about it. They said, 'Have all the work done before you get to Dubai. It eased my mind to be able to pick their brains. These guys are good people, and they'd help anybody.
"If anybody is shipping internationally, they should call me," Romans added. "I'll help anybody. Those guys weren't always Bill Mott and Bob Baffert – they were one time coming up, too."
---
Tomorrow: The first installment of a two-day case study on Animal Kingdom's successful expedition to Dubai, and failed attempt at Royal Ascot.
Read the third installment of Beyond the local oval: A case study of Animal Kingdom at Royal Ascot