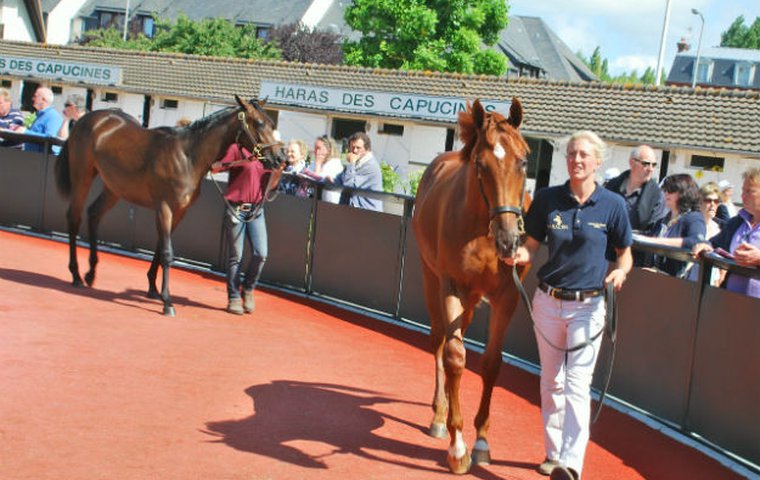 While the high rollers regularly frequent the prestigious Tattersalls and Goffs autumn yearling sales at Newmarket and Kildare respectively, those looking for value headed for Deauville and Arqana's October yearling sale, where 435 horses from a varied selection of stallions were sold from the 551 presented.

Traditionally catering for the home market - unlike Arqana's more international August yearling catalogue, the October sale has in recent years attracted more and more British and Irish bloodstock agents, pinhookers and trainers. The key attractions are fair average prices for quality yearlings, a diversified range of stallions and mares, and the added bonus of French owners' premiums on top of prize money as buyers look increasingly for better returns for their outlay. In total, 409 yearlings were sold for less than €100,000 apiece.
Alix Choppin, Arqana's Head of Marketing and Communication, said: "Foreign buyers spent 46 percent of the €15,683,500 sales total, with 20 percent coming from UK/Ireland and also keen buying from other European destinations - Germany, Spain and Scandinavia [although some of the horses will be trained in France]."
This year, average yearling prices fell slightly for the first time in six years to €36,054 from €36,203 for 435 sold in 2014. In 2010, the average price was €27,773.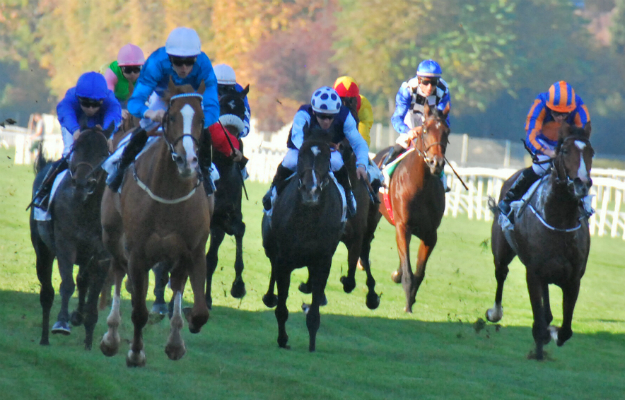 The €290,000 top price this year was paid by bloodstock agent Ted Voute, on behalf of Prince Faisal Bin Khalid, for a son of Oasis Dream out of the Peintre Celebre mare Soudanaise, herself a full sister to G1 winner Sudan. The horse was bred by the Wildenstein family's Dayton Investments and presented by Coulonces Consignment.
Five yearlings changed hands for more than €200,000, compared to three last year - when the top price was €350,000 for a Dubawi colt presented by Haras de Perelle and sold to trainer Alain de Royer Dupre.
Arqana President Eric Hoyeau said: "We are pleased to see the October sale consolidate last year's record figures. The market was strong throughout the week, with solid demand coming from French buyers, foreign trainers who are based in France, and European professionals who frequently race in this country, as well as pinhookers. The good performance of the yearling middle market relies on a broad and diversified client base, which reflects the appeal of French racing and must give us confidence in the future."
Almost all the 435 yearlings sold this year were born and raised in France or assimilated (when a French-based mare is mated with a foreign stallion) and, as such, qualify the owner for a 64 percent premium on top of any French prize money earned at two and three, with 46 percent at four or older in all open races. This has been an added attraction for foreign owners, increasing interest in buying French-breds in recent years, as has the stronger dollar and pound against the euro.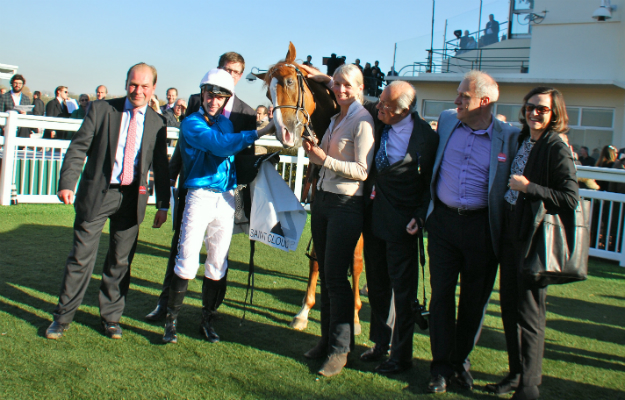 French breeders receive another 15 percent on top of French prize money won for racehorses born and bred in France and 10 percent for horses born and bred in France but conceived abroad.
France Galop's €50 million annual owners' and breeders' fund for flat and jump racing is something British racing can only dream about - because of poor funding of the sport from bookmakers, compared to returns from the French state-run tote monopoly system.
As a result, British breeders are seeing increased interest from owners to not only buy French-breds but also to have their horses trained in France. "Yes, there is definitely interest in the U.K. for owners buying French-bred horses," said Matt Coleman, of the Newmarket-based bloodstock agent Stroud-Coleman.
"The prize money differential and premiums, particularly for 2-year-olds, is so vast it makes perfect sense and is something I am happy to promote to clients," he said. "We have had several owners who formerly owned horses in the U.K, but now have their entire racing stable in France, while the likes of [Lambourn-based trainer] Harry Dunlop have carved out a niche targeting French races with horses qualified for premiums."
The sale has consistently thrown up top-class future winners at reasonable prices. This season, the 5-year-old Mille Et Mille, bought relatively cheaply for €32,000 as a yearling, captured the G1 Prix du Cadran, and Odeliz, winner of the G1 Prix Jean Romanet at Deauville in August and the G1 Premio Longines Lydia Tesio at Cappanelle in October, was initially purchased for just €22,000.
Sale has featured Treve, Avenir Certain and The Grey Gatsby
The dual Arc winner Treve was bought back for €22,000 in 2011; two other French classic winners, Avenir Certain (€45,000) and The Great Gatsby (€24,000), also went cheaply; other recent top-grade winners have included Charm Spirit (€140,000), High Jinx (€37,000) and Vorda (€9,000).
The sale featured progeny of a wide range of proven stallions, like Acclamation, American Post, Cape Cross, Elusive City, Holy Roman Emperor, Lawman, Motivator, Rock of Gibraltar, Shamardal and Sea The Stars. And younger stallions like Canford Cliffs, Dream Ahead, Roderic O'Connor and Zoffany were also represented.
In addition, first-crop sires were well represented, with the likes of Born To Sea, Excelebration, Jukebox Jury, So You Think and the initial European-bred yearlings by Redoute's Choice.
The largest consignment was offered by the Haras De Grandcamp, with 51 yearlings.
A major problem for selling French-breds in the past has been that foreign buyers were not always familiar with the breeding, but Alix Choppin thinks this is changing. "It's natural that French-based stallions represent a sizable chunk of the yearlings on offer," she said. "In this respect, the impressive results registered by young domestic stallions like Le Havre, Siyouni and Kendargent has been a great help to raising the awareness of foreign buyers of the October sales. The French stallion ranks have also gained further strength with the early success of Wootton Bassett and the arrival of Makfi, Charm Spirit, Intello, Dalakhani and Youmzain. So the October yearling sale looks set to become more and more familiar to foreign buyers."
The improvement of the quality of stallions now standing in France has begun to reverse the recent trend of French breeders systematically sending their best mares to be mated with top British and Irish stallions - the figure increased dramatically by 43 percent between 2007 and 2012, from 810 to 1,162. This number has since declined to 1,103 in 2014, and registrations until October this year have shown a further fall to 952.
According to Matt Coleman, there is still a lack of in-depth background knowledge among British trainers and owners when it comes to French stallions and mares at French sales. "The unknown sires are a handicap to certain U.K. trainers as their ownership base struggle to understand who the sires are," he said.
"For the likes of Harry Dunlop and Karl Burke, however, it is an asset - as their owners understand that some of the French horses are by unusual stallions and, because of this, they and we as bloodstock agents are able to find value, in comparison to the yearling sales in the U.K. and Ireland. It has to be said, though, that the market at this year's October sale was stronger than ever and we had to think outside the box to find value."
French Derby the objective
Stroud-Coleman signed for six yearlings, including a colt by Shamardal on behalf of John Ferguson for €250,000, the sale's third highest price and presented by Haras de Saint Pair. The colt, out of Fairly Grey, a full sister to G1 Prix Ganay winner Fair Mix, is set to be trained in France.
One British trainer who has recently tasted success with French-breds is Lambourn-based Harry Dunlop, whose 2-year-old Robin of Navan won the G1 Criterium de Saint Cloud at Saint Cloud over 2,000 metres on November 1 after capturing the G3 Prix De Conde at Chantilly last month and previously a valuable listed race at Deauville in August. Dunlop said: "If all goes well, his objective is the Prix Du Jockey Club [French Derby] at Chantilly in June, with a prep race in one of the French trials."
The advantage of racing French-breds in France can be clearly seen with Robin of Navan, whose four wins and a second there have netted €265,150 for his owners, plus an extra €169,696 in premium payments
Robin Of Navan, a son of American Post, was originally pinhooked for €10,000 euros by Irishman Con Marnane at last October's Arqana yearling sales and re-presented at the following spring's Saint-Cloud breeze-up sales, where Stroud Coleman bought him for €47,000 on behalf of Dunlop's owner partnership of Cross, Deal, Fodden and Sief. "We bought him because he had a good pedigree, we liked his breeze-up and he was within our budget," said Dunlop.
The trainer considers that diversifying and buying yearlings in France offers considerable value for his owners. "We really enjoy the October Arqana sales, especially the possibility of owners' premiums. They are a huge help. The sale has a huge cross section of horses. There is value throughout."
Stroud Coleman also spent €43,000 on a yearling colt by Rajsaman for Dunlop. "The yearling is for a partnership," said Dunlop. "Through Matt Coleman, I plan to buy some more French yearlings for owners, and also for a new syndicate that we are setting up."
He added: "My owners enjoy the days out to France as it's a challenge and something different. The better prize money returns are an added attraction. We also find that it is easier to book a top-class jockey than in England - there are now more available there - and the lunch and good wines are a big draw. At present, I have 12 French-breds and am keen to increase this number."
Foreign ownership in France likely to go on rising
However, despite the obvious advantages of having a horse trained in France, there are still a significant number of British owners who still prefer to have their French-breds trained nearer home.
"It seems natural for owners to be inclined to have their horses trained in their home country," said Choppin. "However, my understanding is that the number of horses in training in France under foreign ownership is steadily rising."
Current 2015 France Galop-registered foreign owner numbers for flat and jump racing totalled 820. For Britain, Ireland, the United States and Australia, the figures were 196, 43, 37 and 14 respectively.
Choppin considers the number of foreign owners in the future is likely to continue to rise.
"A new generation of trainers is coming along, with the likes of Francois-Henri Graffard, Christophe Ferland and Henri Francois Devin being able to cater for foreign owners because of international racing experience and speaking fluent English. All these trainers have a significant number of owners from the U.K, Ireland, Germany, Qatar and further afield. There is also a growing number of training professionals who choose to set up or relocate to France, such as Simone Brogi, Eoghan O'Neill, Mauricio Delchez Sanchez and Gianluca Bietolini, and they contribute to attracting more international owners."
However, there are still a number of small to middle level French trainers who are virtually unknown outside France but are highly capable of training top-class horses for international clients. They may not have worked abroad but they still have a wealth of experience handed down through their families.
All in all, things are looking up for the French breeding industry as the effects begin to show of having Europe's highest prize money, the owners' and breeders' premiums and the improvement in the quality of stallions standing in France.