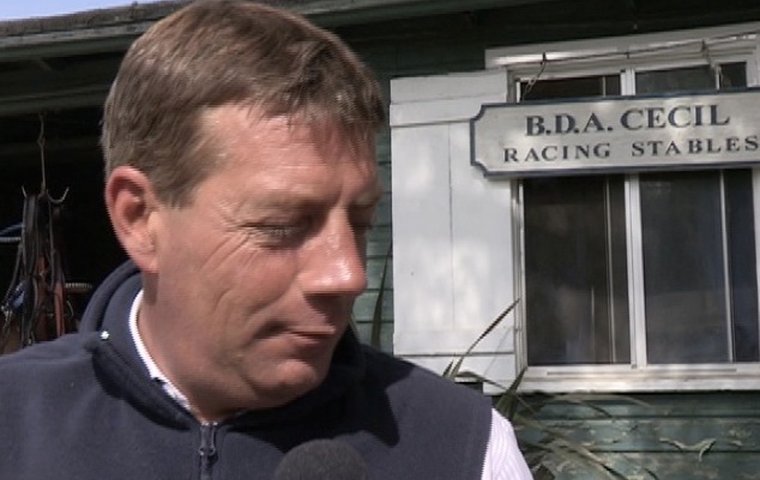 Fingal's Caves haven't been as well explored as the darkest depths of the late Sir Henry Cecil's training career, where a laser light was shone into all the recesses and shadows: the yawning four-year drought without a Group winner, the vanishing heads over the stable doors, his personal demons and the echo-chamber whispers of retirement.

"I remember having coffee with him at Newmarket when he was at his low of lows, and it was sad, really sad to see," said Ben Cecil, of his uncle, one grey rainy morning at Santa Anita when the barn area was awash in a muddy sea that give it the dreary air of an old prospecting town.
"He had so much other stuff going on, I can see how he became distracted and depressed."
Warren Place, Henry's yard at Newmarket, stood largely idle. "It's pretty amazing that Juddmonte stood by him, because there wasn't much left."
Those fallow years, of course, were followed by the harvest of Henry's almost unfathomable comeback, the fruits of which enjoyed the same microscopic scrutiny as before, though for much cheerier reasons: the deluge of Group winners, the Royal Ascot victories and the classics.
Most importantly, the re-gilding of a tarnished reputation, the lacquer applied coat-by-coat with each race of Frankel's record-setting win streak.
Stateside, the younger Cecil is enduring lean times, too, after a long career spanning 20 years, one colored by many triumphant days. Indeed, more than four years have now passed since his last Graded stake victory. It's not surprising then that he finds solace and hope in the way his uncle fashioned his Lazarus of a return from the rattling bones of an ailing business.
"He's one of my inspirations – definitely," Cecil said, with matter-of-fact earnestness. "I think, like we all do, it's the hope that we get through it. You have to think there's some light at the end of the tunnel."
Early years
A yearning for former glories? This parallel is obvious. But the way uncle and nephew conjured their respective successes is where their stories diverge.
Unlike the elder Cecil, who hopscotched from assistant to his stepfather, Captain Cecil Boyd-Rochfort, to becoming trainer in his own right, Ben Cecil — the younger son of Henry Cecil's twin brother, David, who succumeb to cancer in 2000 — took a more circuitous route to training.
And it was during those formative years that he rubbed shoulders with legends across three continents, offering glimpses into an era of horse racing that already wears a sepia veil.
The idea of becoming a trainer germinated while he attended the Milton Abbey boarding school in Dorset, in the south of England — "both my brothers went to Eton, but I was kind of the drop out" — though at that time, the training malarkey hadn't amounted to much more than sleuthing daily through the Racing Post.
So, when he left Milton Abbey in the late 1980s, Cecil headed to Lindsay Park in Australia – trainer Colin Hayes's sprawling self-made training center near Adelaide, where he worked as an exercise rider and groom.
By then, the Hayes-Robert Sangster alliance was at its combined best, and Lindsay Park was a breeding and racing juggernaut, at the vanguard of which was lickety-split champion sprinter Special, and Victoria Derby winner King's High.
'You had to work your ass off'
After Australia, and a brief spell working as a cattle driver on a remote outback ranch, Cecil returned to England to work as Ian Balding's pupil assistant. "Glorified stable lad, really."
A polar opposite to the cattle-droving, dusty sun-parched wilds of the Aussie outback, Balding's Park House Stables, at Kingsclere in Hampshire, was a pristine red-brick bastion of old-school values with a touch of the military about it.
During evening stables, the beds were skirted with a twist of plaited straw, and the staff were expected to leave on the floor in a small pile the dust they'd brushed from their horses' coats - an offering of sorts to the trainer as an example of a job well done (or not).
Just as it was at Lindsay Park, these were roaring times at Park House Stables, with the likes of G1 Prix de l'Abbaye-winning Silver Fling tearing up the turf in many of the top sprints, and multiple G1-winning Dashing Blade lording it over his contemporaries at two.
The Balding stint over, it was onwards to the British Bloodstock Agency, and then to Mark Tompkins, trainer of 1993 St Leger winner Bob's Return. "That was an experience," Cecil said, with wry understatement and a knowing smirk.
Frequently short-staffed, Tompkins put what help he had through the wringer. "You had to work your ass off. He was very tough on his help because he wanted things done his way, but it worked."
It had to work – the stable operated on a no-margin-for-error budget. Whereas an army of bluebloods routinely marched through the Park House Stables academy for the rich and gifted, Tompkins was left to whip into shape a rag-tag battalion of equine odds and ends.
"What was good to learn was how he got £2,000 and £3,000 horses and did the best he could with them - you'd never see a £100,000 horse in that yard in those days. He actually did very well."
Rodney Rash
Go west, young man, go west, or so the saying goes - and so Cecil did, after Tompkins, finding a job in Southern California with trainer Gary Jones — again, as pupil assistant — during the years of Hall of Fame prize-fighter Best Pal.
Cecil's Stateside stint was only supposed to last a year or so, but an opening as assistant to young trainer Rodney Rash emerged when he was due to return home, and Cecil, eager to move his career forward, dived in.
Rash made Tompkins look like the people's pontiff. The outgoing assistant, future UK trainer Gerard Butler — currently suspended for drug violations — was charged with showing the new assistant the ropes, and as Cecil noted, "He was just manic, running around a nervous wreck.
"It was bloody hard work. Rodney would come back, and if there was a bucket half filled with water on the wash rack he'd kick it and start screaming and yelling." Everything in the barn had its place. "So, I had to make sure that it was [in the right place], otherwise it fell onto me."
"He was the toughest person I ever worked for," Cecil added, "but it's probably what I needed as well. When you're pupil assistant and you're late for work, it's just like anyone else. But when you're assistant — and particularly for Rodney Rash — you're in big trouble if anything goes wrong. Basically, I grew up very quickly."
'Crazy Scottish owner'
That assiduousness produced results, however. Rash, who had been training for less than a handful of years when Cecil joined the crew, was a young trainer going places fast. He had two Graded stake winners his first year as a trainer, one the third, and eight the fourth.
Among the stars in his care were the likes of former French Derby winner Celtic Arms, and 1995 Santa Anita 'Big Cap' Handicap victor Urgent Request, owned by "crazy Scottish owner" Stewart Aitken, a bookmaker from Scotland.
Urgent Request had been 'primed' for that Big Cap win, his first start for Rash, said Cecil.
"The horse had never been on the dirt before. But, when the betting opened, he was 2-1 favorite, and [Aitken] put $90,000 to win, $30,000 to show on him. And he won. I can remember Stewart Aitken coming around with a shoe box full of money afterwards – I think he gave me like $4,000 in cash. But Urgent Request never really reached those heights again."
Rash's sudden death from a blood disorder when he was just 36 came as an unexpected jolt to Cecil. "He never missed a day's work. And three days in a row, he didn't come."
On the Friday afternoon before the Big Cap of '96, when Urgent Request was schooling in the paddock as part of his preparation for a possible back-to-back victory in the Santa Anita showcase, Cecil was told of Rash's death.
"I was pretty close to Rodney," he said. "I'd been the assistant for a little more than a year and a half. My job was to just get through the weekend and figure out what was going to happen after that. I hadn't even thought about when I was going to start training. It certainly wasn't going to be for another couple more years."
Lightning start
The ceaselessness of life is an overwhelming force, and so it proved again. The horses still needed to be fed and exercised. The staff still needed their paychecks. Owners still expected to see their silks carried of an afternoon.
Cecil's first two starters as a trainer both hit the board. Then, that same weekend, Celtic Arms won the G2 Pan American Handicap at Gulfstream Park - tearing, though, a sesamoid ligament in the process, but providing Cecil with an auspicious first win as a handler in his own right.
For the rest of the year, Cecil mopped up nine Graded stake wins, and this lightning start set the stage for how the subsequent few years would unfold.
Under Cecil's watch, a string of good horses — many of them ex-European — netted a catch of top races.
These included Sandtrap (a three-time G3 winner), Queenie Belle (a duel G2 victor), and G2 winner Hal's Pal (strutting his stuff in the U.S. when the same owner was flying high across the pond with the likes of the Henry Cecil-trained Bosra Sham). But it was with owner Gary Tanaka that Ben Cecil really clicked – the Robert Sangster to Cecil's Colin Hayes, if you will.
As it was for many in California at that time, Europe was a popular one-stop-horse-shop. Many of the horses Cecil and Tanaka procured were — like G1 Champion Stakes winner Dernier Empereur — established names, and the vast majority were fillies and mares. "Mr. Tanaka tended to spend more on fillies because of their residual value as broodmares."
Donna Viola won the '97 G1 Gamely Stakes in last-gasp fashion. Former John Gosden trainee Squeak picked up a brace of G1s during the second half of '98. Passinetti returned from a serious tendon injury to knuckle out a win in the 2003 San Juan Capistrano, on its last iteration as a G1.
Arguably the pick of the Tanaka orchard was Golden Apples, who won three G1s between 2001 and 2002. She was expected to give Cecil a first — and still much desired by the trainer — victory in the Breeders' Cup when she was sent off favorite for the 2002 running of the G1 Filly and Mare Turf.
"But the night before, when it was pouring with rain, I knew that was it," he said, about the sun worshipping mare. "She got squeezed at the start, and finished well to finish fourth."
'The three most important things in racing are patience, patience, and patience'
Rash's death rattled Cecil on both a personal and professional level. "I think of all the people I worked for, I learned the most from Rodney Rash because it was the last job I had as assistant."
And in Rash, a graduate of Charlie Whittingham's Ivy League school of horsemanship, Cecil had a mentor steeped in the traditions of the past – of long workouts with strong gallops in between. Horses with their race-day grit ground into them over time rather than blitzed into them in a hurry.
Interestingly, when Cecil took over the barn, he said that he dialed down the training. "That's why we did so well right away because I thought these horses didn't need a strong every-day gallop - my philosophy was maybe do a little less and maybe they would stay sounder longer."
That's not to say he put to one side all he'd absorbed over the preceding year and a half. And some of the lessons he picked up from Rash belong to the once-bitten-twice-shy school of hard knocks.
He's loath, for example, to give ex-European horses their first Stateside start on the dirt – a lesson learned from the fate that befell 2000 Guineas and Epsom Derby third Colonel Collins.
The ex-Peter Chapple-Hyam trained runner was due to make his first U.S. start on the turf at Santa Anita when rain switched the race to dirt. Colonel Collins still ran, and bowed a tendon in the process, cutting short what promised to be a glittering career in the U.S.
Training tips and tricks Cecil picked up from all corners. The British Bloodstock Agency trained his eye to confirmation ticks and crosses. Tompkins opened his eyes to the idea that sow's ears had uses other than silk purses. His uncle, too, delivered his own simple sermon on the intricacies of the training game.
"He said to me once, the three most important things in racing are patience, patience, and patience. I think that's very true. Every time you do something you don't think is right, it never works out."
'There's too many drugs in the sport'
There's a knowing, self-deprecating quality to Cecil that's uncannily familiar.
When he tells you about being an Eton dropout, or that in his pupil assistant days he was nothing more than a glorified stable hand, your mind can't help but wander to Henry Cecil's renaissance, when in the winner's enclosure and with head cocked to one side, he would explain how in the old days he would have "had a drink and put the wrong saddle on the wrong filly."
But the younger Cecil's sardonic self scrutiny is turned outwards even more unflinchingly towards the industry as a whole – chief on the list, drugs.
"I'd like to see racing over here completely drug free," he said, singling out the damaging optics of the issue. "I don't think American trainers realize just how much harm it does."
As an illustration of this, he mentioned three of the central actors on The Big Bang Theory — a popular U.S. sitcom Cecil's wife is a producer on — as horse-lovers earning seven-figure salaries, and therefore well able to absorb the costs of racehorse ownership but who recoil at the thought of it.
"They think it's cruel, too many drugs, and too many breakdowns. You can talk to them until you're blue in the face, but they think horses break down and there's too many drugs in the sport."
California racing
Not surprising, given his seat on the board of California Thoroughbred Trainers, Cecil's concerns similarly stretch to the overall health of the industry in California.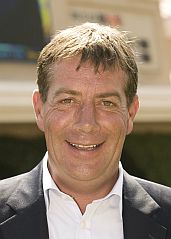 The years when European Derby winners and G1 superstars routinely saw out their competitive dotage in Southern California appear to be a thing of the past, Cecil admits (photo: caltrainers.org) - a result, he thinks, of the incessant pull of the Kentucky Derby — "that's where people seem to want to spend the money" — as well as the awesome buying power of the Arabs in Europe.
But he also sees it as a failure by the industry in California to remain a sufficiently appetizing monetary lure for the better horses around the globe.
A possible remedy would be to re-haul the racing calendar in some manner, with weekend racing held primarily at Golden Gate, Santa Anita, and Del Mar, and the smaller Fair Ground tracks used where possible to "pick up the slack during the week," he said.
Then comes the Herculean task of restocking the grandstands with warm bodies as a means of flushing needed coffers into the sport. But people need to be incentivized to go to the races rather than gamble at home or on their phone. And one way to do that, he said, would be to impose a tax on Advance Deposit Wagering to give on-track betting more value - that and a good old-fashioned marketing blitz.
"I think what Santa Anita's done with the suites and the Chandelier Room is great, but now they need to market it - there's virtually no marketing for racing," he said. "It's desolate here most of the time."
'You can quote me on that'
As for bringing about his own renaissance, Cecil, of course, no longer has Tanaka — charged in 2005 and found guilty in 2008 with committing fraud — to prop up the stable. "It's hard to lose an owner like that … I haven't talked to him for a long time."
But that light at the end of the tunnel he'd mentioned earlier is already partially lit by Paul Reddam, the duel Kentucky Derby-winning owner and a long-time supporter of the barn.
"I know he'll keep sending me horses, and there's always the hope a good one will come along. I certainly don't get the pick of Reddam's, but he gives me enough to keep ticking over in the meantime."
Not that you'll see Cecil in the grandstands during race-day afternoons busily soliciting new barn patrons. "I think, to be a successful trainer nowadays, you've got to be a hustler. If someone wants to send me a horse, they'll send me a horse. I'm not going to run around begging people."
This reservation Cecil dismisses as an English thing, steeped in the tweedy social mores of an E.M. Forster novel. Perhaps more accurately, it's a Cecil thing – a front for a trenchant pride and ambition.
It explains his reluctance all those years ago to begin his training career in Newmarket, where he admits the specter of his uncle would have been a hard shadow to emerge from. And it explains why his current career dip is a gnawing ache in his side.
"I can't stand being where I'm at right now," he said, echoing Henry's own much-repeated fear of failure. "It does get to me."
Cecil last saw his uncle the December before he passed away the following June. "He could barely speak, his voice was so weak."
But the optimism and the fire was still there - Henry mentioned potentially returning to Dubai that spring with a horse or two.
"I do aspire to be like him, but I'm a long way from that at the moment," Cecil said, before punctuating it with a comment that sounded aimed towards himself, as an incentive, perhaps, to keep plugging away, plugging away, until the dam breaks. "And you can quote me on that."