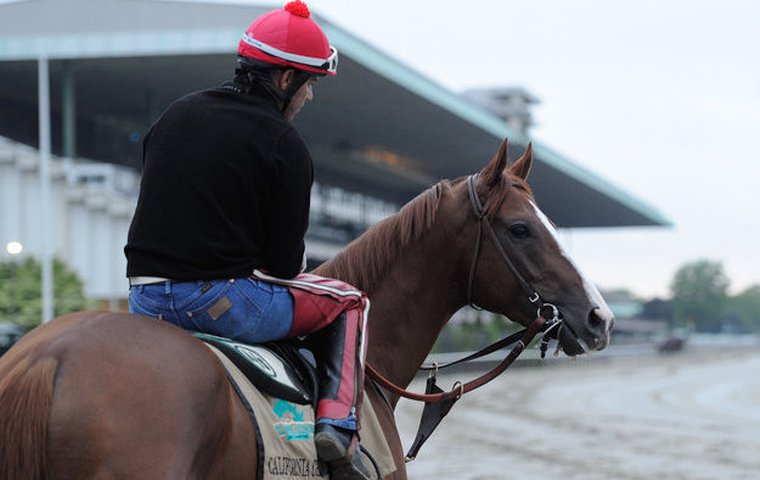 Breeding experts believe California Chrome has little chance of being effective over the mile and a half of the Belmont Stakes when he bids to complete the Triple Crown. But, that may not necessarily be the case, according to pedigree analyst Nancy Sexton.

On June 7, two colts from vastly different backgrounds will attempt to secure a piece of racing history.
In Britain, Australia heads to the Epsom Derby as one of the hottest favourites of recent years off the back of a winter of hype and strong third in the 2,000 Guineas at Newmarket. Then, several hours later in New York, it's California Chrome's turn to try to give the American racing public what it most desires and become the first Triple Crown winner in 36 years with a victory in the Belmont Stakes.
For Coolmore's Australia, his date at Epsom is fulfilling what he was bred to do. By Derby winner and champion sire Galileo and out of champion Ouija Board, whose 2004 Epsom Oaks win was one of seven G1 successes, he is a choicely bred individual and commanded 525,000 guineas ($930,000) as a yearling from Demi O'Byrne as a result.
By contrast, California Chrome cost his co-owners and breeders Steve Coburn and Perry Martin just $10,000 to breed as the product of a $2,000 stud fee and $8,000 mare.
While that old maxim "breed the best to the best and hope for the best" has been borne out in Australia, California Chrome's background is one that should give every breeder hope.
However, whether it is a background that will allow him to conquer the final leg of the Triple Crown remains to be seen.
It has been 10 years since Smarty Jones' Triple Crown bid was thwarted in the final yards of the Belmont Stakes by strong stayer Birdstone. Run over 1 mile and 4 furlongs, the Belmont is a race that takes no prisoners and with a host of challengers - some new, others fresh from skipping the Preakness Stakes - already signed up in their attempt to derail California Chrome's bid, Art Sherman's colt can not afford to display any stamina weaknesses.
Nowadays, few horses in America are asked to run as far as 1 mile and 4 furlongs, particularly on dirt. Prestigious staying events of the past, such as The Jockey Club Gold Cup, Display Handicap, and Breeders' Cup Marathon, have either been reduced in distance or removed from the racing calendar. Indeed, this year's American and Canadian stakes program provides 14 graded stakes on dirt over 1 mile and 2 furlongs or beyond, compared to 63 over 5-7 furlongs.
Quite simply, the American Thoroughbred has become an animal of speed rather than stamina, a development that has run in tandem with the increasingly influential desires of the commercial market.
And speed is the overriding factor in the immediate generations of California Chrome's pedigree. The best runner sired by minor-stakes winning sprinter Lucky Pulpit, he is the first foal out of Love the Chase, who won over a mile for an $8,000 tag at Golden Gate Fields. She is a daughter of the Mr. Prospector stallion Not For Love, a mainstay of the Maryland stallion ranks, whose record as a sire is weighted toward sprinters.
This is a blue-collar family, one that has been responsible for its share of hard knocking minor winners rather than high-profile money earners. In fact, California Chrome is the first graded stakes winner under his first four dams.
Love the Chase is a half-sister to a winner over 6 furlongs and out of moderate 6½-furlong winner Chase It Down, a daughter of useful regional sire Polish Numbers and minor stakes-winning miler Chase The Dream.
As well documented, one of the most intriguing aspects of Love the Chase's pedigree is that she is inbred 3x3 to Ogden Phipps' brilliant racemare and influential producer Numbered Account, who appears as the granddam of Not For Love and dam of Polish Numbers, by Danzig. Incidentally, Numbered Account is also doubled up in the dam of last year's Princess Rooney Handicap winner Starship Truffles, the only other G1 winner out of a Not For Love mare.
The stakes-placed Not For Love was effective from 6 furlongs to a mile while Polish Numbers, also stakes-placed, was a classy 6 furlong performer. At stud, the pair sired the odd decent middle-distance runner – Hawthorne Gold Cup (1 mile and 2 furlongs) winner Duckhorn is the one of the leading money earners by Not For Love – but many of their progeny have followed their examples. In the instance of Not For Love, nine of his 13 Graded stakes winners scored their biggest win over less than a mile.
Thus, the immediate generations of California Chrome's family do not inspire a lot of confidence for 1 mile and 4 furlongs. Nor does his sire, Lucky Pulpit. He may have been G2-placed over 8½ furlongs at age 3, but he found his forte once cut back to turf sprinting, registering his biggest success in the 5-furlong Smile Stakes at Arlington Park.
Pedigree, good looks, and a level of talent afforded Lucky Pulpit a berth at Harris Farms in California, where he has developed into one of the state's leading sires despite having to initially contend with small books and an early fee no greater than $2,500. None of his first four crops contain more than 28 foals yet, in addition to California Chrome (the highlight of his 24-strong fourth crop), he is also the sire of G1-placed juvenile Rousing Sermon and restricted stakes winners Luckarack and Gatheratthealter.
With 66 2-year-olds and 79 yearlings in the pipeline, more will be heard of Lucky Pulpit. For now, he can be added to the growing list of successful sons of Pulpit at stud, which is headed by Tapit and also includes Sky Mesa and Stroll.
Lucky Pulpit's progeny return an average winning distance of 6.46 furlongs, but it is worth remembering that he is a grandson of 1992 Belmont Stakes winner A. P. Indy, sire of the 2007 heroine Rags to Riches as well as Aptitude and A P Valentine, who were placed in the race in 2000 and 2001, respectively. Sons Bernardini, Mineshaft, Malibu Moon, and Stephen Got Even have also sired placed finishers. When it comes to Triple Crown runners, there are few more dependable sources than A. P. Indy, whose own sire, Seattle Slew, swept the series in 1977.
Complementing that element is California Chrome's deeper female family. His third dam, Chase The Dream, is a stakes-winning daughter of Epsom Derby winner Sir Ivor and out of La Belle Fleur, whose sire, Vaguely Noble, defeated Sir Ivor in the 1968 Prix de l'Arc de Triomphe. La Belle Fleur - the fourth dam of California Chrome - is a half-sister to 1977 champion handicap mare Cascapedia, winner of the Vanity Handicap and second in the Hollywood Gold Cup. They are out of Princess Ribot, by two-time Arc hero Ribot.
Sir Ivor, Vaguely Noble, and Ribot were each renowned sources of stamina, but will their presence so far back in California Chrome's pedigree be enough to help him last over 1 mile and 4 furlongs?
Perhaps part of the answer lies with Numbered Account, the influential mare who appears twice in the third generation of Love the Chase. By Classic influence Buckpasser from the famous Phipps family, Numbered Account was the champion 2-year-old filly of 1971 following G1 victories in the Frizette, Matron, Spinaway, and Selima Stakes. She returned at age 3 to add the Matchmaker and Spinster Stakes to her G1 haul.
At stud, she bred two top runners in Private Account, the 1980 Widener Handicap winner who sired Personal Ensign, and 1983 Beldame Stakes heroine Dance Number. The latter bred champion two-year-old Rhythm, in addition to Not For Love, and has since become the ancestress of G1 winners Super Saver, Imagining, Frost Giant, and Belmont Stakes runner-up Bluegrass Cat, each effective over 1 mile and 2 furlongs and beyond.
Another daughter of Numbered Account, Secret Asset, bred 1-mile-and-4-furlong Italian G1 winner Assatis.
Can California Chrome go one better than Bluegrass Cat? Strictly on the records of his immediate relations, he has already outrun his pedigree, suggesting that the presence of various stamina influences further back in his family are playing a more prominent role than may have been anticipated. Of course, 1 mile and 4 furlongs is another test altogether, but his tactical speed and easy way of racing will at least give him every chance to succeed.