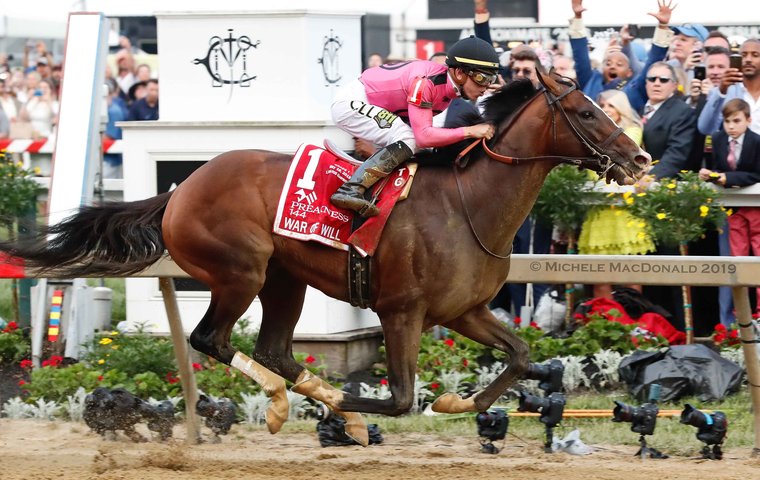 Walking through the sun-dappled barn area at Keeneland last Sunday morning, Tyler Gaffalione was keeping a steady pace, mindful of what he had to accomplish before driving back for his mounts at Churchill Downs, where he had ridden two winners the previous evening.

His agenda included reporting to trainer Wesley Ward's barn and breezing a possible Royal Ascot-bound juvenile colt and a G1-placed, G2-winning filly owned by one of the world's most successful owners and breeders, Katsumi Yoshida.
Gaffalione also had a personal priority to attend to along the way, and he quickened his steps a bit and lightly twirled the whip in his hands.
The jockey wanted to stop at Mark Casse's barn to pat War Of Will, the colt who had carried him to his milestone first classic victory in the Preakness Stakes two weeks earlier, before the van arrived to carry the horse to New York, where they will be reunited for the 151st running of the Belmont Stakes on Saturday (June 8).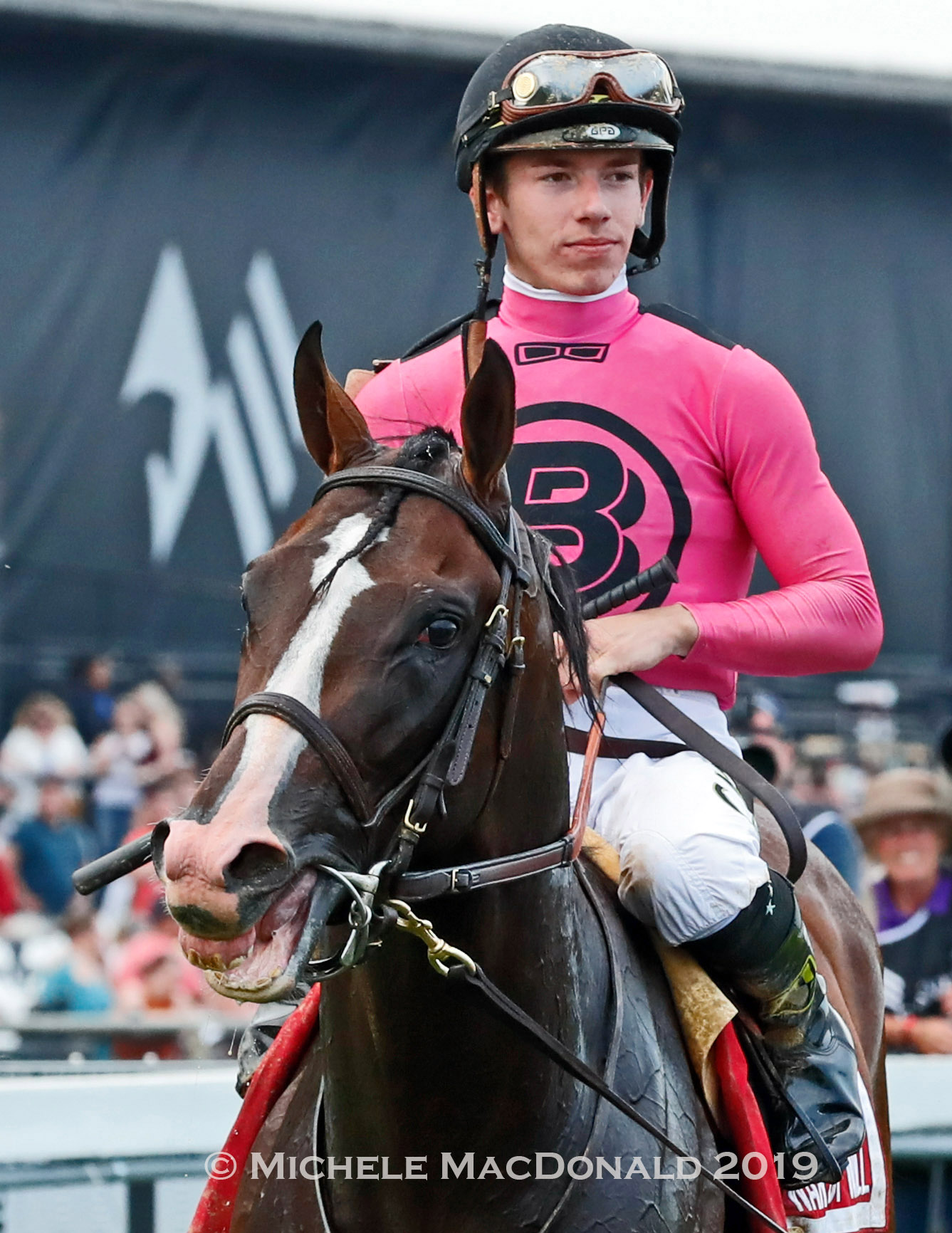 First, however, the 24-year-old, who has already climbed to #56 in the TRC Global Jockeys' Rankings, asked permission from assistant trainer David Carroll, with whom he had just traded some lively banter about the latest goings-on in Kentucky racing.
Perhaps as much with this kind of small gesture, his politeness punctuated with a magnetic smile, as with his strong, stylish position in the saddle while crossing the finish line, Gaffalione shows every day why he is rocketing to stardom in North American racing.
"This is all I've ever wanted to do, so now I am literally living the dream," he reflected after gently handing peppermints to War Of Will and stroking the colt's neck.
"Honestly, I love what I do and just being around the horses makes me so happy. I love working with the people I work with. It's such an incredible industry to be in, and, to have success at such a young age, I feel so blessed and thankful for my opportunities. I get to ride such nice horses and I enjoy waking up every morning and coming to work."
Ward is among those who admire Gaffalione, not just for what he described as his polished riding skills but for his character and a work ethic that had him galloping horses for the trainer in Lexington the morning after riding into the Preakness winner's circle in Baltimore.
"First and foremost, he's a great kid — a really good person," said Ward, who understands as well as anyone the heady challenges and thrills that Gaffalione is experiencing as a rising riding star. Ward began his racing career as a jockey and, like Gaffailione did in 2015, earned an Eclipse Award as outstanding apprentice - in 1984.
"It's nice to see, especially with what he has just achieved, that Tyler is really focused. He's going to achieve more success. We've seen some jockeys who have won Derbys and other big races in the past that have fallen off the path, but I don't see that happening with him. He is really grounded, and he strives to keep doing better and better.
"It looks to me like he is on the freeway to success," Ward declared.
Gaffalione's life shifted to the fast lane this year following a 2018 season in which he earned his first career G1 win aboard the Casse-trained filly Salty while defeating champion Abel Tasman in the La Troienne Stakes at Churchill Downs. He followed up by becoming Keeneland's leading rider in the fall meet and piloting Next Shares to victory in the G1 Shadwell Turf Mile.
Turning point
In hindsight, Gaffalione encountered a key turning point while riding in a Churchill Downs maiden race on November 24. That was the day he got on War Of Will for the first time in competition.
The well-bred son of War Front, who had failed to win in four previous races for other riders although clearly talented and already G1-placed on turf, responded to Gaffalione, drawing off by five lengths in his initial start on dirt.
Their partnership flourished over the winter as they bounded through triumphs in the G3 LeComte and G2 Risen Star Stakes at Fair Grounds. Although War Of Will lost his action early in the Louisiana Derby when stymied by a momentary catch in his hind end ligaments, he still was well regarded in the Kentucky Derby.
Then the weeks of May flashed by in a blur of near tragedy prior to ultimate triumph for Gaffalione and War Of Will, with a unique unfolding of history cementing a bond between rider and horse.
Somehow, the colt managed to keep his balance after getting his front legs entangled with Maximum Security's churning hindquarters as that frontrunner veered out suddenly in the run around the far turn in the Kentucky Derby, shuffling War Of Will sideways.
Excruciating tension
Not only did Gaffalione have to stay sharp in those moments that could have cost them their lives, he also had to withstand the crushing disappointment of losing all chance to win the Run for the Roses.
The excruciating tension did not end on the track, however. Gaffalione endured a heated barrage that followed as Maximum Security's owner, Gary West, accused War Of Will of provoking the incident prior to filing a federal lawsuit over the Derby disqualification.
"I think when it's all said and done and all the evidence is put on display, frame by frame in slow motion, you will find that [War Of Will] actually caused the infraction, not our horse," West asserted in a nationally broadcast interview with Fox News.
West pointed out that Gaffalione did not claim foul against Maximum Security, who was disqualified after jockey Jon Court filed an objection because his mount, Long Range Toddy, also was affected when he lost position in a chain reaction caused by Maximum Security's veering.
Despite the pressure involved with America's highest-profile race and a billionaire owner contending that his mount caused the incident — not to mention Gaffalione's youth — the rider confidently and professionally took to social media to relate what he experienced.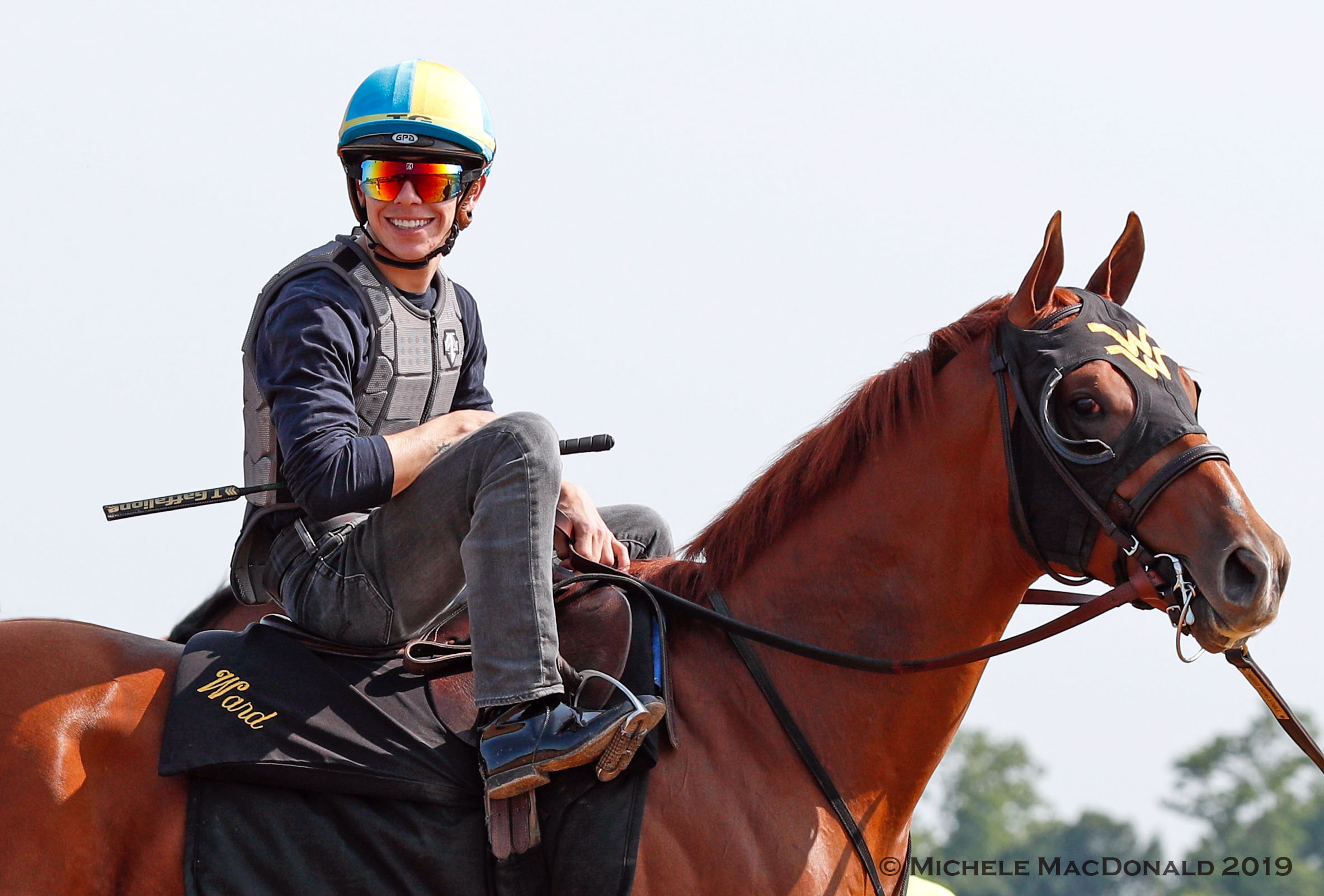 Including images of the incident as it occurred, Gaffalione showed how Maximum Security ducked outward and then went back toward the inside as War Of Will "took the spot he vacated".
"Never once did I bump or push anyone," Gaffalione wrote in his matter-of-fact response on Twitter.
Casse and War Of Will's owner, Gary Barber, strongly supported their young jockey.
Casse related that Gaffalione had told the trainer "I almost went down" as soon as he and War Of Will had returned after the race. Together, trainer and jockey decided not to claim foul because War Of Will had finished eighth after the mayhem and could not gain a placing or prize money via any action from the stewards.
Barber issued a statement in which he empathized with West's frustration after the Derby disqualification while also noting his own disappointment that War Of Will was prevented from having a clear run. In the end, Barber said he was glad no one was hurt.
"Mr West's horse, and not mine nor my jockey, Tyler Gaffalione, denied him the Derby victory, and it is wrong for him to deflect blame anywhere else," Barber said.
Looking back, Gaffalione said the incident happened so fast that his primary sensation at the time was the explosive adrenaline that had been building as he aimed to make his move around the turn and on to the Derby finish line. He could not fail to grasp the immediate threat that he and War Of Will could fall, with many of the other 18 Derby horses thundering perilously behind them.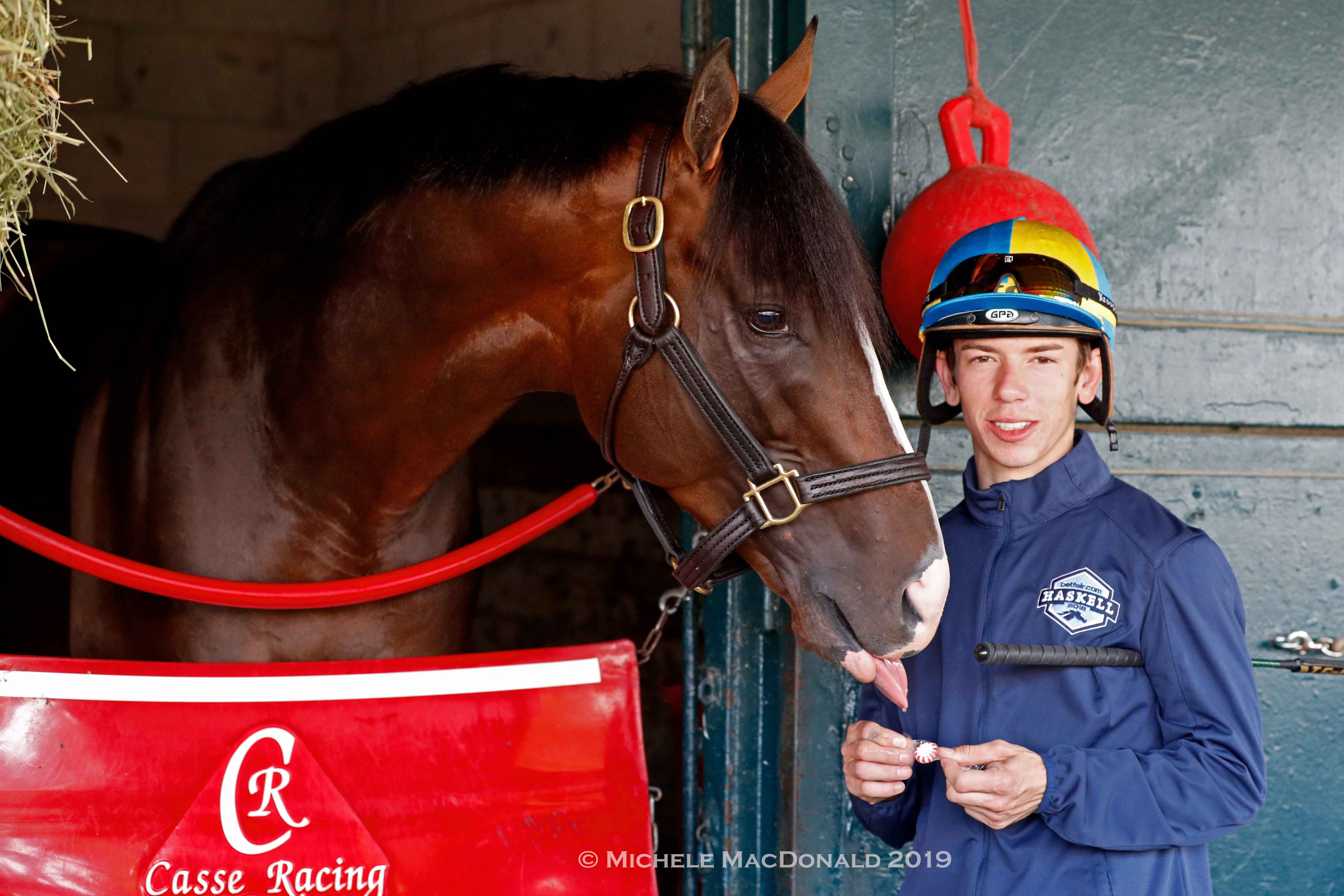 "[Maximum Security] came out directly in front of me and you can see on the replay that my horse's legs were going between his. At that point, I was just worried about staying up.
"We were approaching the quarter pole and that's game time for us, so I was caught up in the moment," he said in explaining that he didn't have time to absorb the danger viscerally. While there was not much he could do in those tumultuous strides, Gaffalione credited War Of Will with saving them from disaster.
"He is an incredible athlete and he took care of me that day," Gaffalione related. "He knew what he was doing. I just had to let him handle things."
While the Derby often is a race of close calls in bumping and shuffling, there had never been an incident such as this one in which the action of a horse was so drastic — and potentially so calamitous — that the stewards chose to disqualify him.
Gaffalione kept his cool during the uproar. And two weeks later, he confidently steered War Of Will through an opening on the rail to sail to victory in the Preakness.
Caught up in an unexpected wave of emotion in the ensuing moments under a cloudy sky at Pimlico, Gaffalione bent over in the saddle and hugged and kissed War Of Will before greeting Casse. As the crowd cheered, Gaffalione seemed to have to check himself, looking down and focusing hard on War Of Will's neck as dozens of camera shutters whirred.
"I can't even put it into words," Gaffalione said of what it felt like to saunter into the winner's circle under the cupola at venerable Pimlico. "It was just so special. It meant everything to me.
"It caught me a little bit," he added. "I'm not much of an emotional person, but that was a touching moment."
Gaffalione had spent much of his life readying for this chance and he had made the most of it, delivering what one broadcaster described as a "Hall of Fame ride" to urge War Of Will up the rail to victory.
"He was definitely born to do this, that's for sure," declared Matt Muzikar, who has worked with Gaffalione as his agent since December 2016 and has been impressed not only with Gaffalione's natural ability but by his dedication and upbeat personality. Casse also has praised Gaffalione's positive outlook and has called him a "great rider".
"I don't see a weakness in his game," Muzikar said. "I think that he is definitely a student of racing — he wants to learn, he wants to get better. He wants to adapt to things, he wants to understand. He's just an all-around great person and I think the sky is the limit for the kid."
'That day I knew he was going to be special'
As the son of former jockey Steve Gaffalione and grandson of jockey Robert Gaffalione, who rode for 41 years, Tyler Gaffalione grew up riding a pony he was given at age four and a special Equicizer his father had made for him when he was ten. By the time he was a young teenager, he was riding Thoroughbreds alongside his father at an Ocala farm.
One day, when Tyler was 13, Steve Gaffalione watched him follow through on an assignment to chase down a lead horse in the closing moments of a workout.
"He was just flat down on this horse. I saw that determination and I thought, 'What have we got here?'" Steve Gaffalione recalled to the South Florida Sun-Sentinel newspaper in 2017. "I grew up in this business and I have seen a number of great riders, but that day I knew he was going to be really special."
Tyler Gaffalione's aspiration was always to ride professionally in races, but his father required that he finish high school first. Prior to graduating from Sunlake High School near Tampa, Florida, Gaffalione flexed his muscles and gained some grittiness by playing football even though he weighed only about 100 pounds at the time.
His football coach, Bill Browning, recalled after the Preakness that players on an opposing team once tried to intimidate Gaffalione, a Sunlake cornerback and receiver, by harassing him and even pushing him during a game. His teammates banded together to support Gaffalione and that camaraderie helped fuel them through a strong season that took them to high-school playoff games.
Pivotal moment
"Our team rallied around him — kind of brought us closer together," Browning told a Tampa-area television station after Gaffalione made national news at Pimlico.
"I'm probably the only head coach in the state of Florida who can say I coached a Preakness winner," he added proudly.
Not long after gaining his high-school diploma, Tyler Gaffalione crossed a finish line first for the initial time on a Ghostzapper gelding named Holdin Bullets at Gulfstream Park on September 7, 2014. He was 19 at the time and there has been no stopping him since then.
He earned his Eclipse Award by leading all American apprentice jockeys in 2015 with 182 wins, and he finished that year with 217 wins to rank 12th among all North American riders. On December 30, 2018, at Gulfstream, he notched his 1,000th career winner.
Characteristically, Gaffalione deflected attention at that pivotal moment to others who have helped make his story what it is.
"It's such a blessing, especially to have it [at Gulfstream]. I grew up here. This is my home track. I just want to thank all the owners, trainers, horses — and, of course, my agent — for getting me here," Gaffalione said.
'I think his personality has a huge role'
Only five months later, he was expressing thanks after the Preakness, having reached a summit of American racing. Given a spotlight on the live NBC telecast, he spoke about everyone but himself.
"I'm just so happy for Mark [Casse] and his team, they do a fabulous job. [War Of Will's owner Gary Barber] has given me so many opportunities and I'm just so happy for them. I'm very happy for Mark to get his first classic win. Very happy for the horse, he deserved it more than anything. He's so special.
"I can't thank my family enough for all the support. Of course, my valet down in Florida, Jay Glass, and my agent, Matt Muzikar. Great team effort, I'm just so thankful."
Muzikar said that Gaffalione is one of those rare people who "every day gets better and every day makes me smile".
"I think that his personality has a huge role [in his success] because of the way he handles things, adapts to things and lets things come to him naturally. When he does obtain success, his reactions and actions just make you that much happier for him. You think, 'This kid deserved that.'"
'He really does his homework'
Gaffalione's nature and his attention to details also are advantages in working with racehorses, Ward and Muzikar said.
"I've put him on some horses today who have some funny antics, with a little speed on their mind. We're looking for them to settle now so they don't go too fast early when their races are coming up," Ward said. "He's able to get along with them."
In races, Gaffalione "is a very strong finisher and a very polished rider as far as style — he works real hard at that because he's come a long way from where he started," Ward observed. "He's a very intelligent rider. He can ride from the front or he can come from behind. And he studies the races, each and every horse. He really does his homework. He has no bad habits.
"To me, this guy, if he was a stock, you would be wanting to buy in because he's heading up," Ward said.
With a chuckle, Muzikar said that Gaffalione "is actually like a little bit of a nerd" in going over charts of past races and videos of prospective mounts or rivals. The jockey remembers small details and can recount them quickly, including which owners have specific promising horses in their stables, a valuable asset in a volatile sport that often pivots on relationships.
Natural talent
It was Gaffalione who initiated their working bond, calling Muzikar several months after the agent had ceased working with four-time Eclipse Award winner Javier Castellano. Muzikar saw Gaffalione's potential then and continues to see unlimited possibilities now.
"He has all the raw, natural talent, he has the mindset, he has the intelligence. He's already, in my opinion, one of the stars of the game," Muzikar said.
Statistics back up that opinion. Gaffalione, who intends to ride at Saratoga Race Course this summer, currently ranks tenth among North American riders by 2019 mount earnings with $6.59 million amassed in 588 starts through June 3 that have yielded 94 wins.
In typical style, Gaffalione talks about how far he has come so far and his future with a soft understatement that seems to be backed up by an unspoken but steely commitment to achievement.
He also truly loves horses and spends some of his non-working time with three Off-Track Thoroughbreds he owns with girlfriend Casi Edwards. She helps with her father's e5 Racing Thoroughbreds, which has campaigned the likes of champion Good Magic and Breeders' Cup winner New Money Honey.
Helpful guidance
"Of course, I dreamed about it, but I never thought it would actually be a reality," Gaffalione said of his newly gained status as a classic-winning rider as he prepared to get on Ward's horses at Keeneland. "I've had good people behind me, great support from owners and trainers, and I've caught a lot of lucky breaks that helped us get to this point."
Along with helpful guidance he has received from top veteran riders including Mike Smith, John Velazquez, Castellano, Julien Leparoux and Edgar Prado, Gaffalione particularly credits his father, who would call him after each racing day earlier in his career to go over what he might have done better.
"I've learned so much from him," Gaffalione said. "He helped me develop into the rider I am today."
Looking to the future, Gaffalione is too modest to talk about any far-flung goals, but he also leaves the impression that any top competition, including international racing, is possible.
Serene, focused approach
"Just to be able to do this for as long as possible, to have a good, long career, would be the most important thing, and to stay healthy," he said. "I'm just taking it day by day for now. My agent picks the spots and I go where he tells me. He does a fabulous job. I'll be taking his advice, and wherever it takes us, it takes us.
In the meantime, he and War Of Will are set to try to make more classic history together in the Belmont Stakes. Knowing that War Of Will is "a high-strung horse" and that a key to his Preakness victory was keeping him calm before and during competition, Gaffalione will again concentrate on a serene, focused approach.
"I feel like with his breeding and the way he does everything, the mile and a half shouldn't be a problem. I just have to get out there and keep him as cool as possible.
"I have a ton of confidence. I know how special a horse he is," Gaffalione added, smiling. "Regardless of where we are positioned or who is in the field, we're going in there with the mindset that we should be able to win."