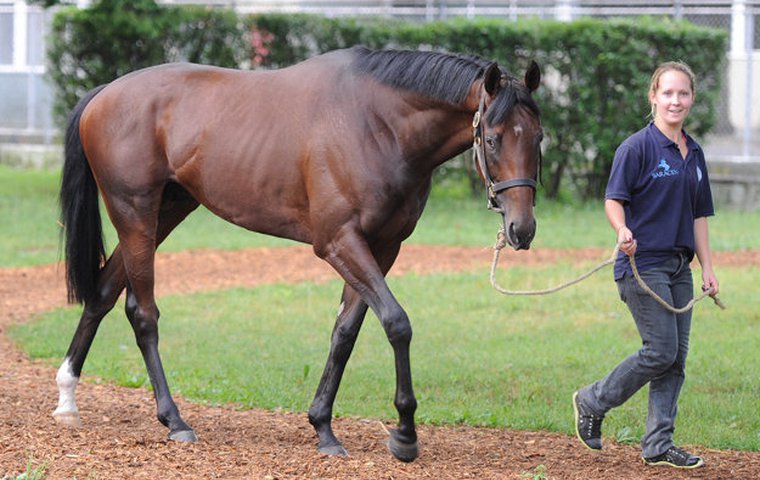 The inaugural Belmont Derby Invitational will boast a unique double-act for Australian racing this weekend. Two horses in the field, both French, will be competing for Australian interests. The first is OTI Racing's Gailo Chop. The second is the interesting Pornichet, who will race in the aqua-blue silks of leading Australian trainer Gai Waterhouse.

Waterhouse has had this horse but five minutes.
Until recently trained at Chantilly by Nicolas Clement, Pornichet was consigned to the Goffs London Sale on June 16, Lot 59 of 65. A 3-year-old bay colt by the former Godolphin galloper Vespone, he had raced six times in France for three wins, finishing out of the placings only once.
But it wasn't this useful tally that caught the attention of the Waterhouses.
Rather, it was Pornichet's final start for Clement in May in the G1 Poule d'essai des Poulains, Longchamp Racecourse's reply to the 2,000 Guineas. The colt ran a respectable third to Karakontie in that race, showing good speed from midfield to be beaten just over a length. It was the sort of performance that scouts the attention of Australian buyers, folks on the foot for Melbourne Cup horses.
Gai Waterhouse, as a buying force, often operates under the sails of her husband Rob, who admits that Pornichet was top of their list at the Goffs sale.
"He was the horse we had earmarked as the one we wanted to buy," Rob said. "We thought perhaps people wouldn't recognize his French form as being as good as it looked to me."
Pornichet went to £430,000 ($737,580) in the ring, and the Waterhouses thought they had been outdone. In fact, the colt was not sold, and a private exchange wrapped things up later that day.
The horse came with both an entry in the G3 Jersey Stakes at Royal Ascot and a standing invitation to the Belmont Derby. Though Gai Waterhouse admits she would have preferred the Ascot entry, the horse's French connections scratched from that event before he was sold, and so it was decided to press on to New York. Waterhouse sent her experienced attendant, Rachel King, straight to France to ready her new horse, and they shipped out on June 26.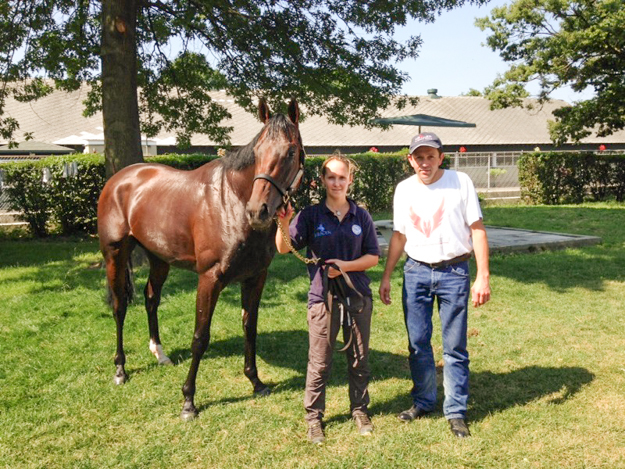 Pornichet will race on Lasix in the Derby, overseen by Waterhouse's racing manager Adrian Bott, track rider (and New York Racing Association jockey's valet) Rodney Paine, and Rachel King. It will be the first time the colt runs 10 furlongs, but Waterhouse believes that his mile performance in the Poule d'essai, so early in the racing season, was fetching enough to suggest he will stay. New York-based jockey Jose Ortiz was named to ride.
The trainer herself will not be at Belmont for the race, despite it being her first-ever runner on an American track. As anyone who knows anything about Gai Waterhouse will admit, she is spread thin at this time of year with spring candidates returning to work in Australia, and this doesn't discount her horse's chances.
"Pornichet has always exceeded expectations," she said, "regularly outperforming his starting price, which is a good sign."
She describes the colt as handsome, of average size, and very correct. She says he can go over any ground. Pornichet is rated 113 with Timeform, but Waterhouse puts him at 114, on the same peg as the brilliant Fiorente, her Melbourne Cup winner, at that age.
It is very likely the colt is Waterhouse's 2015 Melbourne Cup contender, but there is a lot of racing between now and then, and the trainer admits she hasn't looked too far into the immediate future with Pornichet.
"I haven't quite thought about what happens after Saturday," she said. "I thought I'd get over that first, see how he races and go from there. But he'll go to England after his American race. I'll be taking a bit of time that way to decide what I want to do with him."
Pornichet will go straight to Newmarket after Saturday, and his return to England, rather than a one-way fare to Randwick, is because Waterhouse is thinking of a possible start for him in the Irish St Leger in September. Success in that race would give the colt an automatic entry into a Melbourne Cup, which seems the long-line goal for this horse.
You get the impression that Waterhouse is running Pornichet at Belmont by default. The colt's place in the race is certainly not as deliberate as those of the other international contenders, given that it was his former owners that entered him. However, the Derby is a rich target, and Gai Waterhouse is a fearless woman.
It's a combination that has long reaped wild success.
Video credit: NYRA.