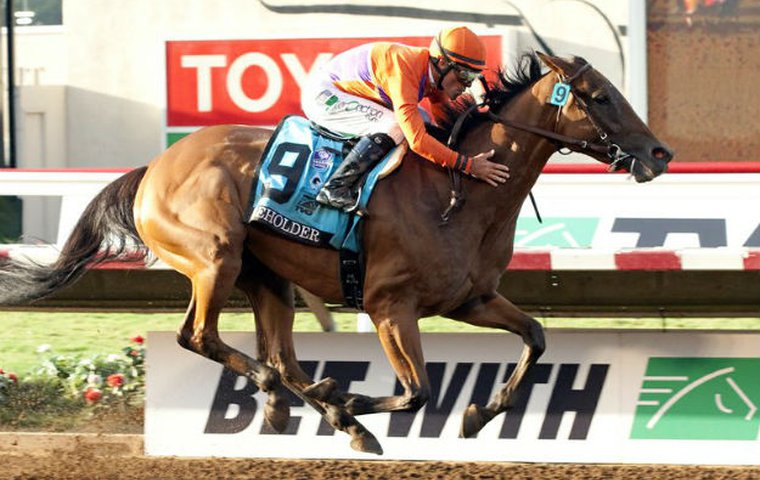 It is good news that we will see American Pharoah in the Breeders' Cup Classic, but the Triple Crown winner should not be favoured to beat Beholder in my book.

This is the best filly since Zenyatta, if not longer, and Keeneland's big dance will give her the chance to prove as much.
American Pharoah's defeat in the Travers Stakes led to his connections pondering retirement, mindful that further reverses could put a dent in his commercial value. In terms of strictly racing considerations, there is no reason why he should not race on, as Beholder has done to age five. Racehorses can still improve to this point, and sometimes later.
Beholder doesn't care about Q scores. Her name doesn't resonate with the public; her reputation doesn't need protecting; her profile doesn't take a dive with the odd defeat.
As a result of being allowed to stay around for four campaigns, she - rather than American Pharoah - is closer to the paradigm of the cherished American sports star. It's she who has been round the block, it's she who has suffered cuts and bruises, it's she who has been knocked back before rising again.
In the G1 Pacific Classic over 10 furlongs, Beholder produced one of those truly magic moments of which the sport is sometimes capable. But, more than mere impression, she very much proved she can stand alongside The Pharoah atop the pyramid of Thoroughbred talent.
Beholder threatens to set an insoluble riddle for her more celebrated rival
As a result of the announcement that American Pharoah is to take his chance at Keeneland, the Breeders' Cup showpiece will have both The Pharoah and The Sphinx. Impassive, unperturbed, swift and serene in the Del Mar feature, Beholder threatens to set an insoluble riddle in the Breeders' Cup Classic, even for her more celebrated rival.
Beholder has 14 wins in 19 starts, winnings of more than $4.2 million and two Breeders' Cup titles under her wing. She has suffered injury, ill-timed infection, poor racing luck and the odd disappointment. But just as American Pharoah's defeat in the Travers detracts nothing from the merit of his glorious winning sequence, neither does it matter that Beholder has been humbled once or twice.
When you delve into the underlying numbers of Beholder's Pacific Classic, her win becomes increasingly impressive. She sat comfortably behind fractions of 22.36, 45.45 and 1:09.98 before jumping out of Gary Stevens' hands while running into the far turn.
Review the film for yourself before we attempt to gild the impression with the data.
Beholder was awarded a Beyer Speed Figure of 114 for her efforts, the best of the year over any distance or in any division. For the uninitiated, Beyer Speed Figures contain no provision for immaturity, so to compare a 5-year-old like her to American Pharoah by this measure, we need to consider that it is reasonable to expect 3-year-olds to make at least five points of improvement if they stay around and in shape long enough to race when fully mature.
Even more to her 'equine marvel' Beyer figure than at first apparent
A Beyer Speed Figure of 114, while highly impressive for any racehorse, is also especially meritorious in races around more than one turn and when recorded by a female, so this alone is enough to classify Beholder as an equine marvel. But there is even more to it than first apparent.
The record for the Pacific Classic is Candy Ride's 1:59.11 in 2003, which saw Jenny and Sidney Craig's Argentine-bred awarded a 123 Beyer. But Beyers are a function of final time alone, whereas it is now widely understood that they are correlated (actually negatively correlated) with the variance in pace (actually velocity) with which they are achieved: the more the fractions vary, the more the final time suffers as a result.
Let's compare Beholder's elapsed time (estimated from the Equibase chart at a rate of one length equals 0.164sec) after each quarter to those of Candy Ride via the table below.
It's clear that, at least in terms of pace, the 2003 Pacific Classic and the latest renewal were contrasting entities. Candy Ride recorded a time 0.66sec faster than Beholder, but he ran much closer to even pace (defined by 24 sec quarters).
| | | | | | |
| --- | --- | --- | --- | --- | --- |
| Horse | Quarter 1 | Quarter 2 | Quarter 3 | Quarter 4 | Finish |
| Candy Ride | 23.65 | 47.15 | 71.11 | 95.44 | 119.11 |
| Beholder | 22.77 | 45.70 | 70.23 | 95.12 | 119.77 |
We know from a sample size of tens of thousands of races – as well as fundamentally from physics - that this puts Beholder at a disadvantage when we compare her final time to that of Candy Ride.
It's not fair to compare Zenyatta with Beholder on the basis of final times, for the 2009 Breeders' Cup Classic winner faced the slow fractions typical of synthetic track racing for most of her career. By the measure of Racing Post Ratings (RPR), Beholder is 4lb (or two lengths) behind Zenyatta, on 124 to 128, but that could prove a conservative assessment of the former when she runs against horses with higher ratings than the ones crushed in the Pacific Classic; Beholder could not do much more than win by eight and a quarter lengths – eased down - at Del Mar.
American Pharoah's best RPR is 131 in the G1 Haskell Invitational at Monmouth, and while that is fair enough, it could turn out his peak for the season, for he was judged to have run to just 122 in the Travers, where the pace scenario favoured him less.
It could be that runners with stronger stamina than either American Pharoah or Beholder come to the fore in the Classic, following the pattern of recent years, which mimics that of American racing as a whole. This looks especially relevant this year with G1 Woodward winner Liam's Map likely to set a strong gallop.
Whatever the nuances of the Travers, when you consider that a son of Pioneerof The Nile from a family of sprinters (American Pharoah) was outlasted by a son of Curlin out of an Awesome Again mare (Keen Ice), it really does seem as though the theory that many US horses simply don't get 10 furlongs properly is given further weight.
Beholder seems better suited to a Classic than Zenyatta
Beholder, a daughter of Henny Hughes (who was basically a stretch-out sprinter by speed influence Hennessy), is also more about speed than stamina, so those looking for value when betting on the Classic might be encouraged to play a longer shot or two at Keeneland, but of the favourites she has the most tactical weapons.
American Pharoah is primarily a galloper who may find a similar situation to the Travers when he runs in the Classic, but Beholder can sit in behind the lead, adapt to the demands of the pace, and accelerate even off a strong gallop.
Indeed, when you compare her by these dimensions to Zenyatta – at her best when dropped out and asked to run past horses – it seems as if she is better suited to a Classic run on dirt (Zenyatta, of course, was beaten a head by Blame at Churchill Downs the year after her synthetic track win at Santa Anita, and whether she got a poor tactical ride or not, it seemed like she didn't really face the kickback on dirt that day).
The case for Beholder is certainly there, and while she will never eclipse the fame of a Triple Crown winner when racing fans look back on the season, she might just leave room for doubt among them as to who was actually the better racehorse.