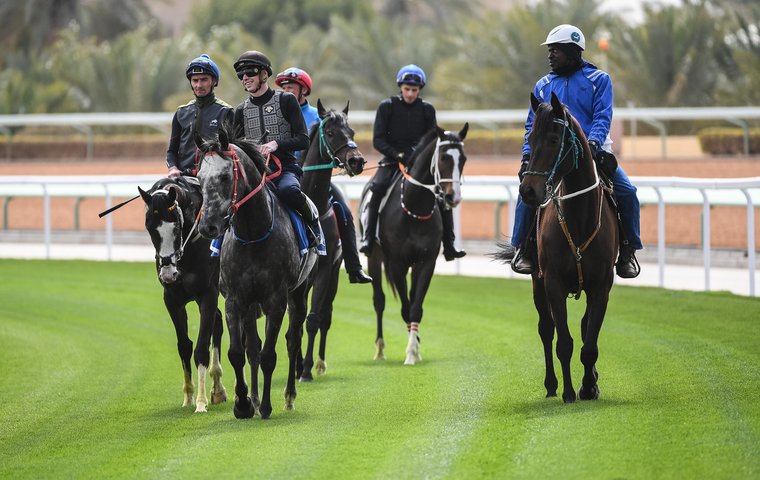 Any lingering doubts that the new turf course put down at the King Abdulaziz racetrack in Riyadh just two months ago would not be ready to host top-quality racing at February's Saudi Cup meeting were banished after the first trial of the surface today (Wednesday).

A quartet of international jockeys, headed by Frankie Dettori, gave the course a glowing endorsement after they galloped four horses over a full circuit of the oval, to the obvious relief of the organisers of the new fixture, which will feature the world's richest race, the $20 million Saudi Cup.
"It was very good," said Dettori. "We tried it out to the best of our ability today with four world-renowned jockeys. I couldn't fault it. For a new track, it rode really well. It will be perfect for February 29."
World #1 Dettori joined William Buick, James Doyle and Danny Tudhope (respectively ranked 6, 15 and 55 in the TRC jockey standings), who had travelled from Dubai, as they partnered four local horses on a lap of the lush grass surface on the new 3,000m track, running at near race pace.
The course, which has been laid on a former training track inside the longer established dirt course, was only seeded in November last year.
"We really tested it," said Dettori. "We went a good gallop. We went as fast as we could round the turn. On the straight there were no problems. The horses got a good grip. The ground is perfect. We would like to have it like this on raceday.
"If I had to be a little bit picky, I would like the grass to be a bit longer, but we've still got four weeks and I am sure it will be 100 percent. Today's test went with flying colours."
Buick said, "We got asked to test the surface ahead of the big day. We needed to get something out of it and learn something and to do that we had to go not far off race pace, to see how the horses handled it, how they went round the turns and how the ground reacted to what we were doing.
"The ground reacted very well. There were no patches. It was very even all over. All four of us were in agreement that it was a fair track with genuine good-to-firm ground. There were no complaints. It was a very positive exercise. People can come here with a lot more confidence after that."
Doyle was equally enthusiastic, reporting, "There were nice cambers on the turns, it rode perfectly and there is a nice long straight. Honestly we couldn't fault it in any way. There is a bit of time still so it can only get better.
"We were a bit shocked at what could be done in such a short space of time. Obviously there is a fantastic team put together to work on it, and full credit to them. They have done a wonderful job. It does look beautiful and it certainly rides that way."
The exercise, over a mile and a quarter, was completed in front of Prince Bandar bin Khalid Al Faisal, Chairman of the Jockey Club Of Saudi Arabia, and other officials. Also taking an interest with a view to saddling runners at the meeting, where a $9.2 million undercard will feature three turf races, were Godolphin trainer Charlie Appleby and T P Comerford, who regularly supervises Aidan O'Brien's overseas challengers.
Appleby was not surprised by the success of the turf track trial. "In Dubai, this is what we do. We reseed every year, so this is second nature for me to see this. I have to be very pleased with it. Visually it looks great and the nice thing about it is it's not tearing. There is obviously a good bit of root there, and it is only going to get stronger.
"You might get a bit more cut in there, but you didn't want that for today. The configuration of the track is fantastic. I was always very confident of what we were going to see and what's been achieved. I think they've done a fantastic job. There are four weeks to go and it will be like a carpet."
The glowing responses were welcomed by Dr Steve Baker, the renowned turf consultant who has overseen the project for sports surface specialists STRI.
He said: "To be honest we were pretty confident anyway. We have been making regular measurements of how the course is performing and we were where we hoped to be.
"The grass cover is maturing all the time. The great thing is we are only three-quarters of the way through the maturation of the grass anyway. So it will get stronger still over the next month and we can now manage it to get the roots down. It's been good.
"We wanted the jockeys to go as per normal racing conditions because we wanted to see that nothing was kicking out. It's held together really well. I have walked it and there is minimal damage. We will be able to put that back very quickly."