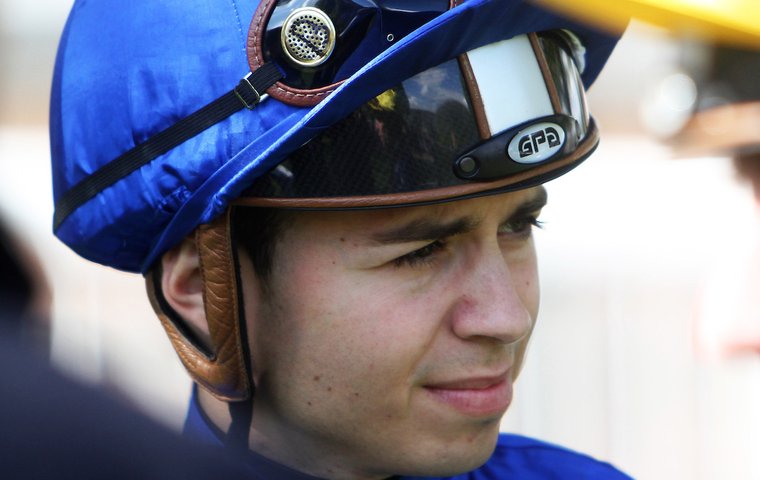 Think of Mickael Barzalona and that astonishing, premature, upstanding victory salute on Pour Moi in the 2011 Epsom Derby might well spring to mind, accompanied by disbelieving commentator Richard Hoiles' classic line, "and celebrates as if he's won the Derby!"

Barzalona, currently the 28th ranked jockey in the world, had indeed won the Derby, at the age of just 19. That success was followed just ten months later by a similarly outlandish display on Monterosso in the Dubai World Cup at Meydan – this time standing tall in the saddle several metres from the line.
Such celebrations might be perceived as cocky, but Barzalona, now 26, is anything but. He's down to earth and relaxed on a day off in Dubai, where he has been riding with great success over the winter and will be on Carnival duty again on Thursday, although he looks rather uncomfortable when asked if these antics are a thing of the past.
"No, I'm not going to do it anymore," he says with an embarrassed laugh. "It's just at the moment I was so happy, but after the World Cup I thought I'd better not do it again. Some people used to like it, some people didn't like it, so now I prefer to stay down."
The Barzalona victory celebration: 1 - Pour Moi's Epsom Derby
The Barzalona victory celebration: 2 - Monterosso's Dubai World Cup
It's a shame, perhaps, as such images are a racing marketer's dream, although raceday stewards understandably take a different view. Those scenes beamed around the world also helped catapult the young Barzalona almost from the back of Pour Moi into the giant arms of Godolphin, with whom he has remained ever since, although his base has changed. Back then, he went to live in England, a scary transition, possibly for a teenager with little knowledge of English.
"It was a little bit," he says with a wry smile. "I was very young, didn't speak any English. I was quite lucky I had a lot of people who gave me a big helping hand, like my driver, Steve, and Martin Lane – a few of them used to give me a big, big help, so I'm very grateful for that. It was a very good experience, so early in my career, to see all of the different tracks and the different tactics of racing. In France we go so slow and then sprint, so it was a big bonus for my career."
In the TRC Global Rankings, Barzalona is the highest-ranked Frenchman based mainly in France, although Belgian Christophe Soumillon, who also rides mostly there, is higher, as are Japan-based Frenchman Christophe Lemaire and U.S.-based French-born riders Florent Geroux, Julien Leparoux and Flavien Prat.
Barzalona's time in England was fruitful - he also partnered Encke to success in the St Leger, scuppering the 2012 British Triple Crown bid of Camelot in the process. Now, though, he's back in France with Andre Fabre, who masterminded his career path from the start.
"He's the man who gave me the best support early in my career and he knows me very well," says Barzalona. "We are three jockeys in the stable [along with Pierre-Charles Boudot and Vincent Cheminaud] and he manages to split the horses very well, so there's no jealousy and everybody is very happy with how he manages the horses. He's just a wonderful man to work with."
The two worked together to particular effect in 2017, when Barzalona partnered a pair of Godolphin colts, Cloth Of Stars and Talismanic, to success at the highest level. Both now head to Dubai, where their jockey has been based for the past seven winters. Talismanic is likely to be his mount in the $10 million Dubai World Cup on March 31.
Talismanic's World Cup chances
"He won a very strong Breeders' Cup Turf," says Barzalona of the white-faced 5-year-old. "We gave him a very easy season because we didn't find that many races to suit him. His objective was the Breeders' Cup from very early in the year and Andre Fabre brought him there at 200 per cent. If he goes for the World Cup then, if he likes the dirt, I'm sure he will run a big race. He's very easy to ride and always tries his best."
G1 Prix Ganay winner Cloth Of Stars is a less straightforward proposition, but no less talented, as his Prix de l'Arc de Triomphe second behind Enable showed.
"He had just a few starts last year. He's a more difficult horse as he can be very keen, but we've done a lot of work with him," continues his rider. "He's a good horse and we'll see how strong he can be in the [$6 million] Sheema Classic. He will be ready for the race and he will come over with Talismanic. They will both have a big chance of winning."
If either can succeed on the big night, they will provide Barzalona with a 13th G1 success. It's been some career, and he's still got 20 years on the likes of Dettori, Espinoza and Smith. So, does he ever look back and think, well, 'wow'?
"Sometimes, yes," he smiles. "Because when you're that young you don't really realize straight away what happened and you think everything is easy. But now, I really appreciated my last Breeders' Cup win. When I win a Group 1 I have a greater appreciation and understanding of what it means to win the race."
With that, Barzalona is off, eager to get to the gym and continue training for his next challenge, a Half Ironman. "I have a month to learn to swim," he says, laughing once more. We suspect, once again, that he's just being modest.