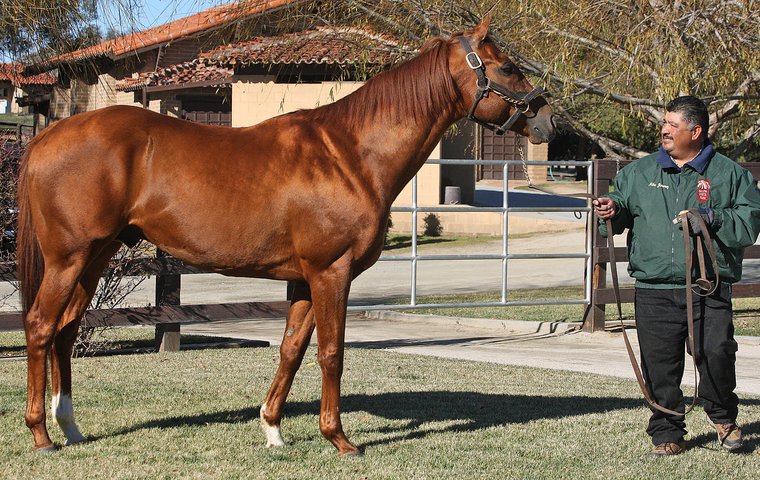 Miguel 'Mike' Jimenez is quick to show off the cell phone video of one of the best Christmas presents delivered last year: Kentucky Derby and Preakness Stakes winner I'll Have Another arriving at Ballena Vista Farm in Southern California on December 22.

The three-time G1-winning Eclipse Award champion started his career in California for owner Paul Reddam and trainer Doug O'Neill, but he has been away for six years standing as a stallion in Japan. A rapid series of events brought him back to the Golden State, where he is expected live out his years.
"I don't know how they thought of us," Jimenez said of Shigeyuki Okada's Big Red Farm in Japan, "but we got an email from them and just two months later he was on his way here."
I'll Have Another's journey from top racehorse to repatriated American stallion has been one with many twists and turns. Owned by Reddam and trained by O'Neill, I'll Have Another was originally an $11,000 Keeneland September yearling who became a $35,000 OBS Two-Year-Old in Training. He did break his maiden first out and was G2-placed at two, but he didn't light up the headlines until his sophomore season.
The colt was thrust squarely into the Kentucky Derby spotlight after winning the 2012 Santa Anita Derby by a nose, but he still went off at 15/1 for the Run for the Roses. Under jockey Mario Gutierrez, I'll Have Another ran down favored Bodemeister under the spires at Churchill Downs for an upset victory.
After annexing the Preakness Stakes, again over the more popular Bodemeister, I'll Have Another looked poised for Triple Crown glory. Thousands traveled to Belmont Park for the third leg, only to end with a more disappointing result than most: instead of running and failing to win, I'll Have Another was scratched with injury the day before the race.
The popular chestnut, by Flower Alley out of the Arch mare Arch's Gal Edith, paraded at Belmont Park hours before he had been set to run in the Belmont Stakes, then returned to his home base of Hollywood Park in Inglewood, California, to parade there as well. In the interim, he was purchased by Big Red Farm for $10 million, and he stood the 2013 season for 3.2 million yen, or $38,000.
I'll Have Another was the third Kentucky Derby and Preakness Stakes winner to wind up in Japan in a quarter of a century, joining Sunday Silence and War Emblem. Sunday Silence became the greatest stallion in Japanese history, while War Emblem struggled to impregnate just a few mares.
I'll Have Another fell somewhere in the middle.
After having runners on the track for just three years, I'll Have Another sired 86 percent starters from foals, 58 percent winners from starters, and the earners of over $12 million. But, without any stakes winners, he simply wasn't striking gold with Japanese breeders.
"He had both dirt and turf winners, but maybe he simply didn't click with the Sunday Silence line?" Jimenez mused. "I think that here, with the speed and more dirt racing on offer, it will be to his advantage, for sure. His runners are sound. Hopefully, with California mares, we can start producing stakes-level horses. We have the perfect facility for him, and he deserves a place like this to finish out his breeding career."
Donald Cohn's Ballena Vista Farm in Ramona is a 220-acre spread of pasture complete with a serene pond and endless vineyards. The farm will send a host of its own mares to I'll Have Another in 2019, and former owner Reddam is lining up an impressive equine fleet that will visit the stallion as well.
Dream come true
But, for Jimenez, dealing with a stallion with I'll Have Another's race record is a dream come true. He started walking hots for legendary trainer Charlie Whittingham at age 13, following his father, who galloped the likes of Runaway Groom and even Sunday Silence. He spent 16 years as the assistant manager of Valley Creek Farm, then joined the team at Ballena Vista in 2007.
He has been managing the farm for only a year and now has one of the most valuable horses in the state to look after.
Jimenez recalls the rush around I'll Have Another's repatriation. "When we got the email, we jumped on it," he said. "We were contacted in late September and the offer was accepted in early October," he said. From there, things snowballed.
I'll Have Another was flown from Japan to California and spent a few days in quarantine near Los Angeles International Airport. He then shipped six hours north to spend another 30 days at the University of California, Davis campus. Breeding stallions arriving from overseas are required to successfully breed with two mares before they can be released from quarantine, with bloodwork and cultures run at a lab in Iowa. Once all samples have been cleared, the horse can resume its duties.
On December 22, I'll Have Another was released to van down to Ballena Vista, some nine hours south.
"He caused a whole lot of ruckus coming off the van," Jimenez said, proudly playing his video, in which I'll Have Another can be heard trumpeting his arrival. "He doesn't look very big until you get up next to him. Then you realize he's a good size. He's pretty smooth to handle, has a great personality, and is easy to be around. I can't foresee any problems with him in the breeding shed. And he loves his carrots."
While many farms in Kentucky offer tours so that fans can see the stallions, many California farms are less experienced in that regard. Ballena Vista, however, welcomes the challenge.
"We will let people come see him," Jimenez said. "You have to let the fans in and we certainly will. It might be hectic during the breeding season, so the off season is better, but, without the fans, we wouldn't have horse racing."