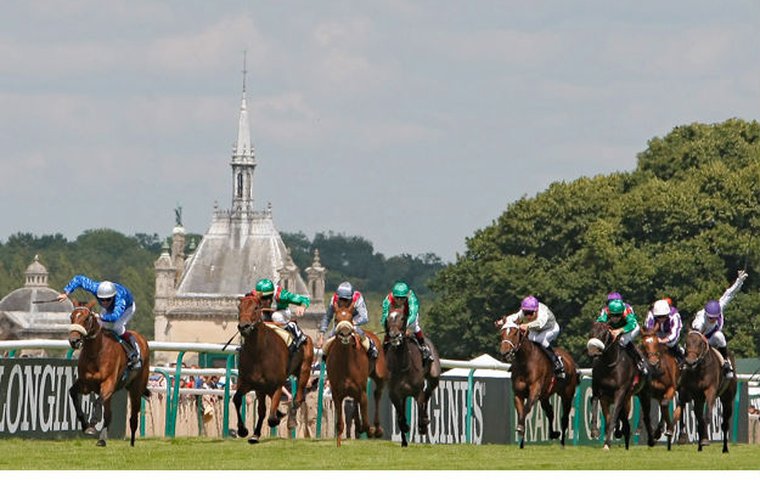 The last quarter of 2013 was particularly difficult for racing in France – thanks largely to another of our national sports, one we can always be relied upon to excel at. Going on strike.

The seeds were sown at Deauville in August, an occasion regularly associated with high temperatures. Although this year, the heat seemed to affect minds as much as bodies. How tiring it must have been for France Galop President Bertrand Bélinguier.
One burning issue was the verdict in the Stephane Pasquier case. The Arc-winning rider was suspended for three months for taking a banned substance, even though there were doubts about the relevance of the sample and whether it was taken deliberately.
It was certainly enough to fire up his fellow jockeys, who expressed their dissatisfaction by delaying the start of the exotic Tiercé bet race, the daily flagship contest for punters that drags about 25 percent of every day's turnover. Pasquier's ban was later suspended at a civil hearing.
Another problem came when a handful of Parisian trainers, who had declared their horses non-runners at a national meeting in Dax as a response to a measure to streamline the reimbursement of traveling expenses, were heavily fined. Their action was costly since tiny fields harm betting revenue. The professionals had not clearly stated that they were doing this as a protest, but the lack of a coherent explanation led to a hefty penalty all the same.
Of course, these two decisions were made by stewards of France Galop – and they provoked strong reactions against the institution as a whole. President Bélinguier did little to reduce the rising feeling of distrust when he failed to provide a clear and convincing speech on these issues in a television debate on Equidia.
A strategic report on the future of French racing didn't fare any better when delivered to ministers at the end of July. Edited by the rulers of racing themselves under the leadership of an ever-sympathetic senator, the report was a mere listing of potential savings.
Back in Paris a month before Arc weekend, a sort of truce was observed. Yet, soon after the big event, the discontent was taking different forms.
Do not forget that all this is set against the background of the sometimes-violent social and political upheaval currently plaguing our country because of the action, or rather inaction, of President Hollande's team –and that was even before he was tumbled around by an affair with an actress. Confusion reigns and confidence falls. No doubt the normally unfair views of the British about their French neighbours are unlikely to change. How could one blame them for seeing us as a band of irresponsible children left unattended in a derelict playground?
So, on October 21, Bélinguier thanked Hubert Monzat, France Galop managing director for six years, by replacing him with Thierry Delègue -- who was thanked in the same way at the end of 2008 by the then president, Edouard de Rothschild. The rumour was already widespread but the decision still had its effect.
Jacques Myard, the Mayor of Maisons-Laffitte and president of the horse group at the National Assembly, then decided -- even before France Galop officially expressed any views on the matter -- to try to safeguard 'his' racecourse and its training centre by torpedoing the 'pharaonic' project for a new Longchamp, estimated at €120 million ($164 million).
Deputies convinced by Myard agreed that in times of crisis, the investment seemed out of proportion. Awkwardly, Bélinguier made something of an error here by publicly lecturing Myard and his chums, pretending they were representing only a handful of opponents. Well seasoned in French politics, Myard rallied his friends - and many new supporters - by highlighting the shortcomings of the France Galop president.
Since then, the Qatari royal family, long-standing partners of the Arc weekend and other major France Galop events, have offered to pay the entire Longchamp bill. The news leaked, and Bélinguier had to acknowledge the offer. Talks have officially started with the Qataris.
Meanwhile, websites and new breeders' and owners' associations eager to see their side of the business supported ahead of the popular, revenue-generating punting races undermined the authority of France Galop and its representatives by releasing anonymous, well-informed statements, some attacking Bélinguier personally.
So things were already fairly difficult when Bélinguier announced on Nov. 4, a business plan for France Galop. In it, he questioned – constructively, one must admit - the very existence of the racecourse at Maisons-Laffitte, as well as suggesting the rationalisation of certain expenditure and the sale of the France Galop headquarters in Paris with a plan to move them to the France Galop-owned Saint-Cloud racecourse.
This was enough to trigger a storm of protest. On the next day, for Maisons-Laffitte's last meeting of the season, a number of France Galop employees prevented racing going ahead, depriving the sport of a few million euros.
Two days later, after an unsuccessful first meeting with staff representatives, it was decided to remove the business plan until further notice and start consultations again. The strike was lifted in time for racing to take place without incident.
Is it over now? Not so sure. President Bélinguier, hitherto considered a fine tactician, needs wider support around a real project people can actually understand and sympathise with.
Today, not necessarily fairly, he is almost a catalyst for the tensions –he is omnipresent in every committee, on our screens, and on the racing scene, exposure he likes but which exposes him. Such a penchant for the limelight is not without its downside.
It was also possible that the silent majority, rather concerned about stability, will eventually get in line behind Thierry Delègue as he is a genuine racing man who benefited enormously from his six-year stint away from France Galop, gaining valuable experience as a bloodstock agent and an international adviser. His profile is certainly similar to that of former managing director Louis Romanet at this stage of their careers.
In the very last days of December, although the figures were expected and despite a €220 million ($300 million) fund kept aside as a precaution to prevent brutal cuttings in prize-money, the France Galop Board tripped up again. The 12-member committee decided to marginally lower the owners' premiums as a money-saving measure in response to the exceptional results recorded by French-breds in 2013 (the premiums are payable in all races except the Arc and races restricted to French-breds).
After a negative reaction from press, public, and industry, the rulers changed their mind and instead cut G1 owners' premiums in half. The big owners were horrified. The board was swiftly summoned again to meet the deadline – by conference phone call, this time- and voted on Dec. 30 for a 20 percent general rise in entry fees.
For some, this was the worse decision of all, although it actually makes sense because it spreads the burden, not only on French-breds, but on all runners, and according to every stable's means. But the explanation was late and not comprehensive enough. There is too much noise for anyone to listen.
Calls for order have been heard in the tumult. Let us see if they are respected. However, with betting revenue falling and alternative business from foreign betting on French racing still rather sketchy, the room for manoeuvre is limited.
Emmanuel Roussel is the Paris-based editor-in-chief of Equidia Live, and a racing journalist for more than 20 years.