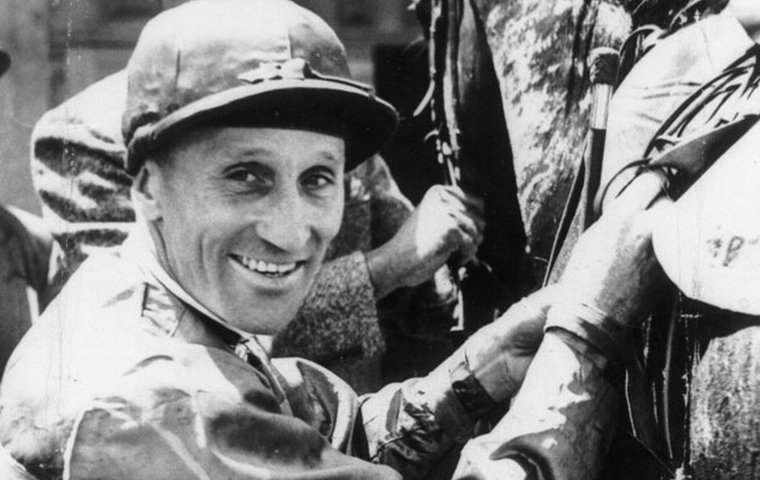 For a quarter of a century after the Second World War, they were dominant - on the other side of the world. So it's hardly surprising TRC Aussie correspondent Steve Moran believes Australia's post-war jockeys are his homeland's greatest ever racing exports.

As a collective, the group of Australian jockeys who rode so successfully in Britain and Europe from 1945 until the very late 1960s is entitled to be rated our greatest export. Yes, even above the fabled horses Phar Lap and Crisp which immediately spring to mind when discussions such as this are raised.
Australian jockeys won the Epsom Derby eight times between 1948 and 1967 and the Prix de l'Arc de Triomphe on the same number of occasions from 1945 to 1969 (and another Arc was added in 1981, courtesy of Gary Moore).
It seems quite extraordinary that visiting jockeys would win 33 percent of what certainly at the time were regarded as the world's two greatest races in a 24 year period. True, the career of the dominant Sir Gordon Richards was coming to an end but that of another English great, Lester Piggott, was beginning. Richards retired in 1954, the year that Piggott won his first Derby.
Had the war thinned the ranks of English and European jockeys through death, injury or retirement? I don't know.
Or was it simply that more accomplished Australian riders left our shores, perhaps driven by that sense of adventure which is often said to coincide with pre- and post-war periods. Either way, the records stand as testament to their remarkable ability, and I doubt their raiding feats have been matched anywhere else in the racing world.
Bill Williamson
1922 - 1979
Won two Arcs
Won the Arc on Vaguely Noble in 1968 and again, the following year, on longshot Levmoss. He beat Piggott on each occasion (Sir Ivor and Park Top). Piggott reportedly described Williamson as "the best big-race jockey in the world".
The English press used to refer to him as 'Weary Willy' because of his impassive response to winning or losing.
At 19, his career was interrupted by two and a half years' military service, driving for the 119th General Transport Company before he was discharged on 30 October 1944.
Rae 'Togo' Johnstone
Full name William Raphael Johnstone (1905-1964)
Two Arcs, three Epsom Derbys
Suspect there's a book waiting to be written about this remarkable jockey - if not about each of them. It's generally recorded that Johnstone was champion jockey in France three times in the 1930s. It might have been more as records of the Cravache d'Or are sketchy to say the least.
Johnstone rode his first winner in 1920, and from there his career was one hell of a roller-coaster ride.
In 1925, he was banned from riding in Sydney because he had - against the rules - gained access to his in-trust apprentice earnings and married. At Armidale racecourse in New South Wales in November 1927, he apparently conspired to lose a race and was banned for two years. He returned to riding in 1930 with financial problems and a collapsing marriage at hand. He then rode in India in 1931, before heading to England and France.
Andrew Lemon, in a brief biography, wrote of Johnstone: "Life in Paris appealed to him, and he became romantically involved with Marie Marcelle Augustine Goubé ('Gui'), a dancer at the Folies-Bergère … high living, casinos and what Johnstone called 'a certain hypnotic fascination for the limelight' ensured that he retained little of his large earnings.
"He was equally cavalier about World War II. Rejected for military service, he rode in India in 1939-40, but returned to Paris where, on 12 March 1940, he married Marie (whom he called Mary). They made their way to Monte Carlo.
"Johnstone contrived to ride at meetings at Lyon, Vichy and Marseilles until late 1942 before being interned by the Italians. He claimed that he escaped from a German-bound train in 1944 and was helped to cross the military lines to liberated Paris. By mid-December that year he was back in the saddle."
Lemon added: "Johnstone had become a European celebrity. He attributed his 'oriental look' to his mixed descent (Irish-German and Portuguese-Welsh) and was offended by being nicknamed 'Togo' (after a Japanese admiral). To the French, he was 'Le Crocodile' who came 'from behind to gobble up the field'.
Many contended that Johnstone was of aboriginal descent. "Rae Johnstone always passed himself off as being from a Portuguese background and said that his real name was Davies," John Maynard, author of Aboriginal Stars Of The Turf, told racing writer Max Presnell in 2002.
"He said he had been forced to take his grandmother's maiden name, Johnstone, when he became apprenticed because there were several other jockeys named Davies at the time," Maynard said. Presnell wrote: "Maynard found Johnstone's grandfather 'was unknown', which 'adds weight to the to the story of Johnstone's Aboriginal heritage'."
Others too have claimed that Johnstone's story of his return to Paris was somewhat far-fetched.
Arthur Edward 'Scobie' Breasley
1914 – 2006
One Arc, two Epsom Derbys
There's a reasonable case to argue that Breasley was the best of them all. After all, he was four times champion jockey in Britain during the Piggott era and rode 170-plus winners in each of those four seasons.
Breasley rode 3,251 winners, including 2,161 in Britain. He won the Prix de l'Arc de Triomphe on Ballymoss in 1958, and the Derby for the first time at the age of 50 on Santa Claus in 1964, then again on Charlottown in 1966.
Julian Wilson wrote the following in an extensive obituary published in The Guardian: "The rivalry between the 'boy wonder', Piggott, who had won his first Derby at the age of 18, and Breasley, 21 years his senior, was to illuminate the turf for the next 15 years."
Wilson added: "He won the Derby twice on Santa Claus (1964) and Charlottown (1966); and his success on the former had a remarkable sequel. Santa Claus, trained in Ireland, was a short-priced favourite, and there were rumours before the race that Breasley had been paid by a bookmaker to prevent the horse from winning. At halfway, Santa Claus was in a seemingly hopeless position, and although he eventually won, Breasley was never invited to ride him again."
Rumours and controversy were never far away, and the marriage of his daughter to the son of a bookmaker merely fuelled the punters' suspicions. Nonetheless, Breasley was never indicted, although much humour was generated by an alleged comment of his wife, May, in 1975. Breasley, by then a trainer, had won the Middle Park Stakes with Hittite Glory at odds of 9-2. Afterwards, the senior steward, Lord Leverhulme, congratulated May, adding: "I hope that Scobie had a good bet." "Nah, m'Lord," replied May, "I don't think Scobe's had a bet since he gave up riding!"
George Thomas Donald Moore OBE
1923 – 2008
One Arc, one Epsom Derby
Some would rank Moore above Breasley as our greatest jockey export.
In Australia, he is credited with riding 119 G1 winners, which has not been bettered by any other Australian jockey. I doubt that tally includes his overseas winners. He also became a successful trainer in Hong Kong, winning the premiership 11 times. Good heavens, he was even named the BBC's Overseas Sports Person of the Year in 1967
Moore travelled as early as 1950, when he went to the United States and won the San Diego Handicap at Del Mar. He returned to Australia and won the first of his ten Sydney jockeys' premierships in 1957. This premiership had earlier been won five times by another of our magnificent seven, Neville Sellwood.
In 1959, he went to France to ride for Alec Head and Prince Aly Khan (at one time married to actress Rita Hayworth) and Moore struck gold early, winning the English 2000 Guineas that year on Taboun. This classic was also won by Johnstone, Breasley, Pyers and two other great Australian riders of the era - Ron Hutchinson and Edgar Britt.
Moore also won the Arc, that year, aboard Saint Crespin for the same trainer-owner combination. The next year he claimed the Prix du Jockey Club on Charlottesville.
He was based in Sydney for most of the 1960s but returned to England for a time in 1967 to ride for trainer Noel Murless and they combined to win the first three 1967 British Classics - the 1000 Guineas with Fleet plus the 2000 Guineas and Derby with Royal Palace, who was denied the Horse of the Year crown by stablemate Busted, whom Moore also rode.
William 'Billy' Pyers
1933-2004
One Arc
"I never had a better jockey than Billy Pyers,'" said legendary trainer Colin Hayes. Pyers was seven times champion jockey in South Australia by the age of 24.
He ventured to England in 1964 to ride for Ernie Fellows and won the 2000 Guineas on Baldric, for that trainer, at what has been claimed to be his first ride in England. Four years earlier, compatriot Ron Hutchinson achieved the same feat on Martial.
Pyers, like Johnstone, could find trouble. Max Presnell wrote: "Pyers was in a car crash in France and escorted the women driver of the other car to her home, and was assured she wasn't injured. More than a year later, the woman recognised Pyers on television after he won a big race and sued him for careless driving and failing to report an accident. He spent 33 days in jail, and said: "The best two blokes I met were Russian spies."
He was also jailed for refusing a breath test. But he managed to win a swag of major races while abroad, including the Arc aboard Topyo in 1967, and he did ride the champion filly Dahlia to win the 1973 Laurel Park International in Washington, D.C.
Pat Glennon
1926 - 2004
One Arc, one Epsom Derby
Glennon was champion jockey in Ireland, riding for Vincent O'Brien, in 1962. A title his countryman Garnet Bougoure had taken two years earlier when also in O'Brien's employ.
He moved on to France to ride for trainer Etienne Pollet, which proved fortuitous to say the least as he and Sea-Bird were united and their momentous 1965 flat season included victories in both the Epsom Derby and the Prix de l'Arc de Triomphe.
Neville Sellwood
1922 - 1962
One Epsom Derby
Sellwood was born the same year as Williamson and, like him, was called up for full-time army duty at 19 (in 1942). He served with postal units in Brisbane and at Townsville but was allowed to ride trackwork and take mounts at local race meetings.
He was discharged in May 1946, ventured to Sydney and, in 1948-49, he won the first of his six jockeys' premierships in that city.
Sellwood won the Derby on Larkspur in 1962. A few months later, he was killed in a race fall at Maisons-Laffitte. Sellwood was leading the French jockeys' championship at the time. Yves St. Martin, who won the title that year, later presented the trophy to Sellwood's widow.

Garnet Bougoure (1923 - 2008), Ron Hutchinson (born 1923) and Edgar Britt (born 1913) each rode multiple classic winners in England and are certainly entitled to similar recognition as the seven jockeys listed above - but they did not manage to win either the Derby or the Arc.