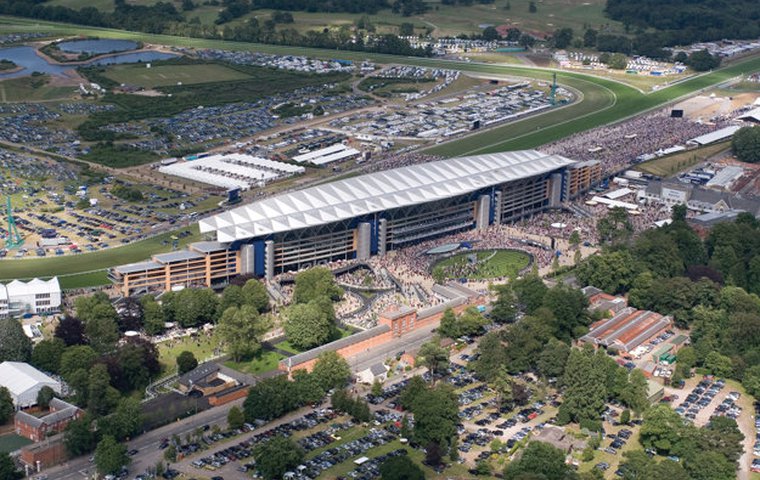 Few racecourses can boast of being founded by a queen, but Ascot Racecourse owes its genesis to just this. One summer's day in 1711, Queen Anne was riding in her carriage on the open heathland near her castle at Windsor when she was struck by its potential to hold racing. Anne had a tireless enthusiasm for hunting and horses, and her impulse to establish a racecourse on crown land at Ascot soon bore fruit. Its first fixture was quickly arranged on Aug. 11 that same year.

Despite Anne's enthusiasm for Ascot, few provisions were made to accommodate early spectators. Onlookers on foot and horseback jostled with carriages to watch the racing, or found refuge within moveable wooden galleries that were erected specially for each meeting. It was not until 1793 that Ascot acquired its first grandstand, the Slingsby Stand. It was commissioned by George III and accommodated 650 attendees.
Under George IV, though, Ascot's architectural aspirations began to grow. He was an extravagant patron, with a voracious appetite for architecture and a special fondness for horses. Having previously commissioned celebrity architect John Nash to redesign several Royal properties, George appointed Nash to design a Royal Stand at Ascot in 1822.
Erected in five weeks, it was a small, white stucco structure, indebted to the Grecian aesthetic that dominated Georgian architecture. As typified stand design at that time, it had two stories plus a rooftop-viewing platform (added in 1824). To its side was a small lawn, a precursor to the modern Royal Enclosure, to which entrance was strictly reserved for the King's personal guests.
George lived his life publicly, and this enclosure provided an important platform for the spectacle of sovereignty. George made the crown less remote, more overt, and at Ascot, he left a legacy of "king-seeing" that has continued to the present. The Royal Procession, a formal carriage parade along the Straight Mile instituted in 1825, was the most prominent manifestation of this trend. Ever since, the procession has celebrated the enduring connection between Ascot and the monarchy.
George's patronage established the Ascot races as one of the most fashionable social events of the year. The growing number of visitors took its toll on the track, however, and it drew criticism for its lack of provisions. In 1836, Ascot was renovated. Holes on the track were filled and the turf was relayed, and in 1838, a spacious grandstand was erected between the Royal and Slingsby Stands. It was hoped that the grandstand would improve the quality of the races at Ascot and therefore attract more revenue.
Designed by William Higgins, the new stand measured 30 metres (98 feet) in length, and could hold 3,000. Crowds filled its ground-floor benches, its first-floor drawing room, and its tiered roof seating. The building offered a wealth of retiring and refreshment rooms, a spacious saloon and betting room, plus a paved Corinthian colonnade affording shade and shelter. No longer lagging behind the nation's other racecourses, Ascot had become the vanguard.
Yet, following the arrival of the railway, growing attendances squeezed Ascot's capacity, and new buildings were gradually erected to ease this pressure. These included the Iron Stand in c.1859, the Alexandra Stand extension to the public grandstand in c.1863, and Ascot's majestic colonnaded redbrick entrance building in 1876.
Gold Cup Day of 1902 – the coronation year of King Edward VII – saw the biggest attendance in Ascot's history, signalling a new dawn for the course under the new sovereign. Queen Victoria had little interest in racing, but for her son Edward the very opposite was true.
"I fear, dear Mama," he once wrote, "that no year goes round without your giving me a jobation on the subject of racing."
Only months after succeeding to the throne in the summer of 1901, Edward ordered the rebuilding of the entire Royal Enclosure. By June the following year, three spacious and well-appointed stands were erected: the Jockey Club, Royal, and Royal Enclosure Stands. Each differed in size and shape, and all were unmistakably Edwardian. On the front elevations, stacked tiers of seating overlooked the track, whilst balconies, ornately railed with cast iron, projected from the rear façades.
The new stands were highly praised and provided a superior view of the races. They were, however, socially exclusive, and admittance could only be gained by royal invitation. Consequently, Edward, conscious that "not quite enough was being done for the comfort of the ordinary public," was reportedly influential in the erection of the Five Shilling Stand in 1908. Constructed at Ascot's eastern end, the Stand offered lower-priced admission for an increasingly middle-class audience. Built from tile-faced red brick, it was simple in shape and modest in cost but, stretching 90 metres (300 feet) in length, it could accommodate up to 12,000.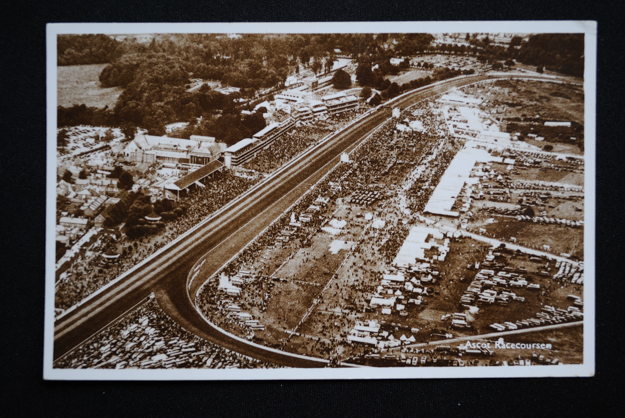 After this flurry of excitement, the racecourse's development slowed to a halt. By the late 1950s, its facilities were jaded. The Victorian stands made for uncomfortable and unprotected viewing, especially in inclement weather. The 1839 grandstand was regarded as a relic of a bygone age, and in 1960, ground was broken on a towering new grandstand.
After only 10 months, the new Queen Elizabeth II Stand was officially opened in June 1961. Replacing the Victorian Grand, Alexandra, and Iron Stands, the building accommodated 13,000. The state-of-the-art stand provided many modern features, not least the first escalators on a British racecourse. One reviewer even counselled visitors that "even if you do not need to do so, you should have a ceremonial ride." British racing had not seen anything like it. However, creating such a large stand so quickly called for compromises. Fabricated from repeating pre-cast units, the stand made for a long, faceless building that ignored Ascot's design heritage.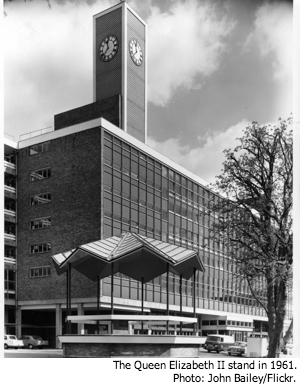 Three years later, Ascot's new look was completed with the erection of an adjoining Royal Enclosure Stand, which replaced Edward VII's three Royal stands with a single, large structure that continued the scale and aesthetic of the new grandstand.
Although the redevelopment was almost unanimously welcomed upon opening, only two years later the press turned on "that calamitous main stand." Criticisms stemmed chiefly from the stand's angle and its modernist architecture.
"The structure strongly resembles a new skyscraper block of offices," wrote The Windsor and Eton Express. Instead of the charming silhouette of Victorian and Edwardian Ascot, an elongated concrete monolith now loomed over the 250-year-old course.
Fast-forward 40 years, and expectations of racecourse architecture had again changed. The facilities at Ascot were deteriorating, unable to cope with larger crowds, and Ascot's stately prestige was simply not reflected in its utilitarian buildings. Redevelopment was desperately needed. In 2004, Ascot embarked upon its most adventurous modernisation project yet, presided over by Queen Elizabeth II.
"The brief for the project was simple," said its lead architect, Rod Sheard of architecture practice HOK Sport (now Populous). "They told us to build the best racecourse in the world."
The scheme was hugely ambitious: The 19th- and early 20th-century perimeter buildings were renovated, circulation patterns revised, the track realigned, and the parade ring moved from its location west of the stand to a central position behind a vast new grandstand. This new building lay at the heart of the plan. Ascot's 1960s stands were levelled and a 480-metre (1575-foot) grandstand capable of holding 80,000 spectators was built. It opened in 2006.
The innovative grandstand takes the form of a shallow arc, crowned by a dramatic, sailing roof supported by stylised tubular columns with fanning branches – described by Sheard as "structural trees." A world away from conventional grandstand architecture, its sleek lines and responsiveness to setting make for an exceptional building.
Internally, its design also dispenses with the traditional grandstand mould. Unusually, the whole building is divided by a huge central atrium, and is spanned by a long, internal galleria. Bathed in natural light, the galleria enables movement throughout the building, but was also conceived as an ideal space to promenade and display, to see and be seen. Ascot has always been about far more than horse racing alone, and Sheard's design recognised this.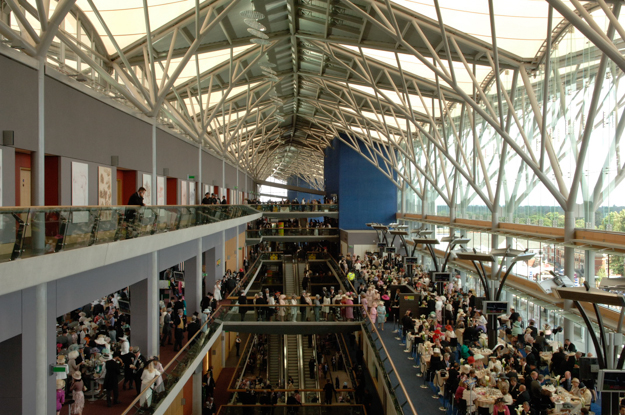 The scheme was a brave move on the part of Ascot Authority. Placing a wholly modern structure upon a site as venerated as Ascot is inevitably going to court controversy. However, Ascot's history has always followed a cyclical pattern of construction, demolition, and renewal. In this latest guise, Ascot's heritage, in the form of the restored perimeter buildings, is celebrated. It sits side-by-side with the modern. As such, Ascot has carried off a dexterous two-step; it has one foot in the future, whilst always treasuring its past.
---
Authored by Paul Roberts, Isabelle Taylor, and Laurence Weatherly. Condensed from Racecourse Architecture, by Paul Roberts and Isabelle Taylor.