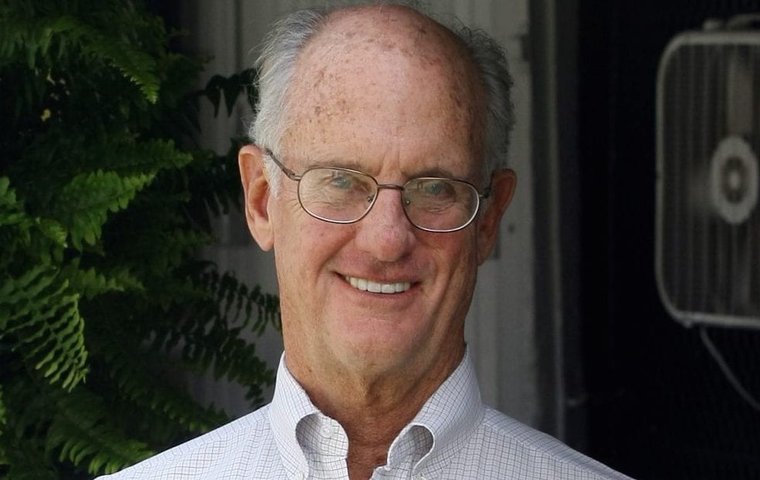 Arthur B. Hancock III owns Stone Farm in Kentucky and hails from one of the most prominent racing families in America, as his grandfather, the original Arthur Hancock, founded the famed Claiborne Farm.

Hancock became the first member of his family to win the Kentucky Derby thanks to Gato del Sol's efforts in 1982. He bred and raced Gato del Sol in partnership with Leone J Peters, and the pair also bred Risen Star, who won Preakness Stakes and Belmont Stakes in 1988. Hancock also raised and raced 1989 Horse of the Year Sunday Silence — who won the Kentucky Derby, Preakness Stakes, and Breeders' Cup Classic over his rival Easy Goer — and went on to become a breed-shaping stallion in Japan. And he co-bred 2000 Kentucky Derby winner Fusaichi Pegasus.
Recent stars raised on Stone Farm include 2019 American Horse of the Year Bricks And Mortar, who was bred by George Strawbridge, and Air Force Blue, who was bred by Stone Farm and went on to earn the 2015 European champion 2-year-old colt title for Coolmore.
Who do you believe is the most important figure in the history of racing around the world?
I wouldn't think you could really name any one person. There have been so many on the team, so to speak, and everybody has contributed their portion, whether it's in breeding, racing, or training. There is a team of people who have really worked hard to keep the industry above board and honest. So many people have dedicated their lives and hearts to it. It would be hard to pick any one person because, while maybe some have achieved greater things, others have worked just as hard and been right there fighting the battle.
Which is your favorite venue and race?
My favorite racetrack, because I was raised in it, would be Keeneland. If we are talking about two of them, it would be Keeneland and Saratoga, to me.
My favorite race is the Kentucky Derby, and it always has been, really. As I was growing up, my father always wanted to win it. That was his life dream. He had about four or five horses who could have done it, but something happened to them before they could. I would listen to it all as a child, and it was the race I wanted to win, too. That was my goal.
I remember thinking after I left Claiborne that this is what I would like to hopefully accomplish, and I said, "Maybe I will be 75, even if I am lucky enough to have a horse in it.' But we got lucky early, so that's my favorite race. I am a Kentuckian. It's what my father wanted to do, and it's what I wanted to do.
What is your fondest memory in racing?
When Gato del Sol won the Kentucky Derby (see video below). When we were standing there and they were presenting the trophy, I had an out-of-body experience. It's hard to describe, but it's like I just floated up in the air and was looking down on everything from 15-20 feet off the ground. It was surreal. It's what they call an out of body experience, and it's the only time I've ever had that. I just sort of floated up, and I couldn't believe it.
We had won the Kentucky Derby at 21/1. Nobody gave us any chance. We were the first horse to ever win from the outside gate, but it didn't matter about all that. It was my dad's dream and it was my dream, and it came true. I was sort of in shock. I really don't know how to describe it. I was watching everything from 15 feet up in there for maybe 30 seconds.
His retirement is a story in and of itself. We had sold him to Germany, and he didn't do any good as a stud over there either. My wife, Staci, got worried about him after what happened to Exceller in Sweden. We were able to make arrangements to re-purchase him and fly him back over here. He lived happily ever after here on the farm, and now he's buried in our backyard. You know you are a redneck when you bury your Kentucky Derby winner in your backyard.
What do you see as the biggest challenge racing faces today?
Drugs and thugs. In America, it is the proliferation of race-day medication, performance-enhancing drugs, and whips. I have been fighting the drugs for 30 years. We are the only country that allows it. We are a rogue nation in that regard, and it's ridiculous. The problem is every other country is a country. We have these states, and that's the problem. They are these fiefdoms with the racing commissioners and governors. In France or England or Germany, they have one centralized government.
With whips, I was watching a race from Saratoga, and the horse was two lengths on the lead, near the finish, and the jockey hit him five or six times. It was needless. The horse won, but he was being hit needlessly. They need to limit hitting a horse to maybe three times and only if necessary, then. It's inevitable that they are going to have a camera on one of them where the jockey is going wham, wham, wham, and something terrible is going to happen. It will be all over every news channel. You just don't need it.
Most every other country has whip rules. I used to ride myself, and I understand some horses do need to be popped to get them going, but when they are two lengths on the lead so close to the finish line, they don't need to be hit like that. It's a changed world, and you just don't need to do that.
If you could change one thing in racing, what would it be?
I would change the drug rules, and I would change the whip rules. I would try to make America uniform with the rest of the world. We are an outlier, and there is no sense in it. It's bad for the fans, it's bad for our reputation, and it's bad the health of the horses. That would be what I would change.