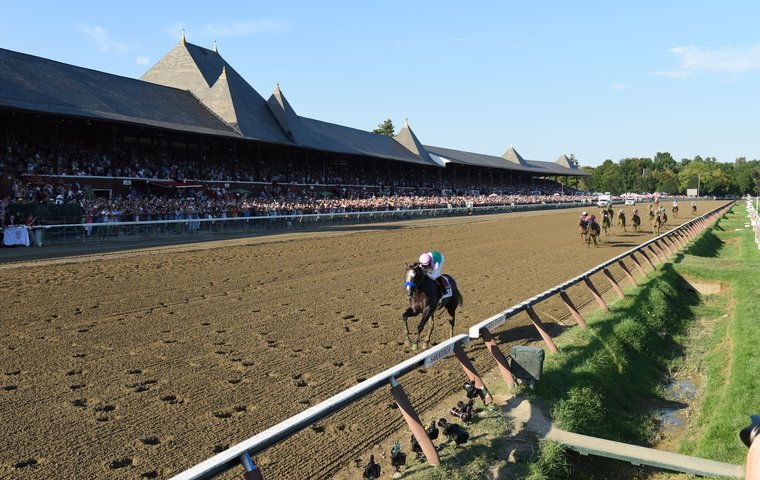 As trainer Bob Baffert walked into Saratoga Race Course with his wife, Jill, yesterday afternoon, she looked around at the large mass of humanity packed inside the famed racetrack. "Look at all the people," she said about a crowd of more than 48,000. "I hope we're not going to stink it up," her husband shot back.

For the Bafferts, a return trip to the Spa surely conjured up some demons from a year ago.
That was when Baffert brought Triple Crown winner American Pharoah to the Grade 1 Travers at Saratoga. He gave him a dazzling jog a morning before the race that was attended by at least 15,000 people, and the fun was expected to carry over to the next afternoon.
But, instead of toying with his rivals in the Travers, much to Baffert's dismay, American Pharoah finished second and joined the long list of superstars who had fallen victim to a track known as "The Graveyard of Champions".
"Last year, you probably could have poured me out of a shot glass. We were pretty dejected," the white-haired trainer said.
House of horrors
After such a deflating trip a year ago, it would have made sense for Baffert to steer clear of a cross-country trip to upstate New York with his talented 3-year-olds and focus on other targets, such as the $1 million Pennsylvania Derby.
Yet here he was at a track that has been a house of horrors to him; running in a race in which he owns an unsightly 1-for-6 record, with five straight losses, and doing so with not just one 3-year-old, but two.
Why? Why would he do it?
The answer was delivered in the all of one minute and 59.36 seconds it took Baffert's "other" Travers starter – Juddmonte Farms' Arrogate ($25.40) - to romp to a 13 ½-length victory at 11-1 odds in the $1.25 million Mid-Summer Derby that not only humbled 12 of the best 3-year-olds in training but established a new course record for the mile-and-a quarter distance and marked the widest winning margin in the race since 1979.
And who was a distant second?
Who else?
It was the Baffert-trained American Freedom, who was sent off as the 5-1 second choice and added another runner-up finish in a Grade 1 stakes to a resume that included a second-place finish in last month's Haskell. He edged Gun Runner, the third-place finisher in the Kentucky Derby, by 1 ½ lengths for the place spot, while 5-2 favorite Exaggerator never fired and finished 11th, about 33 lengths behind the victorious Arrogate.
'I knew my horses were ready'
Oh, and for good measure, the third horse that Baffert shipped to New York for the $5.1 million stakes bonanza on Travers Day, Drefong, breezed to a decisive 3 ¼-length victory in the Grade 1 King's Bishop.
What a difference a year makes.
"After Drefong ran so well, I knew we were in good shape," said Baffert, who mirrored Jimmy Jerkens' feat of saddling the 1-2 in the 2014 Travers. "We were nervous, but I knew my horses were ready. They were going to fire.
"We had no apprehensions about coming this year. That was just bad racing luck last year … We were supposed to do this last year, but it didn't happen. It didn't work, but everything happens for a reason. I'm just glad to be back, and the way he won was ridiculous."
Ridiculous? Astonishing works, too.
For a horse making just his fifth career start – all at three - and first in a graded stake, it was an amazing performance that was in stark contrast to what happened a year ago when a beloved Triple Crown champion finished second.
"The whole city came out to see [American Pharoah] do what Arrogate did today," Baffert said.
'The sky's the limit'
As blasphemous as it might sound, even the mighty American Pharoah never won with the ease of Arrogate, adding to the mystique woven into racing.
"You never know what can happen. That's the intriguing thing about this sport," Baffert said. "The sky's the limit for [Arrogate] … It's too bad we didn't have him ready for the classics, but that's just the way it is."
As much as Baffert had a deep belief in Arrogate's ability to handle a 10-furlong distance, it's hard to believe anyone could have predicted what happened in the 147th Travers, on a day when the 3-year-old championship picture once again became distorted.
Juddmonte's son of Unbridled Song was last seen posting a hard-fought 1 ¾-length victory in an Aug. 4 allowance race at Del Mar in which only two rivals turned out to face him. That win gave him three wins in four career starts, the kind of resume that hardly shouts out for a start in one of the country's best and most prestigious races on the other side if the country.
"It's a rather semi-European thing to take a horse from an allowance race straight into a Grade 1 stakes, but he did it the right way," said Dr. John Chandler, the President of Juddmonte Farms U.S.A. "This is obviously the best colt we've run [on dirt]."
Pecking order
Despite the confidence built into the decision to run the lightly seasoned Arrogate in the Travers, not everyone saw it that way. Jockey Rafael Bejarano, the regular rider for both Arrogate and American Freedom, opted to stick with American Freedom in the Mid-Summer Derby, which spoke volumes about the perceived pecking order in Baffert's star-studded barn.
That opened the door for Mike Smith to fly in from California to ride both Drefong and Arrogate, and as soon the gates opened in the Travers it was readily apparent he was aboard a live runner.
Breaking from the rail, Smith took Arrogate right to the lead and the gray colt sprinted away to a lead of about a length over American Freedom and Jim Dandy winner Laoban through a half-mile in 46.84 seconds.
Once again, Jill Baffert turned to her husband.
"Jill said, 'I think they're going too fast.' I said 'No, they look like they're going easy,'" the Hall of Fame trainer said.
Faith in Mike Smith
Arrogate continued to motor at a top gear down the backstretch, maintaining a half-length over American Freedom through six furlongs in a swift 1:10.85.
"I left it up to Mike. Big Money Mike," Baffert said. "You just throw him on there and let him do his thing," Baffert said.
That faith in Smith was surely rewarded as Arrogate opened a two-length at the quarter pole and then turned what seemed to be a competitive, wide-open horse race into a mismatch. He increased the lead to an insurmountable 7 ½ lengths at the eighth pole and continued to widen the gap between him and the other 12 starters until he posted the third widest margin in the 147-year history of the Travers and broke the track and stakes mark of 2:00 set by General Assembly 37 years ago in 1979.
"We ran into a freak today, who ran the fastest Travers," said Steve Asmussen, trainer of Gun Runner and Creator, who wound up seventh. "I honestly thought 2:02 would win the race."
The victory was so one-sided that Smith didn't realize who finished second until more than 20 minutes after the race when he talked with Baffert prior to a post-race press conference.
"You finished 1-2 in the Travers?" Smith said to a smiling Baffert. "You're kidding me."
Tribute to Juddmonte program
As it turned out, the only joke was on the horses trying to catch Arrogate, a $560,000 yearling purchase who followed up a win by Flintshire in the $1 million Sword Dancer in the previous race to give Prince Khalid Abdulla's Juddmonte Farms back-to-back Grade 1, million-dollar wins in the span of an hour.
"It a great tribute to our program to win races like this and the Sword Dancer," Chandler said. "After [trainer] Bobby Frankel died, we didn't have any horses in California and Prince Khalid said he'd like to have some there. We chose Bob as our trainer, but our breeding program didn't quite produce the sort of horses Bob trained. So we bought some."
Purchasing Arrogate, who might follow American Pharoah's path and be trained up to the Breeders' Cup Classic, paid a huge dividend in the Travers, and also added to the confusion of a baffling year for 3-year-olds.
Back in May, unbeaten Nyquist seemed a legitimate Triple Crown threat after winning the Derby, but he is winless in his two starts since.
Creator, a 16-1 winner of the Belmont Stakes, is also winless in two starts since that victory, with a seventh in the Travers and sixth in the Jim Dandy.
Exaggerator's Kryptonite?
Then there's Exaggerator. His shocking 11th-place finish in the Travers matched an 11th-place finish in the Belmont Stakes – two races contested on fast racetracks. In contrast, he won a trio of Grade 1s, the Haskell, Preakness and Santa Anita Derby, on wet sloppy racetracks.
Might a dry racetrack be his Kryptonite? While a fast track didn't seem to faze the son of Curlin when he was second in the Kentucky Derby, there was no visible reason for his feeble showing on a fast surface.
"[Jockey Kent Desormeaux] said he got bumped a little," trainer Keith Desormeaux said. "But other than that, no excuses."
Exaggerator most likely would have nailed down an Eclipse Award with a victory in a race filled with virtually every top 3-year-old male with the exception of Nyquist, yet it was someone else who seized the moment at the Spa – albeit a year later than expected for Baffert.
"I think it's a good bunch of 3-year-olds," Baffert said. "We were waiting for one of them to separate himself from the rest and [Arrogate] was the one."
Indeed he was, on a day when some painful memories of Saratoga were finally softened for Bob Baffert.