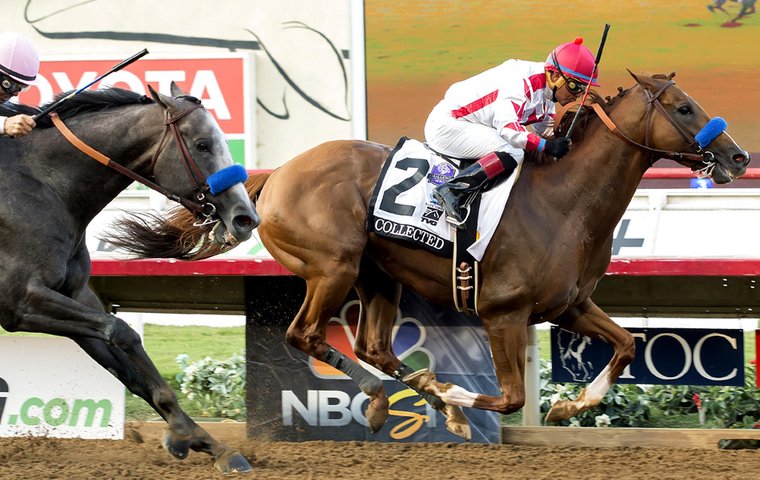 The solar eclipse might not be until tomorrow, but in yesterday's $1 million Pacific Classic at Del Mar, Arrogate threw a whole lot of shade over his dismal 15¼-length drubbing in last month's G2 San Diego Handicap.

The problem was, he was still overshadowed by the time-warp brilliance of some of his former performances, and more importantly, by the zippy brilliance of his fellow competitor and stablemate Collected, who made it Pacific Classic number five for his trainer, Bob Baffert.
"I feel like my older son just got beat by my younger son," said Baffert, who had about him the air of someone who had lost a dog and found a cat, despite having captured the first two spots in the race, half a length splitting the two.
Accelerate — Arrogate's stunning conqueror in the San Diego — finished an honest-to-goodness third, beaten less than four lengths. Collected was sent off 3-1. Arrogate was the heavy 3-5 favorite.
A revitalized performance by Arrogate? Undoubtedly.
But a performance worthy of the world's wealthiest racehorse – one who had claimed the scalp of two-time Horse of the Year California Chrome in last year's Breeder's Cup Classic, and had beaten the bank on his way to a $7 million pay day in the Pegasus World Cup, and had straddled the atlas on his way to a victory in the Dubai World Cup?
The trainer himself wasn't convinced.
"This feels like American Pharoah's Saratoga race," Baffert tellingly added, referring to the 2015 Travers, when his Triple Crown hero was eclipsed by Keen Ice in a race he was never supposed to lose. "Even though Arrogate got beat, he didn't get beat by a bad horse. He got beat by a really good horse in Collected."
Out of the gates…
In the days leading up to the Pacific Classic (a 'Win and You're In' qualifier for the Breeders' Cup Classic), the vibes from camp Arrogate were decidedly more positive than in the immediate aftermath of the San Diego. But the dark specter of that loss — was it simply an off day, or was something more sinister at play? — loomed large.
It didn't help that, in Arrogate's last important work, jockey Martin Garcia — who steered Collected to victory in the Pacific Classic — had to manhandle his mount to switch leads entering the stretch.
But, in the race itself, these fears were promptly dispelled.
Prone to lolly-gagging out of the gates, Arrogate was this time given a full-throated Mike Smith rousting into a handy position just wide of Collected in the lead and Accelerate in second. There these three remained, in tight squadron formation, until the top of the turn.
There, Garcia started to pour on the gas, with Victor Espinoza on Accelerate clipping his heels. And for a while, Arrogate's gas tank looked like it had sprung a leak, just as it had done in the San Diego.
"Usually, he would get to those horses quick," said Baffert. "I could see that Mike Smith was really having to work on him."
But down the stretch, Arrogate's gas gauge started to flicker upwards once again. As Accelerate started to do anything but, Arrogate responded to Smith's urgings, inching closer and closer to the leader, that familiar stride — one that could devour oceans — again extending the horse's long lithe steely grey frame.
The problem: there was just too much ocean to devour.
"I could feel a big animal coming behind me," said Garcia, about his stretch run on the eventual winner. "I was praying that I could reach the wire first – and I did."
World stage debut
For Collected, a son of City Zip, this was an auspicious welcome onto the world stage. At two, he was restricted to only a couple of outings, and his 3-year-old career was cut short after a damp rag of a run in the Preakness Stakes.
Prior to that, however, he'd bagged a couple of G3s, and connections knew he still had much more to offer, borne out in his three previous races this year, which he'd won by a combined 21½ lengths.
"Arrogate's a legend, and he's done everything, and so I guess my first reaction would be a bit humbled by all this," said Peter Fluor, who owns Collected in a partnership with his wife Ann, and his business partner, K.C. Weiner, under the Speedway Stable banner.
"But I'm also very proud of Collected to beat Arrogate," he added. "He had a very good time in the race …. Collected is a special horse also."
Fluor and Weiner — two oil barons whose families are intertwined by business through their fathers — only got into the sport a few years ago, but they've made an impression fast.
Collected, however, made a less immediate impression at the 2-year-old breeze-ups. But he galloped out well that day, and when bloodstock agent Marette Farrell saw him at the barn, "I fell in love with him right away," she said.
"I saw a huge walk – a proper racehorse walk," said Farrell, who, alongside agent John Adger, buys the Speedway Stable runners.
As for Fluor, he told Baffert before the race, "I hope you run one-two. But I have a preference," bringing a rare moment of levity to the post-race press conference.
Breeders' Cup Classic
So, what does this tell us about the Breeders' Cup Classic, held this year at the same venue over the same distance? Well, the cards are falling right for Collected, who hasn't been shorted in the ol' horse power department.
"That's his weapon – his weapon is speed," said Baffert. "We knew that he was faster than Accelerate. When he went down the backside, I went, 'wow. He's going to be tough to beat'."
As for Arrogate, Baffert doesn't blame the track for his defeat. "That had nothing to do with it." It's more a physical and mental thing, he said.
"I could tell today he was still a little quiet – he wasn't his usual self," he said. "I really think that he can come back."
So, with Arrogate yet to recover that old celestial brilliance, and Collected yet to stamp himself a perennial performer at the top level, the Breeders' Cup Classic this year has a decidedly open feel about it. And that leaves this question: who else is in with a shot? The first port of the call, of course, is the 3-year-olds.
Classic generation
The classic generation, however, has been playing a game of pass the big-race parcel with what has thus far amounted to a rigidly observed sense of philanthropy.
A little over four months ago, Always Dreaming scampered away with the Kentucky Derby only to see his Triple Crown dreams evaporate two weeks later when Cloud Computing landed the Preakness.
Tapwrit then took the Belmont Stakes when the Kentucky or Preakness winners chose rest and relaxation over hard graft. They did, however, show up for the G2 Jim Dandy at Saratoga at the end of July. But they needn't have. Moderate turf performer turned potential dirt superstar Good Samaritan took full advantage of a good opportunity when trouncing the field of deflated balloons by nearly five lengths.
The following day at Monmouth Park, it was Girvin's turn to dispel a dismal run in the Derby — blame a nastily-timed quarter crack for that one — and a silver-place finish to Irap in the G2 Ohio Derby with a gutsy winning performance in the Haskell Invitational, beating in the process Triple Crown also-rans McCraken, Irish War Cry, Practical Joke and Hence.
Gunnevera, another Triple Crown straggler, went some way to rescuing a hitherto floundering reputation with a slick win in a minor stake at Gulfstream Park earlier this month.
Labors of Hercules
In terms of distribution of spoils, the largesse shown among the 3-year-olds, however, will come to a shuddering halt in the season's Mid-Summer Derby – the $1.25 million Travers Stakes next Saturday.
A good portion of the horses mentioned above are entered. A good portion of them are expected to compete. And the race could prove a real all-in-one labors of Hercules when determining the classic generation's pecking order.
A pretty evenly matched bunch? Sure seems that way. But there are some who still hold high hopes for their overall ability. After the Haskell, Girvin's owner, Brad Grady, professed to believing that "there's a lot of depth in this 3-year-old year crop".
Among the older horses, Gun Runner has bagged himself a couple of acorn-tough east coast summer G1's, the Stephen Foster and the Whitney. And then there's Songbird. Could the historically reticent Jerry Hollendorfer be persuaded to pitch his stable star into open company for the first time in her career against the likes of Arrogate, Collected and co at Del Mar?
Baffert hopeful
For a Pacific Classic post-race press conference, the reactions of the winning connections were noticeably muted, almost somber - strangely so. Baffert's voice wobbled every now and then between coughs. "I felt a lot of pressure today," he admitted, with what one imagines was a healthy dollop of understatement.
Winning owner Fluor seemed almost abashed at having dethroned his trainer's leading light. "Arrogate's a legend, but deservedly so," he said, making sure to include this eulogy before laying out the case for his own horse.
But beaten though he was, the Arrogate that has electrified the world stage for the past 12 months was much more in evidence. A neon light flickering rather than a dim bulb. Nearly there, but not quite.
All of which undoubtedly gives the handler confidence as the clock counts down to November 5, and a potential date with lady destiny.
"It was a mistake to run in the San Diego," Baffert said, before throwing in an ominous sounding warning, caveat and all. "I know what I can do with him. I can make little changes with him. I know what needs to be done - as long as he stays healthy."
British bookmakers have Arrogate and Gun Runner disputing favoritism for the Classic, with Arrogate between 7-4 and 3-1 and Gun Runner varying between 2-1 and 5-1.