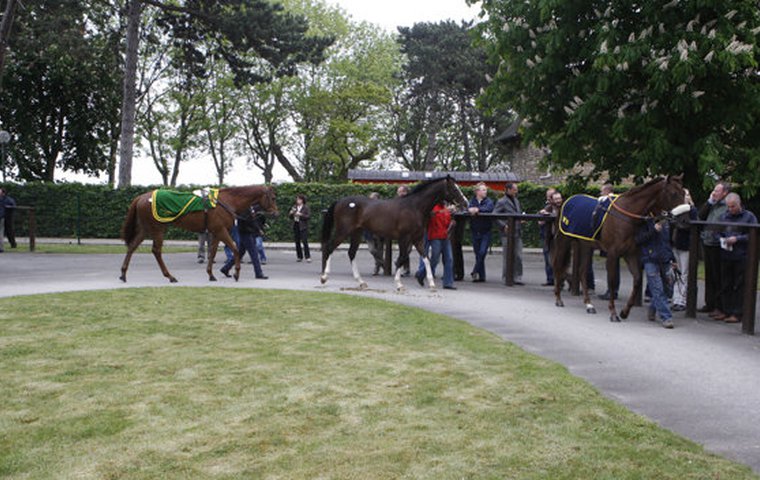 Held on the eve of the G1 French Guineas, Arqana's Breeze Up sale at Saint-Cloud Racecourse has posted record figures for the last decade. Alix Choppin reports ahead of the breeze-up preview Friday and sale on Saturday.

The breeze-up sale at Saint-Cloud Racecourse near Paris on Saturday is a rare sort.
First staged in the late 1980s under the Goffs France umbrella, it moved under the Arqana banner in 2006 after Goffs France merged with the Deauville-based Agence Française. The last two renewals under the Goffs France identity had seen increases in all indicators, a momentum on which the dynamic team at the head of Arqana have built considerably since. Fast forward to the 2014 edition, which faces the rather daunting assignment of capping a decade of consecutive record figures.
Nine-year history of Arqana Breeze-up sale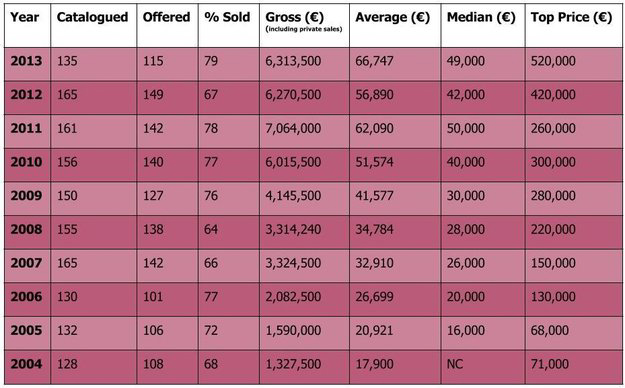 Doncaster Bloodstock Sales introduced sales of 2-year-olds in training to Europe in 1977. Eleven years later, Goffs France launched its own "vente de deux ans montés," on the now-defunct racecourse of Évry. The inaugural edition was a rather low-key affair, with 28 horses changing hands at an average price comfortably below €10,000 ($13,870).
Current Arqana President Eric Hoyeau was already at the rostrum at the time.
"It was quite a small sale in the first few years," he recalled. "Breezing unraced juveniles was very new in France, and there were some cultural obstacles to be overcome. The early catalogues mostly comprised horses that had failed to sell, or even to make it to the ring, as yearlings. Pinhooking was in its infancy, and horses purchased as foals or yearlings with the intention to resell them at two wouldn't have represented a third of the catalogue.
"The other thing that has changed the most since then is the preparation," he said. "In the first years of this sale, vendors were mostly pre-trainers, and the under-tack show would basically see horses go past the stands at a steady canter."
The sale's first step-up happened in 1994, when it moved to the more central venue of Saint-Cloud racecourse, Goffs France's new headquarters. Having secured this new base, the company concentrated their efforts on attracting better horses, which inevitably lead them to Ireland.
"The Irish already had an expertise of breezing juveniles," Hoyeau said. "I went to see a lot of people, and the first two who made it to France were Ted Walsh [father of leading jump jockey Ruby] and Willie Browne, who is still one of our most faithful and successful vendors. They definitely acted as role models for a lot of future breeze-up consignors."
The steady professionalization of the horses' preparation proved one of the key factors in the development of the Saint-Cloud breeze-up. Another was, of course, that good horses quickly emerged out of it. As Hoyeau likes to recall, the first Group winner trained by Jean-Claude Rouget, now well established as France's perennial champion trainer by number of wins, was a horse named Flanaghan Cocktail, picked by the young professional at the 1990 breeze-up.
Domestic buyers couldn't have fuelled such an exponential rise by themselves, though, especially as many French professionals were, at the time, slightly averse to buying 2-year-olds in training.
"In the early days, French trainers and owners were a bit wary of this new kind of sales," Hoyeau said. "The concept seemed rather iconoclastic for a classic mind-set. Luckily, there were also a few iconoclasts around. But the real step up came when the sale gained an international profile. We started by attracting more of the leading Irish and British vendors, which then helped us bring clients from abroad.
"It is a snowball effect: Once you have demonstrated your ability to attract the top buyers, you become able to attract the top horses, and so on. The momentum also rubbed off on French horsemen, with more pre-trainers turning into breeze-up specialists, and more trainers and owners getting into the habit of buying at this sale."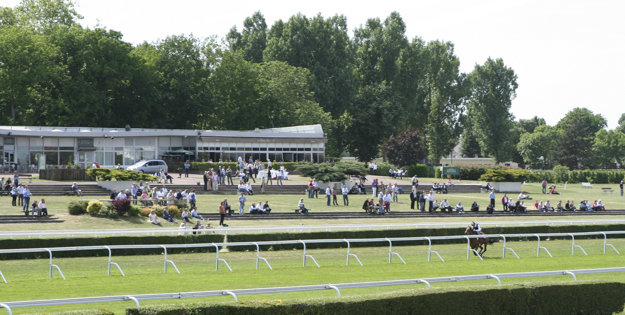 Last year's renewal witnessed a highly diversified buying bench, with interests ranging from Australia to the U.K., via Dubai, Hong Kong, and South Africa. The aggregate represented a 4.7 multiple of the 2004 figure. And the colt who commanded the highest price, at €520,000 ($721,292), summed up the essence of the Arqana breeze-up sale: by Irish-based star stallion Sea The Stars, from a stellar family tracing back to Wertheimer et Frère's blue hen mare Alexandrie, consigned by a Franco-British association (the aptly-named Channel Consignment), bought by the Italian-born, Newmarket-based trainer Marco Botti on behalf of a Dubai resident who races mostly in South Africa, Sheikh Mohammed bin Khalifa Al Maktoum.
Could we be on for more of the same next Saturday? Obviously, the European breeze-up season couldn't have been off to a better start, with Tattersalls' Craven sale smashing all previous records, and DBS's also posting pleasing returns.
The Arqana catalogue features 131 juveniles, with plenty of assets on both sides of their pedigrees. On the paternal side, the days of "cheap speed" are clearly gone, and there is a good balance between speed/precocity sources, such as Iffraaj, Myboycharlie, Dark Angel, Elusive City, Dutch Art, Invincible Spirit, etc, and some more classic influences, headed by Sea The Stars, Zamindar, Rock of Gibraltar, Oasis Dream, Mastercraftsman, and Lawman. Thirty-seven juveniles are from their sire's first crop, several of which (Makfi, Arcano, Lope de Vega, Siyouni, et al.) have already tasted their first success on the track.
On the distaff side, there is black type aplenty, including siblings to the Group winners Giofra, Dunaden, Immortal Verse, Tiger's Eye, Belle Et Celebre, Mast Track, Talwar, Princedargent, Pomellato, Fairly Ransom, Marbye, Ruwi, Makaan, and others.
That's many reasons for optimism that the Saint-Cloud breeze-up can keep the snowball rolling.