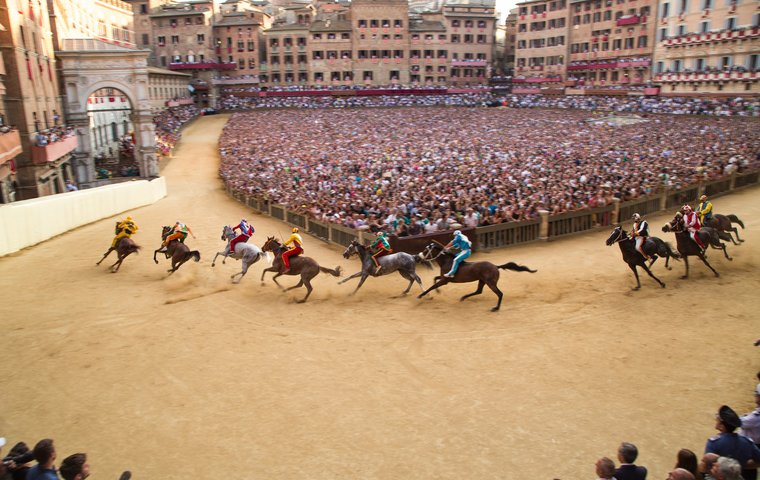 Horse racing exists in many and varied forms on all four corners of the globe. Many of the events on this list, however, are unusual hybrids that actually feature under the official rules of racing, or at least form part of a 'conventional' racecard. Albeit with a few notable exceptions.

Generally speaking, the events included are horse races – 'gallops' as opposed to harness racing/trotting/pacers – wherein a field of horses and jockeys compete against each other to find a winner. And even the Indian relays sometimes take place on conventional racetracks like Emerald Downs and Canterbury Park!

Others do not, of course - but could you really expect us to omit the Palio di Siena?

Skijoring
As if racing Thoroughbreds on the ice of a frozen lake was not enough, the famous 'White Turf' meeting at St Moritz in February has another string to its bow in the unlikely shape of skijoring, wherein a 'rider' is pulled along behind a horse on a pair of skis, from which they do the steering. Think water skiing. On snow. With a horse instead of a boat.
The sport, whose name derives from the Norwegian word 'skikjoring' ('ski driving'), made its official debut at the Nordic Games in Stockholm in 1901, with reindeer doing the honours. An American version, kind of a combination of wild-west horsemanship and slalom skiing, is also popular at various winter-sports venues, while there are also straight-line races at Canterbury Park in Minnesota.
At St Moritz, however, they start from a set of stalls guided round the same circuit as conventional races, each runner identified by a flag draped over the rein in their owners' colours. Britain's record-breaking trainer Mark Johnston saddled Luberon to finish third in 2010; for some reason, the performance does not appear in the horse's lifetime form figures.
Ban-ei
With its origins in agricultural work dating back a century and more, ban-ei ('pull play') racing resembles a bizarre equine version of the truck pull popularised in World's Strongest Man contests and the like.
Staged only at the suburban racetrack of Obihiro on the 'horse island' of Hokkaido, this bizarre equine discipline involves draft horses twice the weight of Thoroughbreds pulling heavy sleds along a straight 200-metre sand track featuring two hills. Jockeys wearing conventional racing silks control them from the sled, and competitors keep to lanes after exiting widened stalls in a starting gate. Weights are assigned in a manner similar to conventional racing, with concessions for mares and younger horses; the horses involved, bred specially for the task, are purebred or crosses of Percheron, Breton and Belgian-breeds.
Power and endurance are more important than speed; horses usually take a breather after the first obstacle before attempting the second, steeper hill of about 1.7 metres, known as the 'Ban-ei' Point. A race takes about two minutes, allowing spectators to follow alongside.
Omak Suicide Race
Held annually in August as part of the Omak Stampede in Washington state and promoted as the 'World Famous Suicide Race', this 'Cowboys-and-Indians' contest is notorious for the section of the race where the field hurtles down Suicide Hill, a steep 62 percent slope that runs for about 225 feet to the Okanogan River, which they then cross before sprinting 500 yards into the rodeo arena.
Riders are required to wear helmets and life jackets. The race is particularly important in terms of cultural preservation to the Native American folk on whose land it is held; first staged in 1935, it was inspired by Indian endurance races and reflects their traditions as horse warriors.
Riders keen on the spiritual side of the race pray in sweat lodges and place sacred eagle feathers on their mounts. However, for fairly understandable reasons, the Suicide Race is not a favourite of animal-welfare groups.
Indian relays
A staple of various Native American fairs from Washington state to Minnesota, Indian relays have been described as "the most exciting ride on the reservation". Teams consisting of one rider – sometimes face-painted, with traditional garb and headdress – plus three horses, two holders and a 'mugger' (horse catcher) compete for honour alongside cash and prizes.
According to the 'World Championship' version staged in Wyoming at the Sheridan Rodeo (and set to feature £50,000 in prizes), the race starts in front of packed grandstands before bareback riders complete a lap and then vault off their mounts and jump on another one, before repeating the exercise until they have covered three laps altogether.
Other celebrated contests are those staged at the Crow Fair in Billings, Montana, and the Championship of Champions at Walla Walla in Washington.
Mongol Derby
Modelled on the horse messenger system developed by Genghis Khan on 1224, the Mongol Derby is an equestrian endurance event billed as "the longest and toughest horserace on earth".
Founded in 2009 by a British charity organisation labelling themselves 'The Adventurists', the race lasts up to ten days and recreates 1,000km of the ancient equine postage route through the Mongolian Steppe, featuring an array of mountain passes and valleys, river crossings, wetland, sand dunes and open plains.
After paying $11,375 for the privilege of spending 13 to 14 hours a day in the saddle, riders partner a series of semi-wild Mongol horses, changing mounts at horse stations located at various intervals on the route. Only about 50 percent of those who start generally make it to the finish.
In 2009, they did not include British jump-racing legend Richard Dunwoody, who started the race but had to drop out in the early stages when he was called back for commitments to Strictly Come Dancing on the BBC.
Palio
Once seen, never forgotten. To witness Il Palio di Siena is to be transported back to a medieval age of jousting, pageantry and passionate centuries-old neighbourhood rivalries between neighbours settled in an unlikely horse race around a picture-postcard Tuscan city-centre piazza with a circumference of only 334 feet.
Anything goes as bareback riders ('fantini') partner mixed-breed horses representing one of Siena's 17 contrade (wards) going hell for leather around three circuits of the Piazza del Campo, where the uneven cobblestones have been covered by a layer of clay and matting for the occasion.
After days of trials, ten horses make the line-up where – having been blessed in the local church, and following a huge pageant called the Corteo Storico – they sprint around the treacherous corners (a couple of them right angles, albeit with padded crash barriers) in front of thousands of frenzied spectators.
Bribery is common; fists and whips are also much in evidence. Indeed, they are seemingly positively encouraged, as fantini are allowed to hit other horses as well as their own, and riderless horses can still win. Catch this thrilling spectacle twice a year, on July 2 and August 16.
Lake chases (Seejagdrennen)
Germany may stage fewer than 25 jump races annually, but even such a truncated programme includes a novel contribution to the steeplechasing world in the shape of 'Seejagdrennen', or 'lake chases', in which horses have to run or even swim through a body of water.
Perhaps the best-known of the four annual lake chases are the two at held at the Bad Harzburg festival in Lower Saxony in July, though the field can usually get away with just splashing its way across. The lake is deeper at Hamburg and needs a bit of equine doggy paddle during the Deutsches Derby meeting; Quakenbruck also hosts a lake race at its point-to-point-style meeting on a single day in September.
Seejagdrennen are included in official past-performance lines, though frankly one can only guess how reliable the form might be.
Beach racing
It doesn't matter how often you see it, it still takes away the breath watching a full-scale race meeting on a beach, run under the official rules with professional jockeys and proper Thoroughbreds who normally race on conventional tracks.
About 30 miles north of Dublin on the North Sea coast, Laytown has hosted its famous raceday since 1868. Now, once-a-year, Brigadoon-style, a racetrack emerges seemingly from nowhere as running rails, a winning post and furlong markers are erected on a section of the shoreline. Bookmakers, marquees and food-and-drink concessions located on an adjacent field, and a sleepy fishing village is transformed by thousands of visitors eager to attend a unique event that is the stuff of racing folklore. This year's meeting is scheduled to take place on September 11.
Pony racing with teenage riders on the beach at Omey Island on the western edge of Connemara has been described by the Irish Times as "an alternative Galway for those who prefer sandals to stilletos or simple picnics to pink champagne".
Spain's answer to Laytown is the Hipodromo de Sanlucar at Sanlucar de Barrameda, 52km from Cadiz on the left bank of the Guadalquivir River opposite the Donana National Park. With massive crowds lining the beach, two three-day full-scale race meetings are held as the sun goes down at low tide from Friday to Sunday every year on the second and fourth weekends in August.
Click here for a video of racing at Laytown
Click here for a video of racing at Omey Island
Duhnen Mudflats
Here's mud in your eye! Beach racing is one thing, but what about racing on what is effectively the seabed? That's what happens at Duhnen, a North Sea resort on the outskirts of the port city of Cuxhaven in Germany. Set against the dramatic backdrop of the Elbe estuary, an international shipping lane, an annual mixed racecard (also featuring trotters) is staged on mudflats exposed by the ebbing tide. About 30,000 spectators attend the meeting in July, watching a remarkable spectacle unfold from the nearby dyke.
Jockeys be warned, though: the kickback is mighty.
Kiplingcotes Derby
Reputed to be Britain's oldest race and said to date back to 1519, the Kiplingcotes Derby always takes place on the third Thursday in March at a tiny hamlet near the small town of Market Weighton in the East Riding of Yorkshire. Anyone who shows up with a horse by 11am at a signpost on a footpath and pays the £4.25 entry fee is eligible (as long as they carry the minimum 140 pounds).
The race, which starts near a disused railway station, involves a virtually straight, arduous four-mile journey along roadside verges and farmers' fields and tracks. The rules state that if for any reason the Kiplingcotes Derby is not run in a given year, it must never be run again, a potential problem as the course is easily waterlogged. No matter: when the weather intervenes, as it did in 2018, a local farmer has walked over to ensure the event continues.
This doesn't really qualify, but watch it anyway
Couldn't leave this without taking the opportunity to post a video of the twin-horse chariot racing Ben Hur-style at the Golden Spike Event Center in Ogden, Utah, just north of Salt Lake City. Okay, it's more harness racing than the sort of thing we're focussing on, but worth seeing, we're sure you'd agree!