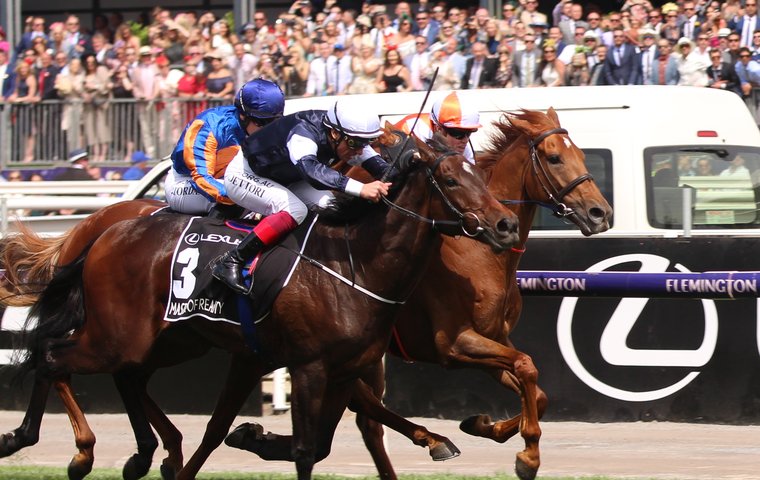 After years of being dominated in staying races by European and Japanese invaders, Australia and New Zealand are starting to show signs of a resurgence. Shane McNally reports.

It's not that Australian or New Zealand stayers were never good enough; it's that our stocks have diminished badly in recent years. It would be hard to imagine European visitors beating, let alone embarrassing, greats like Rising Fast, Galilee, Peter Pan, Phar Lap or Makybe Diva. The great majority of them wouldn't be competitive.
Rising Fast was the New Zealand great who remains the only horse in history to win the Caulfield Cup, Cox Plate and Melbourne Cup treble in the one year - back in 1954 - and was desperately unlucky not to make it successive Cups doubles the following year.
Peter Pan was a dual Melbourne Cup winner in 1932 and 1934 who might have made it three straight but for a near fatal virus in the year in between, and Galilee was a freak who just outclassed the field in 1966. Phar Lap and Makybe Diva are legends who need no introduction to racing people anywhere in the world.
While even the most ardent knockers of Australian staying ranks - and many live in Australia - would argue with the claim that these horses were equal to virtually anything in the world, the problem lies within the claim itself. We need to cherry pick the greatest of them over the best part of a century. Suffice to say, our best are good enough to beat the world, we just haven't had enough of them, particularly in recent years.
So Vow And Declare's recent Melbourne Cup win has created new-found enthusiasm, but one swallow does not make a summer. Surprise Baby's excellent and unlucky fifth makes it two top performances, but that's hardly a flock. For Australian racing to be happy about its staying ranks, we will need to see this sort of success on a regular basis.
Vow And Declare was just the second Australian-bred winner in ten years since Shocking won in 2009. Prince Of Penzance saluted as a despised 100/1 outsider in 2015, but that was considered something of an aberration. This year's win was a major boost for the local breeding and racing industry and a nod to the European training practices that have been so successful in recent years.
Trainer Danny O'Brien had put the 4-year-old Declaration Of War gelding through a Brisbane winter campaign that saw him run second to a G1 Queensland Derby before winning the G3 Tattersalls Cup over 2200m and then have just two lead-up runs in the Melbourne spring - including a second in the time-honoured Caulfield Cup, leading into the Melbourne Cup 17 days later.
In past years, working on the model perfected by training legend Bart Cummings, whose record 12 wins in the Melbourne Cup will surely never be approached, horses often had four or five runs over a total of 10,000 metres to have them ready for the big two-miler. Surprise Baby, a son of Shocking, had also run just twice in the spring over a total of 4100 metres.
Promising signs
The signs are promising for an Australian and New Zealand resurgence. Victoria Derby winner Warning is also a son of Declaration Of War. He won the 2500m Classic at just his seventh race start and is being spoken of as a genuine candidate for next year's Melbourne Cup. Vow And Declare's NZ-bred stablemate Miami Bound won the G1 Wakeful (2000m) and G1 Victoria Oaks (2500m) like a stayer of the future. Both are listed in the top ten in betting for the 2020 Melbourne Cup.
It's a start, but a lot more evidence will be needed before confidence grows.
There's another factor to consider in the lack of success in recent years. The locals have been terribly outnumbered by the internationals. Whereas Vintage Crop started the winning trend as one of two raiders in 1993 – Drum Taps was the other – Australian and New Zealand gallopers have been in the overwhelming minority of starters over the past decade. This year, just four locally-bred horses (for the sake of the argument, local is Australian and NZ) ran in the Cup. The fact they ran first and a luckless fifth speaks volumes for them. In both 2018 and 2017, just six locals ran in each renewal.
The lack of numbers has been as much a cause for consternation as the success rate, with many Australian racegoers calling for a limit on the number of raiders allowed to run. It's a short-sighted call, of course, and one that is likely to weaken rather than strengthen staying ranks and create a false economy.
Good start
The Victoria Racing Club has been addressing the issue by introducing ballot-free races. These are the Bart Cummings over the Flemington 2500m, the Lexus (Flemington 2500m), Caulfield Cup (Caulfield 2400m), Cox Plate (Moonee Valley 2040m) and, as of this year, the Andrew Ramsden (Flemington 2800m).
The latest addition, run in May, is the first move in giving horses a long-range plan to qualify. It's a good start, but they're all Melbourne races. If the Sydney, Adelaide and even Auckland Cups over 3200m and the Perth and Brisbane Cups of 2400m were given the same status, it could only strengthen the local ranks and qualify the home-grown product or, alternatively, entice overseas stayers to other cities to gain entry and boost those races.
Either way, Australian and NZ staying ranks would benefit.
None of these, however, are being considered in the immediate future. Racing Victoria General Manager International and Racing Operations Paul Bloodworth does not expect wholesale changes to the ballot exempt races.
He says the Victoria Racing Club, host and owner of the Melbourne Cup, has the final say and needed some encouragement to include the Andrew Ramsden this year. If any further races were to be considered, the most likely future additions would be the Geelong and Mooney Valley Cups run in the weeks leading up to the great race.
Much has been debated about the culture of breeding sprinters in a country famed for its great staying race, so an increase in prize money and balloting conditions for the distance races run outside the Melbourne spring would be likely to encourage change. The opportunity needs to be sufficient to encourage the breeding of stayers and to keep the right sires in Australia.
Unfortunately, just as we celebrate Vow And Declare's win, his sire Declaration Of War has been shipped to Japan - already the home of many of the world's best stayers. The stallion's departure thins the potential staying ranks just at a time when confidence was building. There are still sires available to generate potential Melbourne Cup winners, however, if the interest warrants it.
NZ is currently better placed to once again produce the future stayers, even after the departure of legendary staying sire Zabeel. Shocking, based just outside of Matamata at Rich Hill Stud, has sired the winners of two Adelaide Cups, a Brisbane Cup and an NZ Oaks in the past two years. Waikato Stud-based Cox Plate winners Savabeel and Ocean Park have established themselves as top-flight sires, with the former already delivering multiple Classic and 3200m winners.
Former Kiwi champion Dundeel, now based at Arrowfield in the Hunter Valley (NSW) is also fast emerging as an elite sire and a win by Transact in this year's VRC St Leger over 2800m gave an indication of his ability to deliver a stayer.
Something to work with
Even Golden Slipper (1200m) winner Pierro, based at Coolmore in the Hunter, has emerged as an unlikely sire of potential Classic winners and time will tell whether the 3200m of the Cup is a bridge too far.
Regal Power gave the young stallion his sixth G1 win in the Railway Stakes at Ascot (Perth) recently, but the gelding was already the winner of a WA Derby last season. Lightly-raced Matamata gelding Dragon Leap is being spoken of as a potential Classic winner and is being aimed at the time-honoured NZ Derby in just his first campaign.
A review of this year's major staying races across Australia still points to a lot of work ahead to be consistently competitive against the imports, with the Sydney Cup going to Shraaoh (Ireland), Brisbane Cup won by Sixties Groove (Ireland) and the Caulfield Cup won by Japanese stayer Mer De Glace. The latest Adelaide and Perth Cups, both downgraded to G2 status, were won by colonial-bred stayers (Surprise Baby and Star Exhibit).
It's a start. The combination of some promising and proven stayers, a good classic crop and emerging stallions who can sire horses with ability beyond a middle distance gives Australia something to work with ... now it's up to the racing bodies to provide enough encouragement for Australian and New Zealand owners to breeders to stay interested.