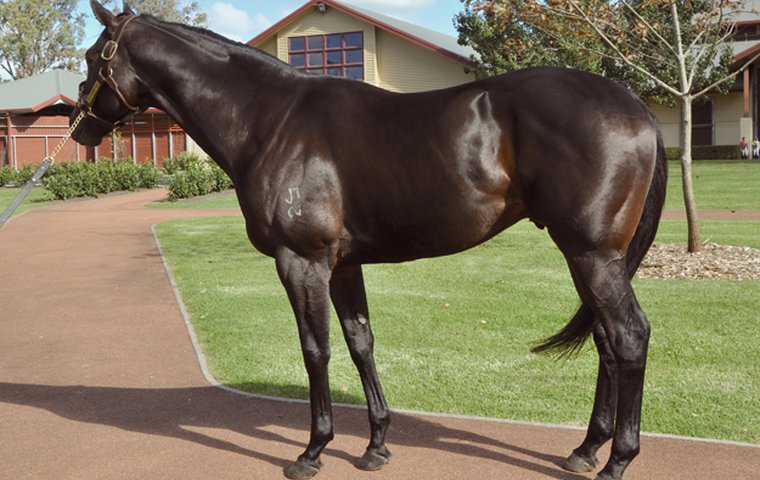 There are strong arguments in Australia that some of the freshman stallions for the upcoming breeding season are among the best ever. However, there are also grumblings about the high fees set to some of them. Katrina Partridge takes a look at both sides of the coin when it comes to setting first-season service fees.

As far back as 2008, there were seven stallions standing the Australian breeding season at a fee of AU$110,000 or more. You won't see those figures this year, but of interest this coming season are the fees of a number of freshman sires. In total, 27 stallions will enter stud in 2015, an increase from 19 in 2014, and 20 in 2013. This bucks the overall trend that shows stallion numbers are on the way down in Australia, a trend that has considerable publicity in the industry.
The best-performed newcomers this year are an impressive lot: five-time G1 winner Dissident (Newgate Farm, $38,500), four-time G1 winner Olympic Glory (Arrowfield, $19,250), G1 winner and Ascot-placed Brazen Beau (Darley, $44,000), G1 winner Toronado (Swettenham, $22,000), U.S. G1 winner Verrazano (Coolmore, $13,750), and G1 winner Shooting To Win (Darley, $38,500). However, the boom horse of the season might be another Newgate debutant, G2 winner Deep Field.
Deep Field has headed to Newgate with a fee of $22,000. He holds the 1,100 meter track record at Canterbury and is by the very hot, now deceased Northern Meteor, who died after only four seasons at stud, and currently has 16 stakes winners to his name. Deep Field is a full brother to Shooting To Win, and he promised much on the track. He won his first three starts by a combined margin of 20 lengths, and won five of eight overall, including a G2 up the Flemington "straight six." However, in his final two starts he didn't go on compared to a number of his peers, and his service fee might be considered high. But it underscores a number of interesting realities about the current stallion market in Australia.
The value of a well-performed colonial sprinter with an outcross pedigree, along with being a cracking physical specimen, seems to justify a high service fee. Demand from breeders, along with results in the sale rings, underlines this truth. So while an introductory service fee of $22,000 may seem high for a G2-winning son of Northern Meteor compared to $19,250 for a four-time G1 winning son of Choisir in Olympic Glory, on pure economic argument – supply versus demand – Deep Field is well-priced to meet the market (with more than 300 enquiries, his book was full within days).
Ron Gilbert is the owner of Highgrove Stud in Queensland's Darling Downs. He agrees that Deep Field is correctly placed. Typically, Gilbert mates 25 commercial mares each season, and he leans towards proven stallions because it doesn't suit him to take risks with unproven horses. However, he believes Deep Field has been set a good price, even without a G1 to his name.
"You can get $150,000 in the ring for a good athletic type of yearling off a $20,000 to $30,000 service fee with the right mare. Smart Missile showed that," Gilbert said.
Increasing ring prices and renewed confidence in the market has had a flow-on effect to service fees. Six mares made more than $1 million at the recently concluded Magic Millions National Broodmare Sale, where the top price was $1.6 million, the average more than $98,000, and the aggregate for 641 lots was more than $63 million. There were similar buoyant figures at the yearling equivalent in January. But among these figures, there was a buying bench for first-season sires. Sepoy did well, as did fellow freshman So You Think. In fact, at the Inglis Easter Yearling Sale this year, Sepoy outsold (by average) Snitzel, Redoute's Choice, and More Than Ready.
The sale-ring figures are healthy, but they are also deceptive. The number of breeders in Australia is shrinking, demonstrated by some figures of their own. Between season 2007-2008 and 2012-2013, the Australian Stud Book reveals the country's broodmare band decreased from 30,321 to 23,082. As a result, broodmare owners might be more focused on the pointy end of the stallion market, where commercial results can be delivered, and this has much to do with driving demand for certain first-season sires.
Bloodstock agent and Willow Park Stud proprietor Glenn Burrows said debut service fees don't tend to reflect a certain reality, however.
"Even the hotly popular young stallions in their second and third seasons are getting harshly treated in favour of the freshman horses," he said. "We saw horses like Sepoy, Smart Missile, and Foxwedge being hugely popular at yearlings sales [with their debut crops], but come the following weanling sales just months later, they were not as strong as suddenly they were competing with a new crop of first-season sires like Pierro and All Too Hard. That's how fickle and narrow the market is."
Such a market remains very competitive for the small number of colts per crop that are, or become, commercial stallion prospects. As such, these horses remain out of reach for the majority of breeding farms due to the expense of buying into them. It is this expense that pushes debut fees up, but, as in basic economics, investors need a return on an expensive horse, with many debut stallions these days costing up to $40 million.
Just what the cost of any individual stallion is in a transaction can become a moot point within the industry. In Australia, studs are not obligated to disclose exactly how much a sire prospect costs them. However, when they allegedly calculate first-season stallion fees based on that purchase price, often making it a percentage of that dividend divided by a certain number of years or investors, it can require a little blind faith on the part of broodmare owners to believe the figures.
The case of Zoustar is a recent example.
The exciting, dual G1-winning son of Northern Meteor was retired to stud in 2014 with a reported sale price of $26 million. The horse was set a $44,000 fee, and covered more than 180 mares in his first book, making him one of the most popular first-season stallions last breeding year. However, the shareholders in the horse have become tangled in a complicated court battle, with Widden Stud, where Zoustar stands, claiming the horse in fact sold for $18 million, not $26 million.
Each year, there are plenty of "reported" buying prices for new stallions. In 2014, Coolmore allegedly paid something in the vicinity of $30 million for Pierro, who was a champion 2-year-old and Golden Slipper winner. When asked about the actual figure, both Tom Magnier and the colt's original owner, Greg Kolivos, declined to make it public, with Magnier saying it was "commercially sensitive."
Obviously, one of the biggest challenges facing debut sires is retaining breeder interest. New sires, it seems, face something of an attention cycle: bottomless boom in the first season, with the challenge being to remain competitive in subsequent seasons against fresh blood entering the ranks. It's a tough environment for stud masters and shareholders, with the pressure high to return investment, and return it quickly. So, while it's easy to speculate that some debut fees are top heavy this season, on the other hand, one can see why they are.