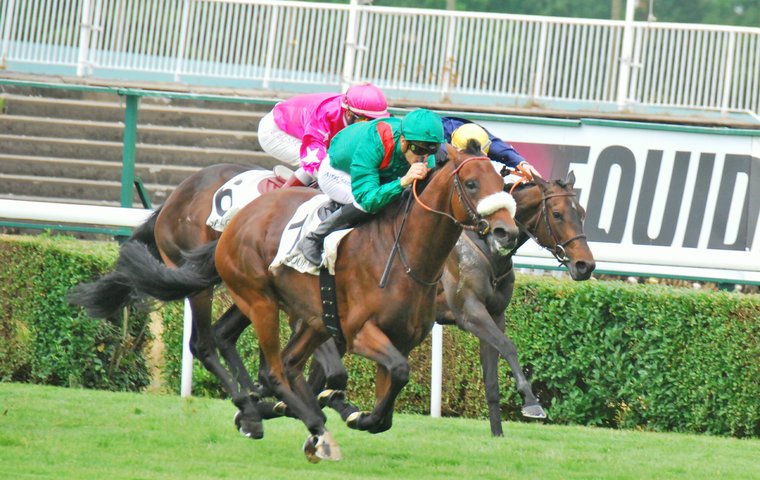 The proud centerpiece of French horse racing – of horse racing anywhere, some would argue – takes place at Chantilly on Sunday. Yet recent results of the Prix de l'Arc de Triomphe have been something of an embarrassment for the French themselves. Of the last ten winners, only three (Zarkava and Treve twice) have been trained in France, and the best the home team could do last year was a 100/1 shot in fourth. Yet not so long ago, France was a world leader in middle-distance and staying races. So where are all the French stayers now? John Gilmore looks at the factors that have contributed to the current state of affairs.

1. Lost stars
The Arc was a bit of a humiliation for the French last year. Aidan O'Brien trained the first three home (Found, Highland Reel and Order Of St George) and the first French runner was outsider Siljan's Saga in fourth. It was also a triumph for the older brigade, with the first 3-year-old home eight-placed Savoir Vivre.
But the French had lost a possible major contender in the Jean Claude Rouget-trained Prix Diane winner La Cressonniere through injury, and Rouget's other top-class horse, Almanzor, bypassed the Arc in favour of the shorter Champion Stakes at Ascot two weeks later, when he was too quick for Found just as he had been in the Irish Champion at Leopardstown three weeks before the Arc.
Almanzor had just one run this season but was disappointing and was subsequently retired.
2. The virus
The Arc meeting in 2016 was a disaster for France, with the home team losing six of the seven G1 races to English- or Irish-trained runners, only saving a complete whitewash when the Criquette Head-Maarek-trained National Defense captured the Prix Jean Luc Lagardere for 2-year-olds.
These results were certainly impacted by the virus that affected France's leading training centre in Chantilly in the early part of last year.
3. Outstanding runners in Britain
This season looked decidedly better in June after Brametot took the Prix du Jockey Club in sensational style after being left at the start and overtaking the whole field in the straight. Brametot previously captured the Poule d'Essai des Poulains (French 2000 Guineas) at Deauville in May.
Yet, as the season developed, France once again faced the prospect of the Arc going abroad for the third year running.
The John Gosden-trained Enable looks a cut above the rest after capturing the Oaks in a downpour, then the Irish equivalent and the King George in scintillating style. Cracksman, also trained by Gosden, won't run on Sunday, but he too may have been capable of winning judging by the way he put the G2 Prix Niel opposition to bed at Chantilly earlier this month.
4. Lack of strength in depth
The home defence doesn't appear to be strong in depth after the Arc trials. There was a workmanlike performance from Bakeel in the Vermeille (although she is not down to run in the Arc) and there was an unconvincing if pleasing effort from Cloth Of Stars after a lay-off in the Prix Foy behind German-trained winner Dschingis Secret, who looked a better prospect, particularly if the ground is soft on Sunday. The Aga Khan-owned Grand Prix de Saint Cloud winner Zarak, a son of Zarkava by Dubawi, has been working well for trainer Alain de Royer Dupre but will have to improve and needs every yard of the mile and a half of the Arc.
Dual classic winner Brametot is the unknown quantity, having blotted his copybook at Deauville in August, when only fifth after his customary slow start. The physio has been working on sorting out a nagging back problem ever since. Back to his best form and setting off with the field, Brametot could be dangerous if in the same mood as the Jockey Club, though the extra 300 metres may be an issue as he is by Rajsaman, who won over a mile at G2 level.
5. Shortening the French Derby
Statistics are not on the side of Brametot. Since the Jockey Club distance was controversially reduced from the classic 2,400 metres to 2,100 in 2005, no winner has gone on to capture the Arc, though Hurricane Run, a fast-finishing second to Shamardal in 2005, did go on and win at Longchamp. By contrast, in the previous 13 years, three horses completed the double - Dalakhani in 2003, Montjeu 1999 and Peintre Celebre 1997.
When I spoke with the late racing journalist and historian Michel Bouchet in May 2016, he said, "It was a grave mistake to shorten the distance for the future of the French breeding industry as it's now possible to win both the Poule d'Essai des Poulains over 1,600 metres and Prix du Jockey Club with the same horse. All the Derbys are 2,400 metres, except in the United States, and the trainers I know regret the change in distance, which will only encourage breeders to produce fewer middle-distance performers."
Significantly, since the Jockey Club distance was reduced, three horses have completed the Poulains/Jockey Club double: Brametot this season, Lope de Vega in 2010 and Shamardal 2005, with Jockey Club winners New Bay and Le Havre just failing, having finished second in the Poulains (in 2015 and 2009 respectively). In the previous 13 years, no horse completed the double.
6. Top stallions in Ireland and Britain
A key problem French breeders have faced for a long time is that most of the better stallions in Europe are based in Ireland or England, and, with breeding racehorses such a commercial exercise, it's necessary for a certain number of French mares to be mated with stallions in these countries to have a chance of achieving top prices at the major French sales.
Following the fashions of the time and concentrating on bloodlines that are popular is necessary to survive. Even if a breeder would like to breed classic middle-distance horses and stayers, the market wants precocity. Trying to get the right balance is difficult.
At this year's Arqana August sales, Henri Bozo's Ecurie de Monceaux had its highest total turnover for yearlings for the past six years. It presented 34 this year, but only one French-based stallion, Siyouni, was present among the 21 yearlings offered in the international section in the first two days, and just four – Olympic Glory, Siyouni, Intello and Le Havre – were present among 13 for the traditional domestic third day.
"I have a quality selection of 60 mares and the objective is too mate them with the best possible stallions, like Galileo, Dubawi, Sea The Stars, Invincible Spirit and Frankel etc, and unfortunately the better ones are not in France," said Bozo.
"We are it is true tending to breed for shorter distances, but we still need the classic 2,400-metre horses."
7. The Youmzain problem
The Head family's Haras du Quesnay stud in Normandy highlights the problem of breeding from top performing staying stallions outside the chosen few. "The industry in Europe is geared to speed horses up to a mile and, if you bring in a stallion with stamina, it's difficult to sell nominations," said Head-Maarek.
Haras du Quesnay has two high-profile stayers in Youmzain (fee €4,000) and Motivator (€10,000), the sire of Treve. Motivator has 96 3-year-olds and 91 2-year-olds running this year.
Youmzain, however, is unfashionable, illustrating the problem perfectly. The three-time Arc runner-up never been visited by top-class mares, yet he produced Sea Calisi, winner of the G1 Beverley D at Arlington and a multiple G2 winner, and a number of listed winners. This season he has been visited by just 48 mares.
Sea The Stars, of course, has never looked back at stud. His book of nominations is always full of top-class mares and he commands a hefty fee of €125,000. Surely all logic says that Youmzain's fee merits far better mare numbers.
Likewise, prolific middle-distance performer Doctor Dino, a G1 winner, ran from two to six. Based at the Haras du Mesnil Pays de La Loire for (€4,500 fee), he faces the same problem as Youmzain despite producing regular winners, including a second in the 2015 Prix Diane with Physiocrate. One of his recent Group scorers, G3 Prix Bertrand winner Golden Legend, looks particularly promising.
8. Encouraging precocity
The trend now in Europe is to breed far too many precocious up-to-a-mile types from a limited selection of stallions. Trainers of this type of horse are merely playing the percentage game with owners, encouraging the breeding of natural waste and defects that may arise in the Thoroughbred in the search of a big payback.
In England, the situation is encouraged with 2-year-old races on every card, whereas the French program has far fewer similar contests. British juveniles often complete successfully in France, even at maiden and selling level, because of the much better prize money there.
Only leading owner-breeders like the Aga Khan, the Wertheimer brothers, Gerard Augustin Normand, Coolmore and Godolphin can afford to be more patient with their stock.
9. Overseas buyers stepping in
A key Melbourne Cup trial is the G2 Prix Kergorlay at Deauville over 3,000 metres in August. Three years ago it was won by the German-trained Protectionist, who went on to land that year's Melbourne Cup (Australian interests had taken a timely shared interest in the horse). This year's race showed the lack of strength in depth of the French stayers, English-based runners finishing first, second and fourth, with trainer Hughie Morrison providing winner Marmelo. He also trained the fourth, Nearly Caught (last year's winner). The second, the David Elsworth-trained Desert Skyline went on to win the Doncaster Cup.
Morrison has indicated the owners are keen to run Marmelo in the Melbourne Cup.
French stayers appear thin on the ground with the Aga Khan-trained 5-year-old gelding Vazirabad, looking to be much the best, although Tiberian, winner of three Group races this season, including the 2,500-metre Grand Prix de Deauville, has emerged as another Melbourne Cup possible. The horse, trained by Alain Couétil, is 50 percent Australian-owned.
Gerard Larrieu, who runs Chantilly Bloodstock, said, "In France, there are a lot of smaller owners and, as soon as you win a maiden, everyone knows you can buy the horse. In a recent maiden 2-year old race at Mont de Marston over seven furlongs, Magic Bibou, trained locally by Bruno de Montzey, won impressively by 14 lengths. Before the horse and jockey were back in the winner's enclosure, I had two phone calls wanting to buy it. Owned by the trainer, a 50 percent share was sold to another French owner."
For a number of years, American owners have been buying French quality proven mile-plus horses. Earlier this season, for instance, La Sardane, also owned and trained by Bruno de Montzey, was sold to Team Valor, who promptly received a return on their investment, winning the G2 Prix Sandringham at Chantilly on June 4, beating subsequent Prix Diane winner Senga into second.
The horse is now trained in California by Neal Drysdale.
Sistercharlie, trained by Henri Pantall to be second in the Prix Diane, has also been sold in a private deal to White Birch Farm in the U.S. and ran a promising second in the Belmont Oaks. She is now with Chad Brown. White Birch also purchased French 1000 Guineas winner Precieuse.
"For buying yearlings, my clients are 50/50 French and foreign, but for selling horses my clients are 80 percent oversees and 20 percent French," said Larrieu
10. The VAT issue
The big handicap to attracting small owners in France, is the 20 percent VAT rate when buying racehorses.
Lights on the horizon
One piece of good news for France is the move by Al Shaqab to based much of their operation in France (while maintaining a presence in Britain). Al Shaqab have six young stallions at their Haras de Bouquetot in France - Olympic Glory, Shalaa, Planteur, Style Vendrome, The Wow Signal and Toronado.
This will mean their French homebreds will be eligible for the lucrative French breeders' premiums when racing.
Henri Bozo is certainly hopeful for the future in France – because of the new generation of sires that are based there.
"Stallions like Le Havre and Siyouni are beginning to build a solid reputation in France," he said. "Breeders here are becoming more dynamic, new money is coming into racing from 40- to 50-year-old French businessmen and the modernised Longchamp is sure to prove a bit sexy, and that will attract more racegoers."
Leading the way in France at stud, as well as Siyouni and Le Havre, are Rajsaman, Wootten Bassett and Kendargent.