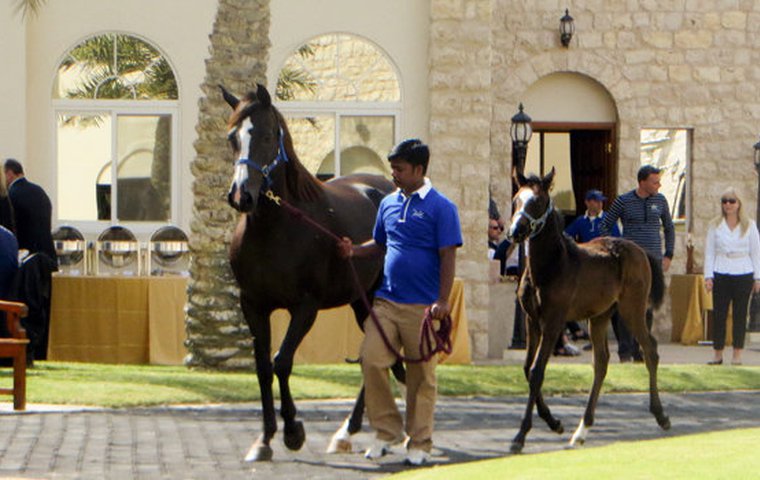 Recently returned from Qatar's 23rd annual International Equestrian Sword Festival, Jen Roytz considers the prominence of Arabian racing in Qatari culture.

Read part 1 on Qatar's International Equestrian Sword Festival and global racing aspirations
----------
Thoroughbred racing is "The Sport of Kings" in many places around the world, including America, Europe, Australia, and Japan. But, in Qatar and other Arab emirates, Arabian racing takes center stage and boasts pomp, circumstance, and purses that rival many of the largest race days anywhere on earth. The prominence of Arabian racing was on spectacular display at the recently concluded 23rd International Equestrian Sword Festival, an internationally-attended eight-day equestrian showcase in Qatar.
The House of Thani is the ruling family of Qatar and one of the strongest ties they share is an interest in horse racing and equestrian sports. Two of Qatar's most prominent farms, Al Shahania and Al Shaqab, are owned by relatives Sheikh Mohammed bin Khalifa Al Thani and Sheikh Joaan bin Hamad bin Khalifa Al Thani respectively. Sheikh Joaan is the son of Sheikh Hamad bin Khalifa Al Thani, the former emir of Qatar, who transferred power to his fourth son, Sheikh Tamim bin Hamad bin Khalifa Al Thani, in June of 2013. Sheikh Joaan is the nephew of Al Shahania's Sheikh Mohammed.
On Qatar's biggest race day at the Qatar Racing and Equestrian Club on Feb. 27, it was the Arabian racehorses that shone brightest in the spotlight, with Qatar-based Al Shahania Stud sweeping the prestigious 1.8 million riyal ($494,514) HH the Emir's Sword in a 1-2-3 finish.
As the trio of runners carried the blue and white silks of Sheikh Mohammed Bin Khalifa Al Thani 's Al Shahania across the finish line at Al Rayyan racecourse, trainer Julian Smart and his team of grooms and farm representatives exploded onto the track in celebration, as not only did their entries sweep the country's most esteemed race, but their prized runner, Assy, became the first Qatari-bred runner to win the country's premier Group 1 race.
Assy was going into the race with a record of seven consecutive wins in eight previous starts, including a win in the G2 Emir's Trophy at last year's festival. Assy lead the Al Shahania trifecta, with Al Anga running second by a short head and Rathowan a length back in third.
Sheikh Mohammed Bin Khalifa Al Thani is a seasoned equestrian, having ridden on the Qatar equestrian team as an endurance rider. With its longtime focus strictly on Arabians bred for both racing and show, the farm has recently expanded into Thoroughbred ownership and breeding as well, according to farm manager Alexandra Newman.
Several members of the Al Thani family formed Qatar Investment & Projects Development Holding Company (QIPCO Holding), which has recently been investing heavily in international racing, including a major five-year deal with Ascot Racecourse's British Champions Series.
During an open house hosted by the stud, Newman and Smart both took turns explaining to the crowd of international guests that while racing in many of the world's mainstream jurisdictions is driven by gambling, in Qatar, without gambling or alcohol sales at the racetrack, the public's interest in racing is fueled simply by their love of the horse and sport.
Al Shahania and other Qatari-based farms have recently increased their presence in the racing world to include Thoroughbred interests in order to gain prominence for their country's racing endeavors. However, it is clear that while Thoroughbred racing might be "The Sport of Kings" in America and Europe, Arabian racing is "The Sport of Sheikhs" in Qatar.
---
Read part 1 on Qatar's International Equestrian Sword Festival and global racing aspirations