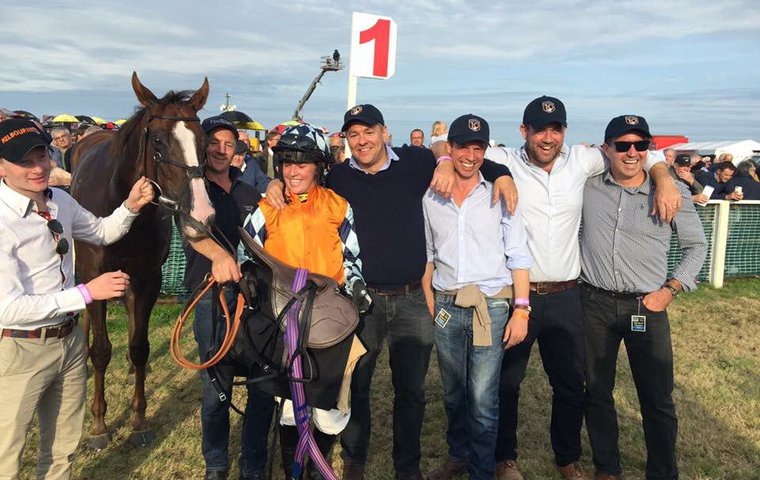 Ian Barratt is a name that has probably escaped the attention of even the most ardent British racing fans. But he is a coming force as a Thoroughbred owner, with his sights set on disparate venues right across the globe, be they world-renowned courses such as Del Mar and Flemington, or more obscure stages such as Laytown or St Moritz. Mr Barratt will go wherever he and his friends might be able to have a good time.

Barratt is a partner in the London office of the law firm Simpson Thacher & Bartlett. If it means anything to you, he focuses on domestic and cross-border acquisition finance and represents many of the world's leading private equity firms.
Back to the language of racing, and the reason even some aficionados may be unaware of Barratt's existence is that his horses run under the name of 'Melbourne 10 Racing'.
"For my 40th birthday, I took a number of friends on a week-long round-the-world adventure," Barratt explains. "The plan was to attend the 2015 Melbourne Cup. We started on Saturday at Twickenham Stadium in London for the Rugby World Cup Final, spent Saturday night in a bar watching the Breeders' Cup racing, left on a flight Sunday morning to Melbourne (via Dubai), had a great day at the Melbourne Cup on the Tuesday, spent three days in Las Vegas after that, before landing back in London on the Sunday."
Jamie Osborne's suggestion
Among the party was Jamie Osborne, the trainer of the 2014 Breeders' Cup Classic runner-up, Toast Of New York. "On the flight home, Jamie suggested that it would be appropriate to mark the trip the ten of us had made by buying a horse we could run every now and then as an excuse to catch up together," says Barratt.
"Soon after, the appropriately named Boomerang Bob was purchased and Melbourne 10 was the banner we came up with in memory of our journey. It is fair to say that the number of horse purchases which followed meant it very quickly got a lot bigger than I ever expected."
From those beginnings, Melbourne 10's orange, light blue and dark blue silks can now be seen aboard some 20 different horses, including the recent stakes race winner Battalion, and the exciting three-year-old prospect Royal Opera House, who won his maiden by seven lengths.
Barratt has had a love of racing since his early childhood, but his interest lapsed in early adulthood as he concentrated on his career.
Chance encounters
"I lived in Lambourn, known as 'The Valley of the Racehorse' from the age of five until I headed off to university," he says. "That, combined with the fact that my grandfather was always keen on a weekend bet on the horses, meant I was very aware of the racing world from an early age.
"For a number of years, I had a job in the school holidays 'knocking in' on the Lambourn gallops – basically from 6.30 in the morning I would walk round with a fork putting back the divots the horses kicked up. All very glamorous stuff!
"The people I worked with on the gallops were a fantastic bunch and from that time onwards I always had an interest in racing."
When Barratt moved away from Lambourn, however, he stopped following the sport, and it was only a couple of chance encounters that really kick-started that interest again.
"We had just moved out of London to Newbury, having recently had two children, when my wife Claire and I were invited to a day's racing at Newbury Racecourse," he says. "I had a fantastic day sitting next to Adrian Mulvey, who worked for a bookmaker.
So many ways to enjoy racing
"Then a friend and work colleague, Adam Signy, mentioned that his son was about to start a new job as assistant trainer to Oliver Sherwood in Lambourn. So between them in a very short period of time Adrian and Adam successfully ensured I went from a past interest in horse racing to a current active interest, which involved ownership. I am not sure my wife has ever forgiven either of them with everything else this led to."
The gregarious Barratt is realistic about his chances of taking on the mega-owners such as Coolmore and the Maktoum family, but he's determined to have a good time trying.
Asked about his racing ambitions for 2017, he replies simply: "To have as much fun as possible."
He adds: "No-one can guarantee you success, so we always take the view that win, lose or draw we will make the most of the opportunities that owning a horse provides. Whether it is an early morning on the Lambourn gallops with my children, discussing plans and strategies for a particular horse with the trainer, watching racing on a sunny afternoon at Lingfield, or just sitting in a pub with my friends having a bet on a rank outsider, there are so many ways to enjoy the world of horse racing.
Next stop St Moritz
"On the racecourse, obviously a Royal Ascot winner would be nice, but given the globetrotting roots of the Melbourne 10 a big win overseas would be my ultimate ambition.
"Having been at Santa Anita to watch Toast Of New York come an agonizing second in the Breeders' Cup Classic, it would be fantastic to have a runner at that meeting, but the ultimate goal has to be to take the team back to the Melbourne Cup, where it all started, and win that.
"In the shorter term, our target is a winner at the White Turf snow meeting in St Moritz in Switzerland [this coming Sunday - 26 February]. The horses run on a frozen lake covered in snow. It is a truly remarkable sight."
Boomerang Bob finished a close second there in 2016 [many observers could not believe he had been beaten, even after seeing the photo finish print]. "So this time we are going back with a team of at least five so we have a runner in each of the races," says Barratt.
"This follows on from our assault on the annual Laytown meeting in Ireland last year where they hold six races on the beach – we had a runner in each race and managed a winner in the last.
"Without wanting to be greedy, the perfect trip to St Moritz would be completed by Battalion putting in a decent display in the English Winter Derby, which is held at Lingfield 24 hours earlier."
James Crispe is associate director of editorial at the International Racing Bureau