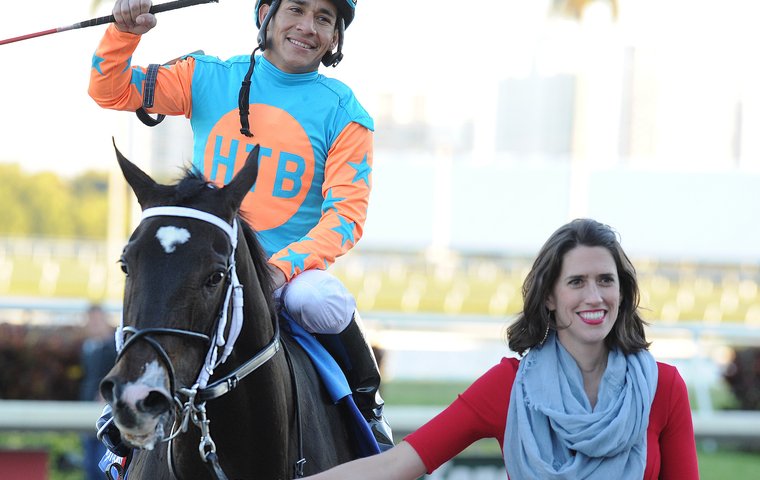 Anna Seitz not only operates at the sharp end of racehorse ownership, she is also one of its most recognisable faces in the United States. Having grown up on a thriving Kentucky farm and worked on the racetrack for Todd Pletcher, she is now client development and public relations manager at Fasig-Tipton, as well as organising a number of ownership syndicates, including It's All About The Girls, which has members in seven countries. She is also on the board of the Thoroughbred Charities of America and has helped launch the Thoroughbred Women's Network, which was set up to help females interested in a career in the industry.

Who do you think is the most important figure in the history of racing around the world?
To me, Mr. Richard 'Dick' Duchossois has been one of the most influential figures in racing in my lifetime. I have always enjoyed visiting Arlington Park ever since I was young, and his vision for Arlingon in its glory days was the epitome of what racing is all about. His friendliness towards the owners, his outstanding customer service and his genuine love of the sport made every patron feel like he really appreciated them running at his beloved Arlington Park.
I remember about ten years ago when I was working for Todd Pletcher and we had a filly running in the Beverly D. I was standing next to Todd's filly and Mr. D came down to the paddock and went from stall to stall and shook everyone's hand and introduced himself and asked if there was anything we needed. It made such an impression on me, and to this day, in my job with Fasig-Tipton, I try to imitate Mr. D's customer service. It's the little things that make the owner enjoy their experience.
A couple of years ago we ran a horse in the Pucker Up at Arlington and, after her race, we were hanging out in the sports bar celebrating her win with our syndicate members, and there was Mr. D! He came in to check on everyone and see how everything was going around the track! He sat with us for a while and we reminisced about the day and how much fun we all had.
Mr. Duchossois truly cares about his customers, and I feel that this is lost at a lot of today's tracks. It doesn't take much time or money to show our customers who are either racing or gambling at that track that we care and appreciate them being there!
Which is your favorite venue and race (anywhere in the world)?
Saratoga to me just embodies horse racing in every way. Everyone who is there is there to have a good time and enjoy the sport. The fans are passionate and very knowledgeable, and the quality of racing is as good as it gets. They have done a nice job of modernizing the facilities and continuing to do so, while maintaining that old charm that we all love about the place.
Even watching horses train there before the sun comes up has a magical, sublime ambience that you won't experience anywhere else. I love going to breakfast in town and seeing everyone around me reading the Daily Racing Form and talking about the runners they like that afternoon.
My favorite race is the Kentucky Oaks (see the video above of this year's thrilling renewal). I know Kentucky Derby Day is the main event, but to me Oaks Day is always so exciting. I have such a soft spot for the fillies, and by Oaks day I usually feel some type of connection with most horses in the race, be it with their owner, the trainer or the filly herself. When they load in the gate I can't help but feel immense pride for the fillies and dream about the day when we can have a runner in such a prestigious race.
We try to put on a syndicate brunch on the backside on the morning of the Oaks just to really soak the entire day in. The partners love being back where all the action is.
What is your fondest memory in racing?
I'd have to say when our very first partnership horse, I'm Already Sexy, won the G3 Pucker Up Stakes on the Arlington Million Day undercard. It was her first Graded stakes win, and we had a lot of partners travel for the race. For most of them, this was their first foray into racehorse ownership, so to see the excitement on their faces when she won was just priceless. You had to pinch me as I couldn't believe this filly, who we purchased as a yearling for just $20,000, could achieve such success.
A lot of those partners became good friends, and we still reminisce about that experience. Arlington's facilities and hospitality made the day that much more memorable. One of the main reasons we do our racing partnerships is so the partners can get to make new friends and owning horses allows us to meet up all over the country, and even the world, to watch our horses run and enjoy the comradery of one another.
What do you see as the biggest challenge racing faces today?
I would say attracting and retaining new owners and bettors. As the saying goes, nobody needs to own a racehorse. Well, nobody needs to bet on racehorses either, and we're not the only show in town anymore now that sports wagering has been legalized in certain states. It would behoove us who make a living in this industry to show the owners as good an experience as we can.
This goes for everyone, from the trainers and their staff to the racetrack employees and everyone in between. There have been many people with very deep pockets who have entered the game and left within a few years. Let's treat these people well and think long-term so we can keep them around a little longer.
Same goes for the bettors. Without the bettors, we have nothing. If these horseplayers' associations are so adamant about certain issues (and all you have to do is follow a few of them on social media), maybe we should take action to show them the industry cares about them. They want lower takeout and fixed odds, well let's find a way to give it to them.
We try to do our part by showing our owners who we bring into the game a fun and honest experience. You can't control how the horses are going to run, but we can control how we treat our owners and bettors.
If you could change one thing in racing, what would it be?
There are so many things I think we could improve, but one I think that is actually fixable is the nightmare that is licensing. If you own horses, or even a piece of a horse, I can 100 percent guarantee you have a story of how you have tried to get licensed somewhere and it has been very difficult and frustrating in at least one instance (if not many).
It's particularly difficult if you are trying to manage a racing syndicate with a lot of smaller percentage owners. I have come up with a business model of how to streamline this by working with the existing licensing organizations, but I can never get anyone to call me back or follow through with this model.
I know there are probably a lot larger issues we need to focus on, but this is one I feel like, if modernized, could allow our owners to have a much better experience leading up to race day, and to me that's a victory for us all.