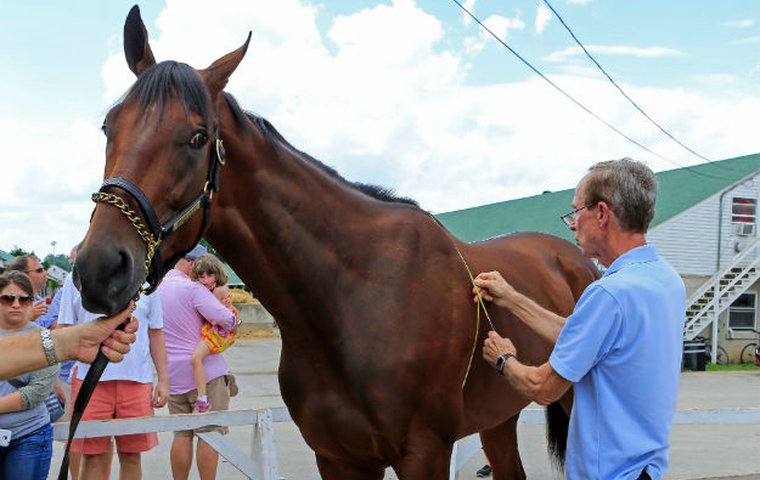 There are so many factors, tangible and intangible, that combine in the making of a great racehorse, from the lightning interaction of genes at the time of conception to the blades of grass and grains of oats consumed, to basic luck in avoiding injury.

In the immediate afterglow of American Pharoah's unprecedented Grand Slam sweep, trainer Bob Baffert said exceptional mechanics are what truly set the colt apart — his singular ability to soar over the ground with tremendous, free-flowing strides.
Still in awe over the horse he had trained for two seasons, Baffert recounted his attempt to show fellow Eclipse Award-winning trainer Todd Pletcher how fluidly American Pharoah moves while their charges were stabled in the same barn at Keeneland.
"I said, 'Todd, watch this horse.' He didn't want to take the shank," Baffert related, searching for words that would adequately describe the physical power contained within American Pharoah that, when unleashed, proved pure magic on the racetrack.
"I said, 'I want you to feel his mechanics.' He's just — he's fast. Even the way he walks, it's incredible mechanics that this horse has … His mechanics are just totally different than any horse I've ever had."
About four and a half months earlier, during a few quick moments the day after the colt was paraded for fans at Churchill Downs following his utter devastation of challengers in the Belmont Stakes, Cecil Seaman unfurled his measuring tape to see what he could learn about American Pharoah's constitution.
Did his conformation offer any clues?
Others already had reported that American Pharoah's stride was about 26 feet long and that he could cover about 55 feet in one second while powering off his sculpted hindquarters. But how did his neck, barrel, shoulders, hips and legs fit together? Was there a connection between his conformation and his ability to transform history as the first Triple Crown winner in 37 years?
Seaman, a Lexington-based bloodstock consultant who has measured over 108,000 Thoroughbreds under a system he developed to scientifically evaluate equine potential through biomechanics, gently extended his tape around American Pharoah's girth. He also spread the tape across the length of colt's body, against his legs and under his throat.
As assistant trainer Jimmy Barnes held American Pharoah outside Baffert's Barn 33 at Churchill Downs, curious fans and others such as Seattle Slew's jockey Jean Cruguet watched this tale of the tape unfold in front of them. After each of 15 measurements, Seaman called out to his assistants the numbers that are essential to his system of analysis.
American Pharoah looked on curiously at times, even turning his head to watch Seaman measure the distance from the point of his hock to the ground.
What Seaman found, according to his own analytical system, is a mathematical, biomechanical confirmation of American Pharoah's superiority. His numbers yield some intriguing ways to compare the champion's physical make-up with other great runners.
Largest of the last four Triple Crown winners
Not only is American Pharoah the largest of the last four Triple Crown winners, he also belongs to the most elite segment of athletes included in Seaman's database. Those records span more than 850 champions, 2,000 G1 winners, 750 earners of at least $1 million, 50 Kentucky Derby victors and over 25 winners each of the Epsom Derby and Prix de l'Arc de Triomphe.
"These kind of horses are the best of the best," Seaman said of the exclusive group in which American Pharoah belongs based on his measurements and his overall resulting grade of A+.
Only 447 horses — or less than half of one percent of all those Seaman has measured since he began collecting physical data on Thoroughbreds in 1969 — fall into this A+ group.
Another indication of the physical prowess of this type of Thoroughbred is that the group to date includes 79 stakes winners, 42 graded stakes winners and 19 G1 winners, and names such as A.P. Indy, Invasor, Shamardal, Makfi, Ghostzapper, Silverbulletday and Canford Cliffs.
While Seaman doesn't like to reveal too much about exactly how he uses measurements to perform his analysis since his system is a key part of his business, he did share details and observations about the colt who inevitably will earn the gold Eclipse Award as 2015 Horse of the Year.
"He is a magnificent horse," declared Seaman, who gave a summary of his analysis to Baffert and American Pharoah's owner-breeder Ahmed Zayat during a charity event honoring the colt's connections held the week of the Breeders' Cup. "He's got a good stride, he uses himself well and he's so smart in so many ways."
Similarities with A.P. Indy
Although American Pharoah is larger, he reminds Seaman particularly of A.P. Indy because they are similarly proportioned and conformed.
"American Pharoah is a couple of inches taller, and A.P. Indy's neck is a bit longer," Seaman said, noting how American Pharoah's legs are about 1 ½ inches longer than those of the 1992 Horse of the Year and leading sire. "But almost all the other measurements are basically the same."
Seaman also measured Triple Crown winners Affirmed (1978), Seattle Slew (1977) and Secretariat (1973), as well as 1943 winner Count Fleet prior to that champion's death. However, Seaman said he could not rely on the numbers he gained from his session with Count Fleet because the aged champion was so swaybacked and otherwise weathered by his years.
In looking at American Pharoah compared to Affirmed, Seattle Slew and Secretariat, the newest of the Triple Crown heroes has the largest dimensions in three of four key measurements and the co-largest in the other. All four possessed outstanding biomechanics, according to Seaman's system.
MEASURING GREATNESS
| | | | | |
| --- | --- | --- | --- | --- |
| Name | Length of neck | Height* | Body length | From point of hock to ground |
| American Pharoah | 31¼ | 70 | 92¾ | 26½ |
| Affirmed | 31 | 68½ | 90 | 26 |
| Seattle Slew | 31 | 67 | 89 | 25½ |
| Secretariat | 31¼ | 68¼ | 89½ | 26 |
*Height measured to a point in the neck, not top of withers
The length of American Pharoah's body at the time of the June measurement, 92¾ inches, already put the colt far ahead of the other Triple Crown winners in that category. However, Seaman said Baffert told him during Breeders' Cup week that the colt had grown over the season and his body had lengthened even more.
"He's a tall horse," Seaman said, noting that his measurements indicated American Pharoah was around 16.2. "He's got a very nice, balanced neck.
"He's a horse that can run long," he added, noting that his analytical system projects that American Pharoah is best suited biomechanically for distances from a mile to 1¾ miles and that he should run well on dirt or firm turf.
"He's a horse that has all the characteristics we look for — and he has a wonderful temperament. I could see that when (98-year-old retired veterinarian) Dr. (William) McGee was there at the barn at Churchill Downs in his wheelchair feeding him carrots," added Seaman, who spent many mornings observing the colt.
Aspects derived from his dam's side of the family
American Pharoah draws size and classic scope from his sire and sire line, being a grandson of Belmont Stakes winner and Kentucky Derby runner-up Empire Maker, who is by Kentucky Derby and Breeders' Cup Classic winner Unbridled. Pioneerof the Nile, American Pharoah's sire, finished second in the Derby after earlier winning a pair of Grade 1s.
Yet American Pharoah also is highly influenced by his female family. Both his dam, Littleprincessemma, and her sire, Storm Cat's son Yankee Gentleman, fall into the same general category of body length as does American Pharoah, whose special balance of frame and point of gravity derive more from that side of his family, said Seaman, who noted that Unbridled was similarly made.
All the members of the first two generations of American Pharoah's pedigree are bigger than average Thoroughbreds, according to Seaman's measurements and analysis. Thus, breeders can draw some conclusions as they contemplate which mares might be ideal physical types to send American Pharoah, who will stand his first season at Coolmore's Ashford Stud for $200,000 in 2016.
"He's got a lot of consistency with his dam, granddam and Unbridled," Seaman said. "Mares should be of a similar size. If you don't have the consistency, you can't reproduce it."
But, while it remains to be seen if American Pharoah will pass along his outstanding physical attributes and his remarkable biomechanics to his offspring, there is a certainty when it comes to the beginning of his stud career.
"There is no doubt he will be in demand with everyone," Seaman said.