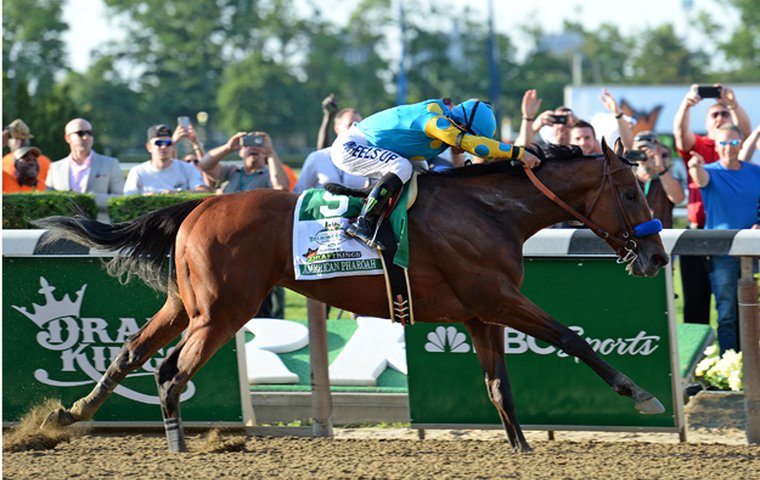 As American Pharaoh prepares for his next start in the G1 $1 million Haskell Invitational at Monmouth Park this weekend, Heidi Carpenter takes a look back at how great his Triple Crown-winning Belmont Stakes run really was.

I have a confession: I missed the final strides of American Pharoah's win in the Belmont Stakes  —  and the Triple Crown  —  because I was weeping into my hands. Although I was surprised by my reaction, based upon the personal accounts infiltrating social media I wasn't alone in my emotional response. Cheering until hoarse, crying, jumping up and down, and running around  —  at 6:54 p.m. EDT on Saturday June 6, any which way human joy can be expressed, was.
The outpouring of emotion went beyond witnessing the first Triple Crown since 1978. It touched upon the simple beauty of watching American Pharoah gallop past the finish line with his ears pricked cheerfully, lengths ahead of his closest challenger and the phantoms of failed Triple Crowns past.
We were watching a magnificent animal  —  whose prairie-bound Equus ancestors were granted the gift of wingless flight by evolution millions of years ago  —  do what he was born to do: run far and fast with pure delight. This is the sort of performance we live for, and to witness it during the first Triple Crown sweep in 37 years was the pinnacle of Thoroughbred racing, and  —  let's be honest here  —  all sports.
Just how good was American Pharoah's Belmont Stakes? In comparing his Belmont win to that of the other 11 Triple Crown winners (Sir Barton, 1919; Gallant Fox, 1930; Omaha, 1935; War Admiral, 1937; Whirlaway, 1941; Count Fleet, 1943; Assault, 1946; Citation, 1948; Secretariat, 1973; Seattle Slew, 1977; and Affirmed, 1978), we determine that:
American Pharoah ran the fastest final quarter-mile (24.32 seconds, or 24 ⅕ when converted to the traditional fifths of a second for comparison purposes) of any Triple Crown-winning Belmont Stakes. The next two fastest final quarters were 24 ⅗ each (Gallant Fox in 1930 and Count Fleet, who won the Belmont by 25 lengths, in 1943). Secretariat's legendary 31-length win in the 1973 Belmont recorded the fourth fastest final quarter, 25 flat.
In addition, aside from his first quarter mile, American Pharoah ran each subsequent quarter mile of his Belmont equal to or faster than the last: 24, 24 ⅗, 24 ⅖, 24 ⅖, 24 ⅕, 24 ⅕. He is the only Triple Crown winner to accomplish this remarkable feat. By comparison, the quarter mile splits of Secretariat's Belmont are 23 ⅗, 22 ⅗, 23 ⅗, 24 ⅖, 24 ⅘, 25.
American Pharoah also ran the second fastest Triple Crown-winning Belmont: 2:26.65 (converted to 2:26 ⅗). That places him behind Secretariat's world-record 2:24 (an anomaly that will likely never be touched) and just ahead of Affirmed's 2:26 ⅘ in 1978.
The 2015 Belmont is the sixth fastest of 104 runnings at the current 1½ mile distance. American Pharoah's 2:26 ⅗ falls behind 2:24 (Secretariat, 1973), twice 2:26 (Easy Goer, 1989, and A.P. Indy, 1992), and twice 2:26 ⅖ (Risen Star, 1988, and Point Given, 2001).
At 31 horses, American Pharoah ties Assault (1946) for the second most rivals defeated in the Kentucky Derby, Preakness Stakes, and Belmont combined. Only War Admiral (1937) comes ahead, with 32 horses defeated. (Horses entered in more than one Triple Crown race are counted for each entry.)
Lastly, American Pharoah's winning margin of 5½ lengths is the fourth longest margin of victory in the Belmont, behind Secretariat (1973, 31 lengths), Count Fleet (1943, 25 lengths), and Citation (1948, 8 lengths).
Phew! Let's think about all that for a moment. Among some of the titans of the turf, American Pharoah more than held his own  —  he outclassed most of them in one way or another. What's more, with the flush of slow Belmonts in recent years, where the winners wound down before the finish like punch-drunk boxers, American Pharoah's performance was a gift that cut through the tired old arguments that American horses can't go beyond 10 panels and the Triple Crown races are too close together.
And the gift was recognized. For a rare few minutes, everyone  —  from life-long fans and veterans of the industry that have witnessed Triple Crown wins of yore, to relative newcomers that have seen a couple dozen racing seasons and nearly half as many Triple Crown misses, to brand-new fans, even if just for a day  —  united in celebrating American Pharoah's win. And that is nothing to be surprised about.