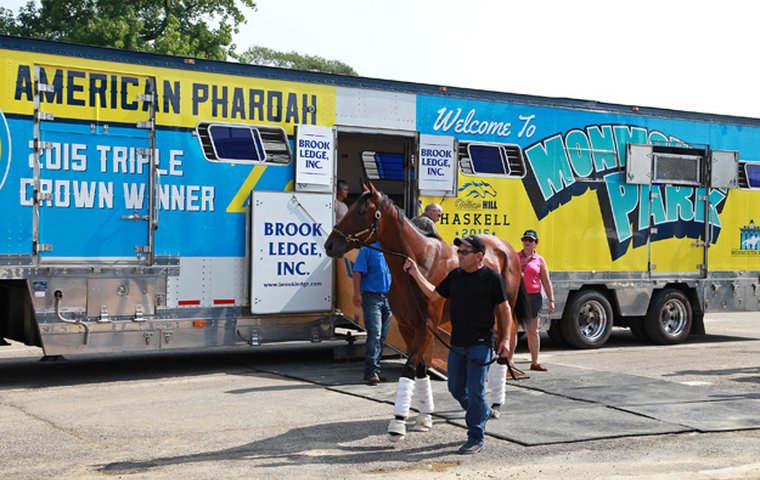 With a Triple Crown winner coming to Monmouth Park for the first time, track officials are eagerly contemplating the short- and long-term implications of American Pharoah's historic visit.

Sunday's William Hill Haskell Invitational is the most-anticipated racing event to be held in New Jersey since Monmouth Park hosted the 2007 Breeders' Cup World Championships.
Bob Kulina, the president of Darby Development LLC, the operator of Monmouth Park, is confident that an attendance standard will be set at the 70-year-old track, which is a short drive from the Jersey Shore, a wildly popular summer destination for beachgoers.
The record attendance for any horse race in New Jersey is 53,638, and was established in 2003 on the day Peace Rules defeated Kentucky Derby and Preakness winner Funny Cide in the Haskell.
Reserved and box seats sold out even before American Pharoah was officially declared a Haskell starter, and with no attendance cap, and the ability to walk up and gain admission to the grandstand or clubhouse on race-day at non-inflated prices of $6 and $9 respectively, it would be difficult to imagine anything but a record crowd.
"I think we will blow by that number from 2003," opined Kulina, whose racetrack career in New Jersey has spanned four decades. "I know all the hotels in Monmouth County are pretty much sold out for the weekend. It seems like a lot of people will be traveling here for the Haskell from a little farther away than normal. It looks to be similar to what people do when they travel to Saratoga and make a three-day weekend of it. It is going to do a lot for the local economy. The restaurants and hotels will be packed. There is a lot of energy here right now in anticipation of American Pharoah coming."
The G1 Haskell marks American Pharoah's first start since becoming racing's 12th Triple Crown winner in the Belmont Stakes on June 6. Part of the Breeders' Cup Challenge Series, and a designated "Win and You're In" for the $5 million Classic at Keeneland Race Course on Oct. 31, the $1.75 million Haskell will be televised on NBC between 5 and 6 p.m. EST.
Track management sprung into action with an operational plan following the non-surprising July 2 announcement from the American Pharoah camp that their colt was headed to Monmouth Park.
In the days following the news that America's favorite racehorse was New Jersey-bound from his Southern California home base, Monmouth released details about the creation of the "Pharoah Phan Phestival." The three-day extravaganza commences tomorrow and will feature a multitude of activities at the track, including the opening of the clubhouse, free of charge, for fans to watch American Pharoah train on Friday and Saturday mornings. There are also several giveaways in the offering: baseball jerseys, hats, and buttons, commemorating the newest Triple Crown hero and his connections.
While Monmouth Park officials had years, not weeks, to ready the track for the Breeders' Cup, Kulina said their involvement in hosting the two-day World Championships put them ahead of the curve in planning for this weekend.
"We're going to have parts of the building opened and fully staffed that haven't been since the Breeders' Cup," Kulina said. "We're going to expand the [trackside] picnic area, with video boards, televisions, mutuel windows, and concessions. We've expanded our parking areas and will shuttle people to and from those sites. We're busing in more than 200 mutuel tellers. It's the type of things we normally do for the Haskell, but we just increased it. It was what we did with the Breeders' Cup, and we are lucky that we had that experience and could build on it for this event."
Media interest in covering the Haskell is akin to the 2007 Breeders' Cup, said Monmouth Park's publicity director, John Heims, who estimated roughly 300 credentials have been issued, a number that is representative of both television and print organizations.
In addition to NBC's national coverage of the race, a bevy of local television crews will descend upon the track with satellite trucks, starting with the expected arrival of American Pharoah, via police escort from Atlantic City International Airport, on Wednesday.
Media will converge from several corners of the world, including Australia, Japan, New Zealand, and South America. The roof-top press box will accommodate print media. Photojournalists will be placed in a separate area, on the ground level, which will provide them with easy access to the racetrack.
Heims, whose staff will grow from its usual two people to close to a dozen this weekend, noted having American Pharoah run in the Haskell is every bit as energizing for track employees as it is for the fans who will flock to the track on Sunday.
"I think everyone here is just overly excited," Heims, a 20-year Monmouth Park veteran, remarked. "I went to the Belmont, and it was fantastic. For me, the best part of the Belmont was when they took [American Pharoah] up the stretch so everyone could see him. I sure hope we have some type of similar experience, so everyone gets to see him. As [his connections] have said, 'He is a horse for the people.' So, I think that will be the most exciting part for me — having people have that opportunity to see American Pharoah."
With nothing short of a smashing impact on business expected on Haskell Day, Kulina is also looking at the broader picture — what American Pharoah's presence at Monmouth Park will mean down the road for the track, whose very existence was in jeopardy just several years ago.
Monmouth Park faced an uncertain future in December 2011, when a deal between the state and a new lessee to operate the track fell through. Ultimately, there was no disruption to the racing calendar and the 2012 season commenced under the auspices of its current operators, Darby Development LLC, the management company representing the New Jersey Thoroughbred Horsemen's Association.
But now, to ensure its future and remain competitive with other tracks on the East Coast that derive revenue from video lottery terminals at their facilities, Monmouth Park operators are eager to see the arrival of legalized sports betting at their track. Legislation signed by New Jersey Gov. Chris Christie allowing for sports betting at state-licensed racetracks and casinos is currently under court appeal by major U.S. sports leagues.
"There are a lot of issues looming in New Jersey and I think this weekend is going to help us with them," Kulina commented. "Sports wagering is something that is going to happen in New Jersey, and we don't want the track to be left out of that. The benefits of this weekend will be reaped down the road — those long-term benefits of generating renewed interest in our game and new fans, and the positive effect on the larger issues in New Jersey.
"This is a very important event for the future of New Jersey racing. Having American Pharoah here puts a good emphasis on Monmouth Park, and it tells the politicians we are here, and part of the New Jersey economy."