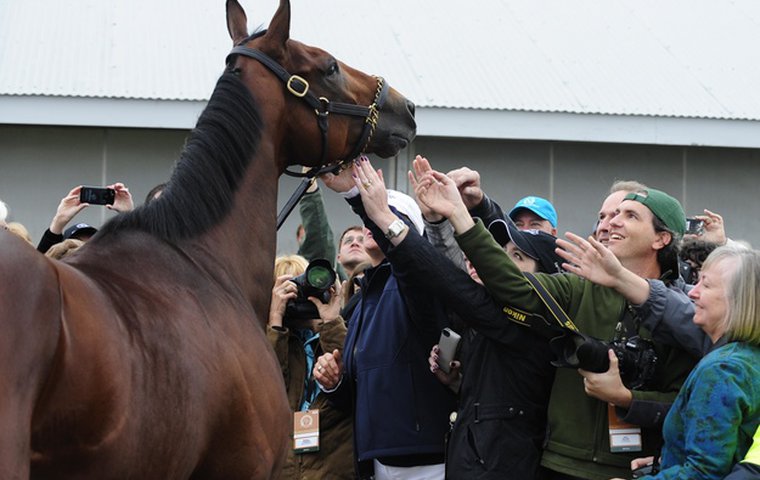 There were 37 years – and a different world – separating the 11th Triple Crown winner and the 12th.

Back in 1978, when Affirmed outduelled Alydar to give the sport back-to-back Triple Crown winners, the notion of a network showing nothing but sports or music videos was laughable. People having a small telephone in their pocket without wires was fodder for science fiction or comedy shows.
The newest technology for the American consumer was an item called a Video Cassette Recorder, or a VCR, which could tape television shows and sold for about $800.
The Internet? The what?
Now fast forward to 2015, when American Pharoah not only ended a 37-year drought between horses who swept the famed spring classics, he became the first Triple Crown champion in the digital era.
Back in 1978, most of America had access to just three major networks and a few local channels. Viewers had to adjust their television set's "rabbit ears" to eliminate a snowy picture. Getting a story or picture in a newspaper or magazine or a mention on radio were coveted pieces of publicity.
Now, in the digital era, fans have a plethora of ways to not only watch American Pharoah's races, but find out about the slightest detail in his life. Twitter, Facebook, Instagram and Periscope are just a few of the social media platforms where people can communicate with each other and obtain up-to-the-second news and video while also interacting with their favorite personalities and finding out behind-the-scenes details.
The right type of hero for a changing time
"The digital world has changed things so dramatically in a very rapid amount of time," said Mike Trager, Founder and CEO of the Trager Group, a Connecticut-based company involved in television consulting, rights and production. "Now you can create your own publicity. You don't need anyone to get the word out for you. You can do it yourself for hardly any money."
In Zayat Stables' American Pharoah, horse racing had the right type of hero for a changing time in American society. He was the perfect fit for the digital era. He was a horse both devoted racing fans and mainstream sports fans could embrace. He was a dominant champion, who won easily in most of his races, and yet he could also be as docile and lovable as an animal in a petting zoo.
At a time when the rising power of social media can turn trivial events into national firestorms, the fanfare around him grew in volume like the sounds at a heavy metal concert as masses of people sought out the slightest bit of information about the country's newest star.
It was, in some ways, a perfect storm of media attention, the likes of which racing has not seen for decades. Social media powerfully came together with a 3-year-old colt who had become the first Triple Crown winner in 37 years and had connections eager to interact with fans. It created the kind of attention that racing rarely receives and made a horse as popular as any athlete in America, a point proven by American Pharoah holding a narrow lead over the World Series champion Kansas City Royals in the fan voting for Sports Illustrated's prestigious Athlete of the Year award as of Nov. 20.
'People could see what a cuddly horse he was'
"Social media played a huge part in building American Pharoah's popularity and image," said 23-year-old Justin Zayat, the oldest son of owner Ahmed Zayat and racing manager for Zayat Stables. "Nowadays anything in horse racing or sports becomes 10 times bigger than it used to be because of the social media aspect and that played a large role in building such a huge fan base for him.
"People could see what a cuddly horse he was. They saw his personality. People would see pictures of him every day and that kept him relevant. They saw the day-to-day activity around the horse and that was cool. Even before the horse pulled up from his workouts, people would tweet how fast he went. Social media created a lot of excitement around American Pharoah and it gave people a feeling that they had great access to the horse."
As much change as social media has ushered in during the last few years, it's almost incomprehensible for someone in their 20s to look back at the world of some 40 years ago.
Trager understands far better than most how much the media landscape has changed since the 1970s, when Secretariat, Seattle Slew and Affirmed gave the sport its first Triple Crown heroes since the 1940s. One of the most respected figures in sports television, Trager worked for NBC in the 1970s and, along with Mike Letis, formed Sports Marketing and Television International, which became the first marketing arm for the Breeders' Cup and crafted the series' landmark television deal with NBC in 1984.
"You were dealing with a very limited way of getting out what you wanted to say in the 1970s," Trager said. "The way it worked was that you utilized radio, which was strong back then, and newspapers, which had a lot clout. You couldn't buy publicity, so you hoped people would write about you in a newspaper or talked about you on radio, and maybe you could get a little television coverage.
'Social media opened up stuff not possible in the 1970s'
"It was a much more difficult way to get your message across than it is now, where you don't need to consider expensive alternatives because social media does it for you. And, if you know how to use social media, from Facebook to Youtube channels, you can now reach so many people you couldn't reach in the past. You had to work hard at it back then. It is so easy to get the word out now if you're creative."
As a result of the new forms of media, the reach and awareness of a charismatic icon such as American Pharoah grew in an unprecedented fashion with each passing day.
"You had a superstar in American Pharoah," Trager said, "so you had the ability to reach people you normally wouldn't because all the media adopted him. Social media opened up all kinds of stuff that happened around him that were not possible in the 1970s.
"If you ask people who a horse like American Pharoah is, you would get a much broader response than you would have in the old era. Now you have this massive ability to hit an audience that you never could in the 1970s, when there was a limited number of outlets. If the media didn't adopt you back then, you were sunk."
The fanfare created by social media and the long drought between Triple Crown winners also worked together to give horse racing's television ratings a sorely needed boost at a time when it has become more difficult for major networks to attract viewers.
Around 22 million viewers watched on NBC as American Pharoah crossed the finish line in the Belmont Stakes, and the full race portion of the telecast was the third most-watched Belmont since People Meter ratings started in 1988. The viewership was highest for a Saturday afternoon sporting event on NBC since January, when 34 million watched a Ravens-Patriots AFC playoff game.
Belmont video clip was viewed 2.5 million times in two days
NBC's telecast of the Breeders' Cup from 5:07 p.m. through 6:13 p.m. on Oct. 31, which was highlighted by American Pharoah's 6 ½-length Breeders' Cup Classic victory in the final start of his career, earned a 2.6/6 household rating. That figure represented the highest rating for the series since 1995, when Cigar captured the BC Classic.
The full showing of American Pharoah completing the sport's first Grand Slam in the BC Classic, from 5:07 p.m. to 6:13 p.m., averaged 3.9 million viewers, pushing ratings up 50 percent from last year and making it the highest-rated Breeders' Cup telecast since 2010.
"NBC Sports Group enjoyed a tremendous year of horse racing, highlighted, of course, by American Pharoah's historic Grand Slam," said Jon Miller, President of Programming for NBC Sports. "We just had our highest Breeders' Cup rating in two decades and viewership for our Breeders' Cup Challenge Series over the summer was up 136 percent."
Aside from television views, NBC Sports Digital saw a surge in its other media platforms. A video clip of the Belmont Stakes was viewed 2.5 million times within the first two days after the race, and viewers streamed more than 275,000 live minutes of the Breeders' Cup telecast on NBC Sports Live Extra, which tripled last year's minutes for the Breeders' Cup (88,000).
"We put extensive social media operations in place for our biggest events like the Olympics, the Super Bowl, and Sunday Night Football, so it's important for all of our properties. However, with events that aren't as large as those, there is a thought that you can have even more impact (through digital and social media)," said Lyndsay Signor, Director of Social Marketing for NBC Sports Group.
Why BC Classic TV viewership actually grew after the race
"At the Kentucky Derby, which is one of our biggest social media events of the year, this past May we introduced our 'Peacock Paddock' with a 360-degree Vine Booth and a 55-inch touch screen to highlight social media trends. As we got closer to post time, we increased the focus on the horses, jockeys and connections. And obviously, as American Pharoah progressed, we continued to educate and engage with the horse racing community and the broad sports fan across multiple social platforms about his historic run utilizing video, photos, countdown images, tune-in, and other engagement tactics."
Perhaps the most telling aspect of the role social media plays in fan awareness can be found in ratings that showed that the viewership for the Breeders' Cup Classic actually grew by nearly two million after the race.
"Why did the number jump? Because everyone tweeted about it," said Peter Rotondo Jr., Vice President of Media and Entertainment for Breeders' Cup Ltd. "After the race, people heard what happened and they turned on the TV to see it and watch replays. That never would have happened 10 years ago. Now, even if you miss the moment, you can go to it and see it. It was an amazing performance. American Pharoah started trending, so people wanted to see it and turned on the channel.
"If that's not the power of social media, I don't know what is."
While extending into a time period for local news played a role in the larger audience, it's hardly unusual that a great play, like the New York Giants' Odell Beckham Jr.'s one-handed catch against the Dallas Cowboys last year, or a thrilling comeback will generate larger television audiences once it trends on Twitter.
"If the experience is unusual enough, you can create an audience after the fact by having it go out on social media," Trager said.
The Breeders' Cup team's ambitious social media campaign
Once American Pharoah targeted the BC Classic and a historic first Grand Slam bid, Breeders' Cup Ltd. decided to, in Rotondo's words, "go all in" on a multi-faceted social media campaign. It brought together its present and past social media directors – Ashley Cline, Shona Rosenblum and Molly McGill – to map out the series' most ambitious new media push.
"There was non-stop content coming out on Twitter, Instagram, Periscope, you name it," Rotondo said. "It's not just a one-person job anymore. Those days are over. If you're going to do a big event and do it right, you need a team. This was the first time we went all in in terms of social media and we couldn't be happier with the results.
"We did the bulk of our work on Twitter, because that reaches the most people. But we also used Instagram, because that's what all the kids are using now, and Periscope feeds make people want to see the real thing. You still have to be strategic, though. If you didn't know better, you'd put everything you do on Twitter on Facebook, too, but that's not a good idea."
While the 2014 Breeders' Cup Classic had significant star power in California Chrome and Shared Belief, American Pharoah's huge fan base led to gigantic gains on the Breeders' Cup's social media platforms. Facebook impressions were up 148 percent from a year ago, with one post having a reach of 1.8 million. Twitter impressions jumped 150 percent.
On Instagram, likes surged to 44,408, an increase of 420 percent from a year ago. Among the newer media, the Breeders' Cup's Periscope audience grew to 2,600 and on Snapchat there were 14,400 views.
In addition, after creating just two videos for social media that had 4,190 views in 2014, 23 were filmed this year with 516,794 views, an increase of 12,233 percent.
Now casual fans know the Classic is racing's 'fourth major'
"Everything has changed," Rotondo said. "Having people sitting at home watching on NBC isn't just enough anymore. You have to engage people before, during, after the races. Everyone is craving the content and you have to deliver it or you will not be able to keep up with other sports. American Pharoah was the catalyst, but with the event being in Lexington at Keeneland, and with everything going on around it, it heightened the awareness big time. Because of Pharaoh running, it elevated the Classic and it showed the casual fan that there is an end-of-season Classic and that the BC Classic is the sport's fourth major.
"He helped us bring the World Championships to a new audience and cemented in the public's mind what the Breeders' Cup is all about and helped us become part of the same conversation as the Triple Crown."
The icing on the cake in turning American Pharoah into such a widely embraced star came from the horse's connections. In Hall of Fame trainer Bob Baffert and jockey Victor Espinoza, the horse had highly personable and sharp-witted spokespeople.
And, in the Zayats, the horse and the sport as well had people who relished their ability to interact with their colt's legion of fans through Twitter.
"The Zayats had an incredibly big role in expanding the social media interest around American Pharoah," said Penelope Miller, Senior Manager of Digital Media for the Jockey Club-funded America's Best Racing. "You had the opportunity, which is rare in other sports, to actually talk 1-on-1 with the people involved in the horse. The Zayats were incredibly responsive on Twitter. They were eager and willing to talk to any fan and that helped build an intimacy about the horse. It helped fans personify with him and make it a friendlier atmosphere around the horse, one that people could embrace."
In having the Zayats at the helm of American Pharoah, racing hit a home run.
Racing has traditionally been slow to embrace the newest media advances. Trager, in discussing the differences between the 1970s and now, said the sport's inability to embrace television helped put it in a tailspin.
Racing failed to embrace TV - and things got tough
"The Triple Crown was a big deal in the 1970s and racing was in pretty good shape back then, although it was starting to lose its clout because there was less and less television coverage," Trager said. "The attitude by a lot of tracks was that if we televise races, people won't come to the track. But it worked out the opposite way. They didn't televise races and people didn't come to the track outside of the Triple Crown races. It was tough for racing to get any traction after that because they would not embrace television and networks found they didn't need racing."
Even now, the majority of racetracks do not have a HD (High Definition) signal, and while most tracks make heavy use of social media, some of the sport's leading personalities shun it. For example, trainer Todd Pletcher, the sport's all-time leader in earnings, does not have a Twitter account.
On the other hand, the Zayats, both father and son, were a constant presence on Twitter and developed a huge following, by the sport's standards. Ahmed currently has 137,000 followers and Justin has 49,100. Together the total number of their followers (186,100) eclipses the combined total of 161,000 for the Breeders' Cup (53.8K), America's Best Racing (27.3K), Churchill Downs (44.9K), the New York Racing Association (28.6K) and Pimlico (6.4K).
"My dad and I enjoy making use of social media and I think it helped American Pharoah's visibility," Justin Zayat said. "Every day we were flooded with tweets and messages. People would tag us on so many tweets and photos it was hard to see all of them. I enjoyed talking with people and getting both the love and hate mail. I don't mind constructive criticism and thankfully there hasn't been much of the negative stuff. There's usually someone trying to knock you down and I expected some negative feedback after the Classic because Beholder scratched, but I guess after what he did in the Breeders' Cup there was nothing bad to say about the horse. There were no doubters after that.
"I thought everything that happened since the Kentucky Derby was a great asset to the sport and in the long run what happened this year with American Pharoah will only help the sport."
In a twist on the way social media is viewed in most households, Justin said it was his now 53-year-old father who convinced him to become active on Twitter a few years ago.
Star power and Twitter - the benefit for racing
"He was overseas on business around the time Bodemeister was running in the (2012) Kentucky Derby and someone showed him Twitter," Justin said. "He loved it. He came back and told me, 'Justin, you have to open one of these accounts.' I said, 'Dad, I don't want to waste my time with this Twitter crap. I don't want to do it.' He said, 'Trust me.'
"I resisted for a month, then he showed me how many people in racing were using it. He virtually forced me to open an account, but I haven't looked back since then. He started way ahead of other people and knew this is what people are going to rely on in a few years.
"Now we send tweets every day," he said, adding that they learned about the power of Twitter and had their first big surge in followers late in 2012 when they tweeted updates on recovery of one of their horses – Paynter - from colic. "We follow the game through it and immerse ourselves in all the drama because we want to get as much information as possible. It's a tool, like the Ragozin speed figures, and they all help us in different ways."
Star power also factored into publicity for the Breeders' Cup and the sport through the work of the series' celebrity ambassadors, such as model Kate Upton, who presented the winner's trophy after the BC Classic. Each time she tweeted a mention of the Breeders' Cup or a photograph of her next to American Pharoah, it went out to her 2,180,000 followers.
Tweets from her boyfriend, Detroit Tigers pitcher Justin Verlander, reached another 649,000 followers, and tweets about the Breeders' Cup from popular actress Elizabeth Banks, another BC ambassador, were seen by 2 million of her followers.
Racing's chance to keep rising
As a result, all the social media chatter helped to create a mass of awareness that caught Penelope Miller by surprise when she searched the hashtag #AmericanPharoah on the day of the Breeders' Cup Classic, which just so happened to be Halloween.
"I was expecting to see a lot of photos from racing outlets or enthusiasts, but I also saw how many people incorporated the Zayat silks or Bob Baffert look-alikes into their Halloween costumes and tweeted it. They were people who were far outside horse racing and they were jumping on the American Pharoah bandwagon, not so much as a racehorse but as a moment in pop culture.
"To have that kind of reach, to influence people enough to incorporate a racehorse into their Halloween costumes and have people recognize it, that's pretty cool. I saw people from places like England and Idaho doing it, and that's something I never saw before."
When will racing see it again? It took 37 years for American Pharoah to come around, so who knows what the world will look like when it happens again. Yet the lessons about social media and its impact on racing taught during the last six months figure to resonate for years to come.
"It's an exciting time for people involved in public relations within horse racing. Now we have a framework where we can teach people about the Road to the Triple Crown or the Triple Crown itself or the Breeders' Cup because they experienced it with American Pharoah," Penelope Miller said. "Horse racing now has a chance to keep rising through social media. Things are different now."
Indeed they are. The digital era, and a new type of sports hero, is now at hand, even in horse racing.