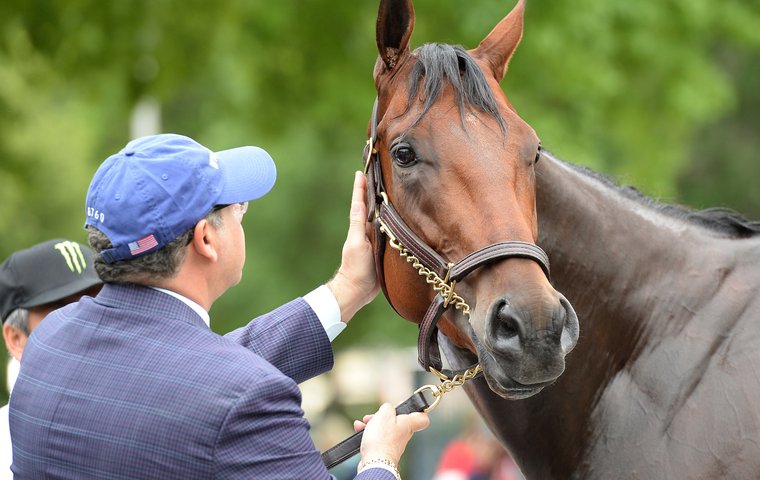 There's no doubt that Zayat Stables has been one of America's most successful racing outfits since the dawn of the 21st Century.

Two words say all you need to know.
American Pharoah.
By simply owning the first Triple Crown winner in 37 years and the very first Grand Slam champion, Ahmed Zayat has carved out a legacy in the sport that will stand the test of time. Yet Zayat's imprint on Thoroughbred racing's present and future extends far beyond one horse and a completely magical year.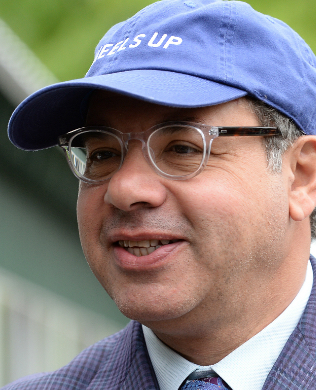 Since entering the sport in 2005, Zayat (pictured right) has campaigned 13 Grade 1 winners who have collectively accounted for 24 wins in G1 stakes. Besides American Pharoah's historic sweep in 2015, on three other occasions his horses finished second in the Kentucky Derby. Two different horses were second in the 2012 Preakness and Belmont Stakes.
Since sending out his first runner more than a decade ago, he has 4,006 starters through Aug. 15 with 722 victories, 65 of them in Graded stakes, and total earnings of $52,572,777 – not including horses he owned in partnerships.
Fabulous numbers
"He's a man of action," said Bob Baffert, who trained American Pharoah and most of Zayat's other stars, including Bodemeister and Pioneerof the Nile. "He has a good system and a good team. He sticks with it and he lets the trainer train. People who don't know him, his energy can turn people off. He can be hyper and he runs on high octane, but we get along great. He can fire me tomorrow and I wouldn't get mad. At the end of the day he's a good guy. I love his family. He has such great kids."
But even those fabulous numbers do not tell the entire story of what Zayat Stables has evolved into in recent years.
All of that success on the racetrack has spawned a breeding arm that has the potential to make Zayat Stables a multi-generational power in the sport. Perhaps even a Calumet or Phipps Stable for millennials.
The Eclipse Award-winning owner and breeder of 2015, Zayat has produced 24 stallions, an amazing number for a stable that sent its first horse to stud just 10 years ago.
Honor roll
"Owning a horse that has the credentials to make it onto a stallion roster is a very difficult thing to do and, for the period of time that the Zayats have been in the business, their success has been incredible," said Dermot Ryan, manager of Coolmore America in Kentucky, which secured the majority share of American Pharoah's breeding rights.
Aside from volume, there's been quality. In recent years, Zayat's stallions have generated startling results.
It starts, of course, with American Pharoah, who was a homebred son of another Zayat homebred, 2009 Kentucky Derby runner-up Pioneerof the Nile.
Owning and retaining breeding interest in both a Triple Crown winner and the sire of a Triple Crown winner would seem to be enough of an accomplishment for one stable, but the honor roll does not stop there.
The first foals of Zayat's Bodemeister, who was second in the 2012 Kentucky Derby and Preakness, are now three and heading the list of his offspring is Kentucky Derby and Florida Derby winner Always Dreaming. Bodemeister also sired American Anthem, a decisive winner of the Grade 2 Woody Stephens in June. Bodemeister is already ranked 139 in the TRC world sires' standings in only his season with runners.
Rose-coloured outlook
Eskendereya, who was owned by Zayat and was a favorite for the Kentucky Derby until he suffered a career-ending injury after winning the G1 Wood Memorial, is the sire of Metropolitan Handicap winner and four-time graded stakes winner Mor Spirit.
Among Zayat's first-year stallions are Justin Phillip, who has broken from the gate quickly as a sire. Standing at Castleton Lyons in Lexington, Kentucky, Justin Phillip already has a stakes winner and two other stakes-placed runners to his credit.
There's also the courageous Paynter, who overcame the usually deadly disease laminitis to resume his racing career.
With two dozen stallions to Zayat's credit in just 12 years, and with him retaining at least a 25 percent stake in all of them, as well as having his 25-year-old son, Justin (the namesake of Justin Phillip), as a racing manager and trusted adviser, and an 18-year-old son, Benjamin, waiting in the wings to join the operation, there's nothing but a rose-colored outlook for the future.
"I hope we'll be a part of the landscape for a long time," Ahmed Zayat said. "Pioneerof the Nile is a homebred. American Pharoah is a homebred. It speaks volumes about the quality of our program. [WinStar Farm President and CEO of Racing Operations] Elliott Walden gave me the ultimate compliment when he told me, 'Mr. Zayat, we think of you as the stallion-making stable.' That's very humbling."
Clear vision
A key element in Zayat's success as a breeder and owner stems from a commitment to find athletic horses with the proper bloodlines to become stallions.
"When we go to the sales, we buy a specific type of horse. You have to have a good pedigree. You have to have the body and the right physical look. You have to have the classic potential because you have to be able to do it on the racetrack," Justin Zayat said. "Some horses at the sales who look great but do not fit our criteria, they are not for us. It's a business for us. We're not just about winning maiden races on a Saturday. We're about winning the Grade 1 stakes and creating stallions. That's why we try to buy fillies with residual value. It helps us boost our breeding program."
Walden, who currently stands three of Zayat's former runners at WinStar Farm in Versailles, Kentucky (Pioneerof the Nile, Bodemeister and Paynter), says the patriarch of the stable has a clear of vision of how to build a successful, multi-faceted operation.
Full circle
"He's had a phenomenal run as an owner, cultivating not only racehorses but stallion prospects," Walden said. "Mr. Zayat is a visionary and a big thinker. He has an understanding of what works in this business. He doesn't stray from his plan and his plan has been to develop racehorses that are also stallion prospects."
And, with so many of his horses thriving at stud, Zayat's involvement in racing has come full circle.
"It's an incredible feeling," the 54-year-old Egyptian-born businessman said. "You have these horses you are close to and you raced them, then they turn into stallions. It's part of the entire space. It's part of the life cycle watching them grow. We are involved in every aspect now. They are special moments that are so much fun.
"You see the characteristics in them and what they can do or what they like, such as carrots or sugar or mints. You see idiosyncrasies. You see them get more muscled up. You watch them run so majestically and cheer for them. It it's like seeing your children grow up. I enjoy every bit of it.
"All of it brings back so many great memories of when they were on the racetrack and what they were like."
Not surprisingly, so many of those memories involve American Pharoah.
Zayat's homebred champion is now in his second season at Coolmore America's Ashford Stud and is currently being shuttled to Australia to serve as a dual hemisphere stallion.
Outstanding offspring
"We're obviously delighted to be associated with the Zayats through American Pharoah and we are excited for what the future holds. We are looking forward to supporting American Pharoah in the sales ring and on the track and to have a successful operation like the Zayats doing the same is a huge bonus," Ryan said.
Being a Triple Crown winner offers no guarantee of supreme success at stud, as evidenced by Affirmed. But with American Pharoah's large first crop of sons and daughters now yearlings, Zayat is thrilled with the look of the offspring and the interest prominent breeders have expressed in the sport's 12th Triple Crown champion.
"We've seen the babies and we are beaming about the early results," he said. "I have ten babies of his and I've seen the ones Coolmore has. I'm told John Magnier bred 40 of his best mares from Ireland to him. When I see the offspring, they are outstanding. They look beautiful. They are balanced, athletic and have good conformation. We can't wait until they run.
"The belief people have in him by paying $200,000 for a season [in 2016] or shuttling him to Australia and hearing that Frank Stronach bred nine mares to him, that shows a lot of confidence. American Pharoah was bred to 208 mares in his first season, and right now 192 mares are in foal for the second season. Those are excellent numbers. All of us are so hopeful and dream that something great can happen."
Pharoah's personality
Life at stud usually changes a horse, but Zayat says American Pharoah's disposition remains as sweet as it was when he acted more like a pet than a high-strung Thoroughbred around Baffert's barn.
"To see American Pharoah become a stallion has been amazing," Zayat said. "Most horses when they go to the breeding shed, they become aggressive. But he's a stud and he's as loving, attentive and sweet as ever. He hasn't changed a bit. He's very kind and gentle to the mares. He's almost a romantic guy. It's amazing to see his persona and how sweet he is. You don't see that in the breeding shed. He's a different kind of personality. He's one of a kind, literally, in everything."
Depending on American Pharoah's success at stud, it could add even more glitter to what some call 'The Z Line'.
"We're creating our own line," Justin Zayat said. "We had Pioneerof the Nile and then his son American Pharoah and hopefully one day we'll have success with one of American Pharoah's sons to continue the line. I'm 25 and it's amazing to see what we've done and think about what the long-term future can be for us."
Auspicious start
Zayat's homebred Pioneerof the Nile, American Pharoah's sire, is a son of Juddmonte's renowned stallion and Belmont Stakes winner Empire Maker, and with each of the three having won or placed in at least one Triple Crown race, success has already been handed down from grandfather to father to son. Time will tell if that baton of greatness is passed down to the next generation of runners, but the potential is surely there.
"Empire Maker was bred and raced by the great Juddmonte, which in my opinion is the No. 1 breeder in the world, bar none. It's a great legacy to be a part of," Ahmed Zayat said.
Adding to the strength of the Empire Maker-Pioneerof the Nile line, last year's 2-year-old champion and 2017 Preakness runner-up Classic Empire is a son of Pioneerof the Nile (currently world-ranked 26 in the stallion standings). Classic Empire is already booked to stand at Coolmore America at the end of his racing career.
The auspicious start in the breeding shed by Bodemeister, a Grade 1-winning son of Empire Maker, only heightens the Zayats' optimism.
"It was a beyond a thrill to have Bodemeister sire a Kentucky Derby winner in his first crop," Ahmed Zayat said.
Bred to a combined 700 mares in his first four books, Bodemeister was a top five first-crop sire in 2016 and two of his 2-year-olds sold for $750,000 and $525,000 earlier this year.
Heartache and joy
"It's an amazing start. We expected Bodemeister to be one of the best stallions of his generation and it looks like that's coming to fruition," Walden said.
If Paynter develops into a productive stallion, it promises to be a highly emotional experience for the Zayats after they lived through so much heartache and then joy in 2012-13 during the son of Awesome Again's successful battle against laminitis.
"I am a total believer in Paynter," said Ahmed Zayat, who recently ended a year-long period of mourning for his late father that kept him away from the racetrack. "He has the heart and tenacity and character and the perseverance. If he passes any of those genes to his offspring, he'll do fine. His bottom line is strong. His dam is a full sister to [two-time Breeders' Cup Classic winner] Tiznow. If he doesn't make it, I don't know who will."
With an array of horses that now totals about 195, the Zayats have also been active sellers, and one of the best example of the interest in their keen eye for a potential star came in March at the Ocala Breeders' Sale when they pin-hooked a Congrats filly for $1.7 million. Named Diamondsandpearls by her new owners, Phoenix Thoroughbreds III, and turned over to Baffert, the juvenile filly won her debut by 6¼ lengths on July 2 at Santa Anita and then finished fourth in the G2 Sorrento Stakes at Del Mar after a bobbling start.
Conscious of values
Zayat originally purchased the filly for $250,000 as a yearling and, while some might feel a sense of regret at losing a promising filly, he knows selling quality runners will prove beneficial in the long run for his operation.
"I like it when a horse I sold does well because it's all part of the business. It doesn't matter how many millions you have, you have to be conscious of values and you can't be scared of taking money off the table and selling some horses," he said. "I put American Pharoah in a sale. Bodemeister, Pioneerof the Nile and Paynter were in a sale. Did anyone pick them up? No. So what can I tell you? People say why was Zayat selling them? Now they know. So when I put [Diamondsandpearls] in a sale, they didn't ask any questions. They just bid to $1.7 million."
Ironically, Zayat Stables has not won a Graded stakes since American Pharoah cruised to victory in the 2015 Breeders' Cup Classic to close out his illustrious career (hence their current position of 134 in the TRC global owners' rankings). Yet, with roughly 50 2-year-olds either at the farm or with various trainers, that might change rather soon.
The best hope for that elusive black-type win could be Mojovation, the Zayats' 2-year-old son of Quality Road who registered a two-length victory in his career debut for trainer Todd Pletcher on July 29 at Saratoga. Bred by WinStar and purchased by Zayat Stables for $330,000 at the 2016 Keeneland September yearling sale, Mojovation is targeting the G1 Hopeful Stakes at the Spa on Sept. 4.
At this point, there's no telling how good of runner Mojovation can become. But when you take into consideration his owners, it wouldn't be much of surprise if there's a day in the future when he becomes a stallion.