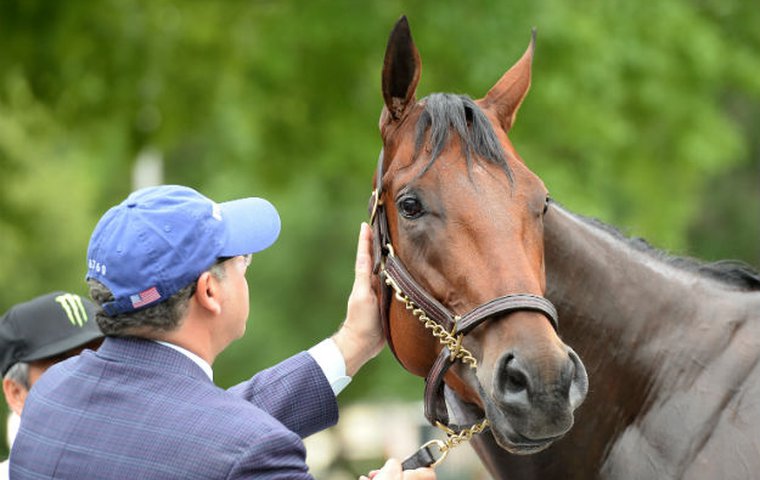 Only about a year ago, conjecture that Ahmed Zayat could own a Triple Crown winner seemed like a cruel joke

In the last six years, his Zayat Stables has experienced tremendous success on one hand, yet enough heartbreak to cover a few lifetimes on the other.
On three occasions – with Pioneerof the Nile in 2009, Nehro in 2011 and Bodemeister in 2012 – he felt the sting of his horses finishing second in the Kentucky Derby.
He suffered another tough beat when Paynter deputized for Bodemeister on the Triple Crown circuit and finished second by a neck to Union Rags in the 2012 Belmont Stakes, giving Zayat runner-up finishes in each leg of that year's Triple Crown
Later that year, shortly after Paynter won the Haskell Invitational at Monmouth Park in Zayat's home state of New Jersey, the 3-year-old colt came down with colic and laminitis and nearly passed away.
In 2013, Nehro died of colic.
Prior to that, Zayat's spirit was tested on the 2010 Triple Crown trail when his Wood Memorial winner Eskendereya never made it to the starting gate for the Run for the Roses due to a career-ending injury.
Then last year, Zayat had the prohibitive favorite to win the Breeders' Cup Juvenile, but the exceptionally talented homebred colt - named American Pharoah - came down with a hoof injury less than a week before the $2 million race and would not run again until the following March.
Through it all, Zayat's commitment to racing and his love of the sport never wavered, and four months ago, on the now historic afternoon of June 6, all of those years of disappointment were washed away by the majestic glow of a moment some 37 years in the making. What had been perceived as impossible in this era magically turned into reality when Zayat Stables' American Pharoah became the first horse since 1978 to sweep the Triple Crown.
From the second American Pharoah crossed the finish line in the Belmont Stakes, the Thoroughbred racing industry has been awash in the kind of euphoria only special horses such as Secretariat, Seattle Slew and Affirmed can generate. American Pharoah's slightest movement has been headline news and, at the epicenter of this mania, the sport has a charismatic owner in Zayat, who could be described with a thousand different terms, among them outspoken, controversial, emotional and transparent. He likes to communicate with fans through Twitter, to boot.
For Zayat, racing has been a family endeavor, involving his wife, Joanne, and four children, the oldest of whom, Justin, serves as racing manager for Zayat Stables. Yet, as he stood in the winner's circle at Belmont Park with the Triple Crown trophy in his hands, Ahmed Zayat dedicated the victory to his new extended family: a growing nation of fans for a rock star of a horse who, in Zayat's words, "breathes different air."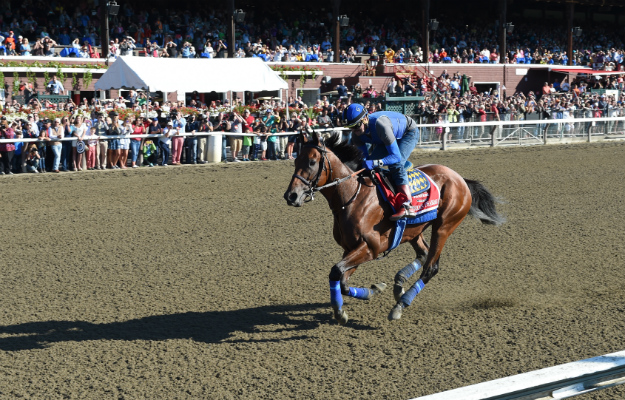 "This is for the fans. This is for everyone who loves horses," Zayat said during the wild winner's circle celebration. "This is for you … This is for the sport. After 37 years, it needs a star. This is an honor, privilege, (I'm) humbled, excited … This is all for you!"
Zayat, trainer Bob Baffert and jockey Victor Espinoza earned what will be everlasting fame in a centuries-old sport through the Belmont Stakes, but they didn't stop there.
A day after the Belmont, Zayat announced that, in the best interest of the racing industry and its fans, he would continue to race his homebred Triple Crown winner through the Breeders' Cup Classic, touching off a summer and fall filled with the kind of electricity and mainstream attention racing has not experienced for decades.
"It's a huge honor and privilege, and we owe it to the sport to do the right thing," said the 53-year-old businessman, who made his fortune by selling a beverage company in his native Egypt for a reported $280 million.
"Money plays an important factor in this game. I have already sold his breeding rights [to Coolmore's Ashford Stud in a deal that started at $20 million with kickers along the way], but it is my genuine desire as a fan, as someone who loves horses, to race him for as long as I possibly could. We have said that we are committed to racing him at least until he finishes his 3-year-old season.
"I want the fans to enjoy something ... We're not thinking here at all about value or money or anything like that. When the horse is ready, we're not going to be scared of running and losing or not losing and what it will do to his value. What it's about now is the fans and that he belongs to history. Myself and my family take this responsibility extremely seriously and I hope we will be worthy. We owe it to the sport to campaign him properly and as often as we possibly can."
True to his word, Zayat has raced American Pharoah twice since the Belmont Stakes, each time amidst overwhelming fanfare.
A record crowd of 60,983 turned out at Monmouth to watch the son of Zayat's Derby runner-up, Pioneerof the Nile, win the William Hill Haskell Invitational by 2 ¼ lengths.
Zayat then embraced the challenge of the Midsummer Derby and brought American Pharoah to Saratoga for the Travers, where on an unforgettable morning before the race more than 15,000 fans turned out just to watch the champion gallop around the racetrack. Television ratings for the Travers rose 102 percent from 2014 and reached their highest level since 2004 thanks to his presence in the field.
The joy was muted when a sold-out crowd of 50,000 watched in stunned disbelief when American Pharoah finished second to Keen Ice in the Travers, and Zayat immediately mulled retiring the horse after the unexpected setback. But, within a few weeks, the bounce returned in American Pharoah's step and Zayat reaffirmed his desire to run his champion in the Breeders' Cup in an attempt to become the first horse to complete a "Grand Slam" of the Triple Crown and the $5 million BC Classic.
That Zayat would not shy away from the challenge of facing an international field of the sport's best horses came as no surprise to Baffert.
"You know, as we all know, everybody in the industry (knows), he's a little bit hyper; he gets excited easily," Baffert said. "He's such a competitor and he just loves the game, he loves the sport, and he has a great passion. So, when you have somebody that has a lot of passion, it really makes my job a lot easier. He wants to play at the very top level."
With the Breeders' Cup Classic and the final start in the career of racing's 12th Triple Crown champion just five days away at Keeneland Race Course, Ahmed Zayat took time out earlier this month to reflect on his experiences with American Pharoah and other topics in an interview with TRC writer Bob Ehalt.
For more than three decades, horsemen have dreamed about what it would be like to own a Triple Crown winner. Has the experience been everything you expected?
"First of all, I had never before even dared, and I would underline the word dared, to dream about having a Triple Crown winner that I not only owned but bred. It's been nothing short of a life-changing event.
"This horse has changed everybody around him. His groom, his owners, his fans, the sport. The effect of American Pharoah will be studied for years and years to come in regards to what he's done. In my opinion, in the bigger picture, he's brought back hope that a Triple Crown was possible after we wondered if it would ever happen in our lifetime.
"He also brought back hope that a Triple Crown winner could be bred by a family that only entered the business in 2006. It can be arguably said that we now have a Zayat line with horses like Pioneerof the Nile and Bodemeister that now extends to American Pharoah.
"I always admired Juddmonte as the role model of a breeding program. They are the gold standard. For us to come even close to that with only 20-25 broodmares, we earned that the hard way. That's the impact on the industry and sport.
"For the fans, he's America's horse. They can relate to him and what makes it special is the character or persona of this horse. American Pharoah is kind, a sweetheart, lovable, easy-going, easy to train, brilliant, fast, the best mover of any horse you'll ever see. He defines a Thoroughbred: speed, brilliance, a majestic-moving horse."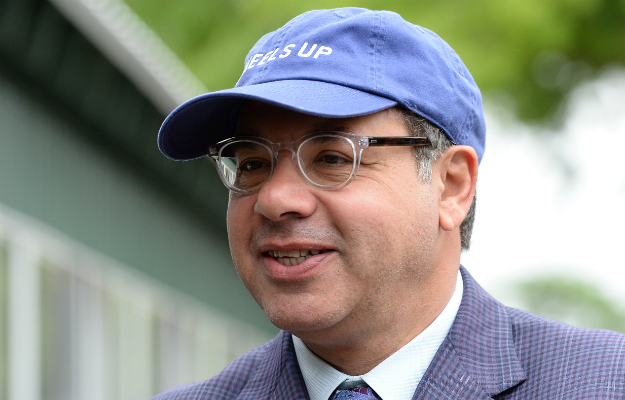 How different were your emotions after winning the Kentucky Derby and Belmont Stakes?
"It's funny, that's a brilliant question. I came close to the Promised Land three times in a row. I was second three times in a five-year span, so I thought, 'I'm never going to get it done. I'm never going to win the Kentucky Derby.'
"So winning the Derby was very elusive because I had my horse winning the Derby in the stretch and lo and behold somebody came from nowhere to beat me. The emotional high and low, going from the exuberance of thinking you're going to win the Derby to the letdown of finishing second, was an incredible shift in emotions.
"Winning the Triple Crown, I knew it hadn't been done in so long, so the pressure was less. In the Derby, to be honest, I wanted to win it for us, the Zayat family, the Baffert family. For the Belmont Stakes, I wanted to do it for the sport and for American Pharoah to define his legacy.
"The horse was doing everything right and our level of confidence at the Belmont Stakes came from the horse. We were highly confident he would get it done. In fact, I looked at my wife, Joanne, during the post parade and after looking at American Pharoah's demeanor, seeing how ready he looked, how he was breathing fire, I'm a superstitious guy and I normally don't say anything before a race, but this time I said to her, 'Are you ready to be the owner and breeder of the Triple Crown winner?' I was that confident.
"Compared to the Derby, it was so much different. I was so nervous at the Derby. My wife was so worried he was going to get beat at the wire again. My son, Justin, was so excited, he didn't know how to react when we won. There were pictures of him throwing up, and he wasn't drinking, it was just emotion. It was insane. In the Belmont, all I could hear was the roar of 90,000 people. I will never forget what I saw there. The ovation for American Pharoah, people hugging each other, the floor was rocking. It took me 15 minutes to get from my box to the winner's circle because so many people were reaching out to touch me."
How would you describe the challenge awaiting American Pharoah in the Breeders' Cup Classic and are you confident that he'll turn in a peak performance?
"He's moving in the right direction, but every day seems like an eternity until the race. As of today, he's doing extremely well and he's ready. His legacy is defined, this is, quote-end quote, 'the grand finale' and we'd like to see him go out on a high note but there's a lot of things involved in that. I'm pretty excited about the race."
What concerns you more, American Pharoah coming back from a nine-week break or the level of competition he'll face?
"Neither. There is not an ounce of fat on this horse. This horse has never had a layoff. He's never stopped training. I don't think there's another horse in the world who could have gone through what he did: come back from an injury, travel 70,000 miles to different tracks, and stay in top form. But he did.
"His trainer [Baffert] knows how to get a horse ready for a race. He's won with horses that haven't raced for two years. He has a tough regimen and horses have to be super good to handle it. Bob trains his horses hard and he doesn't train scared. I'm outspoken and say what I feel and I know Bob will have the horse cranked up and ready to go. He will not lead him to Keeneland unless he's 100 percent sure American Pharoah will turn in his best effort.
"As for the competition, it's exciting because this is the deepest Breeders' Cup Classic I can ever remember. It's a race for the ages. It should be fun for the fans to watch and I'm very excited. Am I worried? I'm always worried about the competition. Here he's stepping up, facing older horses and a two-time champion like Beholder, who I adore and admire. She's an unbelievable mare. The competition is very tough, but we have a special horse; a tough horse. I'm always confident in American Pharoah."
As exciting as the prospect of running in the Breeders' Cup Classic may be, how do you balance the understanding that it will be his final race?
"American Pharoah does not owe me or my family anything. We owe him everything. He has given us tremendous pride and made us so proud and elated. We've cherished every minute with him. He's an unbelievable, once-in-a-lifetime horse. The best part is that I'm not only so happy to see his final race, hopefully with a peak performance, but the beauty of it is that he will leave racing sound, happy and healthy and can go and enjoy life at stud and hopefully father a lot of little Pharoahs. I can't wait to see his progeny. It will be a different chapter in his life and I hope he will leave his mark and legacy on the breeding shed as he has on the racetrack."
Why was Bob Baffert the right choice to train American Pharoah?
"Bob Baffert is the right choice to train any horse. He's a brilliant, charismatic, detail-oriented trainer. He cares. As a horseman, he understands the industry, he's the best spokesman for our industry, he's a dear friend and a man who won me 18 Grade 1 stakes and brought me and my family so much joy. He's a person I thoroughly enjoy and call a friend."
Do any have any regrets about racing the Travers?
"Absolutely not. Regrets, why? I was never bothered by getting beat. Of course, horses get beat. This one will haunt me and it haunts Bob for another reason aside from the race. For two weeks after the race, we beat ourselves up day in and day out, day and night, for the horse, not for us.
"The Friday before the Travers was the most beautiful Friday in Thoroughbred racing history that anyone could imagine. There were 15-20,000 people coming in, just to watch a horse exercise. But it was too much for him, in terms of what it took out of him. He ran his race the day before the race, it was as simple as that. That's what the trainer is telling me. That's what everyone is telling me. Look at the splits he did. He ran a race the day before a race. How he ran in the Travers is nothing but incredible. It was all heart. He was spent, empty. He had never washed out or sweated in the gate before.
"For a mile and a quarter on a deep track he was pushed by one overzealous jockey (Jose Lezcano on Frosted). I don't want to sound like a sore loser, but American Pharoah put the other horse away and then that horse, Frosted, who's a great horse, came back and won the Pennsylvania Derby. Then (Keen Ice), who American Pharoah had beaten three times before, with a brilliant jockey (Javier Castellano) who knows the track and leads in all categories in the country, took advantage of that and caught us at the wire (in the Travers). It's as simple as that.
"That being said, he never would have been beaten if he hadn't run his race the day before. That's why I was so despondent after the race. I had thought he lost a step. My first inclination was to protect the horse. He's like a son to me. You want to make sure he's OK. It's like when a child is in a car accident and is at the hospital. You don't worry about what's next. You worry about if they are OK and that was my immediate reaction and I spoke about retiring him. But then Bob and everyone else convinced me he was fine.
"Why there's no regret is that no one could have predicted what would happen on Friday with all those people and the track announcer calling his name. He thought it was a race and started running in 13 and 14s and he worked only a few days before. It was insanity. Everyone got overzealous about it and I'm not throwing anyone under the bus here.
"Bob will be the first to tell you what happened. I'm the last one to give excuses. It's not my style in my management or my life. I don't look for excuses but, in spite of all that, just look at how close he came to winning. So when you make the right decision, how can you have regrets? I promised the fans he would run at Saratoga if he had an easy race and won at Monmouth. The people at Saratoga wanted it and they deserved it. It wasn't about money. I could have made more money running in the Pennsylvania Derby."
What was your feeling about the way people at Saratoga embraced American Pharoah for the gallop and race?
"I walked into the track and it seemed like all of Saratoga was there that Friday morning. Then for the race there were 50,000 people inside the track, more outside and everyone in town who couldn't get in was watching on television. It was a moving experience. Even after he lost, there was a standing ovation and people were thanking me for running and hugging me. Never in my life had I experienced anything like that."
Aside from his performance in an individual race, is there a particular moment with American Pharoah that stands out in your mind?
"Every moment stands out. I know it sounds corny but every day with him is a special day. My wife and I actually have an app on my phone and we installed cameras in his stall so that myself, the kids, Bob and Jill Baffert and their kids can watch him all time. I can see him right now in his stall as I'm talking. We are bottling every second of this. I don't want to be away from him."
What's more likely to happen? We'll see another Triple Crown winner within 2-3 years or we will have to wait another 37 years for one?
"I hope it happens soon, because that's what this horse gave the industry, hope. He's an incredibly special horse, and with the nature of progression, with my son being better than me, me being better than my father, I hope we can continue to breed great horses and have another athlete like American Pharoah. It won't take away from his legacy."
Aside from American Pharoah, at stud next year you will have his sire, Pioneerof the Nile, and a few other promising young sires, such as Bodemeister. Is it fair to say you will be more active on the breeding end of the business in future years?
"Of course. We'll have 14 stallions. It has been an incredible, sustained run for someone who entered the business not long ago. It has been an unbelievable blessing."
After all you've been through this, do you still get excited watching one of your horses in a maiden or allowance race?
"We won two races the other day and we were jumping up and down. It will never get old."
What do you envision next year will be like for you?
"That's something I'm not ready to talk about."
If there's something you could change in racing, what would it be?
"There's plenty. I have chosen not be a part of any boards, and I could be on plenty, because I want to be independent and speak my mind. I want to be the voice of Ahmed Zayat. Racing must and should have a commissioner, a czar. The industry needs to be better organized. The rules about medication need to be standardized in all states. There has to be a level playing field.
"The horseplayers are the backbone of the industry and we're not doing enough to attract new fans and we need to do more to uplift the image of the sport in terms of gambling, medications, cheating. And this is not a problem facing only racing. Other sports have the same problems, but they are doing a better job of handling them than we are."
How do you look back on some of your difficult or disappointing moments, such as the runner-up finishes in the Kentucky Derby, Paynter's illness, American Pharoah's missing the Breeders' Cup? How did you maintain a positive outlook and did they make this year even more special?
"You try to make the best of everything. When you get knocked down, you stand up and take it like a man or a woman should. You move forward and then bottle these special moments of success. These are athletes and injuries are a part of it. It's not a question of if it will happen but when. It's natural, even for humans, to suffer an injury in training. You have peaks and valleys and the highs are very high and lows are very low and you have to adapt to it and be an optimist, which I try to do. It doesn't mean you won't get upset, depressed or sad, but you have to lift yourself up."
For the last 42 years, Penny Chenery has been known as Secretariat's owner. How do feel about being American Pharoah's owner for the rest of your life?
"It's very much a privilege, an honor to own this horse and I hope we are doing right by the horse, the sport, the fans and we have tried to be the best ambassadors – and I say ambassadors because it's not just me, it's my family, my trainer, my jockey, my groom, the whole team – by opening our hearts and our barn to everyone, to let them share in the celebration and make it memorable and lasting."