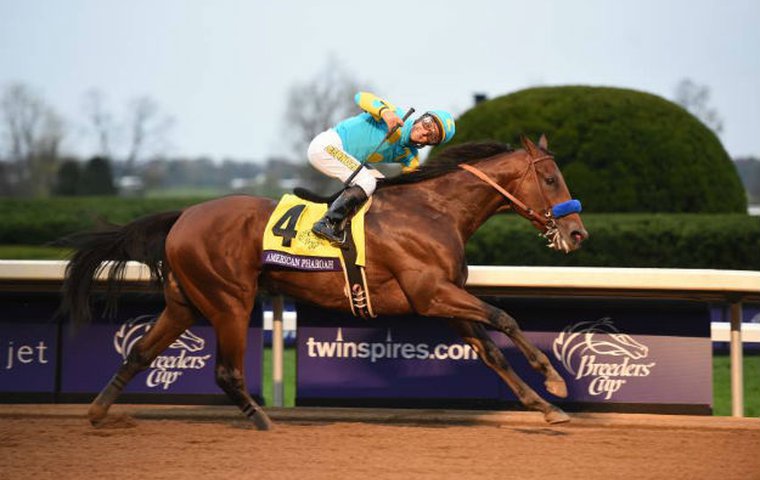 American Pharoah 12 months on: the team on a year etched in racing history

Twelve months ago, the dust had settled on the Kentucky Derby trials, the Derby itself appeared to be no mere formality for the favorite, and the overall crop of 3-year-olds had before them something akin to the 12 labors of Hercules in order to distinguish themselves from their peers.
Oh, and the Triple Crown was unwinnable.
Twelve months on, the dust has settled on the Kentucky Derby trials, the Derby itself appears to be no mere formality for the favorite, and the overall crop of 3-year-olds have before them something akin to the 12 labors of Hercules in order to distinguish themselves from their peers.
----------
Take a peek into the life of 'the incredible Tapit'
----------
But the Triple Crown is once again winnable. And, for that reason alone, let's all raise for the umpteenth time a glass to American Pharoah.
Now retired from racing duties, American Pharoah — star athlete, high-end fashion model and all-round nice guy — is busy re-populating the world with a dynasty of little Pharoahs, but his exploits on the track are still as vivid in the mind as the very moments when he swept past the winning posts at Churchill, Pimlico, Belmont, Monmouth and Keeneland to roars that could split ear-drums and atoms alike.
And so, with this year's Derby just around the corner, we asked his trainer Bob Baffert, jockey Victor Espinoza, and Justin Zayat, son of owner Ahmed Zayat, to reflect back over the past 12 months.
This time last year, American Pharoah was the Kentucky Derby pretender with it all to do. What do you remember about that time?
Victor Espinoza: I was on my way to the Derby with a favorite for the second time in a row, and I was confident. Absolutely confident. There was so much excitement. I was going to the Derby on a superstar - American Pharoah, probably the greatest horse I ever rode.
Bob Baffert: We'd just won the Santa Anita Derby with Dortmund, who was undefeated, and he looked really good. And then American Pharoah won the Arkansas Derby. When he turned for home, galloping down the stretch just leaving the field, that's when it hit me: 'Wow, do I have something really special.' I knew right then that this is a really super horse. He'd been training that way, but you don't know until they run. But right there is when I started to get real nervous that I could win the Derby.
Justin Zayat: I remember being in the same position with Bodemeister and Pioneerof the Nile. Even a horse like Nehro. All I wanted to do in my life is win the Kentucky Derby because we'd finished second in it three times before, and I was wondering: will it happen again? I remember the Arkansas Derby, you know, after he put in such a jaw-dropping performance, he answered a lot of questions that day about distance and how he could race. But I remember speaking to my mom right but after he won the Arkansas Derby, I said, 'mom, if we're ever going to win the Kentucky Derby, it's going to be with American Pharoah, otherwise I don't know if we'll ever get another chance.'
What one memory stands out from the past 12 months?
Espinoza: I'll never forget this one thing. I was flying out to Nashville, Tennessee, to attend the CMT Music Awards. I was very tired and I was sleeping on the plane. We had been up in the air for about 40 minutes, and this guy I didn't know shook me awake saying, 'hey, can you autograph my ticket.' He shook my whole body. I'll never forget that because I was scared that something had happened to the plane. I thought it was an emergency.
Baffert: I think the day they took American Pharoah to his new home. We were coming off a big high from winning the Breeders' Cup Classic, but at the same time, it was sort of a sad day to see him leave. He'd become a member of the family. Just like sending your kid to camp, you're worrying about them, wondering whether they'll give him the love and attention he's used to getting.
A lot of horses, you get close to them, but he was such a sweet, kind horse that let people in. He just wanted to be cuddled. He didn't have a mean bone. He never tried to bite anybody. He was just totally different. Most of them are aggressive.
Zayat: One thing outside of the racing world was going to the ESPY Awards. I was on the red carpet — I had never been on the red carpet before — and I'm walking next to some of the biggest legends in sport's history, LeBron James, Derek Jeter and Lisa Leslie and all these athletes. They were coming up to me saying, 'oh, you're American Pharoah's owner. We love your horse.' And I was like, 'oh come on Derek Jeter, you're my hero from the Yankees. Come on!' It was such a role-reversal.
What one particular race of his stands out to you?
Espinoza: It's got to be the Kentucky Derby. The Kentucky Derby was the most challenging race for me in the way he won because there were times when I thought I would never have a chance to win during the race. But I got it done, and obviously we went on to win the Triple Crown.
Baffert: I think the Kentucky Derby for me is the main race. If I win that, I can just go home satisfied. I think it's the greatest race in America. But the one race that stands out is the Belmont. It's the way he won it and the sound of the crowd. The sound was deafening – it was a sound I'd never heard before. I was there with all my family, and to be part of sport's history with all the people who were there, they'll remember they were there for the rest of their lives. And for me to feel like I was part of sport's history, that's probably the most incredible moment.
Zayat: Every single race had some special meaning to me. The Kentucky Derby was a breakthrough. The Triple Crown was, you know, the Triple Crown. He broke the 37-year drought in dominant fashion. Then there's the Haskell - his comeback race after the Triple Crown. I'm from New Jersey and I invited, and I'm not kidding, about 200 friends to come to the races, so I was feeling more pressure with that one race than all the other races combined. Luckily, he won in the most dominant fashion - he could have won by 20 lengths if he wanted. The Breeders' Cup Classic was a very special race because it was his farewell.
Now you've had a chance to sit back and smell the roses, so to speak, have your thoughts on his accomplishments altered in any way?
Espinoza: I can't believe the time has gone by so fast - it feels like it just happened. As time goes by, I appreciate more of what we've done. And as the memories come back, I often think to myself, 'how is it that everything went so perfectly?'
Baffert: I always appreciated it. I knew he was something special by the way he trained. That's one thing I'll miss about him - I'd breeze him once a week, and the excitement of watching him breeze, the way he would do it, he did it like no other horse had breezed. He did everything effortlessly. The track would be deep and slow, but he'd make it fast really without putting any effort into it. The hardest part when you're training other horses is you think to yourself, 'oh, I'll just do with him what I did with American Pharoah.' But I can't train another horse like I trained him. I would ruin them.
He was just cut from a different cloth. Just like great human athletes — like Usain Bolt — there's only been a few of those. Genetically, something happened. And I was lucky enough to have him. I always wanted to stay out of his way – that's when my experience came in. Going into the big races, you can easily get caught up in the hoopla, but we just stayed focused. Jimmy [Barnes, Baffert's assistant] and the staff, we just kept telling ourselves that we have the superstar.
I always say this horse was a gift from God. I'm older now, so it probably made me appreciate it more. If I'd have gotten this horse when I first started training, I probably would have been spoiled. But now, I've been through a lot, and so all of a sudden to come across a horse like this, well, here we are …
Zayat: I think over time he's going to become more appreciated - not that he's unappreciated right now. I just think his legacy is only going to continue growing, and hopefully he'll produce Kentucky Derby and Triple Crown winning children, too.
Now you've reached the pinnacle of the sport, what is it that keeps you motivated, and gets you up and out of bed at those ungodly hours every morning?
Espinoza: For me, it's like a job. The same passion will never go away as long as I can ride.
Baffert: All you can do is keep working away and enjoy the good moments. I haven't changed anything in my training but we know that we haven't got anything of his caliber in the barn at the moment. I think the most important thing is that I got to experience that with my wife Jill and my kids. They're memories that my kids can share with their kids when I'm not around. As a horse trainer, they can't take those memories away from us.
Zayat: A horse like him only adds more fuel to the fire in your stomach. I want to go out there and win the Kentucky Derby again. I want to win the Triple Crown again. I want to become the first two-time winner of the Triple Crown. I want to keep doing it again and again and there's something special about having that drive, always looking for the next good horse. I just love the game.
Has the whole experience changed you?
Espinoza: Everything's changed. Everything's changed in the respect that everyone treats me in a different way. They talk to me different, including other jockeys. I'm now a leader for the younger jocks - they all want to be like me, all wanna win the Triple Crown races. Sometimes it can feel like there's a lot of added pressure because as a leader, there's the expectation that I've got to keep winning these big races. I'm not sure that I really like the change because it makes me feel a little older!
Baffert: I don't think it has changed me because I'd already been through [the Triple Crown experience]. I was more relieved because I'd been so close three times before. My mother always told me I'd do it, but my parents weren't there to see it, and that was the sad part of it for me. But my wife Jill, she's walked through fire with me. It was a lot for her, too, because she can see the ups and downs. As a trainer I keep a lot in. The bad – I'll keep it in.
Zayat: He's actually changed me a lot. During the American Pharoah frenzy, I was actually graduating from NYU at the time. I had a lot of responsibilities between school and managing the horse. It really made me mature as an individual - it certainly made me grow up quicker.
Given the bad press that racing as received in recent years, have American Pharoah's exploits altered the general public's perceptions of the sport?
Espinoza: I think it's changed for the best. And it's not easy, let me tell you – it's a complicated situation. Especially when you're a jockey. After I won the Triple Crown, everybody wanted a piece of me. I was doing a lot of things outside of racing not only to promote racing, but to encourage younger people to come to and watch racing. A lot of the things that I did, I went out of my way to do because I thought it would be good for the sport.
I think if you want to be in this sport and be successful you need to share sometimes - don't be greedy. Some owners who criticize you for not paying attention on your job, they don't realize that this is important, too - that this is the time to promote the sport. It was tough for me because I was doing Dancing with the Stars right before the Breeders' Cup. I got a lot of criticism from the owners - they didn't think I was focused enough. But it was important that I did it for this sport. We need that. And now, it's amazing how many people come up to me at the track with questions. Younger people, older people.
Baffert: I think everyone was wondering what would really happen if a horse won the Triple Crown. They couldn't get enough of Pharoah. I still have strangers come up to me and say, 'thank you so much, you made us feel so good about ourselves watching that horse run.' They just loved watching him run. But I think the next horse that goes for the Triple Crown, it will be even bigger. People were like, 'it's not doable.' I remember the week of the Belmont, I heard some of the news people go, 'oh, I was going to go out there but every time I go out there it's been so disappointing.' But even President Clinton went out to see it. When you get a former president show up to see sports history, that's pretty important.
Zayat: I was at the airport yesterday flying overseas, and people came up to me saying, 'wow, you're American Pharoah's owner? You don't know what this horse has done for me and my family.' Not only did he influence the lives of me and my family, Bob and Victor, but every single fan. Some found inspiration in him, others connected back with the sport they love.
When did you last see him?
Espinoza: The last time I rode him. New technologies are so great - I watch him on Facebook, Twitter and Instagram, get his updates. Hopefully, I'll have time Kentucky Derby week to head over there and visit him.
Baffert: We were gonna go see him at Thanksgiving, but the weather got really bad. We'll head out next week when I go to Kentucky.
Zayat: I was fortunate enough to visit him three days ago. He looked unbelievable – he's filled out a lot. Grown up. But you know what the best part about it is? He's still his kind old loving self. I've never seen a stallion breed a mare live, but I actually got to see him do it. Ordinarily, when horses become stallions, they become more aggressive. But he's the exact same American Pharoah as he was before. He's still getting tons of visits every day. The Coolmore group, hats off to them – they're really doing a good job, opening the door for lots of fans to make visits.
What's the most valued piece of American Pharoah memorabilia you've kept?
Espinoza: I've saved pretty much the whole thing. I have the saddle I used on American Pharoah. My pants, boots, helmet and gloves, whatever I used on American Pharaoh, I have saved.
Baffert: I have the bridle that he won the Derby and the Triple Crown in, and the bridle for the Breeders' Cup. I have them in my house hanging with all my other classic wins. My wife made a beautiful case for all of them. When people come over, we have the trophy case and that's pretty impressive. But everyone loves the bridles - they just want to touch the bridles. Trophies are fine, but the bridles, they were on the horse, you know.
Zayat: I have his shoes from when he won the Triple Crown - I have them hanging in my office on something called the Wall of Fame where I hang saddle cloths and memorabilia. Of course, the trophies mean a lot but there's something special about having game-worn shoes.
Any regrets about him retiring when he did?
Espinoza: No, no. He had a really strong campaign for a young horse. And he'd done something that no other horse had done for a long time. I think it was the right thing to do.
Zayat: No. This game gives us so many ups and downs, and one day he could have taken a bad step - something could have happened. He owes nothing to us, but we owe the world to him. I would have loved to have seen him race against California Chrome and see how they got on against each other. But at some point you can't be too greedy - enough is enough. Now it's time for him to enjoy the rest of his life.