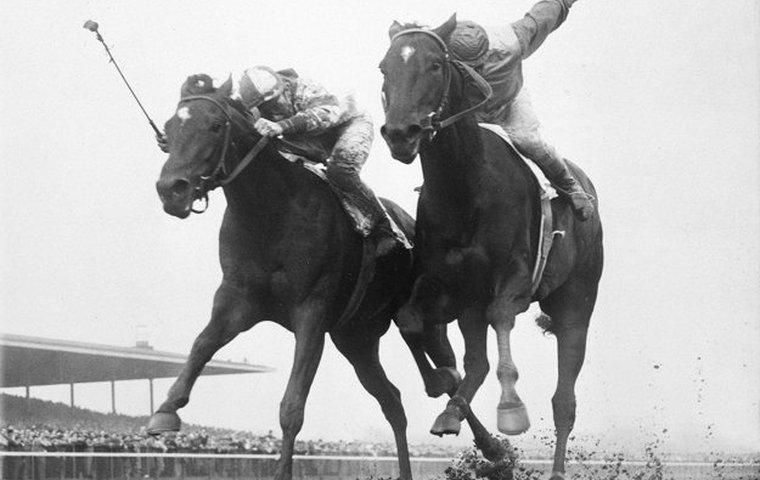 With California Chrome's bid for the Triple Crown in the stamina-sapping Belmont Stakes just days away, bloodstock journalist Janet Hickman looks at the influences for stamina and toughness that once made the U.S. Thoroughbred so effective and suggests that a fresh injection need not be far away.

Sixty-four years ago, Bull Hancock completed the inspirational purchase of Nasrullah to stand at his Claiborne Farm in Kentucky. Now, U.S. breeding needs a similarly revolutionary boost to its Thoroughbred gene pool.
The U.S. Triple Crown times analysed by James Willoughby prior to the Kentucky Derby show a disturbing trend: over the Classic distances, U.S. horses appear to be slowing. The peak came in the 1950-1980 period, during which the effects of a range of stallion imports took hold.
After World War I, the import from Europe of well-bred, high-class performers such as Blenheim, Bull Dog, Mahmoud, Sickle, and Sir Gallahad (all stayed well, all North American champion sires) transformed the U.S. breeding picture, imparting toughness and stamina. After World War II, Princequillo and Ribot did a similar job.
Influential though they were, their achievements were eclipsed by Nasrullah. Chief among Nasrullah's U.S. stallion sons was Bold Ruler, sire of Secretariat and tail-male ancestor of California Chrome. Alongside Bold Ruler were Bald Eagle, Jaipur, Nashua, Never Bend, and Red God. Look at the extended pedigrees of virtually all top-class North American performers today, and Nasrullah's name will be common.
Why was Nasrullah selected, and why did he succeed? He was a top-class, fast 2-year-old and a high-class 3-year-old over 8-10 furlongs, with good looks and a superb pedigree. His sire Nearco was dominant in Europe, and his dam Mumtaz Begum was a daughter of the outstanding sprint 2-year-old Mumtaz Mahal. The Americans were familiar with this pedigree, for 1936 Derby winner Mahmoud was also a grandson of Mumtaz Mahal. Nasrullah's speed fit well with the greater stamina possessed by most other successful stallion imports, and he provided an outcross for the "native" mares. He was sound, and so were many of his progeny.
Nasrullah's success, and that of other American imports, prompted interest from Europe. Never Bend sired Mill Reef and Riverman, while Red God produced Blushing Groom. Even more significantly, offspring of 1964 Kentucky Derby and Preakness winner Northern Dancer started their British/Irish Classic domination with Nijinsky in 1970. Northern Dancer was the product of a sire – Nearctic – imported in utero, while his maternal grandsire Native Dancer was a great-grandson of Sickle and his grand-dam Almahmoud was by Mahmoud.
However, look at the U.S. bloodstock scene over the last two or three decades and you will find imports making little impact – with very few exceptions. In the 1970s and 1980s, some of the best European runners were exported to North America - Alleged, Nureyev, Riverman, and Sir Ivor among them - but many of their progeny took the reverse journey. Since then, there has been the occasional attempt to stand a high-ranking European runner (a number of Epsom Derby winners among them), but very few have seduced the locals.
The exceptions, however, are interesting. High-class Irish 2-year-old El Prado, by Sadler's Wells, was imported by Adena Springs in Kentucky. He became champion North American sire in 2002, and his sons Medaglia d'Oro and Kitten's Joy (a turf influence) are among the highest-ranking U.S. stallions today. And top-class 8-10 furlong colt Giant's Causeway (by Storm Cat, by Irish-raced Storm Bird) has headed the North American general sires' list three times.
Giant's Causeway advertised himself with his dirt prowess - via his near-miss in the 2000 Breeders' Cup Classic - and his pedigree full of familiar names to U.S. breeders. Compare him to Epsom Derby winners Secreto, Shahrastani, Quest For Fame, Benny the Dip, and North Light, who did not have widespread appeal and departed their Kentucky stallion homes.
Now, what North America has is a gene pool relatively homogeneous in stamina terms (with the main dirt exception of A.P. Indy and his offspring), and with the same names featuring strongly. With the Classics all in excess of nine furlongs, it needs stallions with stamina, class, soundness, and some unusual "blood."
North America has been trying. It has attempted to tap into the influence of Sunday Silence, who revolutionised the Japanese breeding scene, but that so far has had limited success. And it has two interesting Kentucky residents worthy of special note in the context of this article – U.S.-raced Dubai World Cup winners Street Cry and Animal Kingdom.
Street Cry has been a major success despite being an Irish-bred (though U.S.-raced) son of Machiavellian and the Troy mare Helen Street. Much of the bottom half of his pedigree is found rarely in North America.
Animal Kingdom's sire Leroidesanimaux was bred in Brazil, although his pedigree is familiar to Europeans. His dam Dalicia was bred and raced in Germany and carries many of the classic bloodlines of her native country. Most of the names in Animal Kingdom's five-generation pedigree are rare in North America.
It will be 20 years before we know truly what sort of influence this pair have had. In the meantime, there is the small matter of the Belmont Stakes. And is there an interesting, stout pedigree among the contenders? If pedigrees only won Classics, my money would be on A.P. Indy's son Commissioner or A.P. Indy's great-grandson Tonalist, out of a Pleasant Colony mare.