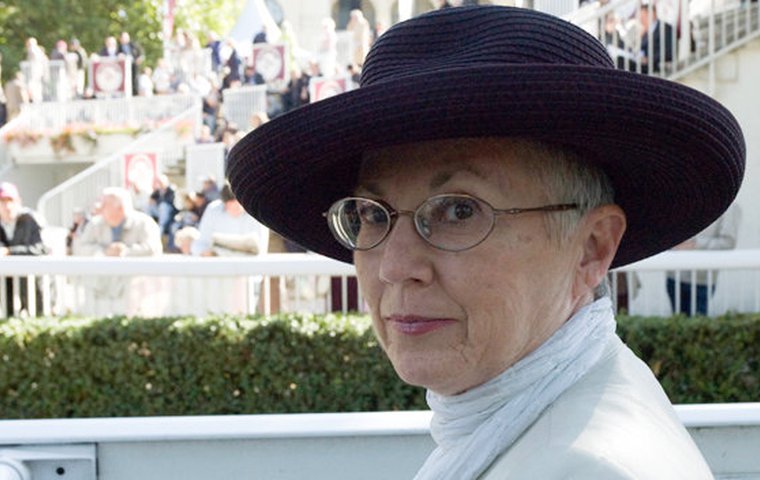 What's the best way to get involved in owning racehorses? Do you have to be rich to do it? In which countries is ownership the most enjoyable, and the best deal? Kay Minton, from Chantilly, Virginia, may be a small-scale owner, but she's extremely well travelled and her experiences have provided her with very definite answers to all those questions, as John Gilmore recently learned.

For the past 11 years, 71-year-old American Kay Minton has been living her lifelong dream of racehorse ownership - initially in the United States, then venturing across the pond to England, and more recently, France.
As the daughter of a U.S. Army World War II veteran who went on to run an auto mechanic's shop, Minton's early life was spent in a rural region of Virginia, where a fascination for local farm horses stirred an interest in equines that exists to this day.
She got involved with the game after reading a newspaper article in 2002 about London-born Malcolm Barr, who ran the local Hampshire Racing Partnership.
"The timing was perfect," said Minton, who retired in 2012 after nearly 40 years as office manager for a Washington, D.C.-based law firm. "I had a good job and started to have some discretionary income. I signed up without any hesitation straight away."
Minton soon joined a Maryland outfit offering shares in yearlings and 2-year-olds.
"At one time, I had interests ranging from 2.5 to 10 percent in 10 or 11 different horses shared between the Hampshire and Maryland partnership," she said. "I began regularly reading racing magazines, coming across one in the Blood-Horse on the English-based Elite Racing Club, featuring their big-success horse at the time Soviet Song. It got me thinking joining this club would be a fun thing to do. So I did, in 2004."
Through Elite Racing Club, Minton became interested in European racing and contacted the U.S. Racing-Europe organisation, which arranges horseracing trips to Europe from the States.
"On the first trip in 2005, I witnessed Motivator winning the 2005 English Derby and Shamardal the French equivalent," she said. "Racing holidays to Europe then became a yearly must-do and included visits to leading trainers' yards and studs."
In 2009, she became involved in Elite Racing Club's 20-strong Axom partnership.
"That same year, on 25 July, I experienced my best ever day in racing," she said. "My Axom partnership horse, Beat the Rush, was second at Newcastle in England, my Maryland partnership horse, Daniel Moon, won at Delaware Park and, in the evening, my Hampshire Racing Partnership horse, West Hampshire Way, won at Charles Town, West Virginia. Usually, only the big guys can have two winners and a second place finisher in one day - and on two different continents to boot."
A chance meeting with Gina Rarick, an American who trains at Maisons-Laffitte in Paris, during a trip linked to the 2009 Prix de l'Arc de Triomphe at Longchamp, convinced Minton that France was the place to be in Europe - especially for owners with fewer horses - and two months later she obtained her French owner's licence.
"The more I saw how things were done in Europe, and not racing on drugs, the less I wanted to continue my involvement in U.S. racing," Minton said. "I had been growing more disturbed by the monthly bills for horses I had shares in containing large amounts of drugs and medication for horses with no disclosed injury or illness. I came to believe, rightly or wrongly, the management of these partnerships cared little about trying to control what appeared to me unnecessary veterinary costs.
"English racing was another problem, prize-money for handicap and maiden races being simply far too low for me to continue, although I still maintain my annual Elite Racing membership – it's not expensive at $155 to renew from August 2013 – as it's fun to read their latest racing and breeding information in the club's weekly newsletters and interact with other members on Elite's Facebook page."
Minton then took the decision to concentrate her racing interests solely in France.
"I needed to have an exit plan," she said. "Gina was able to give me the peace of mind if things didn't work out. I could be out in 30 days. It always looked a good deal, with basic daily training costs at Gina's stable €55 ($76) a day and, unlike in the States, no bills for unnecessary drugs. Added to this, transport costs to a PMU [Pari-Mutuel Urbain] race meeting are paid by France Galop and there's great prize-money, plus the bonus of extra prize-money premiums for French-breds in open races."
Minton had shares in about 30 racehorses in the U.S. during a seven-year period, but barely recalls most of them.
"The majority weren't around long enough to imprint themselves on you, being claimed from us after racing once - or not even running again due to soundness issues," she said.
"I can still vividly recall Landler, who won several races for my Hampshire partnership - including my first success with them, courageously winning the Claiming Crown Express Stakes at Canterbury Park, Minnesota, in 2003 after looking beaten. For sheer courage, though, the 9-year-old gelding Hard Way's performances in France take some beating. He gave me a first French win at Saint Cloud in May 2012, then a second at Longchamp in July 2013 after a miraculous comeback to the track from a possible life-threatening neck injury in 2011."
She has had shares in four horses with Gina Rarick to date, including Hard Way and Grey Falcon, who carried her silks in 2013 before retirement.
This year, Minton flew over from Virginia for the annual Cagnes Sur Mer winter meetings in southeastern France during February – even though she didn't have a runner.
"Being without a runner is not a problem, as I can't think of a better place in February to be than Cagnes," she said. "I know most of Gina's owners and enjoy meeting them and cheering on their horses. But I will soon be back in business with a half share in a promising 2-year-old by American Post. I am looking forward to seeing how my new colt develops over the coming months. Isn't that what racing is all about, the hopes and promises?"