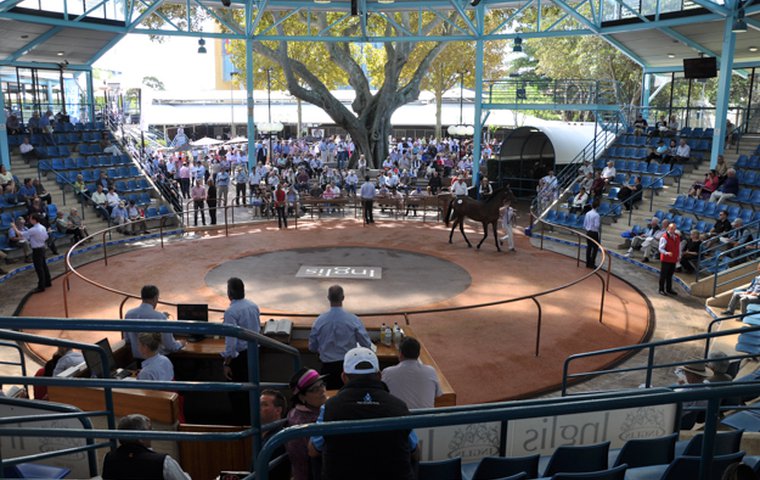 This week, the Southern Hemisphere's most prestigious bloodstock sale kicks off in Sydney. It reached new heights last year with an unprecedented level of interest from some of the top U.S. breeding operations. This year, Caroline Searcy discovers that the Americans have come in greater numbers, spurred by a nation's quality Thoroughbred product, and a deliriously rich racing calendar.

With the Australian Thoroughbred, particularly the sprinting variety, performing so well at international carnivals these days, the interest in the colonial yearling has continued to grow into 2015. This week, the Inglis Australian Easter Yearling Sale will kick off from April 7-9, and this prestigious Southern Hemisphere buying bonanza has become a honeypot for a swarm of U.S. investors looking for not only a champion racehorse, but also a potential star at stud.
Last year's sale featured a very interesting American input.
Spendthrift Farm sold its first Australian yearling, a Tapit colt for AUD$500,000. But the Kentucky operation dipped its toe in the local bloodstock pool in no insignificant way with three purchases, all of which required substantial money. In total, Spendthrift coughed up AUD$1.6 million. Also present was John Moynihan, who paid Turangga Farm's Stuart Ramsey AUD$840,000 for a Lonhro filly, a record for a daughter of the Darley stallion, while Kentucky-based Asian Bloodstock Services, and Texas-based operators Merriebelle Stable and Mick Flanagan, bought a further six lots.
William Inglis & Son has been trading livestock in Sydney since 1867, and from the Randwick-based Newmarket sales complex since 1906. Every year, a who's who of the European racing community become familiar faces on the picturesque grounds, including Angus Gold for Shadwell, John Ferguson for Darley, and Coolmore's team of Demi O'Byrne, Paul Shanahan, Clem Murphy, Richard Henry, and Eddie Irwin. David Redvers looks after Qatar Bloodstock, and there is Georges Rimaud for the Aga Khan and John Warren, the Queen's racing manager. Add to this the loyal buyers in Hong Kong, Singapore, and New Zealand.
But since last year, the ranks of U.S. buyers have been swelling.
Spendthrift's three purchases of 2014 were sent to the Hawkes training operation – John and sons Wayne and Michael. To this point, they have been in and out of the Melbourne stable without being fully tested in training.
"They needed time, and we haven't pushed them at all," Wayne Hawkes said. "Spendthrift has been very happy to give them that time, but they are all lovely horses."
Spendthrift's general manager, Ned Toffey, arrived in Australia last week, giving him and the team plenty of time to assess the quality of this year's catalogue. And he isn't alone. This year's American attendees at Newmarket are numerous.
There is Marie Yoshida-Debeusscher for Winchester Farm in Lexington, and Tom Ryan and Gavin Murphy for S.F. Bloodstock. Bradley Weisbord will be there, advisor for Al Shaqab Racing's American operations. Mick Flanagan is back, looking to buy on behalf of Merriebelle Stable, as is John Moynihan on behalf of Stonestreet. Alex Solis, son of the Hall Of Fame jockey of the same name, will be in attendance, in his mid-20s already an astute bloodstock agent, while Elliott Walden, president/CEO and racing manager of WinStar Farm, will also be in the crowd.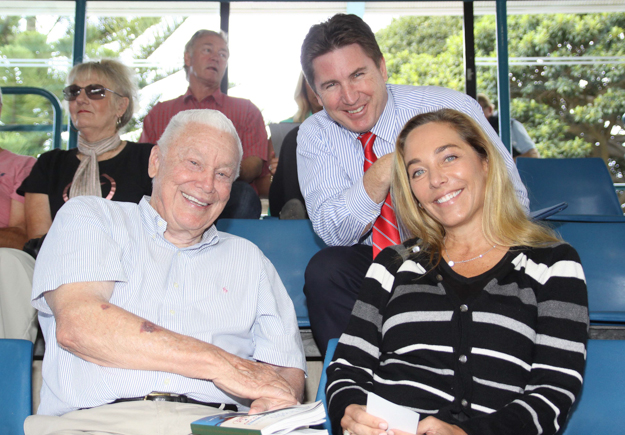 So what has been the catalyst for U.S. investors when it comes to Australian bloodstock?
Undoubtedly, the dramatic prize money increases in local racing are a big draw card, with Sydney's autumn plum The Championships giving away almost AUD$20 million across two days of racing. The purse for the G1 Queen Elizabeth Stakes, 2,000 metres, is worth AUD$4 million alone. But there are other jewels. Last year, Spendthrift's B. Wayne Hughes made it no secret that he wanted to take home Sydney's Golden Slipper, the world's richest race for 2-year-olds, run at Rosehill a fortnight ago. And, of course, there is the Melbourne Cup in the spring, today worth AUD$6 million.
An added bonus this year will be the weaker Australian dollar against the U.S. dollar, which will work to the advantage of overseas investors.
The transparency and regulations governing Australian racing are also a major factor behind the world's leading breeders looking to race locally-bred gallopers. The ban on race-day Lasix, and the tight regulation of many substances, is thought to create a tougher breed that is not reliant on medical assistance to withstand the rigors of competition. While Australia is not immune to drug infringements by any means, the stewarding of each of Australia's racing jurisdictions is among the most rigorous in the world. It is something that has appealed to operations like Merriebelle, which has, in the past, said it would look outside of the U.S. to buy and race horses. Merriebelle's AUD$100,000 purchase at last year's sale was the now-named Vanbrugh, an Encosta de Lago colt that won on debut at Rosehill for trainer Chris Waller.
The John Moynihan purchase of last year's sale was a flagship investment by Stonestreet into Australia. The Lonhro filly, named Kangarilla Joy, was sent to Peter and Paul Snowden at Randwick, and has been a trial winner. Within a month of her purchase last autumn, Stonestreet spent a further AUD$900,000 on a former Blue Diamond winner, the flashy little mare Miracles Of Life, who has since won two G2 races for them (including a dead-heat). Barbara Banke has wine investments in Australia, but 2015 will be her first time at the Easter sale.
S.F. Bloodstock will be plumping up their investment in Australia, as they are already involved with Newgate Farm in the Hunter Valley. Newgate stands four stallions, including The Factor, a dual-G1 winning son of U.S. sensation War Front. The Factor covered 115 mares in his first spring in the Southern Hemisphere. Ryan and Murphy are on the hunt at Newmarket for more colts to potentially make it on the racetrack, and then get their chance to stand at stud.
Al Shaqab's Bradley Weisbord says he is working with other clients, including the S.F. Bloodstock team. He has noticed the increased numbers of his countrymen at Newmarket already.
"I bet there are more Americans here this year than ever before," he said. "I think when we look at Australia, it's starting to get more popular. Your Golden Slipper and Melbourne Cup festivals are so big. When you go racing here, all the people get into it. You have good purses and good fields, so there is no reason not to play."
Inglis Director and auctioneer Jonathan D'Arcy agrees.
"Last year we saw several investors, and given their success, they've gone home and spoken about the experience of racing in Sydney at Easter, and the quality of horses at the Inglis Easter Sale. That is the case particularly with the success of Stonestreet with Miracles Of Life, and Merriebelle with Vanbrugh. We look forward to knocking a few more yearlings down to our valued guests from the United States in 2015."
With the number of U.S. buyers that have arrived in Sydney this week, it certainly looks as if that will be the case. It might even be more so when the 2014 American-bought crop begins its racing career in earnest.
On April 7, since the publication of this story, Spendthrift Farm announced its acquisition of Yallambee Stud in Victoria, Australia.
---
Caroline Searcy is a breeding commentator and television presenter for Sky Racing in Australia.