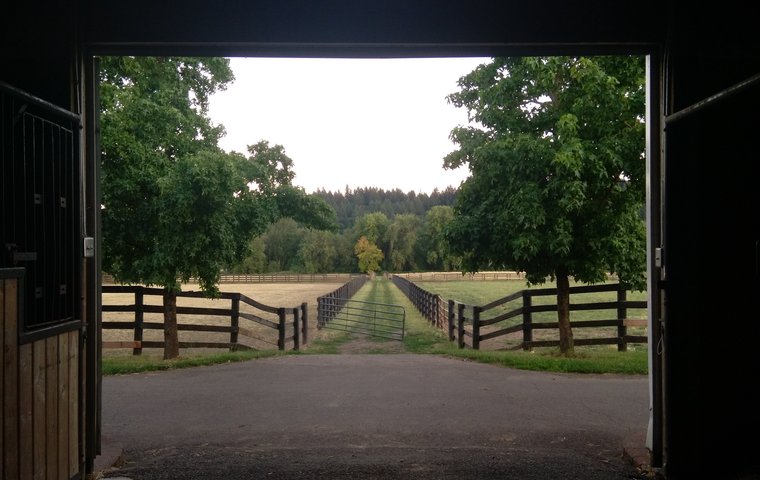 2,300 miles from the finish line at Kentucky's Churchill Downs is Portland Meadows, a modest track in Portland, Oregon, that buzzes with large crowds despite often rainy racedays. Just over 30 miles south of it is Oakhurst Farm, a breeding and racing operation and veterinary clinic - and the proud home of two Kentucky Derby winners.

Grindstone, who triumphed in the Run for the Roses in 1996, has been there since 2010. Shock 2005 winner Giacomo came three years ago.
"I still get goosebumps every time I think about it," said farm owner Dr. Jack Root, DVM. "I never could have imagined it, our farm with two Derby winners."
Well before this unexpected event, Dr. Root dedicated his life to being a veterinarian. He had decided on that career path by the age of nine, and graduated from Oregon State University in 1974 with degrees in both Biology and General Science. He pursued his Doctorate of Veterinary Medicine at Iowa State, interning with some of the best vets in Kentucky and Florida.
During this time he met and married his wife of over 40 years, Cookie. Their son, Ben, is now the operation's head trainer.
Before the founding of Oakhurst Farm, Dr. Root bounced through many other jobs. "He operated veterinary practices in Oregon City, Estacada, and Wilsonville," Ben Root said.
Dr. Root also trained horses at the track, and even, "quit for ten years and worked for a family business, totally unrelated. Then I sold it and built Oakhurst Farm."
The farm was just 147 acres of pastureland in Newburg, Oregon, when obtained by the Roots family. "He built the barns, the house, most of the pastures, and most of the roads," Ben said of his father. Now, there are about 60 stalls, an indoor heated/air conditioned exam room, the veterinary office, a fully functioning pharmacy, a large arena for everything from lameness exams to turning out new mares and foals, and a six-horse EuroXciser that can go from a walk up to a full two-minute lick. There is also a 4½ -furlong training track with a starting gate.
The family breed their own mares, and are the perennial leading Thoroughbred breeders in the state of Oregon. They have won the Oregon Derby and Futurity, and have reached the winner's circle in locales as far away as Del Mar, near San Diego, California, and in at Hastings Park, in Vancouver, Canada.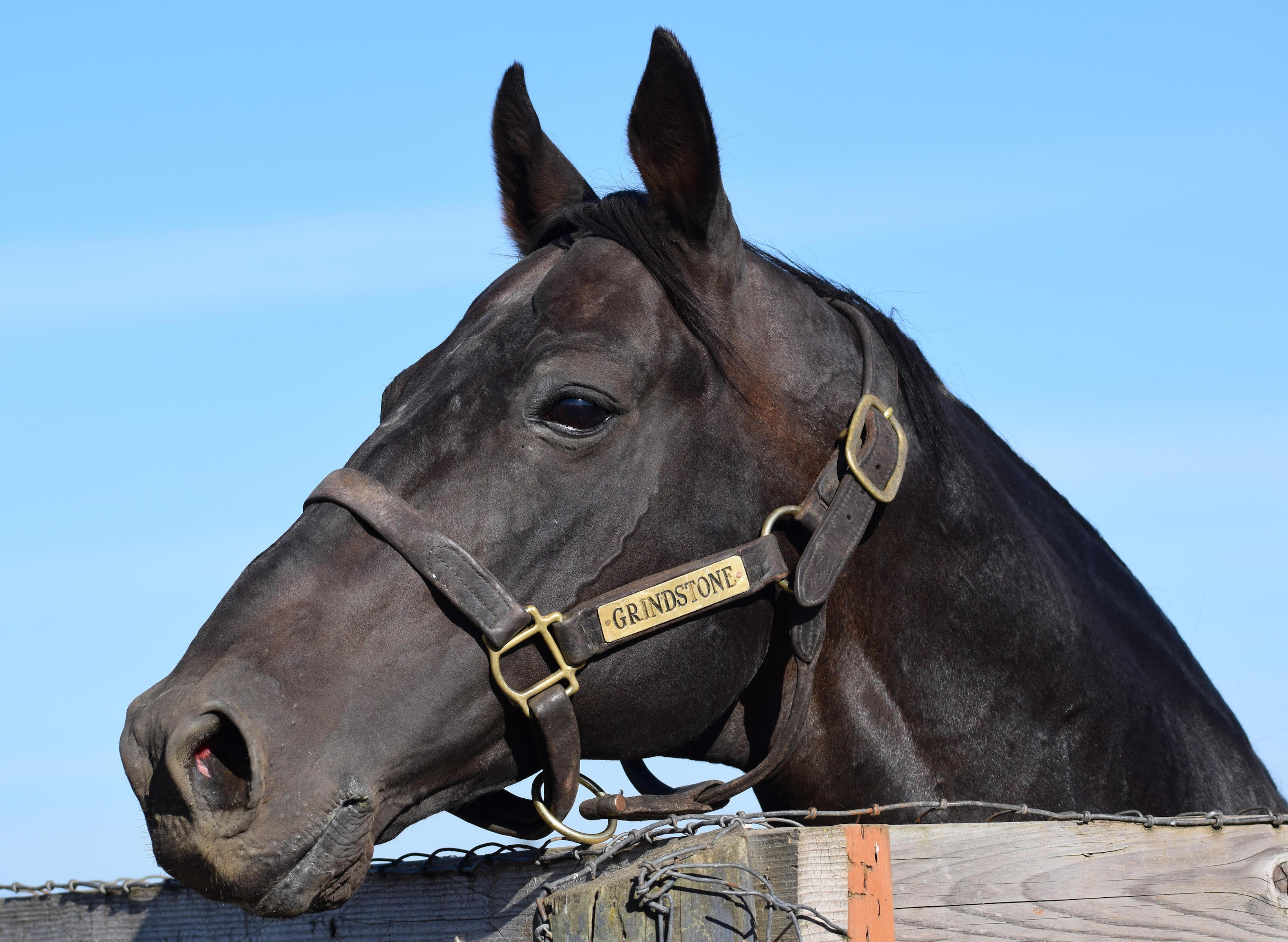 But their program really took off with the addition of Grindstone in 2010. The son of Unbridled raced for William T. Young's Overbrook Farm, winning three of six starts, including the 1996 Kentucky Derby. Injury derailed his career just days after that historic victory, and Grindstone was retired.
He had some success in the shed, most notably with Belmont and Travers Stakes winner Birdstone.
When owner Young died, Dr. Root campaigned hard to bring Grindstone to Oregon. "I woke up one morning and literally just decided right then to call them and ask," recalled Dr. Root. "They had other offers and wanted to keep Grindstone in Kentucky, but I kept asking what other offers were being given so that I could beat them."
Grindstone arrived from Kentucky in the dead of night, while Dr. Root was out on an emergency veterinary call. "When I got home, he was in the stall. It was very exciting."
Northwestern breeders flocked to the well-known horse, and he proved genuinely successful. "He really took off locally," Ben said, "and had a resurgence with his career. He sired the last two Portland Mile winners, and he's even had Oregon-bred foals go on to win in Kentucky. During the recent Portland Meadows meet, a Grindstone runner won on 32 of 37 race days.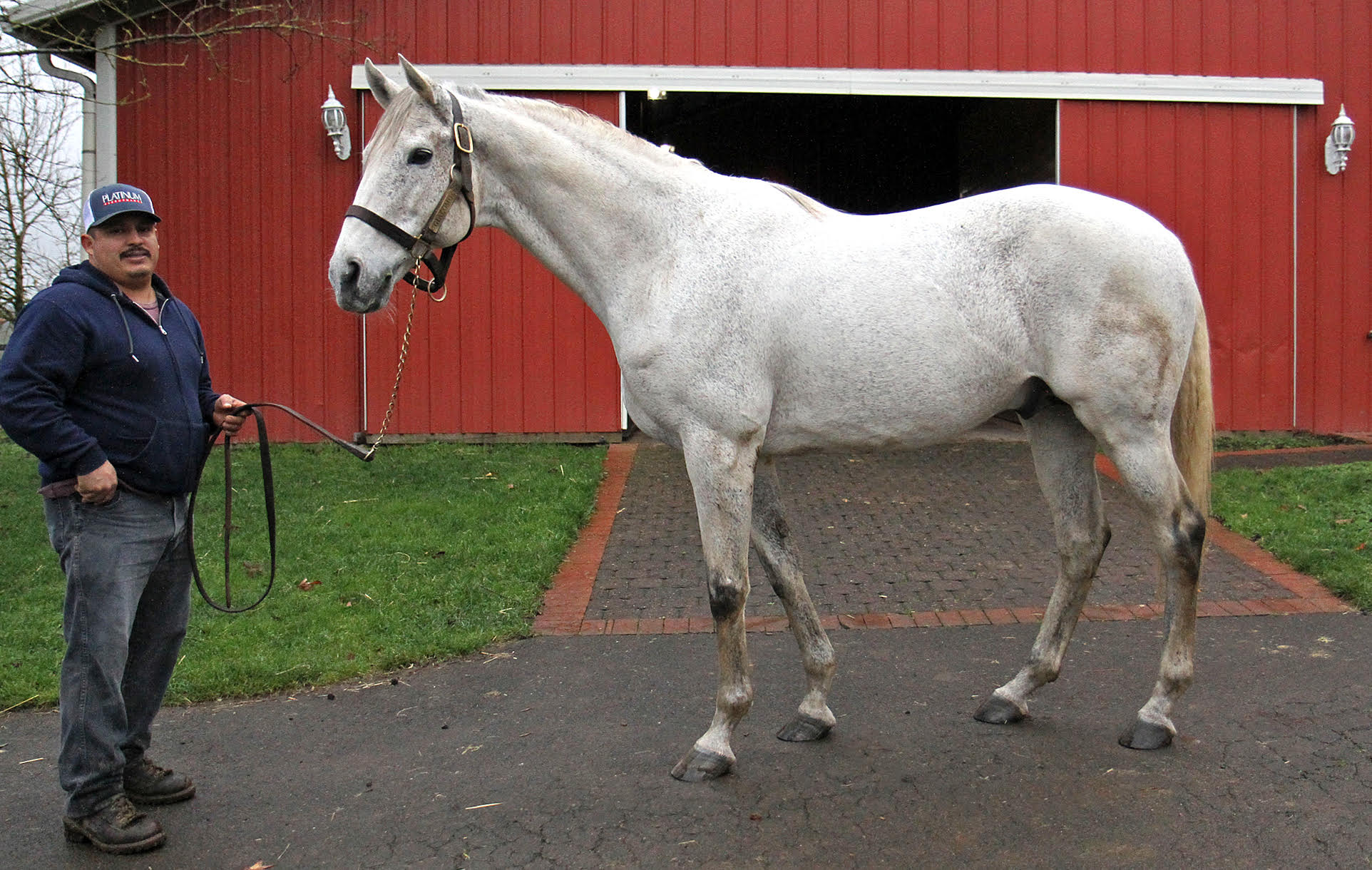 Giacomo was a 50/1 stunner when he steamrolled past Afleet Alex and Closing Argument to win the 2005 Kentucky Derby. The dark-gray son of Holy Bull is now snow colored, and has been bounced around as a stallion, moving from Kentucky to California to Maryland and now to Oregon.
The 16-year-old stallion is on the final season of a three-year lease through his owners, Jerry and Ann Moss and Adena Springs. "Officially this is the final year of his lease, but we are hopeful that he can stay longer," said Ben.
Dr. Root was on hand when Giacomo arrived via a Federal Express plane, and watched the stud's pale head pop out with curiosity when the door opened.
Although his best runners have been South American exports, Giacomo has 12 stakes winners, and his first Oregon crop is set to hit the track in 2019. "They have both been well received considering the smaller number of mares around here," Dr. Root said.
Giacomo, a "frustrating horse to breed, as he likes to go slow and romance the mares", still looks impressive in the flesh, while Grindstone's age is beginning to show. The 25-year-old is no longer commercially available as of this season, although the Roots family may try to breed some of their own mares to him. "In human years, he's like 96," said Ben. "He's not getting as many mares pregnant as we would like, and we don't want to do that to our clients."
"We're going to keep him here as long as we can," said Dr. Root. "I'm crazy enough that I might try to breed a mare or two to him this year, but otherwise, Grindstone has some old-man issues."
They aren't the only stallions on the farm. Slew's Saga is one of Triple Crown winner Seattle Slew's last sons at stud. The stakes winner was campaigned by the same Mickey and Karen Taylor that raced Slew himself, and Slew Saga's 21-year-old dam, Belle Breesing, is pensioned on the grounds. Graded stakes-placed Raised A Secret rounds out their stallion roster.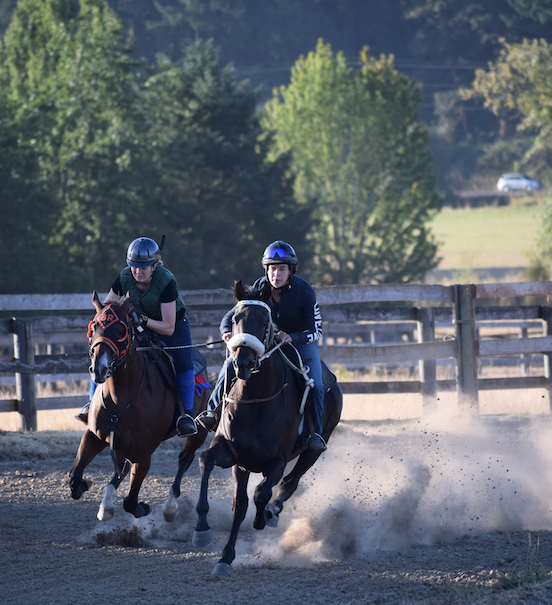 Whether he's working on the breeding operation or the veterinary side, Dr. Root loves the world he has built. "The wonderful thing about my job is that when the clock strikes 3pm, I don't groan thinking it's only three. Instead I say, 'Oh my God, it's three already?' That's the honest to goodness truth. The days go so quickly it's horrifying.
"There's always something new and fun to do. If you're not learning something new every day, then you're not in the right career."
Oakhurst now has three other full-time veterinarians on staff, as well as a host of assistants and office staff. Instead of just racehorses, they work on world-class barrel racing and show horses.
"Everyone does a good job and the clients keep us busy," Dr. Root said. "It's very rewarding."
There's still one more goal he'd like to achieve. "I wake up every moment thinking about breeding a horse that can win the Kentucky Derby," he said.
"The plan whenever we breed a horse is to keep it, race it, and win the Kentucky Derby," Ben confirmed. "Some horses for one reason or another may eventually be sold, but the plan is always the Derby."