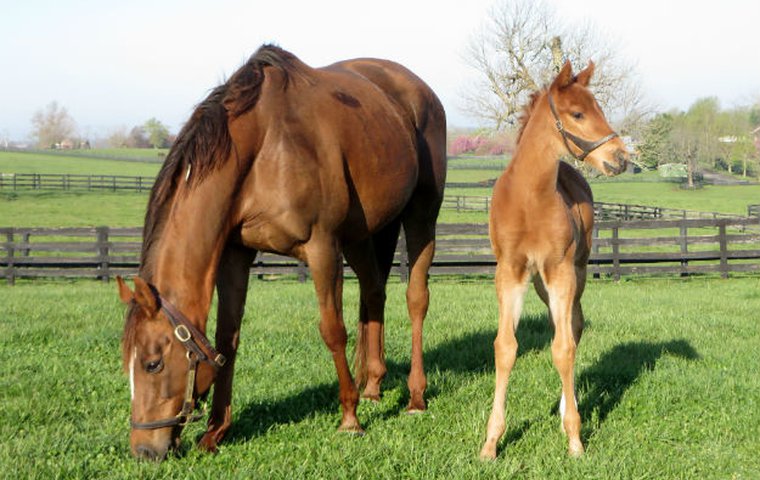 The amazing broodmare band bidding for a Kentucky Derby weekend treble

Hinkle Farms, a family-run operation based in Paris, Kentucky, has been no stranger to success during its five decades in the Thoroughbred industry. That said, this year's Kentucky Derby weekend might be one for the record books.
Run by brothers Tom and Henry Hinkle, as well as Tom's daughter, Anne Archer Hinkle, the farm is home to about 30 broodmares, and according to the latest statistics, it has produced an impressive 12% stakes winners and 7.7% graded stakes winners.
The farm shows no signs of slowing down in 2016, as three of its broodmares are on course to be represented in the three biggest races Churchill Downs holds during the first weekend in May — including by the favorite in the Run for the Roses.
In 2012, Seeking Gabrielle was offered at the Keeneland November mixed sale but went unsold when bidding stopped at $90,000. The following year, she was offered at the same sale, and the Hinkles purchased her for $100,000 from Paramount Sales.
The Hinkles were drawn to Seeking Gabrielle because her first foal, who was cataloged one hip before her, was a standout. A member of Uncle Mo's first crop, the weanling sold for $180,000, which helped solidify the Hinkles' interest in the chestnut mare.
'Maybe we just got lucky'
"Oh we saw him, and he was gorgeous," Tom Hinkle recalled with a smile. "When we go to look at mares at a sale, if they have weanlings at the sale, we always look at them both. After he sold for $180,000, and it looked like they were struggling to get $100,000 for the mare, it made it kind of easy to buy her."
That weanling is now better known as Nyquist.
The undefeated champion already has four Grade 1s to his credit and earnings totaling $3,322,600. His victory in the G1 Sentient Jet Breeders' Cup Juvenile last year guaranteed his Eclipse Award for champion 2-year-old male, and his romp over the highly-touted Mohaymen in the G1 Xpressebet.com Florida Derby solidified his claim on the title of Kentucky Derby favorite.
"I would like to say we were smart, but maybe we just got a little lucky," said Hinkle. "But, then again, sometimes if you do something long enough you get a little lucky. Frankly, Seeking Gabrielle is an attractive mare, but she's not one of those mares that is really impressive. But he sure was impressive."
It was more than just Seeking Gabrielle's weanling that caught the Hinkles' attention, however, as she also hails from an active family. Her dam, Seeking Regina, won the G2 Adirondack Stakes at Saratoga before going on to a successful broodmare career. Among Seeking Gabrielle's half-siblings are Seeking An Alibi, who was a $1.6 million yearling, and Seeking The Sky, a graded stakes winner who went on to produce G1 winner Sahara Sky.
Booked to War Front
"Even though our mare is by Forestry, and you tend to think of Forestrys as not really true classic-distance horses, there is a lot of stamina in that pedigree," said Hinkle. "We were very attracted to the pedigree because there have been a lot of good runners in it."
Seeking Gabrielle has a 2-year-old filly by Blame, was barren to Curlin for 2015, and produced a chestnut colt by Flatter on March 25.
"Flatter worked pedigree-wise, and we thought it was a good match physically," said Hinkle. "She's a nice, correct mare. The two foals she had were extremely correct, and he's a good stallion. I think he is finally being appreciated for what he is. Last year the September yearling market really took notice."
This year, Seeking Gabrielle is booked to War Front.
"Nyquist was clearly going to be the champion 2-year-old, and undefeated at that, and we just wanted to give her a chance to go to one of the best stallions in the world," said Hinkle. "We also could have gone back to Uncle Mo, but we felt like we could go back to him in the future. This might be the one time we could get to War Front.
"We used to breed to War Front before he went off the charts. It's kind of a swing for us now, but Claiborne was nice enough to let us breed to him, and we are looking forward to that. One thing about the War Fronts, if you go to sell one, you aren't competing with a lot of others because there aren't that many that go on the market, really."
Paddock mates
Nyquist is no newcomer to the headlines, but a filly named Weep No More is. She stunned a talented field featuring the likes of Rachel's Valentina and Cathryn Sophia in the G1 Central Bank Ashland Stakes at Keeneland to earn a spot in the starting gate of the Longines Kentucky Oaks.
The Hinkles bred the Mineshaft filly and sold her as yearling for $90,000. She is out of the Storm Cat mare Crosswinds, whose dam, Flute, won the 2001 Kentucky Oaks.
"Crosswinds is a beautiful mare, but sometimes you get Storm Cat knees and Storm Cat front ends," said Tom Hinkle. "She's not the most correct mare, but every one of her foals has been very correct."
Before foaling this spring, Crosswinds and Seeking Gabrielle were paddock mates. Crosswinds, who is booked to Candy Ride, delivered a Curlin colt several days before Seeking Gabrielle foaled.
"Both mares had really nice foals," said Anne Archer Hinkle. "Crosswinds' Curlin colt is balanced and strong, and he has good bone. He's just a really nice foal. Seeking Gabrielle also had a really nice colt. He has a really nice hip and shoulder and has a ton of leg. He has a terrific attitude. He's very full of himself, and he has a wonderful strut and sense of confidence. I'm excited to see how they both develop over the next year."
Last year, the Hinkles were represented as breeders on Derby day by Divisidero, who won the G2 American Turf Stakes. This year, the 4-year-old Kitten's Joy colt is being pointed toward the G1 Woodford Reserve Turf Classic, which is the race traditionally held just before the Derby.
He is out of the Lemon Drop Kid mare Madame Du Lac, who has an Orb filly by her side and shares a field with Seeking Gabrielle and her Flatter colt. Madame Du Lac is booked to Medaglia d'Oro.
The Hinkles are commercial breeders and, although they will keep the occasional filly, the goal is to offer their horses every year at the Keeneland September yearling sale.
"Anne Archer's taken a lot of the load off of us," said Henry Hinkle of the next generation getting involved in the family business. "Plus, she is doing things that we hadn't really been doing, like keeping an active website and staying in better touch with buyers of our yearlings and keeping up with certain statistics."
While Hinkle Farms is more than 1,000 acres, the family also runs cattle and raises crops on it. About 450 acres is devoted to the horses, and they are always looking to upgrade the broodmare band.
"We have a good team of people on the farm, and we are just trying to raise athletes," said Tom Hinkle. "We try to keep our horses outside as much as we possibly can. We like to let them be horses. Obviously we are commercial breeders, so it is important that we have profitable yearling sales, but at the end of the day the most important thing is to raise runners."
One thing is for sure, this first weekend in May looks to be a big one for the small farm.
"It's a very exciting time for us," said Hinkle. "Even though we didn't breed Nyquist, we obviously have quite an interest."