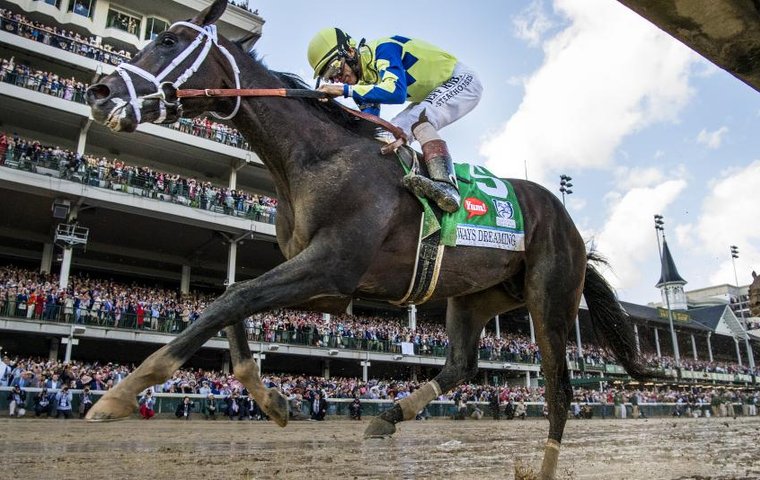 In the days leading up to yesterday's 143rd Kentucky Derby, the story that generated the biggest outpouring of emotion came from trainer Todd Pletcher's barn.

It was nearly impossible to hear the story of a heroic horse named Patch, and learn how he has continued to race even after losing his left eye due to severe inflammation, and not feel a tug at your heartstrings.
Both hardcore fans and people who only pay attention to one horse race a year became so enamored with him that he was bet down from his morning-line odds of 30-1 to a stunning 14-1 – a somewhat ridiculous price for a horse without a stakes win making just his fourth career start and breaking from post 20 in Churchill Downs' famed $2.3 million Run for the Roses.
Fate was not kind to Patch as he had a rocky trip and finished 14th over a wet-fast track, yet at the end of the 143rd Kentucky Derby the story of the day still centered on Pletcher's barn – in particular on the man at the helm of American racing's most successful operation.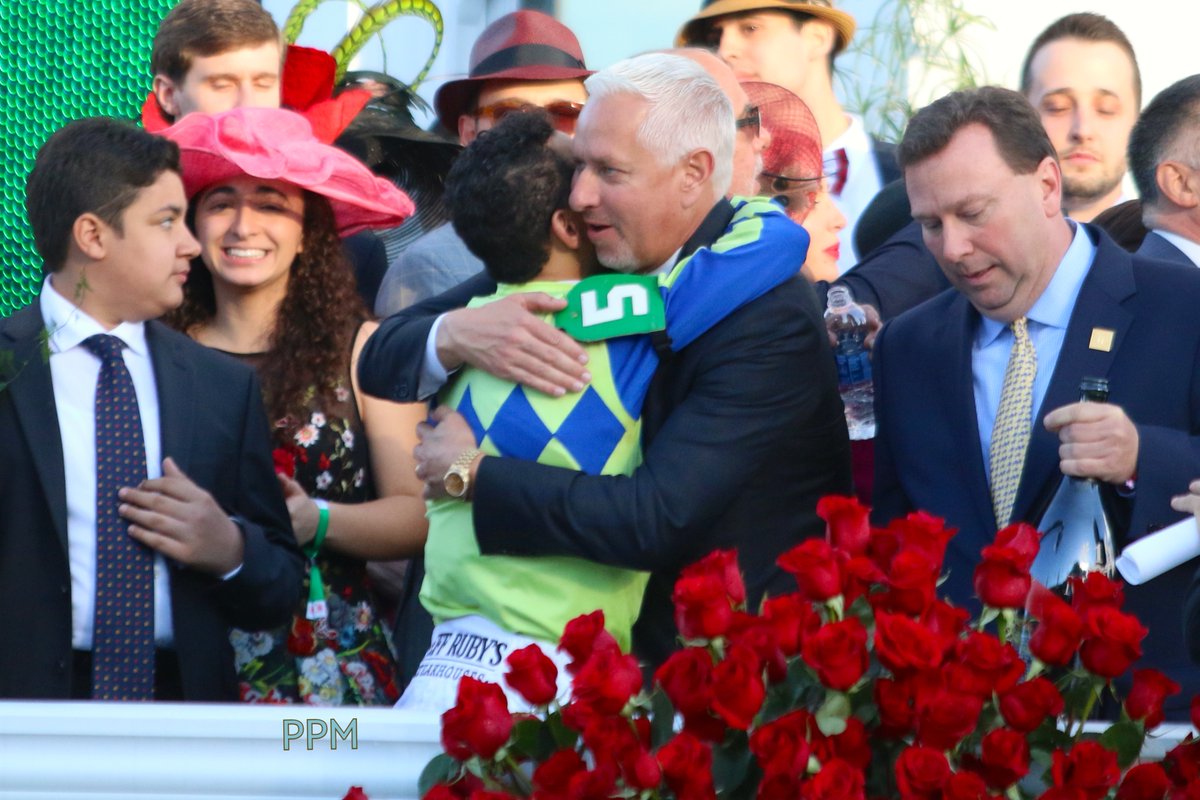 Certainly there's inevitably a good feeling when longtime friends such as owners Vincent Viola and Anthony Bonomo and their families come together to win the Kentucky Derby. Yet this Derby belonged to the trainer who made it happen with the help of a Hall of Fame jockey in John Velazquez who has been at the center of Pletcher's unprecedented success story and a supremely talented colt in Always Dreaming, who proved to be a worthy betting favorite in America's most famous race.
It wasn't Pletcher's first win the Derby. It was his actually his second, yet when you consider what has happened since that initial triumph in 2010, and ever since Pletcher first arrived at the Run for the Roses in 2000, it's understandable how it brought out the raw emotion in such a normally reserved and composed person.
Major storyline
"I think it's even more special than the first one," Pletcher said to NBC's Kenny Rice minutes after Always Dreaming ($9.40) splashed home a 2¾-length winner. "There was a lot of talk about our Derby record and we were hoping for another win and that makes this one all the more sweet."
Rice then asked Pletcher if there was perhaps a tear behind his dark sunglasses.
To that, the stoic one cracked out a big smile, nodded his head up and down and said, "Yeah … absolutely."
Pletcher's record in the Derby was a major storyline heading into Saturday's opening leg of the Triple Crown at Churchill Downs, just as it has been for about a decade.
That's surely to be expected when the trainer who has more career earnings than anyone else in U.S. racing – by a little more than $60 million over the runner-up, mind you – heads to Louisville with a record of one win out of 45 starters. Yet that statistic was meaningless to Viola and Bonomo as they reveled in their maiden win at the Derby.
Consummate professional
"It's terrific to work with Todd," Bonomo said. "He is the consummate professional. [When you really get to know him], he's just a gentleman. Forget about his talent with horses. As a human being, he's great. He's wonderful … He's just the best."
"Winning it with (Pletcher)," Velazquez said after his second Derby win in 19 tries, "is special."
"He's a superstar," chipped in Viola, who also owns the National Hockey League's Florida Panthers. "He's a superstar."
And, like any superstar, the critics are certain to surround him at times when he's seemingly vulnerable. In recent years, as Pletcher's Derby futility grew from 1 for 36, to 1 for 40, to 1 for 43, to finally 1 for 45, each spring the 49-year-old trainer was asked about his bad luck at the Derby in every possible way.
Yet to his credit, unlike some professional sportspeople who erupt when unflattering statistics are mentioned, Pletcher has usually offered an answer to his unsightly record in his typical, calm, straightforward manner. Down deep, the losses had to sting, even if none of the first 45 starters were a betting favorite, as Always Dreaming was, but he rarely let on.
The same question over and over
He may not be as colorful as Bob Baffert or have the ability to fill a room with as much laughter as the white-haired Hall of Fame trainer, however, for all the times he didn't whine, grumble or grow silent when continually asked, "Todd, about your record in the Derby …," there was a pleasing side to seeing the statistic finally grow to 2 for 48.
"Our Derby record has been talked about a lot," said Pletcher, who matched the record of his mentor, trainer D. Wayne Lukas, with his 48th Derby starter. "But I felt like this week people were defending it for me for some reason. You know, when you look at it now, I think this was our 17th Derby, and we're fortunate enough to have two wins and two seconds and I think three thirds, it looks a little better. To me, it felt like I really needed that second one, you know? One more.
"I felt like we needed another one as a team to put it together. And I felt like Johnny and I needed one together as well. We have had a great relationship for a long time now, and we have won a lot of races together. This one we hadn't, and this is the one we wanted to win together. And I'm glad we could do it."
As vanilla as he might be in some ways, there are honorable qualities within Pletcher that explain why he can handle the same question over and over and over or why, after receiving a Dodge Ram truck for being the trainer of the Kentucky Derby winner, he said he would keep the vehicle but was happy to donate the value of it to the Thoroughbred Aftercare Alliance and New Vocations.
"There's a little bit of everything," Pletcher said about his emotions. "I don't know if it's validation. I don't think I'm any better trainer right now than I was an hour ago. I felt like another one would solidify it. I've been taking a lot of criticism for our Derby record, so we were hoping to improve on that.
Preakness blank
"That's what you do. That's what I try to inspire my kids with, that you can have challenges and you are not always going to do as well as you want, but you got to get up and work hard at it and you got to keep trying. When it doesn't work, figure out why and keep going."
Now, as a reward for quieting some of the talk about one of his records, Pletcher gets to do it all over again in Baltimore.
As bad as 1 for 45 might seem that was one more win than Pletcher has in the Preakness. He's 0 for 8 in the middle jewel of the Triple Crown, including an eighth-place finish with his 2010 Kentucky Derby winner, Super Saver.
This time, though, aside from a new goatee that seems to have brought him Triple Crown luck, Pletcher has the horse who can cut off those questions in mid-sentence.
Unlike Super Saver, who won the Derby at 8-1 odds on a sloppy track and never won another race, Pletcher has a budding superstar in Always Dreaming.
A year ago, Exaggerator made a huge name for himself winning major Grade 1 races on wet tracks, including the Preakness.
But Always Dreaming is different. The son of WinStar stallion Bodemeister may have proved his affinity for a wet track Saturday, but last month he was an even easier winner of the Florida Derby over a fast track in the quickest winning time since Alydar in 1978.
There might have been some skepticism about his class before the Derby, since he had just one stakes appearance in the five career starts that led up to the mile and a quarter test, but that has been covered up by the same mud that he kicked back at rivals such as runner-up Lookin At Lee or third-place finisher Battle Of Midway in the final furlong (see YouTube video above).
He'll be a favorite once again at Pimlico, only this time he might be odds-on given a four-race win streak, the shorter distance and a surface partial to speed.
So, instead of talk about records, the next two to five weeks could be filled with conjecture that a trainer who has amassed record earnings of more than $336 million, won the Eclipse Award seven times and trained stars such as Ashado, Rags To Riches, English Channel and Uncle Mo just might have the horse of his lifetime on his hands.
That may or may not be the case, but at the very least talking about it certainly beats hearing about an ugly record.
It's not even close.