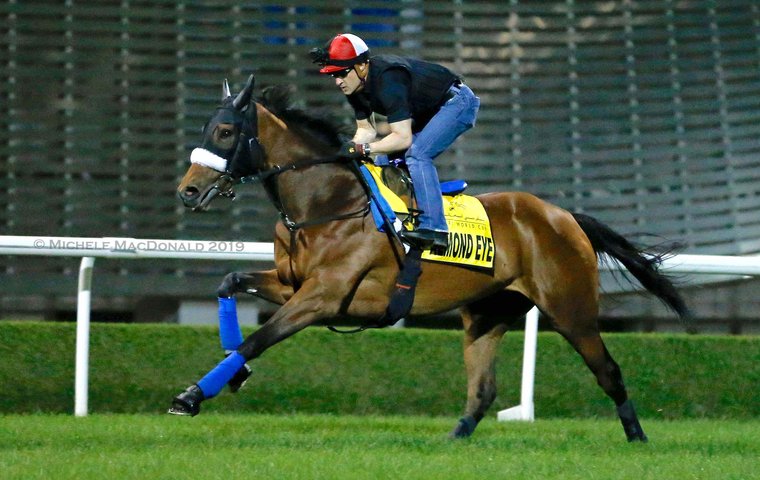 Closing his eyes momentarily, trainer Sakae Kunieda paused to consider the question: How would he describe the character and temperament of Japanese Horse of the Year Almond Eye?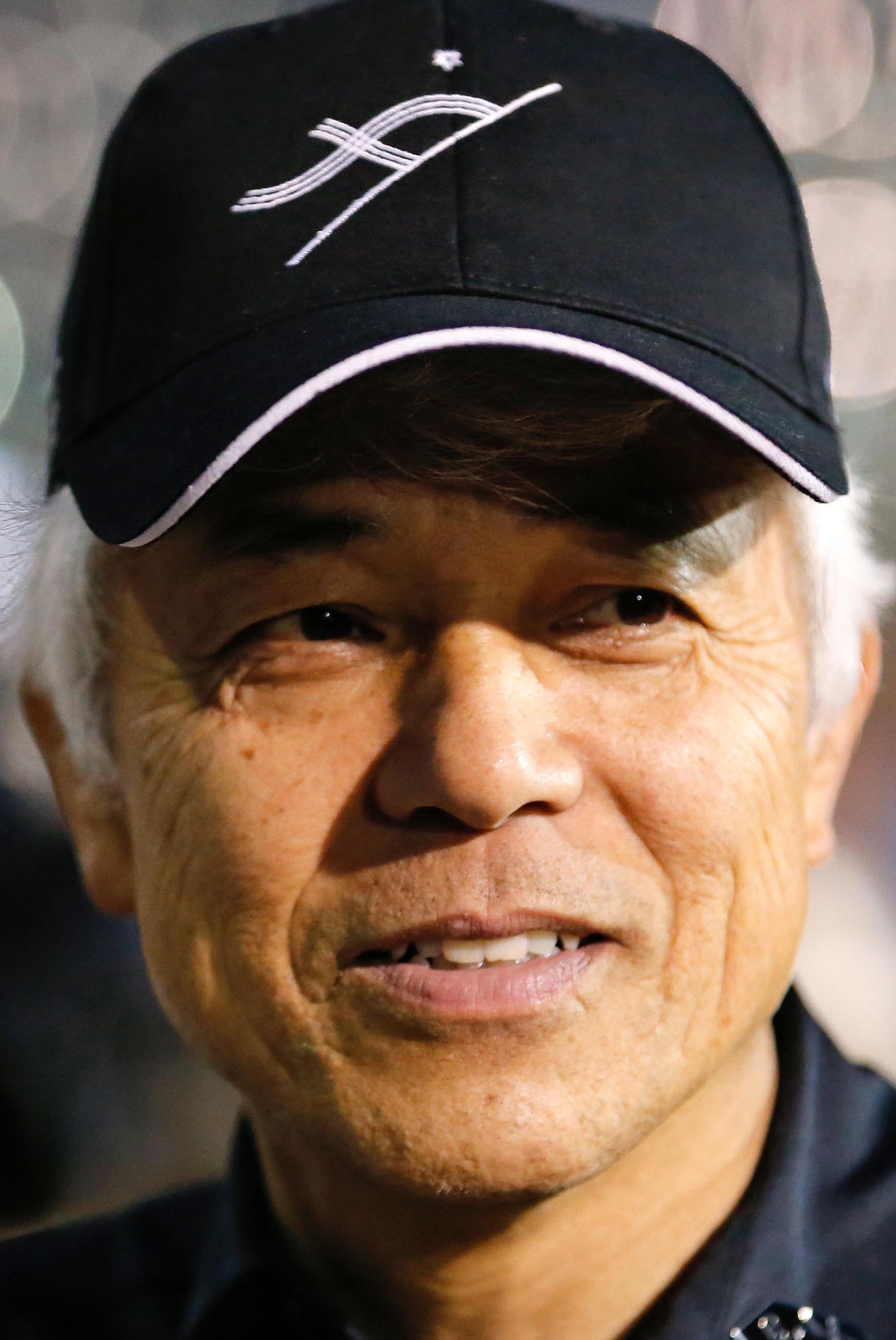 Without question, the world record-setting filly is the queen of this year's Dubai World Cup program, commanding more attention than any other runner at Meydan as she aims at the $6 million Dubai Turf. Yet since she has raced only in her homeland to date, she will enter the parade ring cloaked in a kimono of mystery to most racing fans outside Japan.
Looking up and smiling, Kunieda (pictured) delivered the answer straight from his heart. "If she was a human, I would be in love with her," he said softly. "She is gentle and polite."
Jockey Christophe Lemaire, the Japan-based Frenchman, is just as passionate in describing the qualities of the 4-year-old bay daughter of Lord Kanaloa bred by Katsumi Yoshida's Hokkaido-based Northern Farm.
"She is very generous. In the stretch she gives me everything she has," said the world's fifth-ranked rider. "Maybe I talk too much, but I can't find any weak point in her. It's very, very unusual to get such a nice one."
The obvious emotional connection that those who know her best share with Almond Eye reveals as much as their words about what kind of horse she is to be around. While the stereotypical notion of Thoroughbred racehorses involves characteristics such as high-strung nervousness or rank insubordination, she is nothing like that around the barn or on the racecourse.
"She's not difficult at all," Lemaire said. "You could do horseback riding in the desert with her. Anybody could ride her, I think — she is such an easy horse to ride. You could take her out in the desert and just ride her along on a loose rein.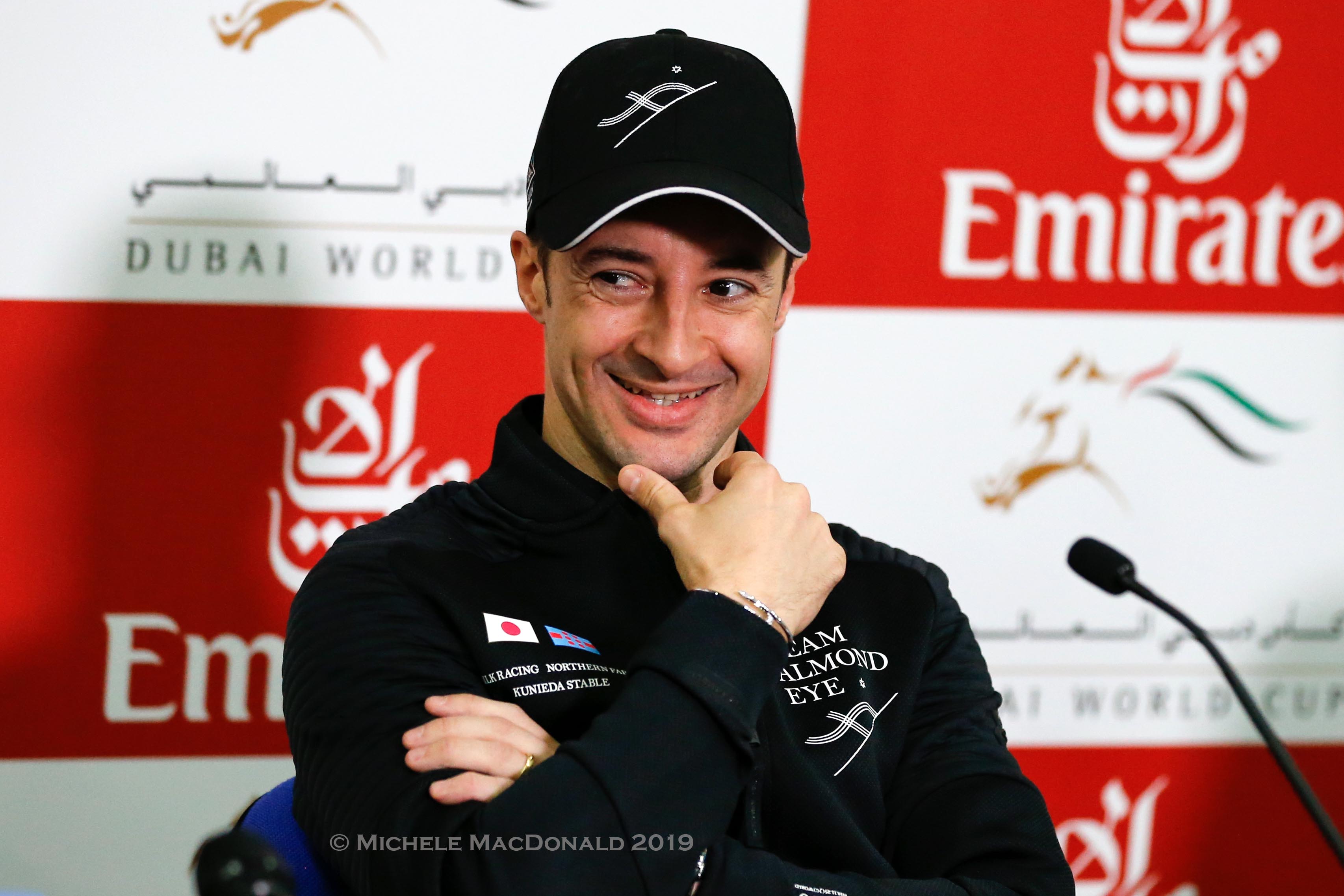 Describing her as "very clever", Lemaire added, "She watches everything. She understands very well where she is at any time and what she has to do. So, in the mornings, she is very quiet. She switches on just a little bit before the race. She's like a boxer going into the ring, you know? She gets a little more excited but she keeps her energy in check. During the race, I've never had any problem handling her. She is just very special."
"She is very smart and she can judge every situation," Kunieda related. "Pretty perfect," the trainer said in summation, smiling again. "So, my job is easy."
Almond Eye has indeed been pretty perfect in her racing life. She has won six of her seven career starts, including sweeping Japan's Filly Triple Crown prior to crushing older males with her world-record time of 2:20.6 for 2400m (about 1½ miles) in her most recent start, the Japan Cup, on November 25.
Her only loss was a runner-up finish in her debut as a 2-year-old over 1400m (about seven furlongs). Her four G1 victories have been accomplished over 1600m (about a mile), 2000m (1¼ miles) and 2400m. She races willingly, regardless of pace, and typically unleashes a devastating run.
Even in her morning gallops, as well as during a faster pre-race drill under Lemaire at Meydan on Wednesday, Almond Eye displays an unusual power, rocketing forward from her impressively muscled hind end.
That robust yet still fluid way of moving made her stand out immediately after she arrived at Kunieda's stable for training and began to stretch her legs under a rider.
"When I first saw her gallop, her movement was unusual so I thought she was special," Kunieda recalled. "She can carry her body quite well - she has a very stable, smooth way of going. And she has a good mind. She is eager to run."
Both Kunieda and Lemaire believe there is much more to come from Almond Eye, who is campaigned by Silk Racing, affiliated with Northern Farm. The hundreds of partners who initially invested in Almond Eye when she was a young racing prospect reportedly paid ¥60,000 (roughly $550 under current conversion rates) for one of 500 shares, with some taking advantage of the option to buy multiple shares.
How the filly put a top-class all-aged field to the sword in the Japan Cup
That put Almond Eye's initial valuation at a relatively modest ¥30 million, or approximately $275,000. To date, she has earned the equivalent of $6,465,261, and she will run for the winner's prize of $3.6 million in the Dubai Turf, a prize Kunieda said he expects her to win.
"She's getting better and better," he said. "She's already shown a lot of class, but we don't yet her limits because every time we gave her a challenge, she handled it very well. She could win very easily," Lemaire said. "In the Japan Cup, when she set a world record, she was not exhausted."
It was Lemaire, who set his own record last year with 215 wins during Japan Racing Association competition and who captured all four JRA flat jockey titles, who suggested the Dubai Turf for Almond Eye's first start of 2019, even though some were surprised she would run at 1800m (about nine furlongs) rather than the 2400m of the $6 million Dubai Sheema Classic.
"I think it's a good trip for her for a first run this year. It won't make her too tired. So, I'm quite happy that the connections chose that race. But Almond Eye can handle any type of trip or race," Lemaire said.
"She's got a big stride. She covers a lot of ground with a lot of power," he continued. "And mentally she's also very strong. She understands very well what she has to do, and that's why she's good. The combination of her attitude and physical abilities makes her very special."
Almond Eye is set to face a dozen rivals in the Dubai Turf, including a trio from Godolphin and two other female runners from Japan: 2017 Dubai Turf winner Vivlos and G1 winner Deirdre. Vivlos finished second in the 2018 Dubai Turf while Deirdre dead-heated for third.
The ultimate goal for Almond Eye this year will be the Prix de l'Arc de Triomphe, a race that has been sought for years by Japanese-owned and -trained runners, who have come close but never succeeded.
Both Lemaire and Kunieda, who also has trained the likes of another Japanese filly Triple Crown winner, champion Apapane, and 2007 Arima Kinen victor, Matsurida Gogh, think Almond Eye can prevail where others have failed — and that she may be the best horse of their lifetimes.
"All the horse racing lovers can feel that she has something special and that she can become unique in horse racing history. That's why so many people are watching her and are supporting her," Lemaire said. "She can become a horse for my life, like Winx for Hugh Bowman, Sea The Stars for Mick Kinane and Zenyatta for Mike Smith. I feel blessed to be riding such a good horse."
"Almond Eye has a huge talent. It makes me happy," Kunieda reflected. "I have done my job a long time. My dream is a career in international racing, so maybe this horse is the one to make my dream come true."